Looking for the best and most fun things to do in Bossier City, LA?
Located in Bossier Parish in the northwestern region of the United States is Bossier City, with about one hundred and sixty-six square meters.
It has the second-highest population in the Shreveport-Bossier City metropolitan area, with about sixty-two thousand.
The City of Bossier is located in Louisiana, and it comprises a lot of beautiful landmarks and historical sites.
Bossier City is well known for its tourism and casino gambling, amidst its many other beautiful attractions.
It is said to have raised a good revenue with which specific projects in the city were completed through its tourism and casinos.
Are you planning a trip to Bossier City? Here are the top fun things to do in Bossier City, LA
Things to Do in Bossier City
1. Fun at Holiday Lanes
The Holiday Lanes is a perfect place to visit if you're looking for things to do in Bossier City. It proves to be a good place for a friendly competition.
The holiday lanes is a bowling alley with its fair share of excitement. From your young ones to the adults, everyone can enjoy the great experience.
The Holiday lanes is an excellent location if you're looking to cut down on the expenses because its services are very affordable.
You can decide to challenge yourself and test your bowling skills with friends and possibly other bowlers in the lounge.
Established in the 1960s, the Holiday lanes have proved to be a desirable location for friends and family from within and outside Bossier City.
The bowling alley also has a fascinating lighting system and glow mode for when the bowling begins. What's not to love about the place?
Address: 3316 Old Minden Rd, Bossier City, LA 71112, USA
2. Bossier Arts Council
Located at Barksdale Boulevard, Louisiana, the Bossier Arts council is a one of the best places to visit in Bossier, as it is known for preserving the cultural heritage of this area.
The arts council is an organization interested in building up the Bossier Parish's cultural heritage in its complete and purest form.
It was established by a local group of art lovers in the 1980s and was later appointed as an art council which still stands today.
The Council's gallery comprises various artworks, primarily by resident artists and others by well-known artists.
In most cases, these resident artists are seeking headway in their careers. This makes them do their best to create unique artworks in the gallery.
If viewing beautiful artworks isn't doing it for you, you can take art classes under professional artists at the arts council.
Address: 630 Barksdale Blvd, Bossier City, LA 71111, USA
3. Bossier City Farmer's Market
Who doesn't love buying fresh farm products? With a conclave of farmers and their various farm produce, the market is the go-to place.
Located at Texas Street, Bossier City, Louisiana, the Farmer's market is open to many farm produces and food.
The market has it all available, ranging from fresh vegetables to tubers to cereal and the likes. You are also sure to find baked products there as well.
The farmer's market is home to various artists and their artworks and many eye-catching sculptures and beautiful crafts made by them.
From food trucks to honey vendors and the likes, the farmer's market makes the sales of them all possible. It will prove to be quite the experience.
With a combination of sound art, fresh food, and a variety of baked goods up for sale and sightseeing, the farmer's market is a nice stop on Saturdays.
Address: 2950 E Texas St, Bossier City, LA 71111, USA
4. Barksdale Global Power Museum
At eighty-eight, Shreveport Road is a fascinating site comprising the rich history of the American military and exhibits of their weapons and aircraft.
Within the Barksdale Global Power Museum are historical instruments of warfare such as the second bomb wing and B-52G aircraft used during the Cold War.
The museum is known for its prolific history in the American army's strategic bombardment in subsequent warfare.
The B-52G Cold War era aircraft isn't the only available one in the museum. They also have the fastest jet aircraft ever made, which reached speeds of about Mach three.
You also get to see the eight Air Force's hall of fame, including the aircraft it has used over the years.
In search of the rich history of warfare related conquest? Or are you interested in aircraft and would like to examine some of the unique aircrafts made? The museum is the place to go.
Address: 88 Shreveport Rd, Bossier City, LA 71112, USA
5. Louisiana Boardwalk
Between the Horseshoe resort and Margaritaville casino lies the Louisiana boardwalk. It's a suitable location for shopping with a dinner by the side.
Considered one of Louisiana's biggest shopping malls, the boardwalk is a major attraction for those looking to spend their gains from the games in the casino. In the mall is a variety of choices from the various brands and outlet stores. Many brands like Nike, Gucci, Channel and the likes can be accessed there.
If you're on a date and aren't into that much shopping, the Louisiana Boardwalk has a theater where you and your loved ones can spend some time together.
There are also accessory stores, sound stores, and many other brands available at the disposal of many who come to the mall.
So whether it's music, the movies, shopping, or even just a decent meal that brings you around the mall, you're sure to have a great time!
Address: 540 Boardwalk Blvd, Bossier City, LA 71111, USA
6. Margaritaville Resort Casino
Found along the Red River is the Margaritaville resort casino, which offers visitors a pleasant experience accompanied by a load of fun and class.
The casino makes available the same feeling of taking a risk while at the same time providing the best possible hospitality to its visitors.
Margaritaville is also a resort and is available to those who just want to lay back and relax on the beach and have a good time.
The resort comprises beautiful places like the spa and the restaurant where its customers can savor mouth-watering cuisine.
There's also a section for excellent drinks like cocktails and their likes; for those who just love a good drink.
The best thing about the resort is its top-notch hospitality and deluxe room service,e which makes many want to return to relive the experience.
This makes what to do in Bossier City for a fun time, do add to your bucket list of things to do in Bossier City, LA.
Address: 777 Margaritaville Way, Bossier City, LA 71111, USA
7. Krewe of Gemini Mardi Gras Museum
Mardi Gras is a festival well known all over Louisiana and even worldwide for its beautiful sceneries and joy-filled expressions from its participants.
Even if you were not present for the festival, the Gemini Mardi grass museum makes it possible for you to view the festival from the photograph's perspective.
The museum has its gallery set up for those seeking to get a feel of the cultural and celebratory experience of the Mardi Gras.
The variety of choices to behold spans from beautiful and unique festive costumes to the many beautiful colors used during the festival.
With a total area of ten thousand square foot, the museum exhibits beautiful memories from the Mardi Gras and continues to receive more and more intakes to its collection.
With the Mardi Gras celebrating about ten years of the festive celebration, they also make available their hall for events and more.
Address: 2101 E Texas St, Bossier City, LA.
8. Party Central Family Fun Center
Fun places and fun activities will always be the preferred choice of everyone looking for a great experience and the family fun center is one such place.
As the name of this place implies, the Party Central family fun center is a family-friendly zone for both parents and children alike.
Parents can let their children have fun while spending some time together or joining them in every activity they please. The end of it all is a great experience.
Having been in operation for about eighteen years, the family fun center is trusted to be a reliable source of entertainment away from the stress of work and school.
Ranging from the bungee jumps to the go-kart rider and even the rock climbing wall, the family fun center will be a blast for parents and their kids.
So whether a parent or not, the family fun center is sure to be the go-to place to unwind and have a little fun with friends and family alike.
A visit to this fun center is one of the best fun things to do in Bossier City, LA, for a fun time.
Address: 4401 Viking Dr, Bossier City, LA 71111, USA
9 . Downs Casino & Racetrack
From the variety of choices of fun places to be in Bossier City, Louisiana, the Downs Casino and Racetrack isn't excluded as it also proves to be quite an exciting experience.
You can win big and make good money while having fun at Downs casino and racetrack either from the horseback riding or from the sloth machines.
The Casino is said to have been in operation since 1974, and it has about eight hundred slot machines within it running.
The casino was built by Edward .J. DeBartolo,o who was well known for his love for horse racing. He is also a shopping center developer.
DeBartolo is also known for developing Oklahoma's Remington Park and the Ohio Thistletown racetrack.
So if racing and playing at the casino goes well for you, Downs casino and racetrack will give you the thrill and experience you seek.
Address: 145 Louisiana Blvd NE, Albuquerque, NM 87108, USA
10 . East Bank District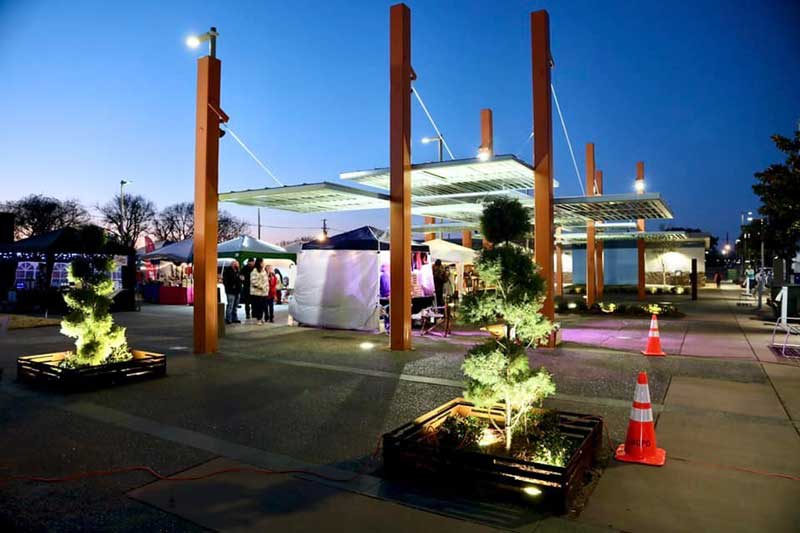 The east bank district is a newly erected entertainment center in Bossier City,y and your trip to the city would be a lot better if you visited some time.
The east bank district is known for its vibrant nightlife setting with its various activities and lovely spots in which you could have a great experience.
The east bank district comprises a meal section where many restaurants can be accessed with many great cuisines.
It's an agreed opinion amongst the locals that you cannot run out of fun things to do in the east bank district. It's a blast at the park!
The district has its brewery section with brands like the Bayou axe throwing Co. and the flying Heart brewing company if you're looking to sit back and unwind.
You can also join in on the live music with many other visitors to the east bank district. The fun doesn't end,d and it keeps getting better as you continue to explore!
Address: 615 Barksdale Blvd, Bossier City, LA 71111, USA
Texas is bordered with Louisiana. Also check out our list of things to do in Cypress, things to do in Killeen and cool things to do in Glen Rose, if you are planning a Texas road trip.
11 . Red River District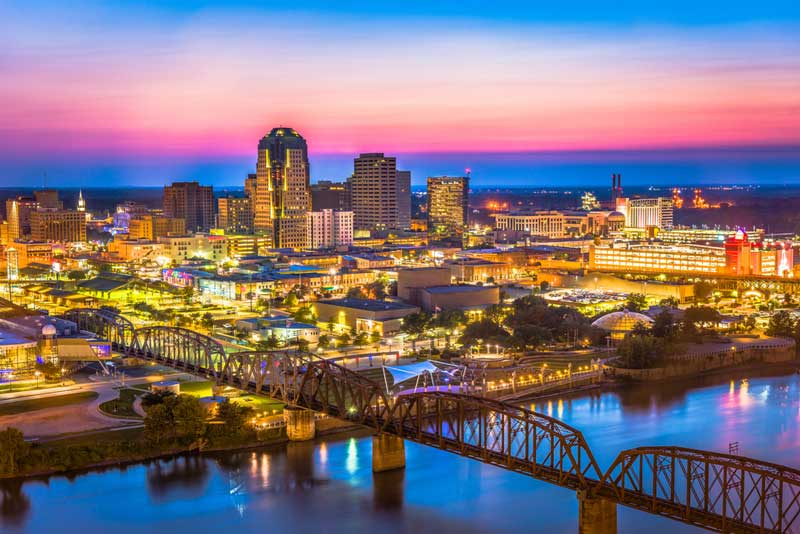 Established in 2002 in Shreveport with a land area of about twelve thousand square miles is the Red River entertainment district.
The district has a historic look on account of its nineteenth-century type design, and that makes it stand out amid other buildings in its vicinity.
Because of its vibrant environment comprising beautiful restaurants, eateries, and live entertainment, the district has become a loved and frequent tourist destination.
It's a great place to hang out with friends and family because of its variety of food, music, and a friendly, vibrant environment.
The district is also pet-friendly for many who have pets and do not wish to leave them at home. You can come along with your pet and have a good time.
As far as going to incredible places go, the red River district isn't an exception. It's the kind of place for those who seek to spend a great day outdoors.
Address: 500 Clyde Fant Pkwy, Shreveport, LA 71101, USA
12. Shreveport Water Works Museum
The
Shreveport Water Works Museum
is another excellent suggestion for a place to visit if you are looking to learn about historical events.
Opened in 1887, the present Museum was the first water plant to filter and chlorinate its water supply in the years 1890 and 1911 respectively.
The Museum is believed to be the last municipal waterworks that ran on steam power in America by the Smithsonian indigenous people.
Considered to be a historical landmark, the station is visited frequently, and its civil engineering design is admired by as many tourists that come by.
The waterworks Museum is an excellent place for those seeking to get a feel of excitement while also learning something new in the process.
It's a place that is considered to be children friendly. You can bring your kids along if you're a parent as there are lots to learn from historic sites.
A visit to Shreveport Water Works Museum is one of the most fun things to do in Bossier City, LA.
13. Sci-Port Discovery Center
If science and scientific sites and locations interest you, then the Sci-Port Discovery center will be the place for you!
Comprising knowledge in science, mathematics, technology, and even engineering, the discovery center is where parents would love to bring their kids.
The facility provides a hands-on interactive tour for both children and adults alike, and it has various fun activities for the kids to keep them engaged.
There's also a planetarium for kids who love space and others who want to become astronauts in the future. The planetarium can give them a better idea of the solar system.
Through the same aisle is a spacewalk called the Selber spacewalk, where kids can have an impression of passing through space and its starfield.
It is an excellent site for kids and parents. Its array of lights, decorations of stars, and the likes keeps the walk very lively.
Address: 142 N Common St, Shreveport, LA 71101, USA
14. Spring Street Museum
Since 1979, the Spring Street Museum has been on the National Register of historical places as one of the oldest buildings in Shreveport.
Opening in 1977, the Spring Street Museum has had a significant load of historical artifacts and antique materials on display from the area.
The museum is a sight to behold on its own, and it gets better as you begin to explore its sections and interior. There's so much to look out for and to see.
As far as historical sites go, this got the whole thing. The building's interior and exterior design has remained unscathed over the years.
Many banks once occupied the museum over the years since 1866, and it has a wealth of historical artifacts and vintage material even from the civil war.
You'll get to see historical artifacts like antique swords, vintage firearms, some ancient clothes from the circa 1835, toys, and even old maps.
Address: 525 N Spring St, Shreveport, LA 71101, USA
15. Shreveport Aquarium
Wildlife is a sight to behold, but it must be done from afar in most cases. The Shreveport Aquarium is the solution to this problem.
Close to the Texas Street Bridge, the aquarium comprises more than two thousand five hundred species of wildlife waiting to be seen.
The closeness of the aquarium to the Red River District makes it possible for parents to get some food for their kids on their way to the aquarium.
This aquarium is open seven days a week and allows visitors to feed certain animals like the stingray. You can also take great pictures there.
There's also a freshwater section in the aquarium with cool-looking animals like the alligator snapping turtle, to mention a few.
The aquarium is sustained by a conservation effort organization and hosts beautiful creatures and takes care of them. It's a great place to go sightseeing!
Address:601 Clyde Fant Pkwy, Shreveport, LA 71101, USA
16. Horseshoe Casino
Located at the horseshoe boulevard, the casino is the get-go place if you're looking for a good game and some money accompanied by your wins.
The casino has many functional machines ranging from about one thousand five hundred slot machines giving everyone equal opportunities to win.
It also has about fifty board and table games for those who are not so into the slot machines or those who just don't feel lucky with it.
There are also many gourmet restaurants in the casino and resort, so you wouldn't need to worry about getting hungry during a game and losing.
The casino also has excellent services and hospitality. So rest assured, you'll be treated very well with a warm reception even as you have a good time.
What's there to wait around for? The horseshoe casino awaits as many as are feeling lucky and want to have a go at some great wins!
Address: 777 Casino Center Dr, Hammond, IN 46320, USA
17. Logan Mansion
Built in 1897, the Logan mansion was initially constructed as an ice manufacturing company and acting as a beer distribution company.
Over many years, the mansion has transitioned from a boarding house to a radio station and a church. It's been in constant use over the years.
In about one hundred and eighteen years, the Logan mansion has been through many possible uses and functions and has become a tourist site for many.
The house is believed to be haunted, and it brings a lot of attention from skeptics and those seeking to communicate with the supernatural.
In reality, people visit the Logan mansion looking for a thrill of the moment because it's a haunted theme mansion. It's a great place to spend time with your friends.
The mansion has stood for over a hundred years, and many great stories and historical events and their narratives can be accessed at the Logan mansion.
Address: 725 Austen Pl, Shreveport, LA 71101, USA
18. Marlene Yu Museum
Although many museums in Bossier City have been made mention of, it's safe to say that the list wouldn't be complete without that of the prodigy Marlene Yu.
Marlene Tseng Yu, focuses on the beauty of nature and its dynamic presence and significance to our environment in general.
The museum was established in 2014 and has been a fun place to visit for as many who love to see nature art at its best.
What's not to love about a museum aimed at the conservation of nature and the beauty it gives to the earth? That's the reason it has become the destination of many.
It doesn't end there. Marlene Tseng Yu aims to show the world not just the beauty of nature but also the effect of men on nature and why they need to preserve it.
Marlene Yu's Museum is an excellent place to visit with your kids as it is an educational environment, and they can learn a lot from the tour.
Address: 710 Travis St, Shreveport, LA, 71101, US
19. Southern University Museum of Art
Just downtown campus of the southern university is located at the southern university of art, Shreveport. A trip to this place proves to be very educational.
The museum of art comprises a collection of artifacts and artworks of African American origin. The museum has a great outlook and a warm welcome in general.
Because the museum is located within the southern university, it brings about a feel of nostalgia for those who have been in a university environment.
The service at the museum is good and makes navigation easier. The artworks in the museum are mesmerizing to look at and make for a great picture.
Just in case you'll be visiting with a group of more than ten individuals, it is recommended you book a slot for a visit for a nominal fee.
So for all it's worth, the southern university museum section is an excellent place to visit if you're all about educational trips with friends and family.
Address: 610 Texas St, Shreveport, LA 71101, USA
20. Touchstone Wildlife and Art Museum
Here's another great place to visit for the fun-seeking and art-loving. The touchstone wildlife museum is a contemporary museum suitable for educational purposes.
The museum can be found on highway number 80, La Downs, about two miles east. Its environment is very hospitable with excellent services.
The museum has many lifelike paintings and sculptures depicting various wildlife and their respective habitats.
It's a pretty cool view to behold as the artworks simulate a wildlife sanctuary with its vibrant colors and design.
The touchstone wildlife and art museum is undoubtedly the go-to destination for parents looking to give their kids an art experience in one of its best forms.
The museum also features beautiful artifacts and artworks different from the wildlife sanctuary, making the place wholesome.
A visit toTouchstone Wildlife and Art Museum is one of the best fun things to do in Bossier City, LA.
Address: 3386 US-80, Haughton, LA 71037, USA
21. Shreveport Dog Park
This place is excellent for those who have their pets as their noble companion and wouldn't enjoy going out without them.
The Shreveport Dog park is a haven for dog owners and their pets alike, as the park makes it an excellent place for you and your pet to have fun.
Found at Stoner Boat Launch, the park has a seating area for pet owners, and there is an excellent overlook of the river from the seating areas.
Since the park is made to be fun for both pets and its owners, the park has various great amenities like the skateboard park, the Boat Launch, and biking trails alike.
So you can also have a blast at the park as your dog does their own thing at some other location within the park. It's a great setting.
The park is located at stoner avenue on Clyde Fant Parkway, and it is open seven days a week during the daytime, depending on daylight saving's time.
Address: 857 E stoner Ave, Shreveport, 71101, US
22. Shreveport Railroad Museum
If you have kids intrigued by the railroad, or maybe you're interested in the railroad and its operation, the Shreveport Railroad Museum is the place for you.
Although a small location, the museum has many historical artifacts from the civil war, and great stories and historical accounts are at the visitor's disposal.
The museum also features a miniature working model railroad that visitors with kids would find fascinating to behold, having intricate details.
The museum is great for both parents and their kids as it is free and not too far from the waterworks museum.
Because the museum is small, it only takes about an hour and thirty minutes to complete a tour around it, which is ideal for those who might need time on their hands.
What's not to like about the place? Despite its small space, the museum is lovely and worthwhile if visited and is a great place to bring your kids.
Address: 142 N Common St, Shreveport, LA 71101, USA
23. Shreveport Riverview Park
Looking for a great place with a good view and a place to have some fun? The
Shreveport Riverview Park
might just be that place.
Beautiful locations and features like the water fountain within the park with beautiful light and music accompanying it.
There's also a garden for those who like the view but are not interested in getting themselves wet by getting close to the water fountain.
The park also features a floating boat dock approximately three hundred feet in length and even a waterfall with natural stones.
There's also a viewing summit at the bottom of the waterfall for a great view of the waterfall and its beautiful flowing river.
The Riverview park proves to be an excellent place for singles, parents, and even kids to have a good time and unwind.
Address: 601 Clyde Fant Pkwy, Shreveport, LA 71101, USA
24. Altitude Trampoline Park
Among the fun things to do with kids in Bossier City is to have a good time at Altitude Trampoline Park.
Altitude Trampoline Park in Bossier City is ideal for families and kids.
This 25,000-square-foot entertainment facility includes high-energy equipment such as a foam pit, trampolines, and a NINJA course.
It's fantastic entertainment for families, groups, kids, and individuals. Additionally, they offer numerous exciting party packages and make gifts too.
Altitude Trampoline Park can carry large groups of 550 people. So, if you plan to have a party or any event, you can have it at Altitude Trampoline Park.
The staff at this facility are dedicated to securing the safety of everyone and providing satisfactory customer service.
Address:2917 Douglas Dr, Bossier City, LA 71111, United States
25. Red River National Wildlife Refuge
Red River National Wildlife Refuge consists of many units in the Red River Valley in northwestern Louisiana.
It provides a habitat for wading birds, waterfowl, songbirds, and other native wildlife species.
It also has more than five miles of trails, fishing, environmental education, and wildlife viewing.
Hunting is allowed in designated areas on some sections of the refuge, and fishing is permitted during specific times of the year.
You can learn more about wildlife by exploring the exhibits at the Visitor Center.
Address:150 Eagle Bend Point, Bossier City, LA 71112, United States
26. Boomtown Casino Hotel
Featuring three on-site dining locations and a 24-hour casino, the Boomtown Casino Hotel is only a short distance from the Louisiana Boardwalk.
Each guest room at the hotel has fresh white linen and modern furnishings. The hotel rooms also have a flat-screen TV, a hairdryer, and a coffee machine.
Boomtown Casino has three gaming floors: table games, slot machines, and video poker.
Some food and drinks offered at Boomtown Casino Hotel include Buffet Boomer's Café, Sundance Cantina, Cattleman's Buffet, and 1800 Prime Steakhouse. There's also room service at the hotel.
Address: 300 Riverside Dr, Bossier City, LA 71111, United States
Are you planning to explore Louisiana?, check out our guide on things to do in Covington ,things to do in Lafayette, and things to do in Monroe for an amazing time.
Plan a Trip to Bossier City
From Museums that are truly rich in historical artifacts to great artworks and war aircraft, There are quite some fun things to do in Bossier City, LA, as well as near Bossier City.
It's worthy of note that some of these locations aren't necessarily in Bossier City but are an average of an munites drive from Bossier City.
So don't just sit back and wait. All these places are at your disposal to visit whenever you're in or around Bossier City. It's a trip away!