Ripon is one of the oldest cities in England, it is believed that its existence dates back 1,300 years ago.
Looking at its historical wonders and the heavy presence of things from the past, we can't deny the veracity of its claim.
One of the fun things to do in Ripon is a visit to one of its historical wonders, the Ripon Cathedral, this is a masterpiece of what's remaining from the 7th-century Anglo-Saxon Basilica.
To have a peaceful time, visit the Fountains Abbey, this is the largest monastic ruin in United Kingdom, located just three miles away from the city.
One of the old custom and interesting occurrence you will get to notice while in the city is the city's hornblower sounding his watch every night on the Ripon's Market Place, this custom dates as far back as 886. For a fun time, let's explore the best things to do in Ripon.
Things to Do in Ripon
1. Druids' Temple
Druids' Temple was erected in the 19th century by William Danny who was a wealthy landowner and a scholar. He built the temple as a tribute to Stonehenge on his estate, situated in the lower Wensleydale Hills.
Druids' Temple was constructed using cheap local labor with initial plans of using it as a scheme to temporarily solve the unemployment problem in the land, however, it is just used as a picnic venue at the moment.
Though the reason why the temple was built is known by many, rumors have it that it is used as a den of devil-worship and a venue for secret rituals.
There are rumors which have planted doubts in the hearts of many for over 200 years as to what purpose the temple was built.
Try checking out the temple yourself for further details and thoughts, Let a visit to this place be on your list of things to do in Ripon.
Address: Knowle Ln, Ripon HG4 4JZ, United Kingdom
2. Talon Falconry
One of the fun things to do in Ripon for lovers of birds of prey is a visit to Talon Falconry.
A visit here allows you to get close-up knowledge of amazing birds, getting to know facts about them as well as how they are trained and handled.
During a tour here you get to see these birds in action as they demonstrate their fly techniques, if you are brave, you can allow a trained raptor land on your arm.
At Talon Falconry, there is also a snake pit where you get to meet a large number of snake species from several parts of the world, yeah, you can get to handle one of these too!
A visit here brings a gripping-fun experience for the whole family, this makes one of the fun things to do for the whole family.
Also worth checking out here is the Wild Birds area which features bird boxes monitored with webcams which gives you a good view of these birds, you also get to meet ferrets and fluffy rabbits here too.
Do plan a visit to Talon Falconry, they are opened on dates the Lightwater Valley Theme Park is open, do check their online calendar for more information.
3. Ripon Walled Garden
Ripon Walled Garden is now a part of the Ripon Community Link Charity, though initially part of the Bishop's Palace.
The garden was formerly just a kitchen garden, but since it became part of the Charity in 1995, it has turned into a great garden where both young and old people with learning disabilities can be taught how to become great.
Some of the features of the park include a tearoom, a plant nursery, an orchard, and lots more.
The tea served in the tea room were grown in the orchard and Gardens.
There is also a small play area for kids, beautifully spaced and enclosed with walls.
You will also find a small shop where some of the garden's produce such as apple juice, Jams, and chutneys are sold.
Address: Palace Rd, Ripon HG4 3HN, United Kingdom
4. Way of the Roses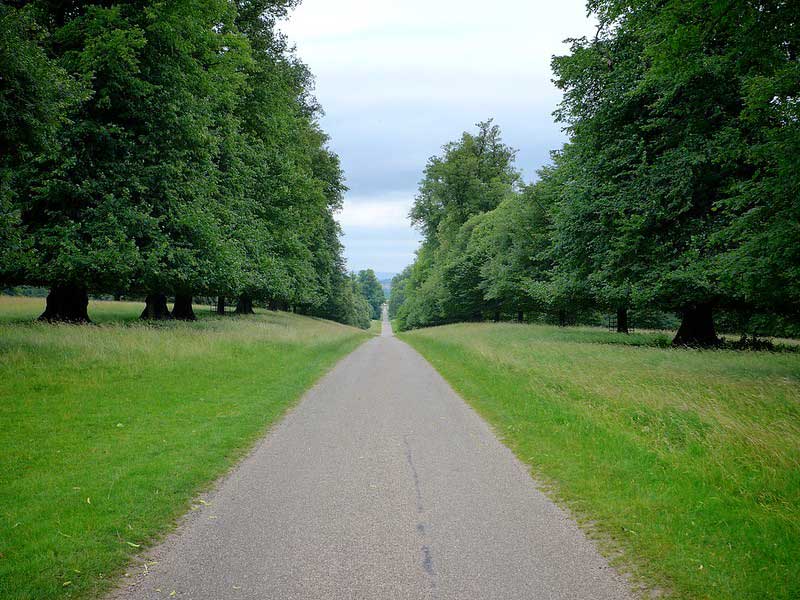 Way of the Roses is a signpost trail path that begins in Ripon and passes mostly through disused railway tracks, quiet lanes, and cycle paths avoiding the main roads.
The trial got its name from Lancashire and Yorkshire the two counties that it passes through.
It is told that in the 15th century, the House of York and the House of Lancaster were engaged in a war called the Way of the Roses and that some of the spots in this trail were actual battlegrounds.
As you make plans to explore this trail from Ripon, try coming along with a camera for you will encounter outstanding nature's beauty in some of the areas you pass through, like the Nidderdale Area in the west.
If you find it difficult to climb hills, you can take the route at the East of Ripon, for unlike the other routes, this area is mostly flat.
5. Ripon City Golf Club
Ripon City Golf Club is located at the northern edge of the city and has been in Ripon for more than 100 years now.
If you wish to engage in some golfing activity, while you are in the city, then you need to visit this place.
There is a golf rental in the club where you can rent golfing tools if you won't be coming with yours to Ripon.
There is also a golfing program for those who don't know how to play but wish to learn.
Check out the Clubhouse for some refreshment after playing.
Address: Ripon HG4 3HH, United Kingdom
6. Ripon Hornblower
"The setting of the watch" is one of the oldest ceremonies in England which started in 886 during the time of Alfred the Great.
At that time, there was a war between the Vikings and the Anglo-Saxons when Alfred the Great has taken back London and was on a tour around the country to gather more support to fortify himself.
On visiting Ripon, then a very small settlement, he advised them to be more vigilant and to also appoint a man who will work as a Wakeman, to keep watch at night while others slept.
The implementation of this charge led to the sounding of the hornblower at 9 p.m. every night by the Wakeman who is always adorned on his ceremonial garb, this practice continues to this day.
If you wish to witness this practice, add this to your list of fun things to do in Ripon.
7. Ripon Market Place
Ripon Market Place located at the center of Ripon has been in existence since the early 13th century with historic houses, some half-built using timber surrounding the area.
On the south side of this market is the Palladian Town Hall, built in the year 1719 and is where the tourist information center is housed.
Other amazing features of the market place includes an obelisk or a market cross that is seen at the center of the Market. This obelisk was erected in the year 1702 and is one of the few historical standing cross in the United Kingdom.
Aside from the historic features of the market, you can visit to buy things every Thursday.
Some of the things sold in this market include flowers, confectionery, fabrics, vegetables, cheese, fresh-baked breads, fruits, and lots more.
8. Fountains Abbey
Fountains Abbey is one of the sites in England recognized by UNESCO as a World Heritage Site though once a Cistercian monastery.
Having been in existence even before the 16th century, the Fountains Abbey was abandoned as a result of Henry VIII decree.
Even though the monastery has deteriorated over the years, it is still covered in splendor.
Fountains Abbey was built in the year 1132 and grew to become one of the wealthiest monasteries in the country by engaging in certain businesses such as animal rearing, stone quarrying, wool production, and lead mining.
The entire Abbey's surrounding is about 70 acres, you can try checking out the Porter's lodge located within Abbey where you get to learn so much about the abbey's history.
Address: Fountains, Ripon HG4 3DY, United Kingdom
9. Newby Hall and Gardens
Newby Hall is a country house built in the late 17th century, designed by Sir Christopher Wren who was a great architect.
Years later its construction, in the 18th century a man named Robert Adams remodeled the interiors.
Some of the features of this house include mahogany doors, masterful stucco panels, Gobelins tapestries, Corinthian columns, alabaster urns, and Renaissance paintings.
Other features like Pembroke tables, dining chairs, and hall chairs which was designed by the 18th-century furniture designer known as Thomas Chippendale can also be found here.
One of the areas in the house you should check out is the Tapestry Room that contains chairs covered with fabrics of Gobelins tapestry all of which are still the same coverings installed from the beginning.
Outside the house, you will find an award-winning garden designed in the year 1920 which covers about 25 acres of land space and is carefully divided into sections.
The sections the Newby Gardens are divided into includes woodland garden, national Cornus collection, water garden, two rich gardens, double herbaceous border, a rose garden, and many more.
Address: Newby Hall, Skelton-on-Ure, Ripon HG4 5AE, United Kingdom
10. Workhouse Museum
Workhouse Museum was formally Ripon's Workhouse where the poor and needy in Ripon came to find cheap labor in return for shelter and food.
Constructed in the year 1855, this Victorian structure featured and housed places and people such as kitchens garden teacher, laundry, a chaplain, and an infirmary.
The guides in this museum are dressed in the customers of the old-time showing you where the inmates slept and also telling you what they ate.
You also get to know the kind of jobs they indulged in just to earn a little income for survival.
These guides will also show you some of the trades in the workhouse's manual trades like rugging and woodcutting.
There is also the kitchen gardens which produce some of the local ingredients used by the local restaurants and are taken care of by volunteers.
Address: Allhallowgate, Ripon HG4 1LE, United Kingdom
11. Prison and Police Museum
One of the best things to do in Ripon is a visit to the Prison and Police Museum complex located at St Marygate.
It was built around the 17th century and was used as the House of Correction For Vagrants.
Later on, in 1816 another prison called the Liberty prison was built on this site and was later converted into Ripon Police Station, the same got closed down in 1956.
Some of the history which the museum recounts includes that of policing in Yorkshire starting from the time of the Anglo-Saxon to when the professional police force was founded in 1829.
The museum is a place you can take your kids to as they are allowed to try on the police gear and also the prisoner's outfit.
You will also get to see some of the hard Labour issued in the Victorian era such as winding a crank, shot drilling, and climbing a treadmill.
If you won't mind, you can allow them to lock you up in a cell for a while, or be introduced to methods of punishments such as pillory and restraints chairs as most tourist who visit this museum do.
Address: 1 St Marygate, Ripon HG4 1LX, United Kingdom
12. Ripon Spa Gardens
A place worthy of your checklist of things to do in Ripon is the Ripon Spa Gardens located in the city's center.
It is a Victorian park which is a multi-time winner of the Green Flag and is known for its high level of maintenance and it's amenities.
Things you will find in this park include exotic trees, dainty flowerbeds, and topiaries.
At Ripon Spa Gardens, you will find the status of the Marquees of Ripon, George Frederick Samuel who is also a Liberal Politician.
The garden also serves as a venue for some of the concerts held in the city.
Other features of the garden include some wood sculptures installed in the garden in the year 2011 which portray characters from Alice's Adventures in Wonderland.
Address: 9 Park St, Ripon HG4 2AX, United Kingdom
13. Fountains Hall
Years later after the Fountains Abbey was abandoned, Stephen Proctor who was a nobleman bought the estate, and right in it he built a great mansion called the Fountain Hall.
Fountains Hall dates as back as the early 17th century, built using the Elizabethan architectural style, thus, you can't fail to see its glory and the way it was built to illustrate power and wealth.
Most of the sandstone block used in building the house was gotten from the Abbey as well as the spiral staircase. The New introduction into the ashlar dressings which were carved using New limestone.
While you are in the house, check out some of the informational panels kept at different corners to illustrate the hall's past events.
While you are there, you will also get to learn how after Proctor, the house has been used as a dwelling by a farmer and later was used as a courthouse.
You can rent the halls for events such as weddings, there is also accommodation in the house if you wish to experience what's like to sleep in an old house.
A visit to this place should be on your list of top things to do in Ripon.
Address: Fountains Abbey Rd, Fountains, Ripon HG4 3DZ, United Kingdom
14. Studley Royal Park
Studley Royal Park is a World Heritage Site that sits on an 800-acre land space.
This park contains both the Abbey and the Studley Royal Water Garden, this was where the Studley Royal House that was burnt down in the year 1946 also stood.
The water garden was built by John Aislabie, a politician, in the 19th century who will be impressed by how it turned out to be if he was still alive.
Other features of the park include cascades, canals, a sparkling lake, Gothic Revival Castle, a banqueting house built using the Palladian style, and the Doric Temple.
You will also find animals like red deer, sika, and fallow roaming around the park.
15. Ripon Cathedral
Ripon Cathedral is one of the most amazing early Gothic architectures in England and is featured on most tourist things to do in Ripon with its west front known to be its most impressive angle.
Completed in the year 1220, the cathedral features things like Lancet windows arranged in rows and framed using archivolts and slender columns.
It's worth noting that the cathedral was not the first church to stand on this site, rather it is the fourth. You will still find in the crypt inside the cathedral some things from the church built here in the 7th century.
After a hundred years of it being built, the choir side of the church was renovated and a geometric window designed using the Gothic style was placed on its east side.
One of the notable priests that have presided in this cathedral is Lewis Carrol who was Canon there in the 19th century.
You are free to take pictures of the 35 misericords that is seen in the choir stand, it is believed that they inspired some of the characters in Alice's Adventures in Wonderland.
Address: Liberty Court House, Minster Rd, Ripon HG4 1QT, United Kingdom
Are you considering exploring parts of the United States?, here is our list of things to do in Decatur, Alabama, and things to do in Yuma to guide your bucket list.
16. Ripon Canal
Ripon Canal is a green corridor that is about 2.3 miles long starting from an old wharf located in the southeast of the city down to the River Ure.
Completed at the beginning of the 1770s, the canal was used for shipping coal in and out of the city.
However, It fell into decline in the middle 19th century when railways became the major means of transportation.
The canal was later restored in the 1990s by the people of Ripon.
Some of the features of the canal include a footpath which at its edge are wildflowers.
17. National Trust Long Dales Route
National Trust Long Dales Route is a challenging route which most bikers love to explore on their visit to Ripon. If you love cycling, this should be top on your list of best things to do in Ripon.
This route which starts from the National Trust Fountains Abbey and Studley Royal World Heritage is filled with beautiful sceneries.
Some of the places the route cuts across includes the deer park, through the lanes of small villages like Marsham before getting to Wensleydale.
Other places you get to pass through on this trail include Bishopdale, the Tour de France route, Arncliffe, Malham Moor, and more.
When you get to the National Trust site of Brimham Rock, keep in mind you have gotten to the finishing line of the route for it leads back to the Fountains Abbey and Studley Royal in Ripon.
Along this route, you will find restrooms, benches, restaurants, and lots of other features that help make the journey easy and fun-filled.
18. Lightwater Valley
Lightwater Valley is a theme park situated about 10 minutes away from the town Center and features so many children play areas, thrilling rides, and lots of animal attractions.
It is a place worth adding to your checklist of things to do in Ripon if you are visiting with kids.
One of the most fascinating things in the park is "The Ultimate", this is a rollercoaster made with steel about 2,268 meters in size and the second largest rollercoaster in Europe.
This park also has two hills which is about 30 meters high where you get to see beautiful views of the countryside and the park from the top.
Another feature of the park is the Eagle's Claw, a giant swing ride that is more adventurous than The Ultimate.
There is also the narrow gauge railway and also an adventure golf that you can play.
Check out also the Eagle's Creek Farm where you will find animals such as donkeys, Shetland ponies, and pygmy goats.
There is also a center for birds of prey where you will be also taught how to handle them.
Address: Water Ln, North Stainley, Ripon HG4 3HT, United Kingdom
19. Markenfield Hall
Markenfield Hall is a Gothic manor house in Ripon which was formerly not opened to visitors.
Right now, visitors are allowed to explore it, just for 30 afternoons in a year with offers pre-arranged tours.
You will find Markenfield Hall along A61 where it is protected by a square moist which is a habitat to two black swans.
Markenfield Hall was built in the 14 century, but some of the features of this manor were added in the 16th century one of which is the Tudor gatehouse.
Other features of the house include four-poster bedrooms, a great hall, a chapel, and a Gothic kitchen.
A visit to Markenfield Hall should be on your list of things to do in Ripon.
Address: Markenfield Hall, Ripon HG4 3AD, United Kingdom
20. Ripon Racecourse
One popular game residents of Ripon engage in is the Racecourse which holds in a place called the Yorkshire Garden Racecourse.
Yorkshire Garden Racecourse is one of the most beautiful spots in the town.
This horse racing held in Ripon has become a tradition as it has been taking place for about 300 years now with the winner's prize increasing yearly making it more attractive.
In the last event, the prize money set was over £850,000. If you wish to participate in this game, the venue is close to where A1 is located.
Address: Boroughbridge Rd, North Yorkshire, Ripon HG4 1UG, United Kingdom
21. Ripon Courthouse Museum
Also known as the Liberty Courthouse Museum, the courthouse which was transformed to be the Ripon Courthouse Museum has not been changed from the way it was built in the year 1830.
Some of the things to check out while in this place includes a library which contains manuals from 18th and 19th century located in the Jury Room.
There is also the Retiring room where you can find a gallery of portraits showing many of the past magistrates who once presided at this court.
You will also learn about the stories of some of the defendants and the sentence they received.
It is a place worth adding to your bucket list of things to do in Ripon.
Address: Minster Rd, Ripon HG4 1QS, United Kingdom
Would you like to explore other parts of England?, here is a list of things to do in Kidderminster as well as things to do in Amersham for a fun time in these parts of England.
Plan a Trip to Ripon
Ripon is a historic city filled with lots of things to do that tends to keep you entertained and relaxed throughout your stay.
A trip to this place is worth it, you can pin this article as a guide to refer back to while planning your trip.