In search of the best and most fun things to do in Red Lodge, MT?
Red Lodge is a city in Montana, United States. It is also the county seat of Carbon County. The total number of people in Red lodge as of 2020 was 2,257.
Red Lodge is an attractive town filled with warmth, style, and hospitality. This quaint city is famous for outdoor activities such as mountain biking, fly fishing, and skiing.
Whatever you're looking for, Red Lodge has it all, from outdoor fun to entertainment, accommodations, excellent diners, and more.
Are you planning an exploration of Red Lodge? Here are the best things to do in Red Lodge, MT.
Things to Do in Red Lodge, MT
1. Wild Bill Lake
One of the many fun things to do in Red Lodge, MT, is to fish at Wild Bill Lake. The Wild Bill Lake is on the west fork of Rock Creek Road.
Although the Lake is small, it's famous among visitors and locals looking for places to explore. You can also have picnics here, as the Lake has four picnic areas; however, it follows a rule of first come, first serve.
The Wild Bill National Recreational Trails also surround the Lake. It has a fishing dock that can also be used by the disabled.
The Wild Bill Lake often has anglers fishing in the water. However, people are expected to have a Montana- based license to fish in the water.
Address: Red Lodge, MT 59068, United States
2. Beartooth Highway
If you love driving, you would want to visit the Beartooth Highway. The Beartooth Highway is a wonder In Montana.
The Beartooth Highway, ascending 10,947 feet, is dubbed "the most magnificent route in America" by Charles Kuralt, a road journalist.
Since the Highway's completion in 1936, it has floored visitors and travelers who have come to behold the fantastic site. Many habitats, such as the rich lodgepole pine forests, can be found along the Highway.
Another fantastic feature of the Highway is that it makes it easy for people to access hundreds of trails and Alpine Lake. It is accessible between Memorial Day and occasionally in October.
Address: Beartooth HWY, Montana, United States
3. Vista Point Observation Site
The vista Point Observation Site is a famous stop point and a rest area along the Beartooth Highway.
It has a short hard surface trail that will lead you to a viewing platform where you can see the Rock Creek Valley, Hellroaring Plateau, Silver Run Plateau, and the Beartooth plateau.
These trails are also suitable for people in wheelchairs. It also has two restroom facilities and a large parking lot.
The Site is home to ground squirrels which you might see during your visit.
Address: Beartooth Hwy, Red Lodge, MT 59068, United States
4. Red Lodge Mountain Resort
Red Lodge Mountain Resort is one of Montana's best destinations. The mountain gives off a special feeling compared to other mountains in the state. It also has a relaxed and easy-going appeal.
The lift tickets here are cheaper, while the lift lines are fewer. The Resort spans 1,600 acres and an average of 250 inches of snow yearly.
Other features at the Resort include skiing lessons, a small but cozy lodge with cafeteria-style dining, and rentals.
Finally, the Resort holds winter activities like the carnival, which involves fireworks, costumes, and races.
Address: 305 Ski Run Rd, Red Lodge, MT 59068, United States
5. The Yellowstone Wildlife Sanctuary
Explore the Yellowstone Wildlife Sanctuary to learn about the ecosystem and the animals that live here, as it's one of the top things to do in Red Lodge, MT.
The place is privately owned and has no link to the federal government or the Yellowstone National park. The establishment has been operating for 30 years.
The Sanctuary is filled with only rehabilitating animals and birds, as they are unfit to live alone in the wild. The establishment is also the first Sanctuary accredited by the American Sanctuary Association.
Some animals found in the Sanctuary are Lynx, Foxes, Mountain Lions, Wolves, and Black Beer. It also contains birds like falcons, owls, and hawks. There is also a stunning landscaped garden in the Sanctuary.
Both the guided and self-tour are timed between 60-90 minutes. The attraction is wheelchair accessible.
Address: 615 2nd St E, Red Lodge, MT 59068, United States
6. Elk River Outfitters
Are you looking to see Red Lodge on a horse? Head over to the Elk River Outfitters to enjoy a tour with them.
The Elk River Outfitters is a fifth-generation family-based company in Montana. They are the most famous riding services in Red Lodge.
The riding services begin from the stunning Rock Creek to a vista, where you can get a view of seven various mountain ranges. You will get a real-life western experience.
The horses are in excellent condition and easy to ride. The guides ensure everyone's safety.
Visitors who have ridden on the horse of the Elk River Outfitters have showered praises on them and marveled about the great experience.
You should bring boots, a hat, a cap, sunglasses, water bottles, and jeans for the adventure.
Also, you don't have to worry about missing out on rides with them because they have different options for you, such as hourly section half-day and full day.
Address: 10 State Hwy 308, Red Lodge, MT 59068, United States
7. Red Lodge Nordic Center
The Red Lodge Nordic Center on the Aspen Ridge Ranch is perfect for spending a day with your loved ones, skiing, or making snow angels in the snow.
The Center is run by a nonvoluntary organization, the Beartooth Recreational Trails Association.
The Red Lodge Nordic Center has well-maintained trails. The trails are not put too close, so there's enough space for everyone to do their thing. You can also see the stunning view of the mountain from here.
If you have been looking to learn how to ski during your vacation, this is a place to go because they offer ski lessons to adults and children.
If you don't know how to skate, you can learn here. The Nordic Center operates during winter, so it's suitable for people vacationing here. The months of operations are between December and March.
The trail is maintained weekly. Four trails are quite easy to use, while seven are for experts.
Address: Address: Red Lodge, MT 59068, United States
8. Red Lodge Pizza Co.
Fancy a pizza in Red Lodge, MT? Head over to Red Lodge Pizza Co. Red Lodge Pizza Co. began in 1996. Tim and Eliza Kuntz, a newly married couple, birthed the company.
Red Lodge Pizza Co. hoped to provide long-lasting memories for people who come to eat the savory pizza at the shop.
They sell different kinds of pizza like Newman bison meatball pizza, red sauce, and plain cheese. Aside from pizza, they sell ice creams.
The company is a friendly and adorable restaurant. The staff pays attention to the customers and provides the comfort needed. You can also come here with your friends to have a good time.
Address: 115 Broadway Ave S, Red Lodge, MT 59068, United States
To the east of Montana is North Dakota, Check out this list of things to do in Fargo, and things to do in Dickinson for a memorable North Dakota road trip.
9. Basin Campground
Basin Campground is situated 7 miles west of Red Lodge. It is 7000 feet and covers an area of 7 acres.
Basin Campground has 30 campsites. Tents, trailers, and RVs can occupy these campsites.
The campground is primarily open from the middle of May to the Center of September. However, it is necessary to make reservations before you can make use of the campground.
The destination is popular for hiking, backpacking, and hunting. The campground is close to trails and a lake that can be used for fishing. Pets are also permitted.
The site is furnished with grills, a campfire, and a picnic table. It also has toilets and a pump for drinking water.
Address: Red Lodge, MT 59068, United States
10. Red Lodge Clay Center
Sometimes trying out new things can be fun, and you'll be shocked at how much you can learn in a short time. So while holidaying in Red Lodge, how about you learn clay art?
The Red Lodge Clay Center, which began in 2006, was established by David and Maggie Hitlner.
Here, children and adults are taught how to mold clay. It opens its doors yearly to artists by organizing free workshops for them. Ceramic exhibitions, art residencies, and ceramic products are available.
The Red Lodge Clay Center seeks to help people interested in clay art and encourage artists dedicated to their craft by creating a suitable environment for them.
Address: 123 Broadway Ave S, Red Lodge, MT 59068, United States
11. Pollard Hotel
Staying at the Pollard Hotel means having a period of ultimate luxury. Here you will appreciate the handmade design and art depicting the region's history.
Visitors can enjoy delicious meals, use the exercise equipment in the gym room, and tour the town.
After a day of sightseeing, you can relax in the sauna or help yourself to drinks at the cocktail bar.
Since Pollard Hotel is not too far from most of the attractions in the city, it is the perfect place to stay while you explore these attractions.
The Pollard Hotel has 38 guest rooms that have been renovated to give it a modern touch. The Hotel features a terrace, a coffee shop, a racquetball court, a bar, and 24 health clubs.
The Hotel provides free Wi-Fi in every room. Other perks this Hotel provides are outdoor furniture, tea in the lobby, smoke-free areas for people who hate smoking, and a gift shop.
Other conveniences include bathrooms with complimentary toiletries and hair drying machines, cable channel TVs and room heaters, and daily housekeeping.
Address: 2 Broadway Ave N, Red Lodge, MT 59068, United States
12. Carbon County Historical Society & Museum
This attraction is a building that contains past stories of the Carbon County area.
A significant property of this three-story brick Museum is that it's housed in the first labor temple built in Montana. It is located on the north end of the business district.
The Museum is a wonderful place to visit because you will view the flashes of the past through the exhibits that decorate the building. These exhibits give a clear picture of old civilization and the modern rodeo.
In addition to the exhibits, the Museum host different programs on the last Wednesdays of the month, except for November and December, featuring different speakers.
Lastly, a Red Lodge walking tour is provided for those interested.
Address: 224 Broadway Ave N, Red Lodge, MT 59068, United States
13. Roosevelt Center
Are you searching for what to do in Red Lodge, MT? Watch an art performance at the Roosevelt Center.
Art is a vital part of Red Lodge, and this has been shown in the past through the first folk dance and some organizations. Till now, it is reflected in the small community.
However, there was the need for a center that would be used to hold these events, and this was how the Roosevelt Center came to be.
It is a facility for different purposes, such as art-related activities, conferences, educational seminars, and receptions.
Since this is a building designed by the members of the Red Lodge community, anyone can use it to put on a show, hold a seminar, or a conference.
The Center is quite large and can host up to 300 guests.
Address: 519 Broadway Ave S, Red Lodge, MT 59068, United States
14. White Water Rafting
White Water Rafting is a favorite outdoor activity in Red Lodge, MT. It is a good activity for you and your kids, regardless of age. This activity is on the high pedestal of fun things to do in Red Lodge, MT.
If you feel like experiencing the rush of water around you, you should go white water rafting.
Rock Creek and the Clark Fork of Yellowstone are rivers used for White Water Rafting.
Even if it is your first time participating in White Water Rafting, you will do okay as you will be guided.
The still water is suitable for non-professional rafters. Although it has some rock-filled sections, it can easily be avoided but ensure you go with a guide.
The Rock Creek and Clark Fork are suitable for more advanced rafters.
Address: Red Lodge, Montana, United States
15. Red Lodge Ice Rink
One of the best things to do in Red Lodge, MT, is to go ice skating. Red Lodge Ice Rink is a popular tourist destination during the winter season.
The Ice Rink, established in 2006, aims to create fun and family-friendly entertainment for locals and tourists; hence you can visit this location alone or with your family.
Thanks to the night light, night skating can be done here. Some additional features in the Ice Rink are bathrooms and a parking lot. It also organizes hockey and skating classes for people who want to learn.
Address: Red Lodge, Montana, United States
To the east of Montana is South Dakota, here is a list of things to do in Hill City, things to do in Keystone and things to do in Mitchell for a memorable South Dakota road trip.
16. Red Lodge Cafe & Lounge
The Red Lodge Café was initially called the Burton café until Margaret Buening bought it. She purchased it in 1930 and changed its name to its current one.
The enterprise was initially built as two small cafes before it was bought. The Café has a pleasant aura and has been the go-to for many tourists since the 90s.
The Café offers breakfast, lunch specials, and beverages. The staff in Red Lounge Café is friendly. The Café may not be frivolous, but it is welcoming and homely.
Address: 17 Broadway Ave N, Red Lodge, MT 59068, United States
17. Montana Candy Emporium
Visit Montana Candy Emporium, a fortress for sweet things, if you're wondering what to do in Red Lodge, MT, with your kids. Kids will surely love it here.
Montana Candy Emporium was originally a movie theatre, then a park, until 1961.
The inside of the shop gives off a vibe of an old-school country store. It even has retro decorations on the wall.
Different candies, such as taffy, fudge, and jellybean, can be found in the shop. This shelf of classic sweets will almost make you feel like a kid again.
The shop has a noticeable marque that advertises the newest collection of sweets. The shop has been a favorite for tourists for about 20 years.
Address: 7 Broadway Ave S, Red Lodge, MT 59068, United States
18. Pheonix Pearl Tea House
Phoenix Pearl Tea House is a small business in Red Lodge, MT. They deal with things like herbs, tea, and spices.
The Phoenix Pearl Tea House features more than two hundred kinds of tea and has designed more than 59 personal flavors, such as banana bread and moon.
The teas are made with tea leaves and later made into lattes that involve a variety of milk.
The different teas can make you overwhelmed but don't worry; the staff will be there to help you make the right choice.
The walls of the tea room are decorated with board games that you can play. There are so many games to pick from. You can purchase the game if you like.
The Phoenix Pearl Tea House is the right place to spend a few hours and rest while sipping a delicious cup of coffee.
Address: 13 Broadway Ave N, Red Lodge, MT 59068, United States
19. Red Lodge Powersport
You don't want to miss out on an outdoor excursion because of the lack of a vehicle. Red Lodge Powersport can assist you with outdoor adventure by providing all the necessary transportation.
They are willing to plan a timetable of outdoor activities if you don't have any and provide the mode of transportation you will need for such activities.
They make available UTV, snowmobiles for a full or half day, depending on what you want, and car rentals. Also, if you are with your kids, they will be given helmets to protect them.
The Red Lodge Powersport was established in 2012, and the push for this establishment was the Beartooth Highway.
Some paths explored by the Red Lodge Powersport are glacier lake roads, the wet fork of Rock Creek, and the Meeteetse trails.
Address: 1002 Broadway Ave N, Red Lodge, MT 59068, United States
20. Prerogative kitchen.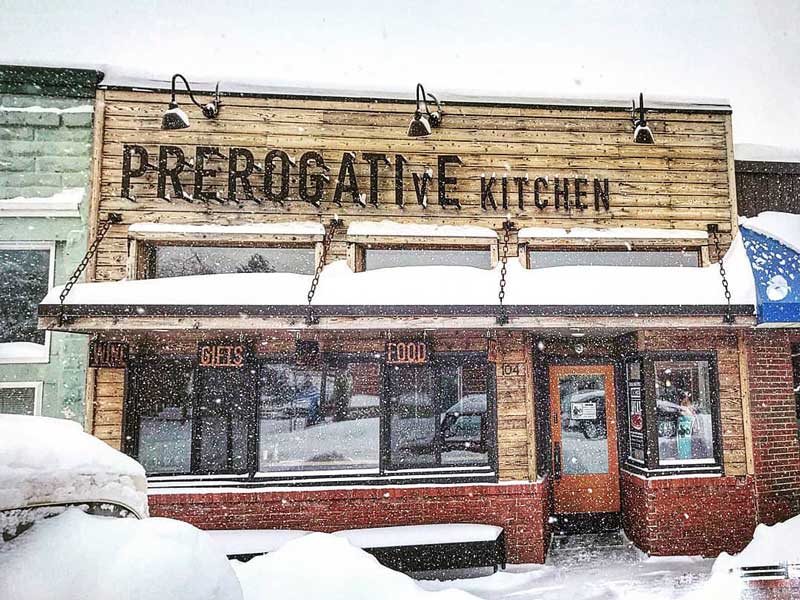 This destination is a popular and casual restaurant in Red Lodge, MT. It is a place you should eat at while you are in town.
It is located in an old bakery, and you can see some memorabilia from this bakery on the décor, such as muffin pans on the walls and plush bread proofing in the seating location.
In the restaurant, they serve delicious food. Whether you are a vegetarian or not, the menus cover any meal you want.
They have meals like Brussels sprouts, blue cheese, risotto sliders, and baked chicken. Make sure you have a taste of the delicious meals at this restaurant. This restaurant is undoubtedly one of the best places to visit in Red Lodge, MT, for a good dinner.
Address: 104 Broadway Ave S, Red Lodge, MT 59068, United States
21. Red Lodge Mountain Golf
If you are in Red Lodge during the summer season, why don't you golf at the Red Lodge Mountain Golf course? It is one of the top things to do in Red Lodge, MT.
The golf course is one of the favorite places that locals and tourists like to visit. The view is stunning, and the atmosphere serene.
Red Lodge Mountain Golf has an 18- hole course. Also, the golf course is circled by the gorgeous mountain view, and the surroundings have features like creeks and islands.
The golf course is usually populated from the middle of May to the Center of October. Aside from playing golf, you can buy or rent equipment at the Red Lodge Mountain Golf. The destination holds tournaments.
Address: 828 Upper Continental Dr, Red Lodge, MT 59068, United States
22. The Pollard Pub
The Pollard Pub has 125 seats and is connected to the Pollard Hotel. It is situated in a section of The Pollard Hotel called the old JC penny building.
It has a wide range of drinks and local beers, giving the menus an additional edge.
The pub provides excellent food and beverages for adults and kids. You can also get live entertainment four times a week. You should visit this place and indulge in the services it provides.
Other things sold in the pub are beer, spirits, wine, food and beverages, and gift baskets.
Address: 2 Broadway Ave N, Red Lodge, MT 59068, United States
23. Red Lodge Ale
There is a galore of breweries in Red Lodge that you can visit. If you're a beer lover, Red Lodge Ale is one of the best places to visit in Red Lodge, MT.
Red Lodge Ale makes its beer using the soft waters of Montana and the barley that grows there.
The brewery is an excellent place to produce beer because of its adequate climate and soft waters.
The beer is always fresh, and the taste is heavenly. The brewery has an outside patio where your kids can play as you drink your beer. This brewery also offers various kinds of meals.
Red Lode Ale gives tours of the establishment to people. Join the tour and have a cup of finely brewed beer accompanied by a delicious meal.
Address: 1445 Broadway Ave N, Red Lodge, MT 59068, United States
Want to spend more time in Montana? Explore other cities of Montana, here is our list of things to do in Great Falls, things to do in Kalispell, and things to do in Butte.
Plan Your Trip to Red Lodge
Red Lodge city has a rich western past and tons of fun activities. It offers visitors many opportunities that will not leave them bored.
After going through our carefully selected list, plan that trip. A fun time awaits you in Red Lodge.