In search of the best and most fun things to do in Fargo, ND?
Fargo, North Dakota, United States, is a historic city that no one should miss visiting. Fargo is the seat of Cass County in North Dakota.
Fargo is the most populated in North Dakota, having a population of 125,990 as of the 2020 census. Fargo is a vibrant city with numerous attractions, including excellent restaurants, entertainment venues, museums, parks, universities, galleries, unique lodgings, etc.
During your visit, check out the Plains Art Museum, Red River Zoo, Fargo Air Museum, Fargodome, Lindenwood Park, etc.
Are you planning to visit Fargo? Here are the top things to do in Fargo, ND.
Things to Do in Fargo
1. Fargo-Moorhead Visitors Center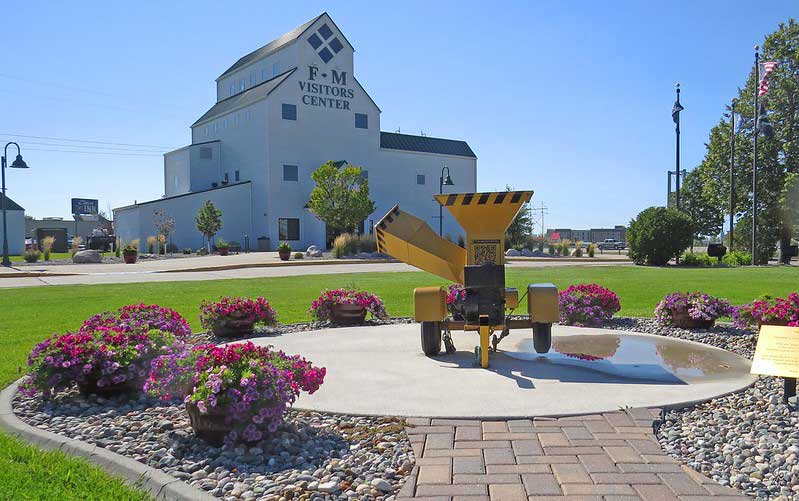 Visiting Fargo-Moorhead Visitors Center is one of the top things to do in Fargo, ND, where you can get all the essential information needed to enjoy your stay.
It would be beneficial to get here on the first day of your trip if you have no prior knowledge of Fargo. A peep inside the Fargo-Moorhead Visitors Center will allow you to know about the city's essential details.
The Fargo-Moorhead Visitors Center offers essential information about the city, its contents, and how to get there. You can get a map at the welcome center to aid your navigation.
The order of the places to choose and their distances will be detailed. There is also a Celebrity Walk of Fame outside the structure.
This location is a favorite among photographers due to all the picturesque corners.
Address: 2001 44th St S, Fargo, ND 58103, USA
2. Lindenwood Park
You will not regret including a visit to Lindenwood Park with your family or friends on your list of fun things to do in Fargo, ND, especially if you are an outdoor recreation enthusiast.
Lindenwood Park is situated alongside the Red River on Roger Maris Drive. It is the biggest multi-purpose Park in Fargo.
All kids can use the spacious playground known as the Universal Playground. At the same time, young leagues utilize a few out of the other seven baseball fields.
Many picnic and meeting shelters are available at the Park; the largest, which can hold up to 200 people, also has electricity, a charcoal grill, and other essential facilities.
The Park has many pathways, including skating trails, and in the hotter seasons, you can rent bicycles for cycling. In addition, the Park features a lovely campsite.
Address: 1905 Roger Maris Drive, Fargo, ND 58104, USA
3. Red River Zoo
A trip to the Red River Zoo is one of the fun things to do in Fargo, ND. It was established in 1999 on a 33-acre land, featuring many ponds, a beautiful landscape, and rolling hills.
Many parents have given positive reviews about the Zoo after visiting with their kids, who left with smiles on their faces, and some who found it difficult to leave.
The establishment has a park containing over 500 shrubs and trees, giving it that wilderness oasis ambiance at the center of an urban environment.
The 300 animals at the Red River Zoo are provided with safe and conducive enclosures that mimic their natural environment in the wild.
The Zoo has a wildlife conservation scheme that safeguards and breeds/mates many endangered species to prevent their extinction. Animals from different locations with identical climatic conditions are also available at Red River Zoo.
Address: 4255 23rd Ave S, Fargo, ND 58104, USA
4. Hotel Donaldson
Spending your nights at Hotel Donaldson is a wise choice because of its location close to the Red River and its accessibility to all the city's major attractions.
Among top-ranking hotels in Fargo, North Dakota, Hotel Donaldson features pet-friendly accommodations and Wi-Fi.
A breathtaking view of the city can be seen from the hotel, which faces over the Fargo skyline. Everything positive about Fargo is reflected in the hotel's atmosphere.
Given that Fargo may get very chilly, you will appreciate the creative décor created by regional artists and the heated tile floors.
The excellent on-site restaurant serves delectable, typical midwestern fare to keep the cold at bay. Hotel Donaldson is top-rated, and so is its customer service.
Address: 101 Broadway N, Fargo, ND 58102, USA
5. Fargodome
One of the best places to visit in Fargo, ND, is the outstanding Fargodome. Along the North University Driveway within North Dakota State University campus is Fargodome, a sizable enclosed stadium. Fargodome, established in 1992, is the home of the state university's Bison football team.
Fargodome is also where many significant events like trade shows, Athletic tournaments/competitions, and live concerts are held.
The 18,700 seating stadium for football games also expands to 25,000 seating capacity when used for some events, such as live concerts.
You can watch a football game or witness a live concert at the Fargodome if you visit at the scheduled times.
Musical concerts by famous musicians such as Katy Perry, Paul Cartney, Cher, Bruce Springsteen, Ringling Bros, and Bailey & Barnum Circus are a few significant events held at Fargodome.
Address: 1800 North University Drive, Fargo, ND 58104, USA
6. MainStay Suites Fargo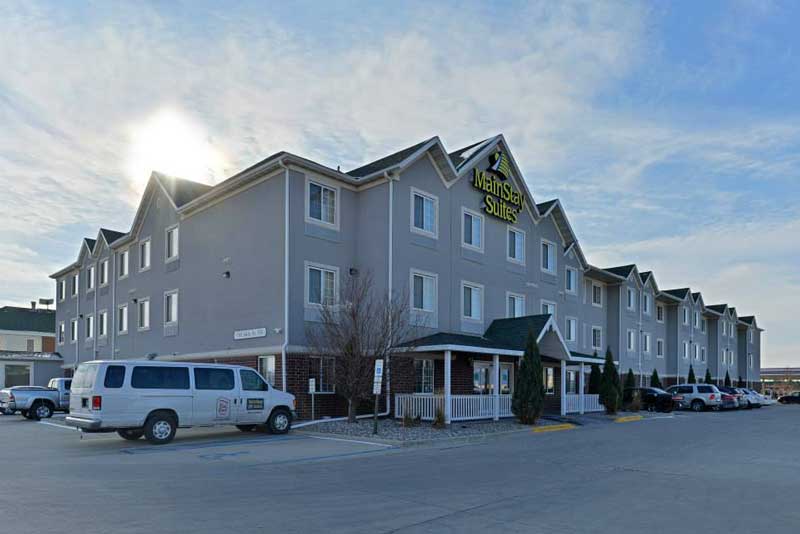 The proximity of the MainStay Suites in Fargo, ND, to the Jet Center and airport make it a tourist's favorite lodging ground.
Furthermore, this fantastic hotel provides complimentary airport transportation for its customers. One can access important destinations like the State University.
The hotel has an eatery that serves one of the best cocktails in Fargo. The accommodation is of top quality, giving you the best dining and lodging experience.
Some of the Lodging amenities include housekeeping services, cable televisions in all rooms, and an indoor Jacuzzi.
Customers' access to a business center with photocopy services and fax makes it an ideal accommodation option for people on business trips.
MainStay Suites is also perfect for couples on vacation or honeymoon as it offers romantic (honeymoon/couple) suites.
Address: 1901 44th St SW, Fargo, ND 58103, USA
7. Courtyard by Marriott Fargo
The Courtyard by Marriott is a hotel with a lounge, bar, restaurant, and fitness facility not far from Red River Zoo. In addition, the lounge offers an indoor pool to accommodate Fargo's chilly environment.
Although it only has three stars, Fargo travelers consistently rank this as the best hotel in the city.
Courtyard by Marriott Fargo offers amenities you might not find in other three-star hotels, like free Wi-Fi, a hot tub, and a patio.
When you're on the road for work, the hotel will help you with your responsibilities by providing fax and photocopy services.
Address: 2249 55th St S, Fargo, ND 58104, USA
8. Drekker Brewing Company
A tour of the Drekker Brewery is an interesting adventure if you're wondering what to do in Fargo, ND, and you enjoy beer.
Even though it has the newest technology, everything is still done by hand with great attention to the ingredients and the caliber of the beers.
You can either participate in sampling four of their most well-liked beers or go on their "grains to glass" tour to get insight into the brewing procedures.
Visit the taproom at Drekker for the best chance to get into the atmosphere; it's a lively, roomy space perfect for gatherings with friends.
In homage to the proprietors' history, the decor has a "contemporary Viking" theme, and a wide variety of brews are available.
Drekker Brewing Company does not serve food, but the unique taste of their beer makes it worth the visit.
Address: 1666 1st Ave N, Fargo, ND 58102, USA
South Dakota has some of the best cities in the United States to explore, here is a list of fun things to do in Mitchell, things to do in Aberdeen and things to do in Spearfish for a fun exploration
9. Children's Museum at Yunker Farm
Taking your Kids to the Children's Museum at Yunker Farm is not to be missed if you want a memorable family trip.
The Children's Museum is on 55 acres of land, featuring over 50 relics. It is an excellent place for children to do what they do best "have fun."
Thanks to the space inside and outside of the Museum, children can play games regardless of the weather.
The Museum hosts a ton of events all year long. The calendar shows what events are scheduled before your visit.
Address:1201 28th Ave N, 58102, Fargo, ND 58104, USA
10. Fargo Marathon
Among the adventures in Fargo, ND is joining the Fargo Marathon, especially if you are a sports/fitness enthusiast. Seize the chance to challenge yourself.
With 300 young runners, the Fargo Marathon debuted as the Scheels All Sports Run for the Kids Half Marathon in May 2002. By 2014, there were 24,000 runners registered.
The Half Marathon, Largest Kid's Race, 5K Walk/Run, Full Marathon, 10K, and relays are now included.
The entire city of Fargo and numerous guests come together for various events that occur before and at the end of the marathon.
The marathon race gets underway at the Fargodome in front of 15,000 supporters before moving on to North Fargo's tree-lined streets.
Address: 1800 North University Drive, Fargo, ND 58104, USA
11. Fargo Air Museum
Do you love to fly, or are you a fan of aircraft? If yes, you should add a Visit to Fargo Air Museum list of the best things to do in Fargo, ND. It is also lovely to visit if you have kids who dream of being pilots one day.
Get better insight into planes by looking at the first aircraft models at Fargo Air Museum, located north of Fargo at Hector International Airport.
Among the many historic aircraft displayed in Fargo Air Museum, 90% are still in great shape to fly, thanks to their top-notch maintenance.
A hand-built Velocity Fixed Wing Aircraft, a Piper J3-C65 Cub, and a North American P-51D Mustang are among the various aircraft on the display hanger.
There is also a 1:1 scale copy of the Wright Brothers' aircraft at the Museum. If you have kids, you can register them for the Young & Super Aviator camp hosted by Fargo Air Museum.
Address: 1609 19th Avenue North, Fargo, ND 58103, USA
12. Newman Outdoor Field
Within North Dakota State University lies Newman Outdoor field. This field is the home of the Fargo-Moorhead RedHawks baseball team and the North Dakota State Bison football team.
In 1996 when the Stadium was first established, it was named "The Nest." The grassy field has a 4,513 seating capacity.
The field also has a LED display board with a width of 226 feet and a height of 13- feet alongside a digital scoreboard.
Newman Outdoor Field has an infield tarp cover for when it rains, top-notch lighting equipment used during night games, and a batting cage you can use to practice your swings.
Address: 1515 15th Avenue North, Fargo, ND 58104, USA
13. Plains Art Museum
One of the best things to do in Fargo, ND, is to visit the Plains Art Museum, an art gallery on First Avenue North.
The Museum acquired and preserved the International Harvester Warehouse in 1994, a building that represented a historic turn of the century.
Three thousand pieces of regional and national art, modern art, traditional native American art, and traditional folk art are part of the Museum's perpetual collection.
The Museum has a semi-trailer used as a movable art gallery to transport art pieces from its collections to areas outside of Fargo; this serves as an invitation to the Museum.
Address: 704 First Avenue North, Fargo, ND 58103, USA
14. North Dakota State University
North Dakota University is a public academic institution in Fargo, ND, situated along Administrative Avenue.
The University is seated on a solid 258 acres of land. Its complete name is the North Dakota State University of Agriculture and Applied Sciences, having a student population reaching 15,000.
In 1890, it was founded as the North Dakota Agricultural College. Since then, it has grown to include 47 doctorate degrees, 81 master's degree programs, and 102 undergraduate majors.
There are other agricultural research extension centers at the institution and the main campus in the city's downtown.
Over 100 large structures make up the main campus. The Babbling Brook, a sizable water feature on campus, is a well-liked location for students to gather and unwind.
Address: 1340 Administration Avenue, Fargo, ND U58104, USA
15. The Bonanzaville USA
Bonanzaville USA is situated about half a mile west of Fargo along Main Avenue West Road. The Cass County Historical Society manages this historical museum.
The 12-acre museum entails 47 ancient structures transported from different areas. Among the historic buildings found at Bonanzaville are a drug store, general store, schoolhouse, fire station, church, and more, featuring historic vehicles, numerous relics, etc
There are other museums, such as a telephone museum and a law enforcement museum, with many historical items.
The highest points of interest at Bonanzaville USA are the horse-drawn vehicles and firefighting equipment.
Address: 1351 Main Avenue West, West Fargo, ND 58078, USA
Planning an exploration of South Dakota, check out our list of things to do in Hill City, things to do in Custer, and things to do in Keystone for a fun time in these cities of South Dakota.
16. Luna Fargo
Shopping or eating at Luna Fargo is an exceptional experience. Any community would be lucky to have such an establishment.
Luna Fargo began as a coffee shop before expanding to having a deli, cheese shop, wine shop, and restaurant.
Come in for some fresh, aromatic baked goodies; the establishment bakes everything itself, and their fair trade coffee is imported from around the world.
The menu varies daily, so if you return for lunch or dinner, Chef Ryan Nitschke will wow you with a new and seasonal meal.
Prepare yourselves for his fantastic spin on old favorites. He can combine regional flavors, seasonal ingredients, and elegant ingredient pairings to generate works of art that appeal to your senses.
Luna offers 15 different wines by the glass. After trying a few to determine which you prefer, you can buy your preferred choice to go.
Order a cheese plate to sample some of their incredible 40 kinds of cheese, both local and imported. Get some cheese, bread, cold cuts, and wine from their counter before you depart.
Address: 1545 South University Dr., Fargo, ND 58103, USA
17. Black Coffee and Waffle Bar
Black Coffee and Waffle Bar, established in 2013 by Andrew Ply and Brad Cimaglio, is a trendy cafe brand that offers premium coffee drinks and gourmet waffles.
The brand, which started as a renovation of the former Muddsuckers coffee shop in Minneapolis, now has three locations around the country, including the one in Fargo, ND, in 2019.
Regional Minneapolis coffee roasters Vitality Roasting supplies delicious mochas, nitro cold brew drinks, lattes, and macchiatos.
Teas, chai from Gray Duck, and a selection of steamers and hot chocolate drinks are also available to diners.
Different waffle concoctions, including the Dakota Luau, containing pulled pork, honey barbecue glaze, and salsa, are available as traditional or gluten-free.
There are traditional and gluten-free versions of sweet and savory waffle creations like the Dakota Luau, topped with pulled pork, honey barbecue glaze, and pineapple salsa.
Address: 550 2nd Ave N, Fargo, ND 58102, USA
18. Roger Maris Museum
The Roger Maris Museum is close to the Aquarium Court at the West Acres Regional Shopping Center on 13th Avenue South in Fargo.
The Roger Maris Museum honors Roger Maris, a renowned major league baseball player from 1934 to 1985. When Maris hit 61 home runs during the 1961 season, he broke the previous record.
The glass-covered Museum is filled with several artifacts and mementos from his youth and Major League Baseball courier.
The Museum also features a theater with open seats from Yankee Stadium, where visitors can view old videos of Maris.
Address: 3902 13th Avenue South, Fargo, ND 58104, USA
19. Fargo-Moorhead Opera
The Fargo-Moorhead Opera, founded in 1968, produces three fully staged opera performances every season and other wholesome events, like the Snowball Gala in December.
Fans of classical music who have attended an event or two at Fargo-Moorhead Opera say it is one of their most fascinating experience.
They also organize other events, like the Summer Tasting at the HoDo, Lemon and Cream Summer Fling, and Flights of Wine and Fancy.
The business also offers a young artists training program called the Gate City Bank Young Artist Program that exposes kids to opera.
Address: 21 8th Street S Fargo ND 58103, USA
20. Mezzaluna
Taking your date to dinner at Mezzaluna is a must-do if you don't know what to do in Fargo, ND, but are looking for something unique and romantic.
Mezzaluna is a chic restaurant situated in the 1917 heritage loft of the Roberts Street Building in the heart of downtown Fargo, right off Broadway.
A Pressed metal ceiling, corbelled brick wall, tall windows, wood beams and joists, original stone trim, and wood flooring are just a few of the many original features. A romantic lunch would be ideal in the stylish and elegant dining area.
The American food at Mezzaluna is surprisingly straightforward; however, in-season products and creative mixtures of common everyday ingredients provide unique flavors that are mouth-watering and appealing to the sight.
Mezzaluna has a trendy bar famous for its timeless traditional cocktails and exciting new concoctions.
There is a well-known bar in Mezzaluna renowned for its inventive new concoctions and classic traditional cocktails.
Address: 309 Roberts Street, Fargo, ND,58102, USA
21. Fargo Theatre
Fargo Theater is among the best places to visit in Fargo, ND, if you seek top-notch live performance entertainment.
The Fargo Theatre is a historic auditorium with an art deco design for films and vaudeville performances. The Theatre was restored in 1999 to its original appearance and is listed among other landmark locations in the United States.
Fargo Theatre is located on Broadway North Fargo Downtown. This historical Theatre, established in 1926, was built in an art deck pattern as a structure for films and Vaudeville entertainment.
Today, the Theatre has become a popular location for events on arts and culture. The orchestra section has a seating capacity of 870, excluding the balcony.
Some of the Theatre's exciting entertainments include comedy performances, musical concerts, independent and foreign films, plays, and foreign films.
Address: 314 Broadway North, Fargo, ND 58104, USA
22. Herd & Horns
Given that most of them were once North Dakota State University athletes, Herd and Horns owners know the right appearance of a Fargo sports bar.
To ensure everyone could access it quickly, they first placed the bar across from the University. Then, they installed so many flat-screen TVs throughout the home that there is essentially no poor place to view the games.
Huge photographs of sports figures and events, reclaimed wood, metal accents, and several animal heads and horns are all part of the contemporary décor.
The food is far better than one would anticipate from pub grub, and there are 21 beers on tap and some excellent creative cocktails. The establishment intends to transform Herd and Horns into a dining establishment and bar where the food is the primary focus.
The emphasis is on foods that can be shared, like a salmon fusion burger or a Bourbon bacon jam and balsamic glaze. Hot, freshly prepared focaccia bread is used to serve their sandwiches and hamburgers.
Aside from being a fun place to visit, the food at Herd & Horns is good enough to convince you to make a second visit.
Address: 1414 12th Ave N, Fargo, ND 58103, USA
23. Smiling Moose
Have breakfast at Smiling Moose, a friendly neighborhood restaurant where breakfast is served anytime. Enjoy the delicious Sandwiches, inventive salads, wraps, sweet espresso coffee, and soups at Smiling Moose.
The key to their inventive sandwiches is that the meat, cheese, and bread are toasted before adding the remaining toppings.
A half-pound of coarsely diced, juicy sirloin, American cheese, banana peppers, tomatoes, and red onions, all seasoned with vinegar and spices, make up their original, distinctive Mighty Mo sandwich/burger.
You have a choice of eating in their cafeteria-style dining hall, outside, or by picking up your order at the pickup window to go.
Smiling Moose demonstrates that food need not taste like fast food just because it is cooked quickly.
Address: 2877 45th St S Fargo, ND 58104, USA
24. Thunder Road
Thunder Road has been offering summer entertainment to families since 2001, when it was established.
The amusement park started with two 18-hole miniature golf courses and a 1,000-foot go-kart track.
The park now offers laser tags, bumper cars, a video arcade, batting cages- three baseball and three softballs, and different food options.
It also has a full video arcade with party rooms. Thunder Road is proud of its attractions and aims to provide the best experience for all ages.
Address: 2902 Thunder Rd S, Fargo, ND, United States
25. Pixeled Brewing Co
You can trace Pixeled Brewing Co to the Historic Union Building on the west edge of downtown.
It is an arcade and taproom facility. It features an industrial vibe and over 40 video games from the 1970s, 80s, and 90s.
John-paul Klein, one of the owners of the business, says that their childhood memories of spending days in arcades inspired them to establish Pixeled Brewing Co.
Pixeled Brewing Co does not produce foreign-flavored beers as often as other craft breweries.
Their 12 taps include stouts, India pale ales, and porters. Most of their offerings have a sweeter taste and are lower in alcohol. Some include blond ales, cream ales, or the tasty New England additional IPAs.
Address: 1100 Northern Pacific Ave #101, Fargo, ND 58102, United States
26. Trefoil Park
Trefoil Park is a lovely forested area along the Red River with a paved walking path. It has a picnic table, grill, shoreline for fishing, a flying field for planes, and recreational trails.
Many people fish here, and there is access on the two sides of the river to see the remains of an ancient dam.
The Park is a calming place to sit and hear water flowing over the rocks. Dogs are welcome to enjoy the ambiance of this beautiful park.
The Park also hosts the yearly Control Line Model Airplane contest.
So if you are looking for where to hold a picnic while in Fargo, Trefoil Park is the perfect spot.
Address: 1321 Elm St N, Fargo, ND 58102, United States
Explore more cities in North Dakota, check out our list of things to do in Dickinson for a fun time
Plan Your Trip to Fargo
Fargo boasts an extraordinary variety of attractions, cultural prestige, fun activities, and an energetic, persevering spirit that go far beyond what you'd anticipate.
Whatever your hobbies, Fargo has something entertaining and educational for you. Fargo, ND, is generally a happy place. Don't hesitate to make it your next vacation destination.