A small but fun-filled city called Keystone is located in the heart of the Black Hills of South Dakota. Visiting this town means exploring Mount Rushmore, Crazy Horse Memorial, and its environment.
It also means you will find yourself around the famous Iron Mountain Road, which is richly forested. Keystone is equally great place for hiking, snowballing, and biking.
One of the biggest gold mines in Keystone, SD, Big Thunder Gold Mine, is a must-visit place during your trip. There are also several museums, restaurants, and gift shops in this small city.
If you are looking for top things to do in Keystone, SD, here is a list that will help you out.
Things to Do in Keystone, SD
1. Mount Rushmore National Memorial
This international site is popular with virtually all the residents of Keystone and beyond. The Mount Rushmore National Memorial was established in 1941 as directed by Gutzon Borglum, an American sculptor and his dear son.
The surroundings of this iconic sculpture cover around 1,278.45 acres of land, and today, the whole place has been converted into a park. The monument is carved into a mountain that portrays four US presidents, namely Thomas Jefferson, Abraham Lincoln, George Washington and Theodore Roosevelt.
It is majorly made of granite and is 60 feet high. It represents the dawn of the state and how these four leaders affected its growth. Mount Rushmore displays absolute splendor to the residents. So, if you are looking for best things to do in Keystone, SD, a visit to this iconic monument is what you need.
Address: 13000 SD-244, Keystone, SD 57751, United States
2. Custer State Park and Crazy Horse
If you wish to go on a private tour, you have a lot to discover in Keystone.
You can tour from Rapid City to Custer State Park, where you will enjoy watching South Dakotan wildlife like bighorn sheep, antelopes and American bison.
From there, you can make a stopover at the scenic Mount Rushmore. Then, head to the Crazy Horse Memorial to pay a mark of respect to the Native American warrior.
Address: 13438 US Highway 16A, Custer, SD 57730, United States
3. Big Thunder Gold Mine
A visit to Big Thunder Mine is worth adding to your list of fun things to do in Keystone, SD. Founded by two German settlers in 1892, the place is also famous as Gold Hill Lode.
Although Big Thunder Gold Mine is currently a museum, it illustrates the life of the neighborhood and the mining life in the gold mining age.
At the museum, you will come face to face with a gold mill copy, several kinds of rocks, and different artifacts that depict the gold mine age.
Being there for the first time, you can choose to tour the mine at different points. You may even get your hand busy at gold panning to know how it feels to be a miner.
Aside from the exhibitions at Big Thunder Gold Mine, there are also the gift shop and a restaurant that offer the finest-quality services to tourists. In Keystone, the restaurant is a famous attraction. With the gift shop, you can have almost anything you desire at nearly giveaway prices.
Address: 604 Blair St, Keystone, SD 57751, United States
4. Horse Thief Lake
Along Mount Rushmore is located Horse Thief Lake. It is the best place to enjoy the scenic views of this awe-inspiring mountain. In the past, several horse thief gangs paraded the area, bringing about the naming of this lake.
Besides, the lake is prominent for fishing, particularly ice fishing. Furthermore, the underground of the lake hosts guests who enjoy night camping.
Horse Thief Lake is bordered by picturesque trails that are excellent for hiking and other sporting activities.
Suppose you enjoy recreational activities and need to know stuff you can do in Keystone, South Dakota. In that case, you can head to this lake with friends and family. Watching the blue water stretch far beyond is an exciting activity.
Address: 10 miles south of Hill City, South Dakota,
5. True Piece of American History
It won't be wrong to enjoy a trip back in time in an 1880 American train round the beautiful Hill City of Keystone and back. This was exactly what the founders of this iconic town did in the past.
Enjoying this once-in-a-while adventure does not take more than a 20-mile trip. But, with a tour guide narrating the stories behind every view, you may not wish for the trip to end.
Interestingly, you are taking this ride in a Black Hill Central train along the original route dating back to almost 130 years ago. Besides, the route was carved by the Chicago Burlington and Quincy Railroad, which overhauled the mines and mills flanked by Hill City and Keystone.
This Black Hills Central Railroad is one of America's oldest tour railroads, with two diesel and four steam engines. It is always busy in the summer and fall periods.
Deemed one of America's most prominent tourist attractions, the Black Hills Central Railroad is a place you should visit.
6. National Presidential Wax Museum
This is a prominent place where tourists in Keystone SD come to admire beautiful artifacts. There are over a 100-wax figure that are molded in near flawless and diverse forms.
The most popular of these waxes in the National Presidential Wax Museum include the model of Mount Rushmore and the four US Presidents. In addition, the museum exhibits wax figures of 41 other US presidents.
Again, the museum acknowledges the job of wax artists who were part of the success stories of the displayed artifacts. It also recognizes the efforts of other artists outside the museum. One of such artists is Harvey Dunn.
The National President Wax Museum also provides video and audio expeditions, both having a tale to tell. For instance, the audio tour explains the stories behind the sculptors and their historical value. Similarly, the video sculptor gives a detailed analysis of creating the individual sculptor.
You can also find the display of other structures like the voting booths from different US presidential elections, death facades of presidents, and others. If you are an art lover, you will love this museum!
Address: 609 US-16A, Keystone, SD 57751, United States
7. Black Hills Helicopters
If you enjoy going on adventures, viewing Keystone SD in a Black Hill Helicopter is something you should look forward to doing.
In this case, you are not taking a walk with a tour guide around the town. Rather, you will be high up there, viewing legendary monuments and eerie rock formations. It is one of the exciting sights in the Black Hills.
What's more, it is affordable too. So, going on an expedition with tour guides and pilots who have excellent knowledge of the town is a way to spend a vacation in Keystone, SD.
Address: 13. 108 E Main St, Hill City, SD 57745, USA
8. Mount Rushmore Night Ceremony
You may have heard of the evening lighting ceremony at Mount Rushmore. But have you been there before?
Guests can view the illumination of Mount Rushmore on the Friday eve of Memorial Day.
You can also listen to the park ranger as he talks about the stories behind the history. This story is told every year in different ways that you can never be tired of listening.
Besides, you can never have a great day without planning to stop at the National Monument. It is one of the best ways to wrap your day.
Address: 13000 SD-244, Keystone, SD 57751, United States
9. Holy Smoke Resort Horse Rides
This is another adventurous moment you can share with laughter and excitement if you are short of fun things to do in Keystone, SD.
Going on horseback riding at Holy Smoke Resort Horse Rides is an opportunity for you to spend another weekend exploring the town. On horseback, you will travel through natural trails and have memorable moments with expert and calm horses.
We assure you that you will have the best fun for your money.
Address: 24105 Hwy 16A, Keystone, SD 57751, United States
10. Rush Mountain Adventure Park
This park is famous for its amusement and theme purposes. It is the best of its kind in Keystone, SD. If you are looking for fun things to do in Keystone, SD, scheduling a day with your family to have fun here will be worth the time and effort.
Coming to Rush Mountain Adventure Park, you will discover the marvels of the town. Another wonder is situated around Mount Rushmore, providing educational and explorative sightseeing.
Your children can enjoy diverse amusement rides like 7D-interactive, mountain coasters, zip lines, sky tykes and wing walker challenging lessons.
The park is always open for visitors and residents to have thrilling moments with utmost comfort and fun. If you are family-oriented, it is time to show some love to everyone.
Address: 13622 SD-40, Keystone, SD 57751, United States
11. Dahl's Chainsaw Art
Are you thinking of the best things to do in Keystone, SD? You can head to Dahl's Chainsaw Art, shop for gifts and take fun photos. This place is a must-go place for the enjoyment of the town's local artist practices and artisanship.
You will behold many artworks, from the least to the most remarkable sculptures and attractive items. In addition, buyers can watch the process of designing these artworks.
Good a thing, you can come along with your camera and take pictures, which you can entice your social media friends with.
There are equally shaped buffalo copies where guests can climb. Making a stopover at Dahl's Chainsaw Art is a must for you in Keystone SD.
Address: 108 E Main St, Hill City, SD 57745, United States
12. Red Garter Saloon
If you have been to Keystone SD yet to step into Red Garter Saloon, you may need to reconsider your visit. Visiting this beautiful saloon should grace your list as a tourist looking for things to do in this city.
Red Garter is co-owned by a family and has existed for almost 40 years along a filthy road.
It is always filled with activities between April and October. You can then entertain yourself with exotic foods and drinks, charming views and other eventful activities.
Whether you are an indoor or outdoor person, Red Garter Saloon has something special for you. From live music to stand-up comedy to entertainment shows, there is absolutely something for you in this favorite Keystone place.
Address: 208 Duval St, Key West, FL 33040, United States
13. The Rock Shed
Coming to Keystone SD can never be complete if you have not stepped into Rock Shed. You can shop for any gifts and souvenirs for your weddings and party.
The store is known for its handmade and specially crafted pieces. From gemstones, minerals and fossils, candleholders, gemstone lamps, and accessories to crushed rocks, wrapping tools, plastic materials, decorative glasses, tumblers, and related items, you will always find something to exchange for your money.
Rock Shed is a one-stop place for your everyday items and gifts.
Address: 515 1st St, Keystone, SD 57751, United States
14. Holy Terror Antiques
This is another place you can go for sightseeing in Keystone SD. At Mount Rushmore's base, Holy Terror Antiques is one of the stores you can count on for your antiques. It was opened in 2005 and covered a landmass of 6000 square feet.
In addition, the store is popular for offering custom-made copies and designs of different edifices in Keystone SD. Finally, you will find a superb and vibrant collection of additional items at Holy Terror, including glass, pottery, furniture, and decorative pieces.
The perfect place to shop for antiques in Keystone SD is Holy Terror Antiques, which is why it is unique. You can take a walk there and pick up a souvenir for your loved ones.
Address: 221 Swanzey St, Keystone, SD 57751, United States
15. Powder House Lodge
Among the numerous things to do in Keystone, SD, booking a relaxing stay in a cozy lodge is worth adding to your checklist. In this city reside some of the best lodges and hotels in the States. However, if you are yet to visit the Powder House Lodge, it is time to try it.
This lodge is seasonal and has various cabins situated in a wooded area. With pretty simple rooms designed in a pastoral way to offer them some natural outlook, you may have some difficulty making a choice.
These rooms are beautifully decked with facilities like air conditioning, televisions, coffee makers, microwaves, and internet access all day.
Setting your eyes on Power House Lodging can give you an ecstatic and calming feeling.
A restaurant that offers fresh and traditional American foods is also in the lodge. If you are a food lover, you may try out some of their cuisines. They are not only tasty, but loaded with goodness.
Whether you want to spend some time alone with a lover of your family, Perfect House Lodging is a classic place to escape from the hustling and bustling metropolis.
Address: 24125 US-16A, Keystone, SD 57751, United States
16. Kemp's Kamp
Located right in the heart of Black Hills, Kemp's Kamp is a lovely camp filled with facilities and prides in its unequaled vantage. It is directly off the Old Hill City Road and one and half miles west of the Battle Creek Canyon National Park.
You may take only five miles from Mount Rushmore to get to Kemp's Kamp. However, it is only a walking distance if you come from sylvan Lake, Peter Norbeck, Crazy Horse Memorial and Custer State Park.
In addition, the park is fully packed with nature-surrounding thrill. You will find first-timers, old campers and any people who only want to have fun and relax their nerves.
You may even be lucky to meet friends at Kemp's Kamp. Some of the amenities existing at the park there include modern and clean cabins, with RV facilities to make everyone comfortable and enjoy their stay.
Address: 1022 Old Hill City Rd, Keystone, SD 57751, United States
17. Rushmore Tramway Adventures
If you are looking for a place to relax for the weekend or holiday, you can head to Rushmore Tramway Adventures. It is an amusing and vibrant adventure park filled with extraordinary services at low prices. You can find assorted rides for you and your family with a picturesque chairlift ride that offers fun as you rush along the alpine slide.
Right in the park, you can enjoy the charming view of Mount Rushmore areas using the downhill tubing or zip line conveniences.
Recently, the company has included an aerial park that helps you enjoy rope climbing with experts watching out for your safety.
After Mount Rushmore, the Tramway Adventure has won the finest tourist attraction in Keystone SD. It is worth visiting and offers an age-long memory for everyone who does.
Address: 203 Cemetery Rd, Keystone, SD 57751, United States
18. Iron Mountain Road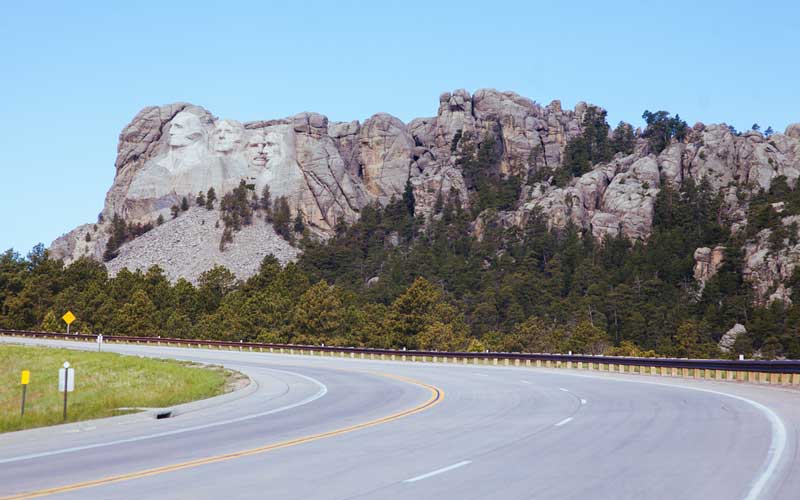 Are you wondering about fun things to do in Keystone, SD? Then, it would be best if you tried to drive through Iron Mountain Road. It is one of the most remarkable experiences you can get in America.
The place is also regarded as 16A and is 17 miles deep in beauty from any side you view.
Any day you wish to soak yourself in sights along the road, you will see other tourists on either side, taking amusing shots of the highway. Some of them mingle their experience with laughter and unforgettable memories.
Besides, the road is surrounded by pleasant views of valleys and mountains. It also curves at some points, switching back to Western South Dakota.
At every turn are tourists at a speed of 35 MPH, taking their time to delight their eyes with the picturesque views of Iron Mountain Road.
Due to the awesome architectural designs on the road, it is considered a unique road. And visiting will be a great decision!
Address: U.S. 16A Highway in South Dakota
Are you considering more exploration of South Dakota, here is our list of things to do in Yankton, and things to do in Mitchell, for a fun vacation
19. Grapes & Grinds
If you are a coffee and wine lover, why not head to Grapes and Grinds to enjoy a relaxed evening? This place is the only bar in the Black Hills of the town that can quench your thirst.
Since 2012, this exotic place has existed and is celebrated for serving uniquely crafted coffee, homemade gelatos, and locally produced wine.
Are you looking for things to do in Keystone, SD? You can also head to Grapes and Grinds for your souvenirs and gifts.
You can walk up to their winery for free wine tasting if you don't have money to buy some.
There are lawn areas and patios for enjoying a beautiful moment, plus a large playground for your kids to mingle with other kids.
If you are a game lover, there is a section for corn hole and chess games where you can meet other visitors for fun, while your wine or coffee is brewing. To entertain you, there are different live musical performances and night activities to relax for the night.
Address: 609 US-16A, Keystone, SD 57751, United States
20. Black Hills and Mount Rushmore
If in search of fun things to do in Keystone, SD, you can join a group of other tourists on a self-guided audio driving tour around the Black Hills and Mount Rushmore.
You will go through the forests, mountains and canyons in the Black Hills, the high mountains of Rushmore and wildlife spotting located in Custer State Park.
Along the way, the expert guides will tell exciting stories behind the landmarks, with local music entertaining in the background.
Every time dedicated to this tour is worth it!
21. Private Tour of the Badlands
You can book a tour with the Badlands National Park Private Tour and go on an expedition with your family and friends.
This is more fun if you are private and do not like mingling with strangers. Although it may sound strange, it is best to go on a tour in the company of people you are familiar with.
You will make extra stopovers at the Wall Drug Store, Minuteman Missile Visitors Center, and the iconic South Dakota's Museum of Geology.
What's more, you will choose where you want to go and the guide will do that.
Address: South Dakota, United States
22. Mount Rushmore at Carvers Café
If you are looking for a famous place that overlooks great attractions and offers you some luscious moments, Carvers Café has got you covered. It is not only a great place, it has the iconic Mount Rushmore facing it.
If you want to have breakfast in a famous restaurant, you can choose the Carvers Café to satisfy your cravings. While enjoying your meal, you can sit back and admire the beautiful carving.
Whether you want a hot or cold meal, Carvers Café can offer you exactly that on their menu list. From plain snacks to course meals, you can get everything you want.
As a tourist restaurant, their meals are excellent and affordable. Moreover, do not forget to grab your delicious meal and enjoy a great view of Mount Rushmore.
Address: 13000 SD-244, Keystone, SD 57751, United States
23. Presidential Trail
The Presidential Trail is one of the places you should visit if you are looking for the best things to do in Keystone, SD.
If you love hiking, this is another way to let your talent enjoy some freedom. Together with other hikers, you will go up the foot of Mount Rushmore and take an incredible view of the presidential sculptures and other historical monuments.
Trekking under the watchful eyes of past American presidents (Presidents Washington, Jefferson, Roosevelt, and Lincoln) is fun and breathtaking.
Address: Mount Rushmore UT, SD 57751, USA
24. Holy Terror Mini Golf
The Holy Terror Mini Golf is a hidden gem in the town of Keystone. It is an important place for families who want fun in a lovely quaint way.
The golf course to be found here is perched on a scenic 50-foot pine-laden slope in Black Hills Region and comprises an 18-hole golf course and three different turn trains.
Golfers can put their skills to the test by playing on steep technical hills and obstacles such as water wheels, streams, and boulders.
The Holy Terror Mini Golf is available for visitors from May till September, and the time is from 8:30 to 5 pm. If you are below the age of five, you can also play.
address: 609 Highway 16A, Keystone, South Dakota 57751
25. Keystone Fun Zone
Another significant fun spot to see when you visit this region is to check out Keystone Fun Zone. This destination is a huge family fun spot created to look like mine.
The Keystone Fun Zone was established in 2005, showcasing the Home Stake Gold Mine artifacts that make up for this place's fun and beauty.
This facility comprises three vital attractions that are fair for visitors. The Mirror Maze is the first among the three, including corridors filled with mirrors that shall challenge their sense of direction.
Visitors can also have great fun playing at the arcade when they play games to win tokens and tickets, which can be swapped for amazing prizes. You can have more fun by pinging the 3D air cannon game accommodated in the black light arena and Dragon Blaster.
This destination features several essential sites to check out during your trips, such as the first brewery in this town, Fun Zone Restaurant, the BA Coffee Shop, and Last Mile Brewery.
Address: 221 Swanzey Street Keystone, South Dakota 57751,
26. Gutzon Borglum Historical Center
In search of a sure spot to have an excellent time with the entire family?. Be sure to visit the Gutzon Borglum. It is an ideal spot for everyone and should be on your bucket list of things to do.
Gutzon Borglum is an American sculptor of Mount Rushmore known for his incredible monumental sculptural works. Here is an exciting spot for everyone longing to be part of the significant history of this region.
If you want to learn about the importance of Mt. Rushmore, be sure to check out the story Rushmore Borglum Story. You will be thrilled at this man's success in different areas of life.
During your trip, you will see the artist, his family, and prominent figures who were close friends with him. You can bring your camera along to take photos of the complete size eye of Lincoln.
Be sure not to miss out on this place during your visit. Gutzon Borglum Historical Center promises to be fun, informative, and entertaining for the entire family. Be sure to check out the museum to get the complete experience in Rushmore. Get to know what inspired Gutzon Borglum to start this craft at 60.
Address: 342 Winter St, Keystone, SD 57751, United States
27. Black Hills Wilderness Edge
One of the most exciting things to do when you visit Keystone is to see the Black Hills Wilderness Edge. It allows visitors to discover Black Hills using the ATV/UTV rentals available.
This attraction is perched close to Mt. Rushmore and is near the trail system; picturesque drives 2,4, and 6 ATV/ ATVs that are open for full and half-day rentals.
Be sure to visit and enjoy the many fun opportunities this place offers; their facility is intact and has everything you need to make your experience memorable.
Address: Old Hill City Rd Old Hill City Rd, Keystone, SD 57751, United States
28. Rushmore Mountain Taffy Shop
Rushmore Mountain Taffy Shop is perched in the gorgeous Black Hills of South Dakota, right at the foothills of Mt. Rushmore. Their taffy is freshly produced every day at the shop at Keystone.
The taffy is made from unique recipes transferred from many lines of candy chefs and is well stocked in their taffy shop in Keystone, South Dakota.
You can place an order for their delicious handcrafted taffy from anywhere in the country and have it shipped directly to your doorstep.
Be sure to stop by and enjoy the freshness of the scenic Black Hills coupled with the fresh, unique ingredient used in making this taffy, and there are candies and other confectionery for your enjoyment.
Address: 203 Winter St, Keystone, SD 57751, United States
29. Visitors Information Center
Keystone, South Dakota, is an ideal place to look out for if you are searching for a place with lots of adventure and fun. This destination is situated in the scenic Black Hills.
It features numerous outdoor opportunities for visitors to be part of and learn about the rich cultural heritage of the country and the many attractions in this region.
Keystone is perched in the middle of Black Hills and comprises top-notch restaurants and hotels. Here is a perfect place to be and enjoy its many exciting attractions, but stop by the Visitors Information Center.
Address: 110 Swanzey St, Keystone, SD 57751
30. Halley's 1880 Store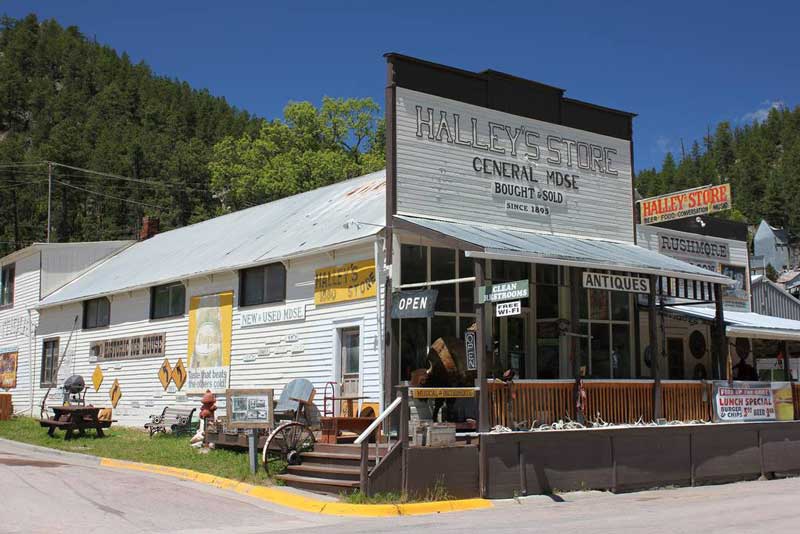 The Halley's 1880 Store is filled with so much history. This place was initially established as the Keystone Trading Company during the late 1880s by Alber Mcdonald, and the store has been functioning since then.
The shop is large, with unique items in every area of the place. They have excellent staff, offering great customer service.
The shop also offers a family-friendly environment where you can have a good time with your loved ones and enjoy a variety of great foods. The store has witnessed tremendous growth, unlike its starting days.
Halley's 1880 Store is an ideal place to stop for a great burger. It also has ice cream, grilled cheese, cheese curds, fries, root beer floats, and a great selection of tasty beers.
Address: 501 1st St, Keystone, SD 57751, United States
31. Avenue of Flags
The Avenue of Flags is a scenic walkway that attracts many tourists. You can visit with families and friends to enjoy views of this scenic walkway leading to the Rushmore National Monument.
The place is beautifully adorned with flags of each state and commonwealth. The location also provides beautiful views of Mt. Rushmore. It is a delightful sight to behold, as it also makes up for a great photo op.
You can easily spot your State's flag as they are currently arranged in alphabetical order in place of entry date into the union. The entire area is well-maintained, clean, and properly designed.
Address: 13000 SD Highway 244, Keystone, SD 57751, United States
32. Dakota Leather Outlet
The South Dakota Outlet is located in the Black Hills, about two miles from Mount Rush, Custer State apart. It is near Crazy Horse Memorial and even the famous Iron Mountain Road.
The outlet is famous for its wide selection of top-notch leather products that are affordable for everyone. It was established in 2003 to provide quality leather products to tourists visiting Keystone.
Duffle bags, wallets, motorcycle apparel, luggage, ladies' purses, belts, and other exclusive products are many of the top-quality products to find here.
It has a friendly and welcoming atmosphere, and its owners are super friendly and always ready to assist you in picking up that unique product you so desire.
Address: 220 Winter St # B, Keystone, SD 57751, United States
Explore other cities in South Dakota, check out our list of things to do in Aberdeen, things to do in Spearfish, and things to do in Sioux Falls for a fun time
Plan a Trip to Keystone
There is a lot to do in Keystone, SD, for individuals of all ages including kids.
The best time to visit Keystone SD is during the holidays or weekends. It is best if you come in the company of friends and family.
Start planning a visit to this beautiful city today; this article can serve as a guide in making your list of top things to do in Keystone, SD.