Prattville is situated in Alabama, United States. It is a beautiful city in Autauga and Elmore counties. This growing city has a population size of 38,286, making it one of the most populated cities in Alabama.
It is fondly called "The Fountain City" due to the beautiful Artesian wells all over the city.
The city's name was from its founder, Anne Daniel Pratt, an architect and industrialist. Many people come here due to the city's beautiful golf resorts like the Capitol Hill Golf course.
Prattville has many historical markers in the city you'll be glad to see, such as the Daniel Pratt Historic District, Autauga County Courthouse, and others.
The city also has many parks and green areas for visitors and locals to relax and reflect on their lives.
Are you planning an exploration of Prattville? Check out the best and fun things to do in Prattville, AL.
Things to Do in Prattville, AL
1. Alabama River
Fishing in the Alabama River is among the fun things to do in Prattville, AL. The headwaters of the Alabama River can be traced north of Montgomery, starting at the convergence of Tiberias Coosa and Tallapoosa.
As a result of its stance as an important waterway, the Alabama River is a vital place to be if you are searching for a place to enjoy water activities.
Visitors can tour the calm banks by boat to enjoy spectacular views of these secluded areas filled with wildlife. You can also go canoeing or kayaking to locate unique fishing spots in the river.
Address: Alabama, USA
2. Wilderness Park
The gorgeous Wilderness Park is one of the best places to visit in Prattville, AL. It is a unique bamboo forest with trails.
As you stroll through the trail, you can see stalks of bamboo with a height of about 60 feet. In addition, the Park contains many natural adornments that are unmatched anywhere you have been.
At the time of the Vietnam War, the wilderness was used for training by the military but was later relinquished to the city, transforming the area into what it is currently.
Wilderness Park was founded in 1982 and occupied over 26 acres of pure wood. The whole place contains trees of different sizes with a diameter of 6 inches.
The Wilderness Park is also the abode for Alabama's second biggest beech tree, nestled deeply within it. Walking on the trails gives you the feeling that you are in Japan.
The atmosphere to meet here is peaceful and tranquil as you stroll through the meandering patches. It is an excellent place to be if you wish to escape the hustle and bustle of the city, as the whole area is nature-filled.
Address: 800 Upper Kingston Rd, Prattville, AL 36067, United States
3. Pratt Park
The beautiful Pratt Park is part of the large green areas in the city, situated close to the historic downtown area of Prattville.
As a result of its closeness to the central area of the city, this destination has become part of the most favorite destinations in this part of the country.
It blooms with numerous facilities and amenities that are available for all and sundry to make use of. There is a swimming pool with lots of space for extra laps.
The kids are not left out of the fun as they can have a good time at the splash pass or have a great deal of fun at the castle-styled playground. On the Southeast end, there is a big pond where you can try out your fishing skills.
Address: 460 Doster Rd, Prattville, AL 36067, United States
4. Cooters Pond Park
Cooters Pond Park is nestled on the northern bank of the Alabama River. The Park is near Capitol Hill and the surrounding suburbs; nevertheless, it has a tranquil ambiance and forested areas.
If you are a nature enthusiast, there should be a must-see destination, as everything you see here will pique your interest.
As you go deeper, you will be able to find varieties of bird species. It is indeed a paradise for birdwatchers. The Cooters Pond Park comprises two sections; the lower section is made up of boat ramps, well-planned picnic areas, and a river walk.
The Upper section comprises different picnic pavilions, including beautiful forested areas, open fields, and great views of the Montgomery skyline.
There are many plants and animal life here, and you can see them as you tour the entire park. Cooters Pond Park is one of the best places to visit in Prattville, AL.
Address: 1844 Cooters Pond Rd, Prattville, AL 36067, United States
5. Buena Vista Mansion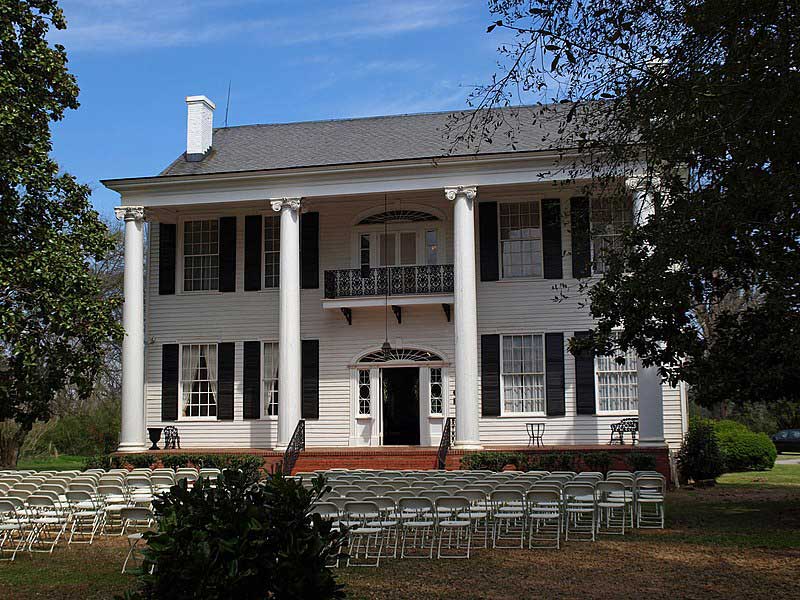 Another exciting thing on our list of top things to do in Prattville, AL, is visiting the regal Montgomery–James–Whittaker House, fondly called the Buena Vista Mansion. It is part of the most famous houses to see in Prattville.
The Mansion is a federal-style architecture that was famous during the period of antebellum. It was established in the year 1822.
As a result of its vast importance, this destination earned a spot on the National Register of Historic Places. The home is cared for by the Autauga County Heritage. They are in charge of the estate and provide guests with tours within and inside the property.
Currently, this destination organizes various events and celebrations. It is a unique place to hold your weddings; this is a result of its luxurious environment.
Address: 641 County Rd 4 E, Prattville, AL 36067, United States
6. Daniel Pratt Historic District
If you want to immerse in the history of Prattville, one of the best things to do in Prattville, AL, is to check out the Daniel Pratt Historic District. It is a 140-acre land situated in downtown Prattville.
This District comprises many structures and buildings that are as old as the city. When you visit, make sure to tour the streets, where you will find houses with various artistic designs such as Bungalow, Italianate, and Greek Revival.
This iconic district also features the Autauga County Courthouse. It comes as a castle-like structure with a clock tower and expansive open areas.
You can check out the many fountains within the area, making for a perfect backdrop to take great photos to post on your social media accounts.
Address: Prattville, AL 36067, United States
7. Autauga Creek Craft House
Another important place to visit if you love good beer is the Autauga Creek Craft House. Visitors get the chance to sample various kinds of locally crafted beers on tap that they want.
The Autauga Creek Craft House is comfortable and friendly and has more than 15 locally crafted brews.
The brewhouse does not have a restaurant on-site, but you can get tacos from Uncle Mick's Cajun Market and Cafe, which is close.
Here is a great place to visit with family and friends and enjoy quality time while trying out new beer flavors like Transmigration of Souls and Kentucky Bourbon beer and listening to great music.
Address: 138 W Main St, Prattville, AL 36067, United States
8. Autauga Creek Canoe Trail
The Autauga Creek Canoe Trail is an ideal spot to visit as it has an incredible feeling of nature away from the busy city life.
There are tons of activities that this place holds for visitors to do, like paddling, tubing on the lazy creek, and canoeing, which are some of the fun things to do in Prattville, AL.
It has a footbridge constructed with wood that you can walk through to get a close-up view of the beautiful forested areas here.
This terrain is ideal for picnicking, so make sure to bring a basket packaged with goodies while coming, or you might choose to have a sumptuous meal in any of the numerous restaurants within the trail.
Autauga Creek Canoe Trail is famous in this part of the country, especially with geocachers who come here in search of all kinds of unique treasures.
Address: 1200 Reuben Rd, Prattville, AL 36067, United States
Explore this list of things to do in Hoover, things to do in Daphne, and things to do in Fort Payne for a memorable Alabama road trip.
9. Way Off Broadway Theater
Among what to do in Prattville, AL is to watch a theatrical performance at Way Off Broadway Theater.
It is a perfect place to be as it is the city's primary center of art. It showcases musicals, dramas, comedies, and many other talented acts. Some performances to enjoy here include Clue the Musical and Elf Musical.
The Way Off Broadway Theater also has a Kiddies theatre that showcases unique stories and fairy tales for the children. This Kiddies theatre hosts several shows like Breakfast with Santa, done once a year, and the Princess Breakfast.
Address: 203 W 4th St, Prattville, AL 36067, USA
10. Fat Boy's Bar-B-Que Ranch
Far Boy's Bar-B-Que is a family-owned and run business that provides guests with classic southern cuisines that are perfectly cooked.
The meats served here are slowly cooked with natural hickory hardwood, so the smoky flavor is available only in the south.
Their desserts and sizes are prepared on-site, and their barbecue sauce is made in their kitchen.
Visitors can choose to eat their sumptuous barbecue in four ways; you can have it plated, salad, in a sandwich, or over a baked potato. Everything to eat here is well-cooled and with unique ingredients.
Address: 154 1st St, Prattville, AL 36067, United States
11. Capitol Hill
The famous Capitol Hill is part of the most visited golf courses in the United States. Capitol Hill is a part of the extensive Robert Trent Jones Golf Trail. Although, the facilities to find in Capital City are way better.
Capitol Hill features three 18-hole golf courses occupying a land area of over a thousand acres. The first one is The Judge, which was listed on the country's top list of public courses due to its beautiful course next to the Alabama River.
The Senators is second, featuring hundreds of mounds and bunkers and Scottish-style links. Capitol Hill has also been listed on the Top 10 New Courses by Golf Magazine. In addition, it was the location for the Guardian Championship.
Lastly is The Legislator, which comprises more of a traditional course in a local cypress swamp.
Address: 2600 Constitution Ave, Prattville, AL 36066, United States
12. Prattaugan Museum
This Museum is an 1848 Greek Revival-themed house managed by the Autauga County Heritage Association. It was donated by Charles Rice and Mary Wood Rice Waite to the organization; they were owners of the gorgeous home not until 1995.
The Prattaugan Museum is an ideal way for locals and tourists to have an in-depth knowledge of the history of Prattville and even its people. So if you want to learn about the history of Prattville, exploring Prattaugan Museum is one of the top things to do in Prattville, AL.
The Museum is devoted to chronicling the region's successful history and culture and sharing the story with everyone who would love to be part of it.
When you visit, you will be able to find various collections of artifacts and items from the beautiful history of this region. A special section is kept for artifacts from World War II. It also has newspaper articles, telegrams, photographers, and war ration cards.
Address: 102 E. Main Street, Prattville, AL, United States
13. Montgomery Museum of Fine Arts
The capital of Alabama is filled with tons of activities. It is just 30 minutes from Prattville; make sure to visit here and see some of its famous attractions.
The Montgomery Museum of Fine Arts is one of the many favorite destinations to see here. This famous structure has existed since the 1930s.
It holds art exhibitions from different periods of American history, beginning from the 19th century. Visitors will see mind-blowing exhibits displaying Southern regional art, glasswork, and sculpture fabricated by known artists and Old Master Prints.
If you are bringing your kids along, they should be part of the Artworks, a gallery where promising artists are encouraged to showcase their talents.
Address: 1 Museum Dr, Montgomery, AL 36117, United States
14. Heritage Park
Heritage Park is on Autauga Creek's banks, lying in the downtown area of Prattville. The beautiful Park provides outstanding views from Autauga Creek Dam to Pratt Cotton Gin Mill and also the famous industrial structures in the city, causing it to be a perfect place for photo ops.
There is an artesian fountain that is nestled in the central area of the Park, enclosed by displays of ornamental plants and verdant shrubs. It also has different walking trails beside the river's edge to explore.
Make sure to come with baskets filled with goodies for picnicking and your camera to take amazing pictures so you post on your social media accounts.
This destination is ideal for bringing the whole family a thrilling and fun experience.
Address: Prattville, Alabama, United States
15. Eerie Town of Specter
Close to Millbrook is a haunting destination known as the Town of Spectre nestles on Jackson Lake Island.
This region was used as a shooting location in 2003 for the movie "Big Fish," comprising a main street and houses.
After the movie was shot, the invented town was exposed to the various elements leading to a damaged and mysterious sight.
The island's owners made it open as a tourist destination to the general public, allowing people to enjoy views of the forgotten scenery.
Visitors will be able to find spots for picnicking in some parts of the islands as well as Grill areas where people can stay and enjoy views of ruins.
Address: Prattville, Alabama, United States
Considering an Alabama road trip, check out our guides on things to do in Fort Morgan, and things to do in Guntersville for a memorable trip.
16. Jackson Lake Island
Another vital place to immerse yourself in Nature during your visit to Prattville is to check out Jackson Lake Island.
Jackson Lake Island features rich woodlands, tranquil waters and fields, and oak trees covered in Spanish moss. It is an ideal location to go fishing, kayaking, canoeing, and camping all night.
You can enjoy the serenity of Jackson Lake Island, as it is a great place to reflect as you want nature to its fullest. Make sure to bring binoculars with you as the river and islands are hunting sites for wildlife such as ospreys and eagles searching for fish dinner.
Address: Cypress Ln, Millbrook, AL 36054, United States
17. Montgomery Zoo and Mann Wildlife Learning Museum
Make sure not to exclude your kids from your vacation, as there is a place for them to enjoy lots of fun and have a good time at the Montgomery Zoo and Mann Wildlife Learning Museum.
This 40-acre Zo is the abode for over 750 animals of various species from different parts of the globe. So brace your sleeves as you are in for a treat to view various kinds of animals ranging from tropical birds, amphibians, reptiles, safari, and others.
It would help if you stopped by Mann Wildlife Learning Museum, which is an administrative building for the Zoo. It houses mounted fishes and taxidermied animals that are well conserved for tourists to enjoy each detail.
Address: 2301 Coliseum Pkwy, Montgomery, AL 36110, United States
18. Chicken Salad Chick
Chicken Salad Chick provides locals and visitors with the best southern chicken salad. The restaurant started with the efforts of a woman who tried preparing varieties of chicken salad sandwiches at her disposal by combining the very best of flavors to get an ideal recipe.
The restaurant currently has more than 100 branches scattered all over the Southeast. The famous dishes to find on their menu include their Cranberry Kelli, their traditional Classic Carol, and tasty Sassy Scotty, a combination of a fruity blend of bacon, ranch dressing, and cheddar Cheese.
You can also try out their salad, soup, or side, which includes their tasty mac 'n cheese. Make sure to visit with your family and friends to enjoy the cozy atmosphere in this place.
Address: Pinnacle Pl, Prattville, AL 36066, United States
19. Pratt Cotton Gin Mill
The famous Cotton Gin Mill is what is left of the achievements of a factory owner named Daniel Pratt, who was also the founding father of Prattville.
Pratt established his company, which led to job creation for many residents, making the factory a leading manufacturer of cotton gins worldwide.
Currently, the building is well known as one of the many continually visited factory buildings in the state. Everyone is welcome to explore the beautiful building and take lovely photos of its surrounding areas in the famous downtown area.
Address: 131 Bridge St, Prattville, AL 36067, United States
20. Rosa Parks Museum
Rosa Parks is a critical person in the Civil Rights Movement, famous for her stance on refusing to relinquish her bus seat for a white person.
This occurrence happened in Montgomery, which led to the Montgomery bus boycott. These significant events are chronicled and displayed at the Rosa Parks Museum situated on the Troy University campus in Montgomery.
In the Museum, you will find an extensive collection of the history of blacks in the state centered on happenings relating to Rosa Parks and the boycott.
It is a place to visit if you have always wanted to have firsthand in-depth knowledge of what transpired back then, how strong and better the Civil Rights Movement has become, and how far it still has to go.
Address: 252 Montgomery St, Montgomery, AL 36104, United States
21. Artesian Wells
Prattville was previously called "The Fountain City" due to the many artesian wells within the city area.
Currently, some of these old wells are still standing, sharing crystal clear freshwater with residents and visitors of this region.
You can enjoy a rejuvenating glass of water here as you tour the downtown area or, more, still have a break under the shade of the well on Doster Road.
Visitors can also use the trail of the well to look for adequately designed wells at the back of The Prattaugan Museum, in Heritage Park, and throughout Autauga County.
Address: 608 Doster Rd, Prattville, AL 36067, United States
22. The Legacy Museum
The Legacy Museum is another interesting place you should visit to learn more about the history of African Americans during the slavery times.
The Museum is located where African Americans enforced labor at the time slavery was the order of the day in the country.
This era of slavery has been the center of focus for The Legacy Museum, providing detailed information showcasing the wrong side of the country's history.
Visitors can see artworks, segregation landmarks, research materials, rotating exhibits, and photographs. It is a place to reflect on things that should not cause such repetition in our society.
Address: 400 N Court St, Montgomery, AL 36104, United States
23. Uncle Mick's Cajun Market & Cafe
After many hours of touring through the city, you will be famished and need a place to relax and fill your stomach with incredible dishes, so make sure to check this place out.
Uncle Mick's Cajun Market & Cafe is a family-owned and operated restaurant that provides unique Cajun dishes that are prepared using freshly sourced ingredients and recipes that have been used over time.
The restaurant has a cozy and welcoming ambiance and has earned numerous awards, such as being the number-one eatery in Prattville.
The favorite foods to eat here include seafood gumbo, crawfish etouffee, a bowl of red beans, sausage, seafood gumbo, and grilled tilapia with lemon butter sauce.
Address: 136 W Main St, Prattville, AL 36067, United States
Would you like to know some of the best attractions in Alabama?, here is a tourist guide on things to do in Gadsden for a fun time, also check out things to do in Montgomery if you have more time in Alabama.
Plan Your Trip to Prattville
Prattville is filled with many outstanding attractions that will pique any traveler's interest. No matter what category you fit into, whether as an adventurer, historian, or nature lover, there is always something for you here.
There are many things to experience in this part of the country; you can check out their top-class golf courses, bamboo forests, historic structures, creeks, and other lovely things.
Have a fu trip!