Looking for the best and fun things to do in Daphne, AL?
Daphne is an iconic city in Baldwin County, Alabama, nestled on the eastern coast of Mobile Bay. The city, established in 1763, has different cultural influences due to its previous settlers, like the French, British, Americans, and Spanish.
It is the most populated city in Baldwin County, with a population of 27,462 during the 2020 official head count. The beautiful nature of Daphne is a result of its scenic location on the coast of Mobile Bay.
The shallow waters of the city are filled with shrimps, crabs, and other fishes during the regular season in events known as "Jubilees."
As a result, the city has earned the nickname "The Jubilee City." Apart from the rich aquatic life in Mobile Bay in this city, several outstanding attractions are worth visiting.
Here are the top things to do in Daphne, AL
Things to Do in Daphne
1. Mobile Bay
One of the fun things to do in Daphne, AL, is to enjoy the many water activities in Mobile Bay. This region has boat charters that will guide you through the Mobile Bay waters to enjoy the many water opportunities.
One of the boat charters, known as the Calmwater Charter, is located on Jackson's Oaks Drive and provides services for water-related activities.
It offers visitors water-related activities such as fly fishing, coastal Alabama inshore kayak fishing, and Rentals for kayaks.
You can have a one-of-a-kind experience on the Bay waters. The Council is owned and managed by a captain with over 30 years of knowledge of the Mobile Bay waters. You are sure to receive professional guides on fishing excursions to other areas of Alabama's coast.
Address: Daphne, Al, United States
2. TimberCreek Golf Club
The TimberCreek Golf Club features a 27-hole championship layout, allowing golfers to choose where they want to play from three layouts.
The TimberCreek rolling fairways were made across a luxuriant forest of Dogwood, Magnolia; their pines names were used for the club's three courses.
The course comprises top-notch facilities for practice, a state-of-the-art TopTracer Range, and interactive and software technology to add more digital experience to golfing.
The Golf Club has a fully functional restaurant known as the Timber Creek Grille, which is available for everyone to enjoy.
Address: 9650 Timbercreek Blvd, Spanish Fort, AL 36527, United States
3. Village Point Park Preserve
One of the best things to do in Daphne, AL, is to visit the Village Point Park Preserve on Main Street. It holds many traces of the history of Daphne.
The Prehistoric artifacts from the local Native American Indian mounds were removed from here. The remnants of the early settlers and French Explorers are preserved at D' Olive Cemetery.
The Village Point Park is famous for its Jackson Oak, which has existed for centuries. During the Civil War, the Confederate troops established their camp on the Point Park Preserve. The Union soldiers came to the shores of the Village Point for the last war in Spanish Fort in 1865.
Apart from its significant history, the Preserve has a 1.4-mile nature trail consisting of many plants and animal life. It has beach and bayfront access, a grill and picnic pavilion, modern restrooms, and a pier/boardwalk.
Address: 27710 Main St, Daphne, AL 36526, United States
4. Historic May Day Park
One of the top things to do in Daphne, AL, is to visit Historic May Day Park with the entire family for an informative and exciting trip to Daphne.
The May Day Park, situated on the Southwest corner of College Avenue and Captain O'Neal Drive, was founded in 1887.
The Park contains boat launches at the pier for the free, accessible beach, a bandstand, modern restrooms, an ADA-compliant boardwalk, a playground area, and picnic tables.
The May Day Park offers a free parking space and is famous for its oak trees and luxuriant shelters, making walking towards the beach very exciting. Here is an interesting place to visit and should be a must-see for you during your visit.
Address: College Ave, Daphne, AL 36526, United States
5. Gator Boardwalk
The Gator Boardwalk is on North Main Street and forms an alley over D'Olive Creek, traversing beneath Interstate 10.
The Boardwalk comprises educational signage, allowing visitors to enjoy views of birds, turtles, and alligators.
You can also use the Boardwalk as a start-off point for the lengthy 24.7-mile East Shore Trail. The trail points in the northern direction towards the City Spanish Fort, about five miles from Daphne.
Towards the southern Daphne, the trail meanders through several communities, including Battles Wharf, Fairhope, Montrose, and Point Clear, before its endpoint at Week Bay.
The Eastern National Rail traverses through elevated bridges and boardwalks, a typical recreation trail built with concrete or asphalt.
Address: N Main St, Daphne, AL 36526, United States
6. Bayfront Park
The Bayfront Water Park is situated on the western end of Bayfront Drive. A visit to the Bayfront Park brings you close to Village Point Preserve on Main Street.
The Park consists of a pier with seats where visitors can sit and enjoy incredible views of the sunsets of Mobile Bay.
Visitors can paddle the bay waters from the Park, offering good access for canoeing and kayaking. Visitors can also go fishing in the Park, as the waterbody is rich in several fish species, including redfish and speckled trout.
You can also have a relaxing time by having snacks at their gazebo, picnicking, or taking a stroll on that Boardwalk that connects the Village Point Preserve.
Address: Bayfront Park Dr, Daphne, AL 36526, United States
7. Daruma Sushi & Steak House
Make sure to stop by the Daruma Sushi & Steak House for delectable Japanese dishes if you're wondering what to do in Daphne, AL. This restaurant is the best place to satisfy your tooth Cravings for Sushi and should be a must-see for you during your visit.
The Daruma Sushi & Steak House offers various food items, such as salmon, mackerel, salmon, and shrimp. Check out their bar menu, which has different kinds of fine liquor.
It also features various steak options, such as Shyabu NY Steak, Lobster Hibachi, and Hibachi NY Steak. There are other classic Japanese foods to try out when you visit.
Address: 27955 U.S. 98 Suite#S-T, Daphne, AL 36526, United States
8. Lake Forest Golf Course
The Lake Forest Golf Course was awarded the Golf Today Course of the Year. It comprises an 18-hole layout that provides a par 71 in more than 6,010 yards from its longest tees.
The Golf course was designed by a prominent architect named Earl Stone. The Golf Course has a stocked functional pro shop coupled with a 28th Hole Grill. It also has 68.9 and 126 slope ratings on the Bermuda grass.
The Golf Course comprises beautiful walking trails, a picnic area, and a gazebo. The system is quite challenging but exciting to play some rounds of golf.
Address: Daphne, AL 36526, United States
Explore this list of things to do in Dauphin Island, things to do in Tuscaloosa, and things to do in Fort Payne for a memorable Alabama road trip.
9. Al Trione Sports Complex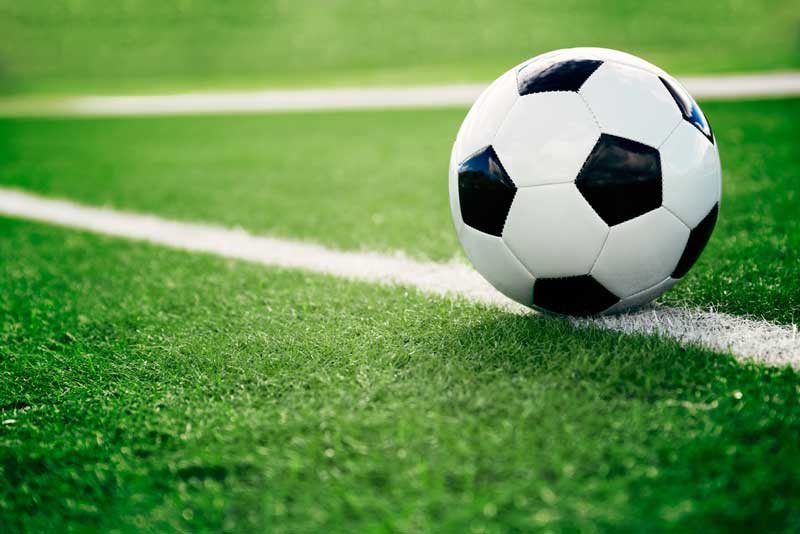 If you are a fan of soccer, baseball, and soccer, one of the best places to visit in Daphne, AL, is the Al Trione Sports Complex.
The Al Trione Complex comprises four soccer fields. It is a home base for the Gulf Coast Rangers Football Club, which plays in the regional Eastern Premier cup and many other tournaments.
The Al Trione Sports Complex also organizes various regional games, including the South Alabama competitions for genders from 7 to 14 years of age.
The LaCrosse field, modern restrooms, and three concession stands are among the many facilities in the Al Trione Sports Complex.
The Daphne Dog Park inside the Al Trione Sports Complex has different fenced areas for both large and small dogs. It also has play equipment, water fountains for pets, and benches for you to sit and relax.
Address: 8600 Whispering Pines Rd, Daphne, AL 36526, United States
10. The Daphne Museum of History
If you are a history lover, one of the best places to visit in Daphne, AL, is the Daphne Museum of History. It holds a lot of exciting information that will pique your interest and should be a must-see.
The Daphne Museum of History is housed in the iconic Daphne Methodist Church. The church was constructed using the Colonial style and is the oldest church on the Eastern Coast that still exists until now.
You can learn about the social history of the early settlers who resided around this church. The Daphne Museum of History and the Daphne Historic Church are located at the back of two ancient old trees. They are nestled on a picturesque bluff that overlooks Mobile Bay.
The Methodist Church was built using rugged white pine, which is an attribute of the kind of life of the early settlers.
Address: 405 Dryer Ave, Daphne, AL 36526, United States
11. Daphne Art Center
One of the best things to do in Daphne, AL, is to explore the Daphne Art Center, especially if you are an art lover.
The Daphne Art Center is on 6th Street of Daphne's old city jail. Although its location is odd, it still helps individuals and artists to be creative.
The Art Center, founded in 1993, was previously Bay Rivers Art Guild (BRAG), but in 2013, it was changed to Daphne Art center due to its growth. The Daphne Art Center preserves exhibits worth exploring.
It also organizes several events for its members, including an annual juried event every January and an annual Farm and Arts Faire in its City Hall every June. The Art Center also holds programs for kids throughout the year.
Address: 1704 6th St, Daphne, AL 36526, United States
12. Sunset Pointe at Fly Creek Marina
It is a 10-minute quick drive from Daphne to this spot, where you get to fill your stomach with delectable means in a friendly and cozy ambiance.
Sunset Pointe is owned and run by Panini Pete Blohm. It is nestled perfectly at the Fly Creek Marina Waterfront. It provides visitors with incredible and sumptuous seafood dishes and handcrafted cocktails.
You can taste their delicious small "bights," as it is usually called, such as their Gulf Coast Shrimp BBQ with well-baked bread to begin your meal and their Seared Tuna Nachos.
Make sure to try out the Grilled Gulf Coast Shrimp, the Southern Fried Fish n' Chop, or the Gulf Snapper Throats.
Address: 831 N. Section Street, Fairhope, AL 36526, United States
13. Urban Air Adventure Park
The Urban Air Adventure Park is a top-tier amusement park situated in Spanish Fort, five miles north of Daphne.
It has an indoor playground that provides fun adventure for the entire family, offering a vast collection of fun-filled amenities.
You can start your journey here by testing your skills on the Park's Warrior Obstacle Course. You can try to perfect your freestyle tricks or challenge your friends in the game.
You can also try out the Park's Prozone Performance Trampolines which will give you memories of your childhood days as you bounce on the walls and floors.
Other attractive fun amenities in the Park include Sky Rider Coaster, Tubes Indoor Playground, and the Park's Ropes Course.
Address: 31000 Bass Pro Dr, Spanish Fort, AL 36527, United States
14. Bayside Academy Neighborhood
Visitors will enjoy views of the historic buildings in Daphne, beginning from its two-story administrative spaces of the
Bayside Academy
.
The Bayside Academy, which was previously an 18th-century Howard Hotel, was designed using the Greek style revival architecture. When you cross Old Country Road from the Bay Academy, you will see the Old Methodist Church Museum on Dryer Avenue.
The Museum, built using the Colonial-style building, was the previous Daphne Methodist Church in 1958 and is on the National Register of Historic Places.
You can end your visit here by picnicking at the nearby Belrose Park, which is accessible by the bay.
Address: 303 Dryer Ave, Daphne, AL 36526, United States
15. Bangkok Thai Cuisine Daphne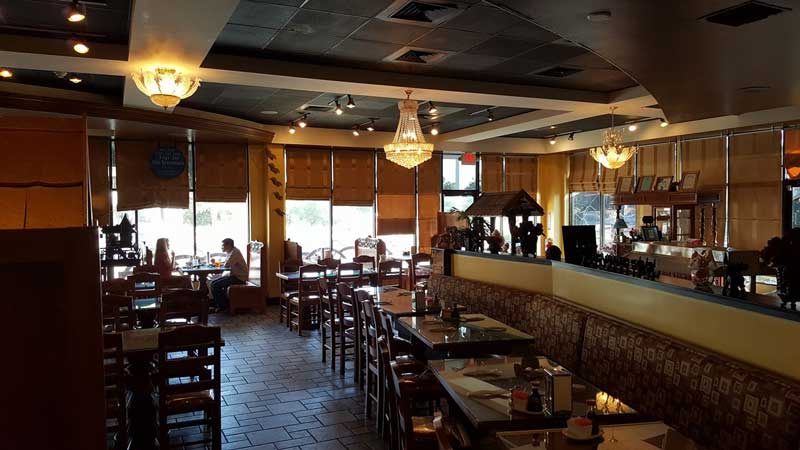 Don't hesitate to check out the exceptional Bangkok Thai Daphne for a one-of-a-kind experience in Asian dishes. It is the best place to be if you want to eat good Thai food in a lovely ambiance.
Bangkok Thai Daphne's menu includes buffet meals, seafood, vegetarian, and gluten-free dishes. Ensure you try their Thai noodles and curried dishes.
The restaurant's special Thai meals include Pad Ka Paw Basil and Pad Crunchy.
They also have a list of beverages visitors can enjoy with their meals.
Address:: 28600 US-98 suite l, Daphne, AL 36526, United States
Considering an Alabama road trip, check out our guides on things to do in Fort Morgan , things to do in Foley, and things to do in Guntersville for a memorable trip.
16. Hot Wheels Skate Center
Why not try skating at Hot Wheels Skate Center if you are wondering what to do in Daphne, AL? It promises lots of excitement and should be a must-see when you visit.
Hot Wheels Skate Center is a family-owned Center in the Central area of Daphne by the Eady Family. The Eady family has been running the Skate Center for over seventeen years and is chiefly devoted to maintaining a safe, fun, and affordable atmosphere for visitors to enjoy this activity.
The Hot Wheels comprises an arcade area, a complete service snack area, a novelty Stuff Shop, and a Pro Shop. It also provides visitors with skating sessions. The Hot Wheels Skate Center also features after-school care, summer camp programs, and other party options.
Address: 616 Whispering Pines Rd, Daphne, AL 36526, United States
17. Meaher State Park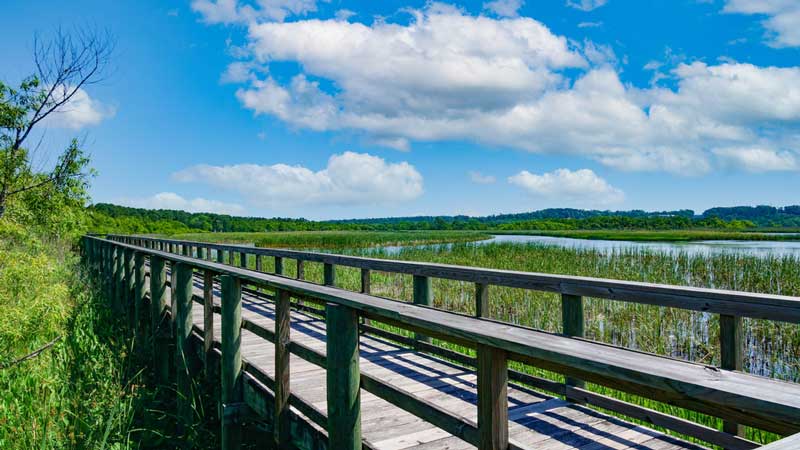 The beautiful Park stretches over 1,326 acres and is nestled in Spanish Fort about 7 miles northside of Daphne.
The Meaher State Park is perched in the wetlands of Mobile Bay in the north and is one of the scenic natural endowments to see in Mobile Tensaw Delta.
The facilities to find in this Park are an expansive fishing pier, a boat ramp, and two boardwalks. Visitors can go boat riding on the Blakeley River on the Park's east edge through this ramp.
Visitors can also bring an R.V. which allows for modern hook-ups if they wish to camp at night. There are also cabins on the Park's bayfront if you intend to spend a day or two in Meaher State Park.
Address: 5200 Battleship Pkwy, Spanish Fort, AL 36527, United States
18. May Day Park
The May Day Park, which has a history that stretches back to the 1880s, has been the central spot for this town's festivals for over sixty years.
The Park has numerous large park trees that provide shelter down the sloping bluff, which stops at Mobile Bay. The views here are extraordinary and something you sure want to see.
The facilities to see in the Park include a playground, modern restrooms, free boat launches, a handicap-accessible boardwalk, picnic tables, and a bandstand.
It has ample parking space, which charges no fee to park your vehicles. The primary parking space is at the Park's entrance.
Address: 1 College Ave, Daphne, AL 36526, United States
19. U.S. Sports Academy
U.S. Sports Academy is a private University of sports disciplines. Visitors can bring out their athleticism by going on a campus tour.
The U.S. Sports Academy is also the abode of the American Sport Art Museum & Archives, devoted to maintaining and chronicling art, sports history, and literature. The Academy has ten outstanding sculptural works that showcase the various positions of the sports disciplines.
These sculptures are produced from old or discarded materials. They honor athletes in their various titles like "Nastia the Gymnast, Jordan the Basketball Player" and "Arnold the Weightlifter."
Address: One Academy Dr, Daphne, AL 36526, United States
20. Ugly Fishing
Ugly Fishing Charters is the perfect one for you if you are searching for a guide to help you navigate the beautiful waters of the entire Mobile Bay area and even the other areas of Alabama for some fishing expeditions.
Ugly Fishing offers fishing charters for tourists and visitors in Daphne Point Clear, Orange Beach, Fairhope, Gulf Shores, Spanish Fort, Theodore, Dauphin Island, Mobile, Bayou La Batre, and Grand Bay. Fishing with this Charters is one of the fun things to do in Daphne, AL.
Captain Patrick Garmeson is the primary owner and captain of Ugly Fishing. He has over thirty years of experience fishing in the rivers of the Mobile Bay area. The captain began his fishing career in 2010. So, you are in the right hands.
Address: Daphne, AL, United States
21. Boudreaux's Cajun Grill
Boudreaux's Cajun Grill offers an excellent dining experience. It is an ideal place to have dinner with friends and family.
This seafood restaurant is located on the Eastern Shore. It provides Cajun-inspired food menu items cooked with the best and finest ingredients from this region, creole dishes prepared from scratch, top-notch steaks, and local seafood dishes.
Boudreaux's Cajun Grill is a suitable place to dine with your partner. Their dishes are incredible and will leave you wanting to return for more.
Address: 29249 US Hwy 98 Daphne, AL 36526, United States
22. The American Sport Art Museum and Archives
The American Sport Art Museum & Archives, housed in the United States Sports Academy Campus, is dedicated to maintaining the history of sports, art, and literature.
The Museum, fondly called ASAMA, was established in 1984. It has various forms of sports history chronicled and well-detailed for your consumption.
The sports collection in this Museum comprises more than 1800 items across different kinds of media, including sculptures, photography, prints, paintings, and posters.
Their collection is perceived to be the largest in North America and beyond. If you are an avid historian and a sports lover, make sure to visit.
Address: 1 Academy Dr, Daphne, AL 36526, United States
23. The Mediterranean Sandwich Company
Mediterranean Sandwich Company has three locations and provides this region with the best beef land blend and chicken rotisserie, excellent customer service, and lovely dishes.
All the sumptuous and innovative foods provided in the restaurant are prepared by hand, using fresh ingredients. Their signature sides include homemade soups, stone-toasted flatbread sandwiches, and orzo Pasta,
It has a scintillating ambiance, and its menu showcases the dynamic nature of the Mediterranean region. It has friendly and welcoming staff.
Address: 6890 Us Hwy 90, Daphne, Al 36526, United States
Would you like to know some of the best attractions in Alabama?, here is a tourist guide on things to do in Gadsden for a fun time, also check out things to do in Montgomery if you have more time in Alabama.
Plan Your Trip to Daphne
Since its early days, Daphne has been a great tourist destination drawing people from different parts of the world. It has numerous attractions that are fun-filled and will pique your interest. No matter what the occasion might be, this place got you covered.
Start planning your trip to Daphne. Have a fun trip!