Pocatello is located in Bannock County, Idaho, United States. It is the county's seat and the county's largest city. In 2021, the city's population was 57,092.
Pocatello, popularly known as " United States Smile Capital," is renowned for its warm hospitality.
Pocatello, the state's fifth biggest city, strives to ensure that all its visitors have a positive testimony about the city, regardless of how long they stay.
You can conveniently spend many days taking in all the goodies the city entails ranging from visiting Zoo Idaho to see wildlife to learning about the city at the Idaho Museum and the Fort Hall Remake.
Pocatello, Idaho, also offers excellent beer from the well-known Portneuf Valley Brewery, among many other treats you will see as you read on.
Here are the best and fun things to do in Pocatello, Idaho.
Things to Do in Pocatello, Idaho
1. Visit Zoo Idaho
Zoo Idaho is one of only two national zoos focusing on species indigenous to the Intermountain West of North America. This attraction is one of the best places to visit in Pocatello, Idaho.
Eagles, grizzly bears, bison, pronghorn, and cougars are just a few living representations of the legendary "American West" that can be seen at Zoo Idaho.
The Zoo uses its numerous animal habitats spread across its approximately 25 acres of land, family programs, storytelling, and classes to present an exceptional opportunity for people to learn more about the native wildlife of the area.
The Zoo also offers several special entertainment events, like Ice Cream Zoofari and Zoo Boo, all year.
Ensure to visit Zoo Idaho, especially if you travel with kids; they will get the chance to get close to and even pet some of the facility's most friendly animals.
2. Chief Pocatello Statue
The City " Pocatello, Idaho," was named in honor of Chief Pocatello, the head of the Great Basin's North Shoshone tribe, who played a crucial role in ensuring the tribe's survival in the 1800s.
A stunning statue honoring and immortalizing the chief stands at the city's tourist center to welcome guests to Pocatello from all over the globe.
The spectacular statue has become a hotspot for visitors and locals who love to use it as a backdrop in their photographs as it is considered a landmark.
You will enjoy walking along the trail to the International Rose Garden from the statue's surrounding area.
Visiting the Chief Pocatello Statue to take photographs is an activity you should not miss while in you're in the city.
Address: 2695 South 5th Avenue, Pocatello, Idaho 83204, USA
3. Bannock County Historical Museum
A location to visit for a history tour accompanied by history lessons is the Bannock County Historical Museum. Visiting the Museum is one of the top things to do in Pocatello, Idaho, if you want to learn more about the city.
Bannock County Historical Museum, situated adjacent to Zoo Idaho near Fort Hall Replica, houses exhibits, items, and records on the history of Pocatello and neighboring cities within Bannock County.
The Museum's exhibits are organized under different themes, such as Ranching and Farming, Victorian-age parlor, Oregon Trail, Shoshone-Bannock Indian relics, general store, Regional archeological exhibits, and more.
The Tour guides are friendly and willing to show you around and ready to answer any questions you might have.
Other themed exhibits at the Museum include trading, local printing, photography, fire fighting, railroad history, and trapping. Aside from themed exhibitions, a study record is also available.
Address: 3000 Avenue of the Chiefs, Pocatello, ID 83204, USA
Address: 2900 S 2nd Ave, Pocatello, ID 83204, USA
4. Fort Hall Replica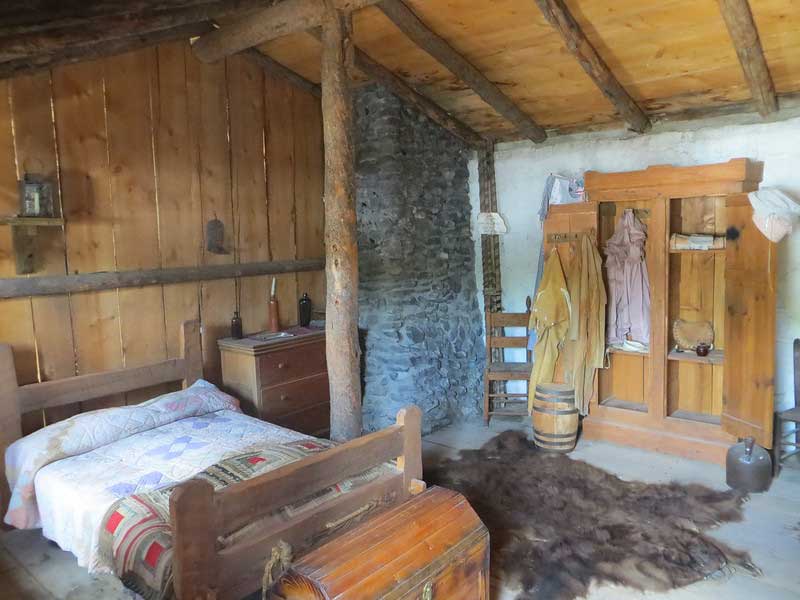 Fort Hall was established in 1834 in the Southeast corner of Idaho by the Snake River with the design of a trading station.
You can now witness a recreation commemorating Fort Hall's history even though the authorities essentially knocked down the fort in 1963.
Letters, .aps, and recipes are just a few of the historical treasures on display at the location. A visit here is to the haven of the explorers, fur traders, pioneers, trappers, and Native Americans of the nineteenth century.
Seasonal hours when tourists can visit are offered at the Fort Hall Replica from commemoration Day through Labor Day.
Address: 3001 Avenue of the Chiefs, Pocatello, ID 83204, USA
5. Butter Burrs Restaurant
Butter Burrs Restaurant is a locally owned and run neighborhood restaurant in Pocatello that has been serving the locals home-cooked, high-quality fares for over 30 years.
The Butter Burrs menu features fresh, daily-made soups, pies, Butterburgers, loaves of bread, homemade mashed potatoes, signature sandwiches, omelets, and many famous "twists."
Many well-known comfort food staples, like the 7-hour rump roast and chicken fried steak, are served as the main courses for dinner.
The hours of operation for Butter Burrs Restaurant are eight in the morning till nine at night, all week.
While in Pocatello, Idaho, Butter Burrs restaurant is a perfect spot to enjoy delicious breakfast, lunch, and dinner.
Address: 917 Yellowstone Ave, Pocatello, ID 83201, USA
6. Idaho Museum of Natural History
Adults and children can explore the world of dinosaurs, Ice Age creatures, volcanic hotspots, and more at the Idaho Museum of Natural History, so feel free to bring your kids. It is one of the best places to visit in Pocatello, Idaho.
This family-friendly attraction is the state's official natural history museum. It seeks to foster a love and appreciation of the state's natural and cultural heritage.
Visitors will also enjoy outdoor exhibitions, including the Natural History Garden, the Tree Walk, the interactive Discovery Room, and various indoor exhibits.
This Natural history-focused museum offers special events in addition to ongoing and recurring exhibitions highlighting its collection.
Address: 698 E Dillon St, Pocatello, ID 83201, USA
7. Veterans Memorial Building
The Veteran's Memorial Building, erected in 1926 to honor the brave Pocatello veterans, was created by architect Frank Paradice Jr. and builder Alex Mathers.
The building's stunning design and architectural functionality make it a terrific site in Pocatello, Idaho.
The elevated concrete base, the U-shaped floor design, and the view of the Portneuf River are just a few of the eye-catching elements of the Veterans Memorial Building's façade.
The Bannock County Veterans Memorial Association is currently in charge of the maintenance and operation of the building, which still serves as one of the city's community centers.
A trip to the Veterans Memorial Building will be worthwhile if you are a history enthusiast.
Address: 300 N Johnson Avenue, Pocatello, Idaho 83204, USA
8. Portneuf Wellness Complex
You will undoubtedly come across something you like when you visit the recently constructed Portneuf Wellness complete.
The Wellness Complex has a cutting-edge arena that can house 11,000 persons in its grassy outdoor area.
This facility, furnished with pavilions, food kiosks, and roomy parking spaces, is home to significant events like celebrated festivals, concerts, and community-inspired events.
Visitors can use the stunning 6.5-acre lake, which includes a bathing beach and fishing piers, on days when no activities are going on, as well as the stream and the surrounding trail.
Additionally, the complex features a sand volleyball court, a basketball court, a pump track, multiple sports fields, and a mountain biking park.
Address: 2375 Olympus Drive, Pocatello, Idaho 83201, USA
Are you considering more exploration of Idaho? Here is our list of things to do in Driggs, things to do in Island Park and things to do in Sun Valley, for a fun vacation.
9. Sumisu
Sumisu, an Asian eatery, strives to be number one in supplying sushi and Japanese fusion food in the Pocatello region.
This eatery also brags about its friendly and efficient service to its patrons and neighborhood. In addition, it motivates its staff to attempt to lead healthy lives.
Regarding food preparation, Sumisu enjoys combining traditional Japanese techniques with its style for exhibiting Asian-inclined flavors.
Sumisu's menu provides the "biggest Asian hits," including well-known dishes with fusion influences and fresh sushi, and delivers coast Sourced fresh fish.
For people who love to travel and try new cuisines, visit Sumisu in Pocatello, Idaho.
Address: 309 E Center St, Pocatello, ID 83201, USA
10. Swore Farms
The focus at Swore Farms is CSA (community-supported agriculture). The farm is committed to bringing fresh, delicious, and wholesome produce from its fields.
Swore Farm also provides educational functions for kids to learn about agriculture in an enjoyable, interactive, and fun way, even though their product undoubtedly steals the show.
Visitors may visit the Pumpkin Patch for more entertainment, where they can ride on a tractor and pick some take-home pumpkins.
The giant corn and straw mazes at Swore Farms are very well-liked by visitors, especially the kids.
Children who visit particularly adore the enormous wheat sandbox, and night hikes through the farms are considered romantic amongst couples.
Address: 225 Ballard Road, Pocatello, Idaho, USA
11. Portneuf Valley Brewing
Portneuf Valley Brewing was initially launched in 1996. However, the owner and Brew Mistress, Penny Pink, had already perfected the art long before the brewery's establishment.
The business started as Penny's simple home brewing of smooth beer for family and loved ones during special occasions.
Her first brewery was established within the Dudley's Sports Bar and Grill, where her creations quickly won over a devoted following.
If you love drinking beer, sampling some of Penny's beers at Portneuf Valley Brewing would be among the best things to do in Pocatello, Idaho.
Visit Portneuf Valley Brewing, open for beer samples, pints, and sporadic live performances. You can also opt for a tour of the facility to see the brewing processes if that interests you.
Address: 615 S 1st Ave, Pocatello, ID 83201, USA
12. Standrod Mansion
The
Standrod Mansion
in Pocatello, which Emma and Drew Standrod built in 1902, has been referred to as the "finest specimen of Victorian architecture" in the state.
This mansion is regarded as one of Idaho's historical landmarks. The house is also featured on the National Register of Historic Places for the United States.
Pocatello purchased the 16-room Standrod Mansion in 1974 to serve as a museum and a venue for cultural events for several years before it was repurchased in 1995 by the new owner.
The house is once again a private home, but guests can observe it from a distance and take photos in front of it.
Address: 648 N Garfield Ave, Pocatello, ID 83204, USA.
13. L.E. and Thelma E. Stephens Performing Arts Center
The L.E. and Thelma E. Stephens Performing Arts Center brings together performing arts such as music, dance, and theater.
This performing arts facility, which serves the State's University and the communities of the Southeast Idaho area, was established through support and contributions from hundreds of individual donors.
Their combined efforts have produced a 123,000 sq. ft. complex with every cutting-edge feature imaginable. The Center's magnificent performance hall has 1,200 seats and is perched on a hill in Pocatello.
This Performing Arts Center contains a dome, a thrust stage theater, a black box theater, numerous offices, rehearsal spaces, and retail establishments. It is ranked 4th best in the country.
Catching a show at this performing center should be on your list of what to do in Pocatello, Idaho, and a great way to spend time with family. The presentations will surely keep you entertained while you are there.
Address: 1002 Sam Nixon Drive, Pocatello, Idaho 83209, USA
14. Sandpiper Restaurant
The Sandpiper Restaurant, which debuted in 1975 and is part of a successful chain of exquisite dining establishments, is well-known and well-frequented for its seafood, pasta, and steaks.
The restaurant, which is open for evening service from Monday through Saturday, offers delectable food to go along with outstanding service and warm surroundings.
The Prime Top Sirloin, Filet Tenderloin Steak, New York, Rib Eye, and their signature Steak Sandpiper are just a few of the beautiful, thick, juicy steak cuts available to customers.
Try their seafood selection, including Hawaiian Halibut, Idaho Trout, and Alaskan Red King Crab Legs.
Address:1400 Bench Road, Pocatello, Idaho 83201, USA
15. Ross Park Aquatic Complex
Ross Park Aquatic Complex has more to offer than just a pool! The water park has long been a popular gathering spot for the neighborhood. It is a fantastic summer getaway for the entire family.
This water park has a roomy 25-meter by 25-yard main pool, a games pool featuring lily pads to sit on and unwind on a basketball hoop, and a cargo net element.
An open deck for sunbathing and relaxing, a kiddie's splash pad, and a playground in its center for the little ones are also among the aquatic complex's facilities.
Ross Park Aquatic Complex guests may also take advantage of a visit to a beach volleyball court, the Zoo Idaho, and a fantastic playground at Pleasureland.
For a place to escape the heat on a sunny day, it would be nice to include cooling off at Ross Park Aquatic Complex on your list of best things to do in Pocatello, ID.
Address: 2901 S 2nd Avenue, Pocatello, Idaho 83204
Check out more cities in Idaho. Here is a guide on things to do in Lewiston, and things to do in Moscow for a fun time
16. Poky Popcorn Shop
Poky Popcorn Shop is the hotspot for a wide range of popcorn flavors made from natural ingredients. You will taste some flavors of popcorn that you never knew existed before.
Purchase bags of the tastiest popcorn in varieties including Lemon Munch, Dark Chocolate Sea Salt Caramel, Cashew Crunch, White Chocolate Huckleberry, Caramel with Peanuts, Dark Chocolate Sea Salt Caramel, and Pecan Crunch.
Along with their standard gourmet tastes like Cotton Candy Popcorn, Jalapeno Cheddar, and Strawberry Cheesecake, they also offer flavors like Cook's Delight and S'mores Extreme.
Aside from Popcorn, The Poky Popcorn Shop's half-pound fudge, honeycomb delights, peanut butter candies, and other goodies are also available to customers.
Address: 421 East Oak Street, Pocatello, Idaho 83201, USA
17. East Mink Creek Nordic Center
The City of Pocatello, the Pocatello Cross-Country Ski Foundation, along with the Caribou-Targhee National Forest, maintains and runs the tremendous recreational attraction known as the East Mink Creek Nordic Center, which is located near the city.
The facility has miles and miles of well-maintained ski and skate slopes and a snowshoe trail, making it ideal for tourists looking to engage in some winter sports.
Children can also use sledding hills, while guests who wish to experience yurt living can rent Skyline Yurts, Catamount, Inman, and Jackson.
You may enjoy breathtaking vistas of the Caribou-Targhee National Forest while zigzagging around lovely cross-country skiing tracks.
Going skiing during the winter season and experiencing what it feels like to live in a yurt are worth adding to your list of fun things to do in Pocatello, Idaho, for an unforgettable adventure.
Address: 144 Wilson Avenue, Pocatello, Idaho 83201, USA
18. Museum of Clean
The Museum of Clean is in a class by itself, as it emphasizes cleaning, its tools, techniques, and more.
Visitors, regardless of their ages, will find excitement, inspiration, and knowledge throughout the 75,000-square-foot Museum complex.
Unlike an average museum, this Museum is far from having a particular concentration because "clean" predominates almost everything that impacts living.
The Museum of Clean includes participation, writing, art objects, and displays to embrace every possible variety.
While some of the Museum's displays are more intellectual, you will also come across object-oriented ones. When you visit, you'll understand the entire concept.
Address: 711 S 2nd Ave, Pocatello, ID 83201, USA
19. 13 Locks
At Pocatello's top-rated escape room venue, 13 Locks, you may put your intelligence quotient, teamwork spirit, and mental toughness to the test.
Thirteen Locks offers tangible recreations of the well-known video games on smartphones known as "escape the room," which puts life into made-up places like dungeons, prison cells, and space stations.
To escape the room, you will have to work together to answer some clues, riddles, and puzzles in each game, each providing a different difficulty.
A trip to 13 locks will surely excite you and your friends, as it is the city's most preferred location for many team-building activities.
You can make reservations for games from Tuesday through Saturday evening. For larger groups calling in advance may help, and special discounts are available to veterans and students.
Address: 701 S 1st Avenue, Pocatello, Idaho 83201, USA.
20. Outer Limits Fun Zone
The Outer Limits Excitement Zone, located in a vast 30,000 sq ft building, promises plenty of fun with the catchy motto, "Don't Stay Home. Get in the Zone!"
The largest laser tag arena in the amusement zone's indoor leisure options is its most well-liked attraction.
Play a game of laser tag against friends to practice your aiming and sneaking, or play a round of golf at the 9-hole black light mini golf course.
Additionally, Outer Limits Fun Zone has a fantastic arcade with more than 120 of the newest and most well-liked games and a soft play area for kids called the Play Palace.
Outer Limits Fun Zone features a cosmic bowling alley along with the other attractions mentioned above. Thus exploring Outer Limits Fun Zone is one of the fun things to do in Pocatello, Idaho.
Address: 1800 Garrett Way, Pocatello, Idaho 83201, USA
21. Geronimo's Trampoline Park
Play to your fill at Geronimo's, a state-of-the-art trampoline park under a single roof. It is a favorite among many locals and visitors in Pocatello.
Out of the Park's 11,000 square feet of trampoline space, 4,000 sq. ft. contains an open jump trampoline, two basketball freestyle dunk lanes, two dodgeball courts, three lengths of tricking track trampolines, an airbag, and a few battle beams.
Along with freestyle jumping, the Park provides specialized lessons and programs for the fidget ladder and battle beam and a Mommy and Me program ideal for mothers who wish to make enduring memories with their children.
The best part of this Park is that weather conditions do not influence it.
Address: 423 E Chubbuck Road, Chubbuck, Idaho 83202, USA
22. Heber Hatchets
Are you wondering what to do in Pocatello, Idaho? Have you ever wanted to throw hatchets like they do in movies? If yes, you are lucky because you can do that for fun at Heber Hatchets.
Herber Hatchet, focused on sawdust, flannel, whispers, and lumberjack entertainment welcomes its guests with a mesmerizing pine oil scent and various hatchet-throwing fun activities.
Awaken your competitive side as you participate in hatchet-throwing games that require you to hit wooden targets with precision to score points.
Heber Hatchet is a well-liked attraction in Pocatello, so it would be best to book axe-throwing activities online before you visit.
At Heber Hatchet, there's music to set the mood, keeping you motivated as you participate in the games and ensuring that the place is always lively.
Address: 504 E Center Street, Pocatello, Idaho 83201, USA
23. Massacre Rocks State Park
Massacre Rocks State Park is a stunning recreation area packed with excitement, adventure, and history, despite its ominous moniker.
The Park, located along the banks of the vital Snake River, boasts miles of incredible hiking trails and educational plaques about the history of the Oregon Trail, the numerous geological wonders found there, and the bird and plant species that inhabit the area.
Along with these activities, visitors can go camping, boating, fishing, rock climbing, mountain biking, and more.
Apart from the First Time Adventure program designed to enable families to spend time together in the great outdoors, the Junior Rangers organize events at the park.
Outdoor enthusiasts review that engaging in the activities offered by Massacre Rock State Park is incredibly fun.
Address: 3592 N. Park Lane, American Falls, Idaho 83211, USA
24. Palace Playhouse
Popularly known among the locals as " A Theatre for the Community," Palace Playhouse, a performing arts establishment, prides itself on providing musicals and comedies all year.
This establishment is committed to providing an unforgettable experience for its guests and fostering the prowess of up-and-coming performers via its summer workshops and educational functions.
Some well-known plays displayed to the public at the Palace Playhouse include Into the Woods, Annie, Mary Poppins, and Fiddler on the roof.
While you might be more confident in purchasing tickets for professional shows, some of the treasures at this attraction are shows featuring upcoming performers.
Address: 158 East Chubbuck Road, Pocatello, Idaho 83202, USA
25. Buddy's Italian Restaurant
Delectable Italian cuisine is served at Buddy's Italian Restaurant, a family-owned & run eatery in Pocatello, Idaho.
Being one of the first of its kind in Pocatello, this Italian cafe has served the city for over fifty years since its launch in 1961.
Buddy's Italian Restaurant serves pizza, ravioli, unique sauces, its "Famous Buddy's Salad Dressing," and different sandwiches.
On the restaurant's menu, you will find various pasta meals, soups, pizza, salads, and open-face and well-ordered sandwiches.
If you're visiting with your partner, enjoy a dinner date with Italian food at Buddy's Italian Restaurant.
Address: 626 E Lewis St, Pocatello, ID 83201, USA
26. Gibson Jack Trail
Gibson Jack trail is a 12.1-km trail on the outskirts of Pocatello. It reaches close to a 401-meter elevation which makes it a considerably challenging trail.
To completely traverse this trail, you must set aside about 3 hours and 25 minutes for the trip. It is a quiet trail, so you most likely won't see anyone there.
The Trail also allows you to come with your dogs, provided they would be on a leash the whole time. It's a nice area to take a stroll, unwind, or take your dog for a walk.
This Trail also is excellent for capturing pictures because of the breathtaking, vegetative, and mountainous scenery.
This new, appealing road is perfect for biking, horseback riding, and moonlight strolls. You can also use it for your morning exercise.
Along the entire walk, little streams are brimming with stunning, large flowers. If you visit Pocatello during the winter, you'll catch the best view as it is completely covered in snow at that time.
Address: Gibson Jack, Idaho 83204, USA
Check out the top things to do in Rexburg, and things to do in Meridian for a memorable exploration of California.
Plan Your Trip to Pocatello
Pocatello, Idaho, is one of those destinations that anyone would be glad to visit in their lifetime, owing to its numerous attractions and opportunities that foster rejuvenation.
The city has all the attributes you can wish for in a place, ranging from history and culture to worthwhile natural beauties, fun, and relaxation spots.
Asides from being an attractive tourist destination, Pocatello, Idaho, has many other reasons that might make you want to become a resident.
Have a fun trip!