In search of the best and most fun things to do in Pendleton, OR?
Pendleton, a small city in Umatilla County, Oregon, is often underestimated but possesses many unique features and attractions that stand out in the entire Oregon. The City is abounding in history, with different eras and tribes leaving proof of their existence in the culture and features of the City. The historical abundance is evident in its "Old town" Historic District.
Among the tribes that lived here were Cayuse, Walla Walla, and Umatilla tribes. The tribes live peacefully in an area called Indian Reservation located in the eastern part of Pendleton. Pendleton also has an underground tunnel system which the Chinese immigrants constructed and used in the 1800s. Part of this tunnel system is now an attraction site in the downtown area.
These historical features highlighting the culture of the City results in it being referred to as the cultural center of East Oregon. In addition, Pendleton has scenic natural landscapes due to its' closeness to a mountain range, creating an excellent location for nature enthusiasts and adventure seekers.
Pendleton has something for everyone, are you planning an exploration? Here are the top things to do in Pendleton, OR.
Things to Do in Pendleton, OR
1. Umatilla River
The Umatilla River is 89 miles long and a tributary of the Columbia River. The source of the Umatilla River is situated in the Blue Mountains at the conflux of its north and south forks in the Umatilla National Forest located in northern Umatilla County, Oregon, United States.
The Umatilla River is a valued natural resource among the Pendleton locals, primarily due to its' provision of fish to the residents of Pendleton. You can tag along with an angler to an excellent site to get freshwater fish. The River supports species of fall Chinook, spring Chinook, Coho Salmon, smallmouth bass, small trout, and walleye.
Apart from Shore fishing, there are several other activities you can try out, especially in the more turbulent parts of the River, such as kayaking or canoeing. Brave the rapids of this stunning water body, but ensure you are appropriately kitted and skilled enough to navigate the rapids.
A trip to the Umatilla River is an adventurous and exciting one and, as such, is one of the fun things to do in Pendleton, OR.
Address: 72510 Coyote Road, Pendleton, OR 97801, USA
2. Umatilla National Forest
In the Blue Mountains of southeastern Washington and northeastern Oregon, Umatilla National Forest encompasses 1.4 million acres with different amazing landscapes and floral communities. It is one of the top attraction sites in Oregon, attracting thousands of tourists annually.
The Umatilla National Forest is home to numerous animals native to Oregon, including elk, moose, black bears, and other large mammals. The habitat has one of the largest herds of Rocky Mountain elk discovered on any national forest in the nation. In addition, almost 40,000 hunters visit the forest for their game hunting opportunities yearly to control the forest's game population.
Visitors can also fish, as Its rivers and lakes are rich in freshwater species like trout, Chinook salmon, and steelheads. The visitors can also enjoy driving more than 2,000 miles of forest roads, hiking over 715 miles of trails, picking wild mushrooms or huckleberries.
The attraction also features almost 40 campgrounds and 13 rental cabins throughout the forest from which visitors can choose. It also features Grande Ronde or North Fork John Day rivers, where guests can enjoy a boating experience. Proving the location is both adventurous and fun.
Address: 72510 Coyote Road, Pendleton, OR 97801, USA
3. Crow's Shadow Institute of the Arts
Crow's Shadow Institute of the Arts is a world-class art studio specializing in modern fine art printmaking. The establishment is situated inside the historic Saint Andrews Mission on the Umatilla Indian reservation. In 1992, James Lavadour, Phillip Cash Cash, and a few of their friends created the institute.
In 2001, the institute diverted its attention to fine printing with the employment of Frank Janzen being their Master Printer. The institute has been highly reputed for its fine art lithography production from that time.
In 2017, Judith Baumann replaced Frank Janzen as the Master Printer. In addition, numerous prominent institutions, including the Library of Congress, Wellin Museum of Art, Whitney Museum of American Art, and the Smithsonian, has some of the institute's artworks as part of their collections.
The institute features a Fine Print Studio, an Artist in Residence Program, and a Gallery. These features are open to the general public. In addition, the institute aims to provide opportunities for native Americans through developing arts.
Address: 48004 St Andrews Rd, Pendleton, OR 97801, USA
4. Pendleton Round-Up & Happy Canyon Hall of Fame Museum
The Pendleton Round-Up & Happy Canyon Hall of Fame Museum, which was the first hall of fame for an individual show, the Pendleton Round-Up was opened in 1969. This attraction was created to honor the memory of influential figures who contributed to the growth and current state of the community.
The exhibits featured in the Hall of Fame include Wild West and Native American artifacts such as saddles, clothing, Indian regalia, full-sized teepee, weapons, trophies, wagons, and photographs. In addition, a majestic bucking horse is visible at the entrance, which gives an idea of the amazing things inside the building.
The mission of this attraction is to protect and elevate the history and heritage of the City of Pendleton. More men, women, and occasionally livestock are added as honorees by this attraction's Board of Directors. It is of essence that all honorees have a long affiliation with the Round-Up and Happy Canyon.
This destination is perfect for history enthusiasts who want to know more about Pendleton's heritage. A tour around this prestigious establishment is one of the best things to do in Pendleton, Oregon.
Address: 1114 SW Court Ave, Pendleton, OR 97801, USA
5. Great Pacific Wine and Coffee Co.
The Great Pacific is a pleasant, trendy, tavern-style restaurant and coffee shop owned and managed by Ken Schulberg and Carol Hanks. It is situated in the previous Masonic Lodge built-in 1887. The building was refurbished in 1980 and converted to the Great Pacific.
This family-friendly informal restaurant is large and spacious, having booths and tables. Enjoy the mouthwatering meals offered, a wide variety of coffee drinks, a wide selection of wines, craft beer, food items for sale, or free Wi-fi. Occasionally, the Great Pacific hosts live bands on their large stage.
The dining menu contains various meals such as gourmet sandwiches, salads, Neapolitan-style pizzas, soups, and combination plates. In addition, they offer one of the best wines in Pendleton. The wines are gotten from both local and foreign sources.
You can enjoy their 12 imported and domestic beers on tap and the over 80 bottled beers for sale. They also offer numerous local microbrews, Ales, Stouts, Porters, and Lagers from all major brewing countries worldwide.
Don't hesitate to make a stop when in town.
Address: 403 S Main St, Pendleton, OR 97801, USA
6. Heritage Station Museum
Pendleton has many attractions that tell its history. Still, among all, Heritage Station Museum is all-encompassing. Heritage Station Museum was opened in 1974 and is managed by the Umatilla Historical Society.
The museum features artifacts that cover over 150 years of contemporary history. In addition, you'll find offices, archive storage, outdoor exhibits, and an open-air theater on the property. You can explore some outdoor exhibits such as an old schoolhouse, a Union Pacific caboose, a homestead, a cabin, a barn, and a windmill.
The indoor exhibits showcase and tell the history of the state. The indoor exhibits are railroad information, newspapers, a permanent Oregon Trail exhibit, and several temporary exhibits.
Visitors can have picnics at a miniature park located outside the museum. The Heritage Station Museum is an excellent location for history enthusiasts. A tour of the Heritage Station Museum is one of the top things to do in Pendleton, OR.
Address: 108 SW Frazer Ave, Pendleton, OR 97801-2138, USA
7. Pendleton Family Aquatic Center
The temperature during summer in Pendleton can be unbearable sometimes; thankfully, you can cool off at Pendleton Family Aquatic Center. This destination offers lots of fun to all age groups. As such, splashing through the waters of this tremendous aquatic center is one of the fun things to do in Pendleton, OR.
Pendleton Family Aquatic Center has numerous recreational facilities, including three pools, one zero-depth pool for kids, and a pool that is 50 meters long for practicing stroking and doing laps. For a challenging experience, you can check out the dive well.
Ride down the two towering slides into the clear waters below for an enlivening activity. Beside the pools is a picnic areawith grills where the whole family can relax and enjoy meals. The center also has concession stands. You'll indeed not have a fun moment at this fantastic location.
Address: 1901 NW Carden Ave, Pendleton, OR 97801, USA
8. Children's Museum of Eastern Oregon
Kids might find most attractions too dull for them; not to worry, the Children's Museum of Eastern Oregon is located right in Pendleton. The museum is a non-profit establishment featuring vast educational activities and interactive exhibits for kids of all age groups.
The experience unlocks the kids' imagination and enlightens them about Earth, their immediate environment, and other scopes of knowledge. Monthly, the museum organizes programs such as classes, camps, events focused on sciences and art to foster the learning experience.
Fun attractions in the museum include Northwest Adventure, Pizza Cafe, Toddler Zone, Fire Station, and more. The kids can also engage in role-playing and become their future ambition for that day. For those interested in sciences, there's a STEM corned filled with machines, magnets, and other fun stuff that kids can explore.
Exploring this museum is one of the fun things to do in Pendleton, Oregon, especially for kids. Don't hesitate to bring your kids.
Address: 400 S Main St, Pendleton, OR 97801, USA
Also check out our guides on the best things to do in Roseburg, things to do in Sunriver, and things to do in Pacific City for a fun time in Oregon.
9. Hamley Steakhouse & Saloon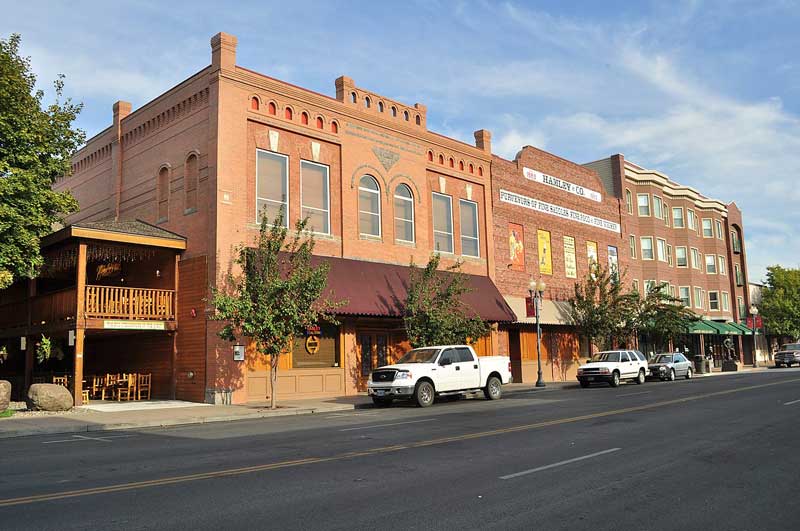 Hamley Steakhouse and Saloon
is situated in downtown Pendleton in the former Umatilla County Courthouse constructed in 1869.
This attraction has an Old West design and features amazing handcrafted woodwork and historical artifacts. At the center of the attraction's stunning interior is a historic real mahogany bar about 100 years old.
A big longhorn steer is also mounted on the wall. This location is famous among locals for holding parties and other gatherings.
Hamley has a relaxed ambiance, with many large-screen TVs mainly displaying football games. This incredible attraction offers whiskey by the barrel, 12 beers on tap, and the best juicy steaks. Their carnivores' delight menu contains different traditional saloon favorites.
A unique experience you can't afford to miss!
Address: 8 SE Court Ave, Pendleton, OR 97801, USA
10. Pendleton Underground Tours
Pendleton Underground is one fascinating historical non-profit attraction open to the public. The Gold rush in the 19th century attracted different people after Oregon's wealth, and the Chinese were one of them. The Chinese built tunnels and carried out some ugly activities there. Today the structures still stand and are open for the public to explore their deepest secrets.
Pendleton Underground Tours was established in 1989, and today it is eastern Oregon's top tourist attraction year-round. This tourist attraction shows and tells the history of the legal and illegal businesses operating in the area, the history of the Chinese in eastern Oregon, and their part in building the west.
The tour is interesting, educating, and relatable for all age groups. However, the tour is only open to children from 6 years and above. At this location, you'll learn the history of Eastern Oregon that is unspoken.
The location features Chinese opium dens, jails, 'cozy rooms' bordello, card rooms, kitchen, sleeping quarters, and other questionable areas. The guided tour takes approximately 90 minutes. This fascinating tour is one of the top things to do in Pendleton, OR.
Address: 31 SW Emigrant Ave, Pendleton, OR 97801, USA
11. Roy Raley Park
The Roy Raley Park is among the oldest parks in Pendleton. Annually, the Park offers activities for all age groups, so you don't have to worry about anyone being left out. It is a seasonal public park that unites the whole community.
It is primarily known for its ice rink, which attracts many visitors and residents during the winter season. So, come along with your skating blade, depending on your time of visit.
During summer, there are still numerous activities the public can enjoy, including swimming in the indoor swimming pool, playing basketball in its courts, and jogging.
The Park also features a grass arena for holding events, a stage, drinking fountain, two reservable shelters with 13 picnic tables, and restrooms. The entire family can enjoy many recreational activities in this attraction. Ensure to add it to your itinerary.
Address: 1205 SW Court Ave, Pendleton, OR 97801, USA
12. Oregon Grain Growers Brand Distillery
Oregon's been the premier distillery in Pendleton, Oregon, from the time that it was prohibited. The establishment was opened in 2016 after five long years of careful planning.
Oregon Grain Growers Brand Distillery is a family-owned enterprise that aims at producing great craft spirits using materials obtained locally and further highlights agriculture.
The distillery mills their grains in the same building and features a cozy tasting room where guests can try out their products. You can also check out the distillery operations and buy a gin, vodka, and whiskey bottle. Kids are welcome but must be accompanied by an adult.
The Oregon Grain Growers Brand Distillery has a kitchen on-site where you can eat delicious meals alongside your spirits. Their meals are prepared using seasonal Oregon sourced ingredients, making their menu constantly change.
Address: 511 SE Court Ave, Pendleton, OR 97801, USA
13. Deadman Pass Lookout Area
Deadman Pass Lookout Area is another fascinating attraction site in Pendleton, Oregon, especially for nature enthusiasts. Deadman Pass came to be due to killings during the Bannock War by Indian rebels.
The site is an interstate highway overlooking several low mountains. At the top of the attraction, there is a rest stop that offers a stunning view. The hills have grasses but not trees, which provide a clear view of the green valleys beneath.
Enjoy the astonishing view, especially during sunset, and the sky is covered in orange, violet, and red colors. Come along with your camera to capture the magnificent views. Of course, you can also stand in between the view or outside your car and marvel at the beauty.
A stop at this elegant highway is one of the best things to do in Pendleton, OR. Do not miss it.
Address: I-84, Pendleton, OR 97801, USA
14. Pendleton Woolen Mills
Pendleton Woolen Mills is another fascinating attraction in Pendleton, Oregon; established in 1909 makes fabrics and clothing using raw wool sourced locally. It is currently owned and managed by the sixth generation of the Bishop family.
The factory produces blankets, men's and women's clothes, pillows, and furniture. The products are sold through specialty shops, department stores, catalogs, and even online across the US, Canada, Japan, and Europe.
Visitors should check out the retail store in the factory, where you can buy souvenirs for friends and family. In addition, the factory offers a free tour of the mill to show visitors how their fabrics and blankets are made. Free tours are available Monday till Friday.
Address: 1307 SE Court Pl, Pendleton, OR 97801-3219, USA
15. Tamastslikt Cultural Institute
The
Tamastslikt Cultural Institute
is a museum and research center situated in the Umatilla Indian Reservation.
The institute honors, preserve and educate the public about the different culture, history, and modern lives of the ancient tribes of Native America. The tribes are Umatilla, Cayuse and Walla Walla.
The permanently displayed artifacts in the museum depict how the various tribes' cultures came to be and the history of the reservation on which they reside.
In addition, there's also a gallery for temporary exhibits, including Native American art, craftwork, history, and folklore such as weapons, clothing, fabrics, farming tools, and many other collections.
From time to time, this institute also organizes public events in line with its mission, such as craft lessons, live performances, and powwows, children's day camp. Therefore, a visit to this exceptional institute is one of the best things to do in Pendleton, Oregon.
Address: 47106 Wildhorse Blvd, Pendleton, OR 97801, USA
Are you considering exploring Oregon, here is a list of things to do in Tillamook, things to do in Coos Bay, and things to do in Brookings for a fun vacation
16. Pendleton Air Museum
Pendleton Air Museum is another exciting attraction, especially for aviation and history lovers. This non-profit museum was constructed in 2000 to collect, protect, showcase, and describe items that represent Pendleton's Military and aviation history.
This attraction honors the memory of local airmen, sailors, marines, and soldiers through events, exhibits, and some other activities. In addition, the museum operates for charitable purposes, scientific research, and to educate the public.
Some of the exhibits include uniforms, photographs, war memorabilia, among other items. Visitors can view and learn about the different aircraft and what they served as during the war.
The museum engages in numerous local events such as Open House for veterans, parades, Air show, and First Citizens Banquet.
Come along with your family and friends to explore the wonders of Pendleton Air Museum.
Address: 21 SW Emigrant Ave, Pendleton, OR 97801, USA
17. Virgil's At Cimmiyotti's
The Virgil's At Cimmiyotti's, initially known as just Cimmiyotti's, is a notable eatery in Pendleton where locals held special occasions. It was established in 1959 and closed in 2005.
Jennifer Keeton purchased the property in 2009, reopened it, restored its glory, and maintained its original tradition and standard.
Jennifer Keeton bought the eatery and added "Virgil's" to the name to honor her father. She made the enterprise have a romantic Old West ambiance. This enterprise offers mouthwatering meals and an inviting atmosphere.
These properties reinstated Virgil's as the most loved and preferred local place to have great meals, such as fresh seafood, steaks, and wine worldwide. Vigil's full bar also offers innovative and classic cocktails. A taste of a meal in this destination is one of the top things to do in Pendleton, OR.
Address: 137 S Main St, Pendleton, OR 97801, USA
18. Plateau Fine Dining
Pendleton is a place with many exquisite restaurants, giving visitors that exceptional meal with long-lasting satisfaction. Plateau Fine dining is one of such restaurants in Pendleton, Oregon. A stop to have a delicious meal in this dining area is among the top things to do in Pendleton, Oregon.
This restaurant is a stylish, high-class restaurant with a marveling view of the Blue Mountains, situated at the peak of Wildhorse Resort in Pendleton, Oregon. This dining serves traditional northwestern cooking, with exceptionally prepared meals made from fresh, high-quality ingredients.
Their perfectly cut meats are carefully seasoned, well cooked, and arranged artistically. The restaurant also offers a broad list of wines mainly sourced from Oregon and Walla Walla Valley, allowing patrons to choose according to their preference.
The dining offers Chef's Tasting Four-Course menu during special events. The meals are served in a stunning private room. So if you're thinking of what to do in Pendleton, Oregon, you shouldn't miss tasting this unique dining cuisine.
Address: 46510 Wildhorse Blvd, Pendleton, OR 97801, USA
19. Aura Goodwin Raley
Throughout Pendleton, Oregon, there are several markers describing vital people and events which played essential roles in the history and development of the area. The marker about Aura Goodwin Raley located in downtown Pendleton is among these markers and is part of the Oregon Trail marker series.
In 1864, Aura Morse Goodwin Raley popularly referred to as "Mother of Pendleton," and her husband Moses Goodwin constructed the first house in Pendleton, which is currently situated in the 100 block of South Main Street.
The couple opened a hotel and a state station (often called Goodwin's Cat Station, they had many cats) at their residence. They also constructed a toll bridge across the Umatilla River. When Pendleton was created, the family donated land to the City for building Pendleton's first courthouse, cemetery (now Pioneer Park), and a college.
In its early days, Aura Raley was the owner of a large portion of Pendleton. Aura Raley sold many pieces of land for building residents and commercial enterprises and thus contributed to Pendleton's development. She was a vital player in the growth and integration of Pendleton. Aura Raley has a street named after her because of her legacy and resided in Pendleton till her death.
Address: Southeast Dorion Avenue, Pendleton, OR 97801, USA
20. Wildhorse Resort & Casino
Wildhorse Resort and Casino
, an attraction in Pendleton, offers so many features for entertainment lovers. So if you're in search of a thrilling experience, a visit to this Casino makes what to do in Pendleton, Oregon, for a fun time.
This relaxing Casino resort is located on the city outskirt and gives room for players to be loud and rowdy. The Umatilla Indian Reservation Confederated Tribes are the owners of this stunning establishment.
The resort has cozy rooms equipped with cable TV, microwaves, coffee maker, and whirlpool tubs. The suites have where you can sit down. In addition, the resort contains a museum, a full-service casino, an indoor pool, an 18-hoe golf course, seven restaurants and bars, an RV park with a tepee village, and a kids' entertainment center.
The Casino possesses poker tables, slot machines, roulettes, and arcade games. This location is also primarily used for business meetings and large gatherings. An event center is also available where live music performances are held for the public.
Ensure to add this location to your itinerary if you want to share in this immense fun experience.
Address: 46510 Wildhorse Blvd, Pendleton, OR 97801, USA
21. Blue Mountain Wildlife
The Blue Mountain Wildlife attraction is located in the Southern part of Pendleton's City and covers a large area of land similar to the size of New York City. It is the top wildlife rehabilitation facility in Pendleton and eastern Oregon.
Blue Mountain Wildlife, established in 1990, concentrates on animals rehabilitation, education, and research, in line with its mission. However, their specialty is in raptor care. This facility offers an up-close experience with the animals.
Since Blue Mountain Wildlife's inception, more than 10,000 animals have been cared for, primarily raptors. In addition, local students and community members exceeding 10,000 have been educated about these animals annually, fostering coexistence between the people and wildlife.
The experience is quite exciting and not to be missed. So ensure to add this attraction to your itinerary.
Address: 71046 Appaloosa Lane, Pendleton, OR 97801, USA
22. Pendleton Riverwalk
The Pendleton Riverwalk is a well-paved path extending up to 3.2 miles parallel to the Umatilla River. Through this path, you can enjoy the scenic view of the River, relax or engage in one exercise or another.
The early hours of the day are perfect for riding, biking, jogging, and other cardiovascular exercises due to the low temperature. In addition, the Riverwalk will lead you to some beautiful areas and attractions in Pendleton, like Pendleton skateparks, Roy Raley Park, and baseball fields.
Visitors can unwind and relax while listening to the rushing sound of the water. There are no restrictions for the time of visit. Make a stop during your stay.
Address: Pendleton Riverwalk, Pendleton, OR 97801, USA
23. Pendleton Center for the Arts
Pendleton Center for the Arts
is situated in the historic previous Umatilla County Library building built-in 1915. The old library building was built using the Italian Renaissance Revival style. In 1996, the library building was refurbished by the Arts Council of Pendleton and transformed into a multi-venue art center.
Numerous fascinating artistic pieces created by skilled local artists are featured in the various galleries present. Check out the East Oregonian Gallery encompassing 1,800 square-foot which showcases arts by professional and upcoming artists within Oregon.
The Lorenzen Board Room Gallery presents an exhibit area to members of the local community. In addition, Pendleton Center for the Arts contains Pearson Auditorium, which can accommodate 110 people and is used to hold live music concerts, literary events, dance recitals, among others.
If you don't know how to create art, not to worry, the center offers classes for all ages. The center also offers the community members ceramics, painting, and digital art classes in their various studios. Enjoying the intriguing arts in this destination is one of the fun things to do in Pendleton, Oregon, do add to your bucket list.
Address: 214 N Main St, Pendleton, OR 97801, USA
Want more of Oregon? do check out our list of things to do in Klamath Falls, things to do in Ashland, and things to do in Lincoln City for a memorable vacation.
Plan your Trip to Pendleton
Pendleton offers fascinating attractions despite its small size. It shows a different perspective of Oregon that is as exciting as other parts of the state. The tourist attractions range from national forests to museums, parks to dining areas, there are many features to see in this lovely city.
Make Pendleton, Oregon, your next destination, start planning your trip today.