The beautiful province of Ontario sits along the shared Canada/U.S. border near the Great Lakes. Toronto, the capital of Ontario, is the largest city in the country, and with nearly half of Canada's population calling this province home, it is 15 times larger than Texas.
Its vast wilderness and cosmopolitan cities provide endless opportunities for the traveler, avid adventurer, and family on a fun getaway.
With attractions like Bruce Peninsula National Park, Niagara Falls, the Hockey Hall of Fame, and Toronto CN Tower, visitors will always have plenty of things to keep them busy.
Let's explore the best things to do in Ontario, Canada.
Things to Do in Ontario, Canada
1. Horseshoe Falls
Horseshoe Falls is the most striking of the three waterfalls that form Niagara Falls on the U.S. and Canadian border.
Heading to the Canadian side of Ontario, Horseshoe Falls is regarded as the 'jewel' of Niagara. You can enjoy the Horseshoe Falls in diverse ways. Participating in the activities offered at Horseshoe Falls is among the fun things to do in Ontario, Canada.
One of the most thrilling activities is zip lining 2,200 feet toward the falls – you even have a feel of the mist. Another well-sought choice is the Journey Behind the Falls experience, just at the base of Horseshoe Falls.
You can also take the White Water Walk, which guides visitors along the Class Six rapids of Niagara River. Enjoy the Whirlpool Aero Car, which offers scintillating views of the falls, or the Hornblower Niagara Cruises taking guests on a thrilling boat tour.
Address: Oak Hall, 7400 Portage Road, Niagara Falls, Ontario L2E 6T2, Canada
2. Rideau Canal
Rideau Canal was built in 1832. Its sole purpose was to secure a supply route in case of a war with the United States.
It adopts a slack water system to get the rapids better, allowing watercraft to go both upstream and downstream.
This system's operation is achieved through a collection of locks manually made using locally-sourced materials, effort, and a massive feat of human genius.
Rideau Canal is a living piece of history, with many original structures still intact and the locks operating much as they did in the 19th century.
Guests are inspired to explore the Canal's historical sites to appreciate how and why it was built. Rideau is also a center for outdoor recreation activities.
Address: 34 Beckwith Street South, Smith Falls, Ontario K7A 2A8, Canada
3. Royal Ontario Museum
The Royal Ontario Museum (ROM) was established in 1914. It is one of the top ten cultural institutions in North America.
It is the largest and most comprehensive Museum in Canada, housing a world-renowned collection of 13 million natural history specimens, artworks, and cultural objects, displayed across 40 exhibitions and galleries.
ROM is the nation's most crucial field research institute and an international leader in advanced discoveries. It plays a crucial role in understanding the artistic, cultural, and natural world. ROM
Royal Ontario Museum is situated in Toronto. It is both a cultural destination and a national landmark.
Popular exhibitions include the Thorsell Spirit House, Roloff Beny Gallery, and Samuel Hall Currelly Gallery.
Address: 100 Queen's Park, Toronto, Ontario M5S 2C6, Canada
4. Ripley's Aquarium of Canada
Ripley's Aquarium of Canada, located in downtown Toronto, is southeast of the famous CN Tower. Exploring the exhibits at Ripley's Aquarium of Canada should make your list of the top things to do in Ontario, Canada.
Having 1.5 gallons of freshwater and marine habitats from all parts of the world, the Aquarium features over 20,000 specimens across over 450 species.
There are ten unique galleries: Dangerous Lagoon, Canadian Waters, Rainbow Reef, Ray Bay, Discovery Center, Shoreline Gallery, The Gallery, Planet Jellies, Life Support Systems, and Swarm: Nature by Numbers.
Some animals featured include Picasso triggerfish, Wolf eel, sand tiger sharks, electric eel, clownfish, moon jelly, bonnethead sharks, and southern stingrays.
In the Life Support System exhibit, guests get a backstage look at the life support systems room, which features Dangerous Reef and Ray equipment.
Address: 288 Bremner Boulevard, Toronto, Ontario M5V 3L9, Canada
5. Algonquin Provincial Park
It would interest you to know that Algonquin Provincial Park is the first park in Ontario, as well as its largest.
Algonquin Provincial Park, dubbed the Gem of Ontario Parks, is located in the state's southeastern part. It is one of the best places to visit in Ontario, Canada.
This Canadian favorite annually hosts more than 800,000 visitors, as it offers lasting and endearing memories to every single visitor.
You quickly access the Park via the Highway 60 corridor that runs close to 35 miles through it with lots of wildlife viewing opportunities.
Join other visitors in accessing Visitor Center, the Logging Museum, and Art Centre along this stretch. Other highlights you wouldn't want to miss are the Lake of Two Rivers, Whiskey Rapids Trail, and Barron Canyon Trail.
If you are adventurous, you can navigate the Park's interior either by canoe or on foot.
Address: Highway 60, Whitney, Ontario KOJ 2M0, Canada
6. National Gallery of Canada
The National Gallery of Canada, housed in a beautiful granite and glass building, is the country's premier art gallery. Moshe Safdie designed it.
This Gallery offers astonishing views of the buildings on Parliament Hill. It features a large and varied collection of photographs, paintings, sculptures, and drawings.
Its primary focus is on Canadian art; however, it has various works by several recognized European and American artists.
You would find a considerable contemporary art collection, including some of the most famous pieces created by popular artist Andy Warhol.
The Gallery offers several guided tours for adults, but the group must have a minimum of ten people and place reservations at least three weeks ahead.
Address: 380 Sussex Drive, Ottawa, Ontario K1N 9N4, Canada
7. Niagara Parks Butterfly Conservatory
The Niagara Parks Butterfly Conservatory is a tropical paradise that boasts waterfalls and verdant vegetation. It is nestled within the Niagara Parks Botanical Gardens.
Over 2,000 brightly colored butterflies of 45 different species are dancing around the glass-enclosed Conservatory.
Inside, visitors will wander along the twisting winding pathways before stopping at the emergency window, where they'll get the rare opportunity to watch hundreds of butterflies take their first flight.
Many butterflies are imported, with 60% coming from butterfly farms in Costa Rica, El Salvador, and the Philippines.
The remaining 40% are bred in the quarantined greenhouse located behind the Conservatory. The tours here are self-guided and start with a prompt yet informative video presentation.
Address: 2565 Niagara Parkway, Niagara-on-the-Lake, Ontario L0S 1J0, Canada
8. Art Gallery of Ontario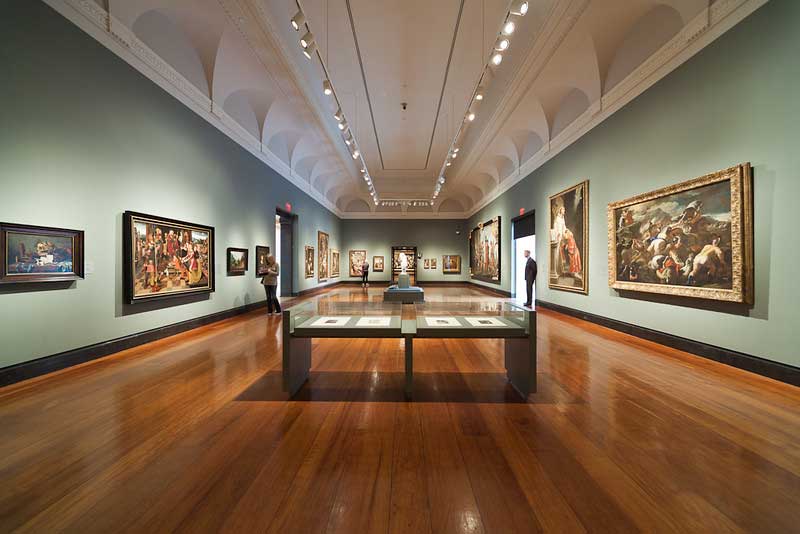 The Art Gallery of Ontario (AGO) is a massive gallery in Toronto, Ontario. This gallery occupies over 147,000 square feet and is the largest in North America.
There are over 95,000 works in the gallery's permanent collection cutting through the present back to as far as the first century.
Upon visiting, expect to see Central and Western African art, Gothic boxwood miniatures, European masterpieces, emerging Canadian indigenous artists, a photography collection, The Group of Seven 1920s landscape painters, and more.
The building itself is a standing work of art. You would enjoy gallery amenities like Galleria Italia Espresso Bar, Café AGO, Shop AGO, and ASO Bistro.
Free admission is offered on Wednesday evenings.
Address: 317 Dundas Street West, Toronto, Ontario M5T IG4, Canada
9. Hockey Hall of Fame
The Hockey Hall of Fame is a museum dedicated to ice hockey in Toronto.
Here, visitors have a good feel of the game in the past and the present. There you'll find 15 exhibits featuring teams, players, and others who've developed the sport, like officials, commentators, and coaches.
In the 'Great Hall' is the famous Stanley Cup, arguably the most prominent display at the museum. The Great Hall is also home to annual Hall of Fame induction ceremonies and honors Hall of Famers.
More features include NHLPA Be a Player Zone – an interactive hockey exhibit; the NHL Zone, which features current players and teams; and the World of Hockey Zone, dedicated to the sport worldwide.
You can also catch Stanley's Game Seven, a 3D animation film with archival footage.
Address: Brookfield Place, 30 Yonge Street, Toronto, Ontario M5E 1X8, Canada
10. Bruce Peninsula National Park
Bruce Peninsula National Park is located on Ontario's Niagara Escarpment. This Park is part of the state's UNESCO World Biosphere Reserve. It is home to over 200 species of large and small mammals, rare reptiles, amphibians, and birds.
Visitors can trek the backcountry on multi-day adventures, hike the front country, swim the pristine lakes, and scramble the rocky shoreline of Georgian Bay; they are among the fun things to do in Ontario, Canada.
There are camping opportunities available in yurts or at campsites. You can also take advantage of the Visitor Centre in Tobermory, which is the best place to start an adventure.
Guests can anticipate myriad trails with great views, a park film, a 65-foot lookout tower, and numerous interpretive programs. It is truly a beautiful place to visit.
Address: 469 Cyprus Lake Road, Tobermory, Ontario N0H 2R0 Canada
11. St Lawrence Market South
St Lawrence Market South comprises three main buildings – the North Market, the South Market, and St. Lawrence Hall. St Lawrence Market is an essential piece of Toronto's history.
Popularly known for its Saturday Farmers' Market, the North Market started this tradition in 1803 and is still where Southern Ontarians meet the locals with their seasonal produce.
It also serves as an antique hall on Sundays, with over 80 dealers assembling in the surrounding space to display their wares.
The main attraction here is the South Market. It is open daily with more than 120 specialty vendors offering a cross-selection of fresh fruit, fish, meat, vegetables, grains, baked goods, and dairy products, as well as several non-food items for sale.
Address: 92 – 95 Front Street East, Toronto, Ontario M5E 1C3, Canada
12. Toronto Zoo
Toronto Zoo is the nation's leader in wildlife rescue. It is set in stunning Rogue Valley. This Zoo ensures that a rich diversity of nature is preserved for future generations. You can't be looking for what to do in Ontario, Canada, when you are yet to visit this Zoo.
Ranking as one of the largest zoos in the world, it is home to over 5,000 animals of over 450 species, seven exhibits, seven gift shops, six miles of walking trails, four rides, and the Discovery Zone.
The latter features the Kids Zoo offering a two-acre water play area, an interactive wildlife experience, the Waterside Theatre, and Splash Island.
Toronto Zoo is divided into seven zoogeographic sections – the Americas, Africa, Canadian Domain, Indo-Malaya, Eurasia, Australasia, and Tundra Trek.
Some of the rides you'd find are Zoomobile, Conservation Carousel, Tundra Air ride, and Gorilla Climb Ropes Course.
Address: 361A Old Finch Avenue, Toronto, Ontario M1B 5K7, Canada
13. LA Tour CN Tower
As you may know, CN Tower in Toronto, Ontario, is one of the world's tallest buildings.
Positioned in the heart of the city, it offers stunning 360-degree views. Viewing this magnificent structure is one of the best things to do in Ontario, Canada.
Visitors can experience CN Tower in diverse ways. The Lookout level has a glass floor and floor-to-ceiling window walls, and at 1,136 feet, it easily provides folktale views for all visitors.
The glass floor on the Lookout level is just above the original glass floor one story below, allowing visitors to see the street.
Moving up thirty-three stories, guests will find SkyPod, one of the world's highest observation platforms.
If you are daring, try out Edgewalk – an outdoor, hands-free, thrill walk 116 stories above ground.
Address: 301 Front Street West, Toronto, Ontario M5V 2T6, Canada
14. Skylon Tower
One of the most famous attractions in Niagara Falls is the Skylon Tower. It provides jaw-dropping 360-degree views 775 feet above the falls.
It also boasts indoor/outdoor observation decks, two restaurants, and the main lobby outfitted with diverse shopping opportunities, including exciting glass-blowing performances by Angelo Rossi, the 'King of Glass.'
The Revolving Dining Room restaurant is the most popular highlight of Skylon. It is a silent 360-degree rotation every hour, offering diners an ever-changing perspective as they dine on award-winning continental cuisine.
You would also enjoy Summit Suite Buffet Dining Room restaurant. This family-affordable restaurant provides an extensive selection of dishes, delectable pastries, fresh salads, carved meats, and fresh seafood.
Address: 5200 Robinson Street, Niagara Falls, Ontario L2G 2A3, Canada
15. Toronto Eaton Centre
Toronto Eaton Centre is a large office complex and shopping mall in the city's downtown area.
It boasts of its magnificent glass galleria and the famous "Flight Stop" geese – an art installation created by Michael Snow, a legendary Canadian artist.
This piece appears to be 60 geese in flight hanging from the ceiling, making the gallery one of the celebrated landmarks in Canada.
It is home to more than 250 best-in-class retailers, services, and restaurants like Godiva Chocolatier, Armani Exchange, Hendricks Restaurant and Bar, Toys Toys Toys, Links of London, and Williams-Sonoma.
It also hosts several events like a DIY workshop, Levi's Tailor Shop, and Visit with Santa during the holiday season.
Address: 220 Yonge Street, Toronto, Ontario M5B 2H1, Canada
Are you considering exploring the United States, here is a guide on things to do in Maine, and things to do in Kentucky, for a fun vacation
16. Distillery District
Over ten years ago, a dream was born to transform 47 buildings of the Gooderham & Worts Distillery into a posh, SoHo-style neighborhood staple for artisans, artists, businesspeople, and entrepreneurs.
Today, that vision is a reality, and Victorian industrial architecture is central to this internationally acclaimed village.
Guests would find unique boutiques, shops, galleries, studios, theaters, cafés, and restaurants in this entertainment and arts district.
Distillery District occupies 12 acres of space and is one of downtown Toronto's best attractions. You can get an overview of the Distillery District – by a Segway tour, a walking tour, or a foodie tour.
Myriads of events occur here every year, from outdoor summer concerts on Trinity Square to the Toronto Light Festival to the Toronto Christmas Market.
Address: 9 Trinity Street, Suite 200, Toronto, Ontario M5A 3C4, Canada
17. Silence
Silence – you may ask, "how quiet can this place be"? It's actually the opposite.
Silence, founded in 2012 in Guelph, is an artist-owned creative and community space that provides a unique space for creating innovative contemporary music and ambient sound art pieces.
It is a fully-accessible performance space that partners with local organizations such as the Guelph Jazz Festival, the International Institute for Critical Studies in Improvisation, and the Black Heritage Society to present over 150 annual concerts, workshops, and art performance exhibitions, including live music performances by classical, folk, alternative, folk, jazz, and world music artists.
Experimental and risk-taking works are encouraged, with more emphasis laid on improvisational music and sound pieces.
As a nonprofit organization, Silence has also produced several albums of past artist work and hosted weekly community-based Morning Music improv sessions at its studio since 2012.
Address: 46 Essex Street, Guelph, ON N1H 3K8, Canada
18. Toronto Islands
The Toronto Islands are a collection of 15 interconnected islands situated on Lake Ontario. It would take you 13 minutes on a ferry ride from downtown.
Spanning a little over three miles from Hanlan's Point to Ward's Island, it is a little task for visitors to walk from one end of the aisle to the other via the bridges and pathways.
The Island offers a bunch of outdoor recreation activities for all age categories on its outdoor facilities, including canoe, kayak, and kayak rentals, sports facilities, grassy areas for picnicking, nature paths, and a theatre.
There is also a 150-year-old community harboring 600 natives who live in quaint cottages year-round, an artist's retreat, a 200-year-old lighthouse, a trout pond, a boardwalk, a pier, restaurants, and formal gardens.
Address: Jack Layton Ferry, Queens Quay West, Toronto, Ontario M5J 2H3, Canada
19. Georgian Bay
Georgian Bay is located on Lake Huron and makes up the UNESCO Biosphere Reserve.
This beautiful lake with 1,240 miles of granite shoreline, Georgian Bay Islands National Park, and the largest freshwater archipelago in the world is a must-see when visiting Ontario.
Summer is usually excellent, as it activates full-swing boating, fishing, and kayaking. The annual Festival of Sound is also held every July at Parry Sound.
Beachgoers delight in Providence Bay boardwalk and beach on Manitoulin Island, as well as Wasaga Beach (the longest freshwater beach in the world) at Georgian Bay's southern end.
September unleashes fall colors reflecting off calm waters, and winter turns the Bay into a snow sports dreamworld.
Address: 99 Lone Pine Road, Port Severn, Ontario L0K 1S0, Canada
20. Canada's Wonderland
This amusement park hits all the marks for families. Adventure seekers will be delighted by the exciting collection of rides that turn, twist, and soar, including Leviathan, Behemoth, Lumberjack, and the new Yukon Striker with a record-breaking dive.
There is kid-friendly entertainment at Planet Snoopy and KidZville so that the kids can pick something from over 25 rides.
Have you heard about Splash Works? It is a 20-acre water park with wave pools, water playgrounds, a lazy river float, slides, and a Lakeside Lagoon children's pool and play area.
Canada's Wonderland hosts events throughout the year, including Camp Spooky on Halloween and Winterfest, held in November. It is one of the best places to visit in Ontario, Canada, especially with kids.
Address: 1 Canada's Wonderland Drive, Vaughan, ON L6A 1S6, Canada
21. Casa Loma
Casa Loma, formerly the estate of Sir Henry Mill Pellatt, is now a local attraction and event space. This 'medieval' castle on a hill above Toronto had its foundational construction in 1911 and was completed in 1914.
The stunning castle provides sweeping views of Toronto. Visitors can take self-guided tours of the castle suites, secret passageways, towers, estate gardens, stables, and an 800-foot tunnel.
These tours are available in multiple languages. If you have an appetite, three quality restaurants are on the property to satisfy your cravings.
There is Liberty Café serving breakfast and lunch in a coffeehouse setting, BlueBlood Steakhouse, a fine dining experience, and Terrace Grill, a seasonal outdoor dining venue.
Do well to grab unique souvenirs from Casa Loma Gift Shop.
Address: 1 Austin Terrace, Toronto, Ontario M5R 1X8, Canada
22. EdgeWalk at the CN Tower
EdgeWalk at the CN Tower is Toronto's most fantastic extreme urban adventure.
It is a 1.5-hour experience that includes 30 minutes of outdoor time strolling the circumference of the tower's main pod.
You can perform a hands-free walk 116 stories above ground for more thrills on a 5-foot-wide ledge.
A guide leads groups of six adventurers at a time, encouraging them to stretch their limits and tilt into the air off the edge of the ledge while affixing to a safety rail via their harness.
By following the daredevil walk, participants get free access to the Lookout, Glass Floor, and SkyPod. So if you don't know what to do in Ontario, Canada, don't hesitate to go on this adventure.
Address: 9 Trinity Street, Suite 200, Toronto, Ontario M5A 3C4, Canada
23. Blue Mountain Resort
Located on the Niagara Escarpment northwest of Collingwood, Ontario, Blue Mountain Resort is one of Canada's favorite alpine ski resorts.
This popular ski and snowboard destination boasts five ski areas for visitors – the South area and the Village are best for all levels, including amateurs.
The Blue Mountain Inn area and the Orchard area are ideal for intermediate skiers and snowboarders, while North is reserved for advanced skiers and snowboarders only.
Nestled along Georgian Bay is the resort, which offers plenty of activities throughout the year, from snowmobiling and snowshoeing in the winter to zip lining and riding the Ridge Runner Mountain Coaster in the summer.
It's all fun here, anytime!
Address: 108 Jozo Weider Boulevard, Blue Mountains, Ontario L9Y 3Z2, Canada
24. Flowerpot Island
Would you love to experience nature and its touch? Then, include Flowerpot Island in your list of top things to do in Ontario, Canada.
Flowerpot Island is one of the foremost experiences of a visit to Fathom Five National Marine Park. It is famous for natural rock pillars that look like flowerpots, rare plants, caves, and a historic lighthouse.
Visitors gain access to Flowerpot Island via boat tours out of Tobermory. But, if you are an experienced kayaker, you can make your way to the Island.
There is a lot to observe while there. However, those short of time will want to spend it admiring the flowerpots and exploring the cave, which can be completed in 90 minutes.
But those with ample time can hike around the Island's loop trail, visit the lighthouse, or have a picnic.
Address: 469 Cyprus Lake Road, Tobermory, Ontario N0H 2R0, Canada
25. Kensington Market
Kensington Market, located in Toronto, has been a Canadian National Historic site since 2005. It is a walkable bohemian neighborhood filled with independently-owned shops, working art galleries, and vintage clothing boutiques.
Here, you will find bakeries, cheese shops, and specialty grocers. There is also a lineup of casual and fine dining restaurants, trendy cafés, and bars.
There is abounding street art with murals and public sculptures over the place. You can play or visit to meet Kensington Market Art Fair, a seasonal event supporting local artists, held from the last Sunday of May through October.
Another must-see is the vibrant Winter Solstice Festival, braced with a spectacular parade. In addition, guests will enjoy Bellevue Square Park, tree-lined streets, and Victorian houses outside the market.
Address: Spadina Avenue, Toronto, Ontario, Canada
Take to exploring other cities of Canada, check out our list of things to do in Waterloo, and things to do in Windsor.
Plan Your Trip to Ontario
Ontario is a graceful vacation destination. As you've seen, there are lots of activities to enjoy in this beautiful world's heritage.
The pristine lakes, wilderness, and the notable Niagara Falls – Canada's most explored attraction makes Ontario a top destination if you want a thrilling vacation experience.
Start planning your trip to Ontario!