Looking for the best and fun things to do in Montpelier, VT?
Montpelier is more than just a paradise for maple syrup lovers and a bright, colorful pile of autumn leaves. It is the charming capital city of Vermont, home to beautiful historic state government buildings like the 1859 Vermont State House.
It has quickly become a popular destination for travelers looking for a more quiet adventure. Visitors can explore pleasant cultural attractions such as the Vermont History Museum, which displays exhibits on the social and cultural history of the region going back to its indigenous and Revolutionary War days.
The beauty of Montpelier draws visitors into reconnecting with more of the natural things in life. The attractive Hubbard Park provides unmatched views of the region's skyline and is home to an observation tower, listed on the National Register of Historic Places.
There are more to this city including classic restaurants. Let's explore the best things to do in Montpelier, Vermont.
Things to Do in Montpelier, VT
1. Morse Farm Maple Sugarworks
Morse Farm Maple Sugarworks
is the Morse family's business for numerous generations. Located just about three miles from downtown Montpelier, Vermont, it is one best things to do in Montpelier.
Visitors get to see their maple experience through colorful video and live presentations at the Woodshed Theatre and Sugarhouse on the farm.
You can also explore the outdoor farm life museum featuring a walk along the nature trail, check an antique Vermont State House replica, shop at the country store, and enjoy complimentary tastings and sugar house tours.
You will find are capricious carved folklore characters made by Burr Morse all around the Morse Farm ground.
Address: 1168 County Rd, Montpelier, VT 05602
2. Go to Bragg Farm Sugar House and Gift Shop
Existing for more than eight generations, Bragg Farm Sugar House and Gift Shop is a popular award-winning maple syrup farm that stands out in Montpelier.
Its high-quality authentic maple syrup has attracted major awards from national competitions such as the Vermont Maple Festival and other bodies.
All syrup is made following local practices, using a wood-fired evaporator and buckets. Visitors are welcomed to explore the farm's facilities and sugarhouse through guided tours offered throughout the year.
You would see more than 2,000 traditional sap buckets used to create 100% pure maple syrup.
Amazingly, the facility's gift shop plays a short educational documentary that explains the process of making maple syrup from scratch.
The gift shop also sells various local Vermont goods to complement the syrups, ranging from Vermont specialty foods and cheeses to artisan pieces.
Address: 1005 VT-14, East Montpelier, VT 05651.
3. Hike The Camel's Hump
Are you up for a physically demanding challenge (most ideal if you've taken in too much maple candy), hike along with the Camel's Hump.
To help your curiosity, the trail runs for several miles and meanders through the heart of Montpelier on the way to Duxbury, with both towns almost 12 miles apart.
Do not be discouraged by this though. You will feel uniquely accomplished for setting your foot on the trail in the first place and the spectacular views of the Camel's Hump will certainly and completely rejuvenate you.
In colder months, you can ski along the packed-snow paths too, making this great activity in any season
For exploration lovers, one of the fun things to do in Montpelier, VT is exploring Camel's Hump Mountain
4. Montpelier must-visit: The Vermont State House
The Vermont State House stands as Vermont's state capitol building and is home to the legislative bodies of the Vermont General Assembly.
Interestingly, this beautiful Greek Revival structure is the third State House building to stand on the same spot. It has been in operation since 1859 and is the backbone of today's Montpelier Historic District.
You will observe the beautiful Neoclassical design elements flanking the building's exterior; they were meticulously restored to their historic condition in the 1980s.
Upon entrance, beautiful American Empire, Rococo Revival, and Renaissance Revival design elements are well pronounced, with many rooms restored to the Aesthetic Movement decor style of the 19th-century.
Visitors can visit the building at any time of the year to see unique architectural elements like the statue of the Roman goddess of agriculture capped by the building's gilded dome.
An annual concert series takes place on the building's lawn, which showcases performances by the Vermont Symphony Orchestra.
Address: 115 State St, Montpelier, VT 05633
5. See a mind-blowing show at Lost Nation Theater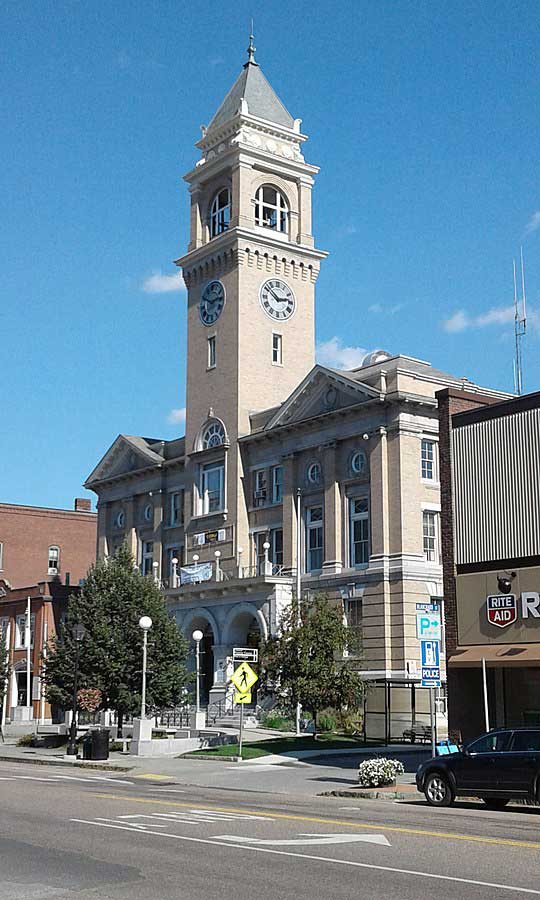 Arouse your imaginative capacity at
Lost Nation Theater
!
This local theater is a darling Montpelier establishment devoted to fine arts without the pretension and has been standing strong for over 25 years.
Its winning spot in Yankee Magazine "Best of New England" affirms this.
Lost Nation Theater is so special from so many other arthouse theaters thanks to fierce commitment towards only producing plays that tell stories that are "about the hopeful possibilities of human interaction."
Such selectivity, rather than encumbering its success, has helped establish Lost Nation's credibility as a leader of the theatrical arts.
Address: 39 Main St, Montpelier City Hall, Montpelier, VT 05602
6. Check out the Vermont Historical Society Museum
If you want to learn about the culture of Vermont, head to the Vermont Historical Society Museum. This museum exhibits the rich cultural and social heritage of the New England state and is operated as a nonprofit extension of the Vermont Historical Society.
The museum aims to educate both Vermont residents and tourists alike as it showcases exhibits detailing the history of the state from the 17th century to the date.
Its main interactive Exhibit, Freedom, and Unity: One Ideal, Many Stories tells about the state's chronological history, outlining its most valued figures and events.
You will see another highlight, a local gallery that features various Vermont-related artifacts, including the historic document that registered Vermont into the Union, signed by Thomas Jefferson.
There are also Revolutionary War artifacts on display, coupled with items linked to the indigenous Abenaki people of this region.
There is a beautiful Salute to Vermont mural at the museum. It was painted by artist Paul Sample and represents three centuries of state history.
A visit here will open you to history, definitely one of the top things to do in Montpelier, VT, for history lovers.
Address: 109 State St, Montpelier, VT 05609
7. Bike through Central Vermont
You may wish to consider biking trails of Montpelier's parks of running them doesn't seem appealing.
There are three proper biking loops and a few shorter ones, so you can select a loop based on the difficulty level, with the small and sparkling Berlin Pond ranking least.
Almost every loop starts in Montpelier's downtown and capitol district, so you will encounter stands selling hot apple cider, quaint church steeples, and small shops providing fruits hand-dipped in chocolate.
Biking to Vermont's countryside from its city promises to be a breath of fresh air.
Address: Downtown Montpelier, Vermont
8. Climb the tower at Hubbard Park
One of the top fun things to do in Montpelier, VT, is spending some quality time at Hubbard Park.
Located just north of the Vermont State House, Hubbard Park is a charming 194-acre public park that originally started at the turn of the 20th century after some lands were donated by John Erastus Hubbard.
In the park is an iconic 54-foot observation tower constructed between 1915 and 1930, it was listed on the National Register of Historic Places in 1990.
The tower is the park's highest point and offers an astounding view of the skyline of Vermont's capital city. At its base are picnic tables and benches available for visitors to use.
The park also offers seven miles of hiking and winter skiing trails, along with diverse public sporting courts, a historic shelter pavilion, and a sledding hill.
Address: 400 Parkway St, Montpelier, VT 05602.
Planning to explore Mexico? Get the best of attractions and activities in Rosarito, Tijuana, Puerto Vallarta and Ensenada for a fun US vacation.
9. Interact with locals at the Farmer's Market
There are several advantages attached to visiting a capital, and one of them is access to some of the freshest produce in the state.
You can obtain these at the Capital City Farmer's Market.
Starting with a humble beginning in a small lot behind City Hall in 1900, this market have gone on to expand beyond their ranks.
At literally each of the dozens of booths, you will find artisan bread, flavored honey, specialty cheeses, meats, maple treats, and much more
What other way is it best to spend a sunny afternoon? Capital City Farmer's Market is simply one of the best things to do in Montpelier.
Address: 60 State Street, Montpelier, Vermont, 5602.
10. Montpelier must-see: The Pavilion
The Pavilion is where the primary offices of Vermont's state governor, coupled with the offices of the Vermont Attorney General and the Vermont State Treasurer are located.
The building used to be an 1876 regional hotel of the same name, though now reconstructed, it had the informal name of Vermont's "third house."
This was due to its far-reaching intertwist with the political history of Vermont, such as its use as a housing facility for many of the state's legislators.
Presently, the building exhibits amazing French Second Empire-style architecture and houses some of the most iconic government spaces in the state, including the governor's living apartments and its press briefing room.
The Pavilion building also houses the Vermont Historical Society Museum, where a plethora of exhibits connected to the state's history is showcased. The museum provides guided tours throughout the year as well.
Address: 109 State St, Montpelier, VT 05609
11. Be Impressed by Rock of Ages
If there is something one must-see in the Montpelier area, it is Rock of Ages, the world's largest deep-hole dimension granite quarry.
Less than a 20-minute drive from Montpelier in Barre, Vermont, a working quarry monument factory engages in an operation worth seeing.
Running from Memorial Day weekend to mid-October, buses depart the visitor center for the otherworldly site where massive blocks of 400-million-year-old stone are collected and hoisted.
The factory, where these granite chunks are converted into headstones and statuary, is open and accessible for self-guided tours from February through mid-December.
When leaving, you'll leave be given a small, free sample of this distinctive Vermont product.
12. Explore the world of Art: Vermont College of Fine Arts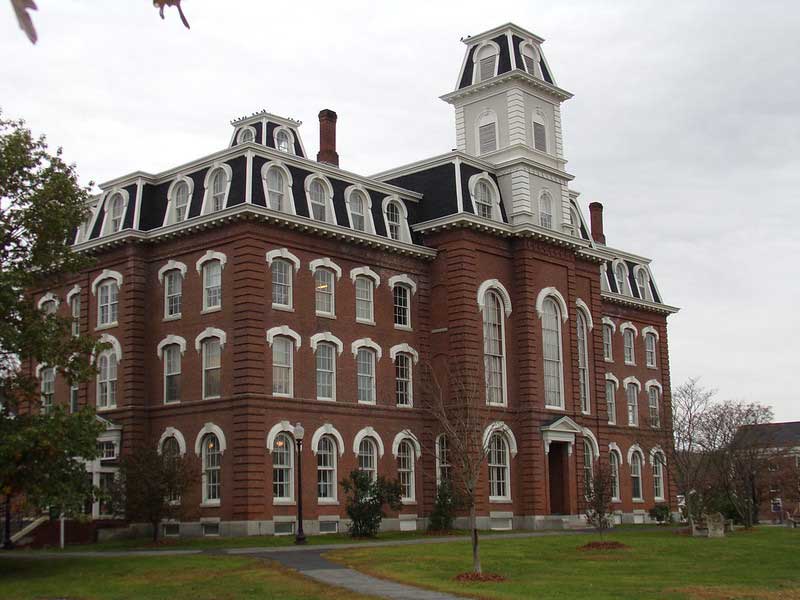 Vermont College of Fine Arts is a reputable graduate-level fine arts institution in Montpelier that offers a fully residential degree program and low-residency degrees for art students in various media.
Its gorgeous building is listed on the National Register of Historic Places and was constructed in 1872. It exhibits a two-story chapel and historic pipe organ dating to the late 19th century.
Here, students can earn degrees in visual art, film, writing, music composition, and graphic design, with classes handled by Pulitzer Prize finalists, Newbery Medal honorees, and National Book Award winners.
Throughout the year, lots of special events are hosted at the facility, including intensive conferences and symposia devoted to various arts-related topics.
Presentations from visiting artists are also offered and open gallery exhibits and a yearly concert series.
13. Ski Local Mountains
Thirty or fourth minutes drive in practically any direction from Montpelier would bump into a ski mountain, an interesting spot for visitors to the city.
Bolton Valley Resort is an affordable, family-friendly night skiing and riding destination in Vermont. The nearby Northeast Slopes – a historic area that opened to skiers in 1936 – promises winter fun too.
Make use of the original rope tow for a breathtaking experience.
Sugarbush has over 100 ski trails available for all abilities. While the resort is best recognized for its winter activities, it is now open for year-round outdoor recreation including hiking, golfing, And downhill biking.
You would appreciate a lift ride or leaf peeping on a zipline in the fall. This makes what to do in Montpelier for some exploration, quite a perfect addition to your bucket list of fun things to do in Montpelier, VT.
14. The Coburn Covered Bridge
Listed on the National Register of Historic Places since 1974 is Coburn Covered Bridge, a historic covered bridge that stretches over the Winooski River.
Though an 1840s-era bridge, it was originally constructed in 1851 and spans across Coburn Road. The bridge stands as the only existing 19th-century covered bridge in the Montpelier region.
Although many similar covered bridges once sprung up all over the state between 1820 and 1900, less than 100 are in operating condition today. Therefore, they are preserved as historic structures following Vermont law.
The Coburn Covered Bridge, constructed in a queen-post construction style, stretches for 69.5 feet and features excellently preserved wood trusses, concrete elements, and newly-fortified steel beams.
It is named to honor Larned Coburn, an area resident who donated the bridge to the town to substitute for the road's route that passes by his house.
Address: Coburn Rd, East Montpelier, VT 05651
15. Shop at a Fiercely Independent Bookstore
Located on Main Street in Montpelier is Bear Pond Books, an ancient bookstore housed in a stately brick building with well-trodden wood floors.
Bear Pond Books is over 45 years old and has survived innumerable threats to its existence. So if you want to lay hands on quirky used books or pick up new releases, this is the place.
You can attend authors' events or even entertain your kids in the lovely upstairs Children's Room.
Planning a Florida road trip?, check out our guide on things to do in Wesley Chapel , things to do in Sanford and things to do in Key Biscayne for a memorable trip.
16. TW. Wood Gallery and Arts Center
Amongst the top things to do in Montpelier is to visit T.W. Wood Gallery and Arts Center. It is a gallery that preserves the artistic heritage of the Central Vermont region, with emphasis on top working artists in the area.
The gallery which dates back to 1895 exhibits items through various media. It was originally deeded to honor Thomas Waterman Wood, an area artist, and namesake.
You will see 42 beautiful paintings (including etchings and watercolor paintings) done by the artist and they form the crux of the gallery's original collection.
Wood was one of the century artists to regularly represent former freed slaves as people with ordinary lives and was popular for his paintings of African American area residents.
You will see exhibits that tell about Wood, his works, and his career.
There are also pieces held within the Works Progress Administration Artwork Gallery for visitors to view. They serve as the only repository for Great Depression-era pieces in the state, including social resistance artwork.
The gallery's changing exhibits are sampled in its contemporary room and rotated bimonthly. So, do well to check them out.
Address; 46 Barre St, Montpelier, VT 05602
17. Cheer for the Vermont Mountaineers
Next on our list of top things to do in Montpelier, Vermont is cheering the Vermont Mountaineers. This would be an enjoyable activity especially if you are a sports rookie.
College players brooding Big League dreams fancy the diamond at Montpelier Recreation Field every summer. It is an opportunity to support the home team.
The Vermont Mountaineers ply their trade in the 13-team New England Collegiate Baseball League (NECBL). Their season starts in early June and runs through the start of August.
You can get the tickets for games in Montpelier at a super affordable cost.
18. Kismet Kitchen
Opened in 2007 by restaurateur and chef Crystal Madeira, Kismet Kitchen is named after the usual expression meaning good karma or fate.
It is a lovely farm-to-table restaurant that crafts all of its dishes by hand, focusing on transforming nearby organic farm produce into warm, comforting entrees.
Patrons can have brunch and dinner any time throughout the week, with the restaurant's kitchen showcasing superb entree selections like butter-basted halibut with roasted tomato and lemon confit.
More include baked tortelloni stuffed with roasted pumpkin and sage cream and bone-in pork chops prepared in smoked cider.
The menu is seasonally influenced, highlighting vibrant concoctions during the summer and spring and heartier fare in the cooler months and light.
Address: 207 Barre St, Montpelier, VT 05602
19. Sip fresh cider right from the Mill
Located 20 minutes from Montpelier is Cold Hollow Cider Mill, the premier apple cider producer in Vermont. Aside from the just-pressed cider, it also makes its line of alcoholic hard ciders, with free samples.
Watch as they extract liquid deliciousness from apples planted near the shores of Lake Champlain. The mill operates every day in the fall and twice weekly at other times of the year.
The sight of robots cranking out tender, hot cider donuts will make you drool even more.
You can get every cider-based gourmet treat you can imagine at the Cold Hollow Cider Mill shop, including a vast line of Vermont-made gifts as souvenirs to take home. There is also the Apple Core Luncheonette where guests are served fresh, tasty breakfasts and lunches.
Address: 3600 Waterbury-Stowe Rd, Waterbury Center, VT 05677
20. The North Branch Cafe
Opened in 2013 by restaurateurs Lauren, Wes, and Becky Parker, the North Branch Café is a delightful local foodie destination located in Montpelier.
The Cafe is recognized for its top-notch tea and wine offerings, including over 80 gourmet international loose-leaf tea selections available to be served one or two.
The cafe has a wine bar that employs the innovative Enomatic service, maintaining perfect tasting temperatures and allowing small glass pours of wine bottles.
The North Branch Café has a limited menu that showcases delicious local Vermont food selections, including spinach and onion knishes, flatbread wraps with aged cheddar and summer sausage, and masala roll-ups from local food vendors Sweet Alchemy.
They also serve Vermont cheese as cheese platters, including pastries and sweets from Vermont bakers, with gluten-free options.
Do add a visit here to your bucket list of things to do in Montpelier, makes one of the best places to visit in Montpelier, VT.
Address: 41 State St, Montpelier, VT 05602.
21. Go on a field trip of the Ben & Jerry's Factory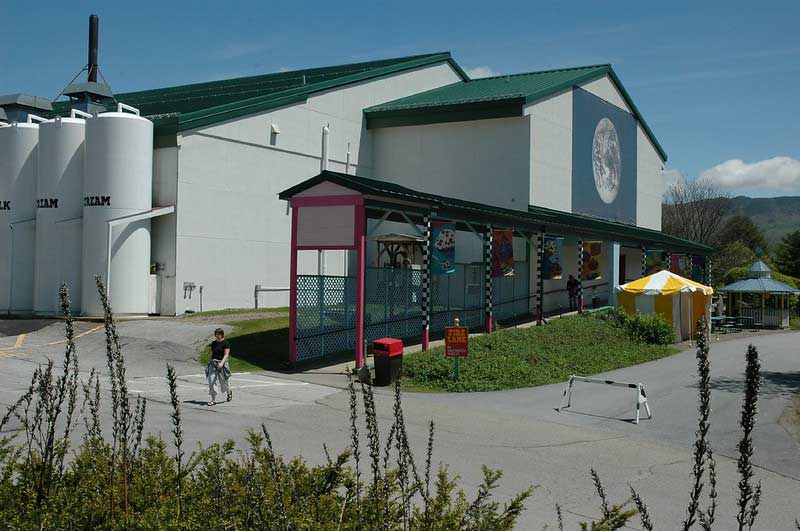 The story behind Ben Cohen and Jerry Greenfield's entrepreneurial exploit is inspiring. Get a fascinating classified look inside the cream factory and you'll be given cold, creamy, and delicious samples at the end of your tour.
It is a year-round attraction in Waterbury, Vermont, only 17 minutes from Montpelier. While you are waiting for the summer weekend tours, the on-site Scoop Shop makes sure you won't have to wait to grasp a cup or cone of your favorite flavor.
Don't miss out on a walk through the Flavor Graveyard too. It is an irresistible part of your trip to the Ben & Jerry's factory that would make you giggle.
And if you are in for something above the basic tour, book the Flavor Fanatic Experience and get down the Ben & Jerry's lab to create your cream concoction.
Address: 1281 Waterbury-Stowe Rd Route 100, Waterbury Village Historic District, VT 05676
22. Rabble-Rouser Chocolate and Craft Company
Rabble-Rouser Chocolate and Craft Company is a forward-thinking, totally employee-owned, unique business in Montpelier, Vermont.
It is known for creating excellent artisan granola products and small-batch chocolates.
Its famous Vermont Granola, CBD confections, and chocolate bars among several other handcrafted products are dispensed to food coops and independent grocers worldwide.
Visitors can check in to its downtown store and delight their selves in the numerous on-site confections, sip on espresso while watching treats being made.
The chocolates are created using only the best ingredients available and top-quality cacao beans. The farm responsible for growing these products receives their wages from the company.
Visit Rabble-Rouser Chocolate and Craft Company while in town, it is one of the best things to do in Montpelier.
Address: 64 Main St, Montpelier, VT 05602
23. North Branch Nature Center
The North Branch Nature Center is located just a few miles from downtown Montpelier. It aims at connecting people with community science, environmental education, and natural history.
This nature preserve occupies almost thirty acres of fields and forests and is concealed in Vermont's Winooski River bend.
Visitors of all age groups are welcomed to participate in the programming offered by the North Branch Nature Center, which includes classes, festivals, outings, and presentations.
These programs are designed so people outside and engross themselves in nature. The nature center has quiet and relaxing grounds for people to sit, walk, swim, and even ski.
Address: 713 Elm St, Montpelier, VT 05602
Vermont holds some top US attractions and activities, check out the top things to do in Vermont and top things to do in Brattleboro for a memorable exploration.
Plan your trip to Montpelier
There is no better time to have a great vacation in Montpelier than now. There are awesome places to give you the best experience you could ever imagine.
Why not start making plans towards visiting this beautiful city? If you need something to fall back to, feel free to check by here anytime, so pin this guide.
Do have a wonderful travel treat!