Huntington is a pleasant riverside city seated on the Ohio River shores in West Virginia, United States. It is situated in Cabell and Wayne counties. The city's population was 46,025 in 2021.
Huntington is known for its lively culture, natural splendor, beautiful parks, remarkable museums, and art galleries.
Huntington is an embodiment of various wildlife, peaceful lakes, enchanting rivers, rolling hills, and stretched-out woodlands.
The city offers a variety of outdoor recreation, such as swimming, hiking, wildlife viewing, biking, and kayaking.
The city's combination of art, culture, entertainment, and scenic natural attractions makes it a perfect vacation destination.
Are you planning to explore Huntington? Here are the best and fun things to do in Huntington, WV.
Things to Do in Huntington, WV
1. Harris Riverfront Park
This charming riverside park is a great place to enjoy stunning views of the Robert C. Byrd Bridge, the tranquil Ohio River, and lovely sunsets.
The Park has playground equipment, a theater, lovely trees, hiking trails, a boat ramp, and a skate park.
Go on a calm riverbank stroll or sit on the benches taking in the fresh air while reading your favorite book or listening to music.
You can set up a picnic against the stunning backdrops or read a good book under a tree's shade in the tranquil atmosphere.
You may also enjoy a picnic in front of the breathtaking views with your family, friends, or your significant other.
Additionally, this location is a well-liked spot for various functions, including parties, weddings, and musical performances.
The Park also houses waterfowls, Canadian geese, ducks, turtles, Kingfishers, spotted sandpipers, and blue herons. It is undoubtedly one of the best places to visit in Huntington, WV.
Address: Veterans Memorial Blvd, Huntington, WV 25701, USA
2. Ritter Park
Ritter Park is the first and most famous Park in Huntington, WV. It has been operating since 1913 and is still a well-liked spot amongst locals and tourists.
A playground, picnic sites, grills, tennis courts, a well-trimmed rose garden, nature trails, a sledding hill, and an amphitheater are some of Ritter Park's features that make it perfect for recreational activities.
Trek the grassy trails beside the gorgeous stream and take in the beauty of nature, take romantic photographs with your partner in the garden, enjoy a round of tennis and finish off with a picnic in a picturesque setting.
Ritter Park organizes functions all year, such as egg hunts during Easter, plays, tennis competitions, music, art shows, and more.
The Park is perfect for weddings due to its peaceful ambiance and beautiful backdrops. It is also ideal for reading as it offers shades and benches. Ritter Park is among the best places to visit in Huntington, WV.
Address: 910 13th Ave, Huntington, WV 25701, USA
3. Autumn Colors Express
The Autumn Colors Express offers a thrilling train ride experience between Huntington and Hinton.
The train departs from the storied Ohio and Chesapeake Railway. It travels through the breathtaking New River Gorge while providing views of the surrounding environment.
This trip occurs every October and has been a custom in this area since 1966, which makes it a rare experience, so remember to check it out if you visit the city in October.
A day-long trip on old rail cars offers breathtaking views of the fascinating river, a scenic waterfall, lush vegetation, an abandoned village, a lovely dam, and many other sights.
Aboard the journey, there are also delectable meals offered on the train. When you're in Huntington, purchase tickets for this fantastic train excursion and revel in an experience like no other.
Address: 935 7th Ave, Huntington, WV 25701, United States
4. Heritage Farm Museum & Village
Exploring the history and culture of Huntington at
Heritage Farm Museum & Village
is among the best things to do in Huntington, WV.
The well-known Heritage Farm Museum & Village focuses on the Appalachian region's history. It is among Huntington's best tourist locations.
It features hiking trails, a petting zoo, a blacksmith shop, a tree house, a church, seven museums, many inns, canopy bridges, and an artisan center.
On the Museum's display area are kitchen equipment, tools, a model railroad, a general store exhibit, carriages, model aircraft, clothing, wagons, historical relics, and other items that focus on daily 19th-century lifestyle.
The children's museum showcases a broad collection of interactive activities that provide kids with the experience of the region's lifestyle in previous centuries.
Trek the grassy trails to access the treehouse from where you can get mesmerizing views of the stretched-out greens and observe wildlife, such as birds and squirrels, on your way there.
The site is a well-known venue for different events, including musical shows, Christmas markets, culinary competitions, etc.
Address: 3300 Harvey Rd, Huntington, WV 25704, USA
5. Keith Albee Performing Arts Center
Keith Albee Performing Arts Center
is a storied theater that kicked off in 1928 and has become a crucial part of Huntington's local culture.
This famous arts center has served as a venue for the premieres of top Hollywood films like Rain Man, We Are Marshall, and The Bridge at Remagen.
Several well-known actors spotted in this theater include Barry Levinson, Matthew Fox, Dustin Hoffman, and Matthew McConaughey.
You can catch a variety of functions such as Orchestra, concerts, Opera Performances, plays, musicals, and comedies at the Performing Arts Centre.
The theater is also ideal for numerous events like reunions, conferences, weddings, and fundraisers. In addition, it is perfect for fantastic nighttime entertainment.
Address: 925 4th Ave, Huntington, WV 25701, USA
6. Bahnhof WVrsthaus & Biergarten
Visit Bahnhof WVrsthaus & Biergarten if trying out new dishes is your hobby or you have a longing for German food,
Bahnhof WVrsthaus & Biergarten is an establishment that serves German cuisine and has 33 craft beers with sausage production.
They have a complete bar inside and out, and their menu includes traditional German fare, including schnitzel pretzels and sausages.
The craft beer and sausage party appetizer are a great combination. Lamb, Reuben, and cream puffs are among the most well-liked dishes.
Nonetheless, the incredible beer cheese is unquestionably the standout. In addition, the ambiance and decor of the restaurant are charming.
Address: 745 7th Ave, Huntington, WV 25701, USA
7. The Red Caboose
The Red Caboose is a well-known artisan center in Huntington's downtown area that sells locally-made items.
Purchasing souvenirs or gift items for your friends or family back home at The Red Caboose is one of the top things to do in Huntington, WV.
The categories of items you can find at the store include glass art, home decor, fiber art, postcards, jewelry, candles, honey, body/skin care products, syrups, and more.
All items come from regional manufacturers, vendors, and creators. You will also find intriguing novels by a variety of local authors.
Address: 210 11th St, Huntington, WV 25701, USA
8. Huntington Museum of Art
If you are an art lover, one of the best things to do in Huntington, WV, would be to appreciate inspiring artwork at the Huntington Museum of Art.
The Huntington Museum of Art kicked off in the 20th century. This famous visual art museum features exhibition halls, sculpture courts, an aquarium, an auditorium, nature trails, and a plant conservatory.
Aside from traditional and American art, the Museum showcases remarkable pieces from Japan, China, Syria, Egypt, Europe, and Iran.
The Museum organizes slow-turning exhibitions throughout the year. Some of its not-for-sale collections are displayed for visitors to see.
You will find some art pieces that will inspire you in the galleries. Also, check out the plant conservatory to see rare tropical plant species.
Address: 2033 McCoy Rd, Huntington, WV 25701, USA
Considering a Florida road trip, check out our guides on things to do in Harpers Ferry, and things to do in Lewisburg for a memorable trip.
9. Madie Carroll House
This historic home was built at the onset of the 19th century and was shipped by water from Ohio to Huntington.
Before the city's first Catholic Church was constructed, it served as both an inn and a worship spot for locals. The Carroll family and its descendants lived there until 1984.
It is now a museum with an extensive collection of historical Civil War relics on exhibit, including United States flags and uniforms from the troops.
An accurate representation of the home's appearance if the family had still been living there has also been preserved.
The Carroll family's possessions are displayed there, including original silverware, furnishings, a pump organ, home accents, kitchenware, and more.
Events such as Heritage day, Easter egg hunts, and Christmas celebrations are planned throughout the year.
If you wish to relive the events that took place in the city's past, a trip to Maddie Carroll House will be worthwhile.
Address: 234 Guyan St, Huntington, WV 25702, USA
10. Paint & Sip Studio
If you have always had a flare for painting but do not know how to start, take a chance at Paint & Sip Studio to actualize your artistic dreams.
The downtown Huntington establishment, Paint & Sip Studio, offers its customers the unusual opportunity to pick up painting skills while enjoying their favourite beverage.
Customers can test out various painting styles throughout the two hours of instruction led by local painters.
They serve clients of all skill levels. So bring your drinks, gather your pals, and take pleasure in painting. They also plan activities for creating teams as well as gatherings and fundraisers.
Address: 948 4th Ave, Huntington, WV 25701, USA
11. The LOST Escape Room
Escape games are obviously among the rarest, most unique, and mind-tasking games. Among many fun things to do in Huntington, WV is to put your detective skills to the test at The Lost Escape Room. See if you can solve the puzzles before time runs out.
The LOST Escape Room offers a variety of escape rooms for you and your friends to try out. Let your imagination run deep, and let your logical thoughts guide you.
In the gaming area, called "The Lost Queen," you can participate in a quest to discover what happened to Queen Nefertiti, who disappeared from all original historical accounts.
The game master, who is very personable and educated, will help you immerse yourself in the role-playing part to maximize your game experience.
Address: 803 3rd Ave, Huntington, WV 25701, USA
12. Virginia Point Park
The well-known
Virginia Point Park
, as its name implies, can be found where the Big Sandy River and the Ohio River Converge. It indicates the trio-frontier between West Virginia, Kentucky, and Ohio.
What makes this Park unique is the fact that you can observe three states from 500 yards as well as its history in one guided tour
The Park is easily accessible with excellent parking. It also offers the opportunity to acquire better insight into the area's geography.
Other attractions at the Park include a boating facility, kid's swings, fishing sites, and memorials bearing signs emphasizing the area's history.
Address: VA Point Park, Kenova, WV 25530, USA
13. Museum of Radio & Technology
This well-liked museum specializes in the evolution of radio and technology. The display area of the radio section is designed to resemble a radio store and repair business from the 1920s.
Its historical artefacts from past eras include vintage televisions, radios, tape recorders, turntables, tuners, cameras, toys, control boards, manuals, and desktop computers.
There are a ton of vintage transistors and radios from the 1950s, World War II, and the start of the 20th century.
The display showcasing the history of broadcasting includes a variety of transmitters, microphones, TV cameras, a disc jockey studio from the 1950s, etc.
The broadcasters from West Virginia who are well-known and talented are honored in the Hall of Fame. The Radio broadcast gallery includes a tech school, electrical toys, and test equipment.
The exhibits will help you learn about the development of computers and laptops. Explore the museum's intriguing history.
Address: 1640 Florence Ave, Huntington, WV 25701, USA
14. Quicksilver Arcade Bar & Kitchen
Wondering what to do in Huntington, WV, with your date or significant other? Dine at Quicksilver Arcade Bar & Kitchen. It is famed as the most extensive arcade bar in West Virginia and a great venue to enjoy Huntington's nightlife.
Visitors can play various arcade games there while enjoying delectable drinks and food from its kitchen.
This Arcade Bar also provides games like oversized Jenga, air hockey, skeeball, and more. Please don't pass up the delicious food and excellent craft beer they offer.
It's great to go with a companion to share the fun since the games in the arcade area are free, with the simple requirement that you buy drinks.
The Arcade Bar and kitchen are ideal for casual dinner dates. If you are shy or worried about awkward moments, the games will keep you busy enough to come up with exciting things to discuss.
Address: Huntington, WV 25702, USA
15. Kenova's Pumpkin House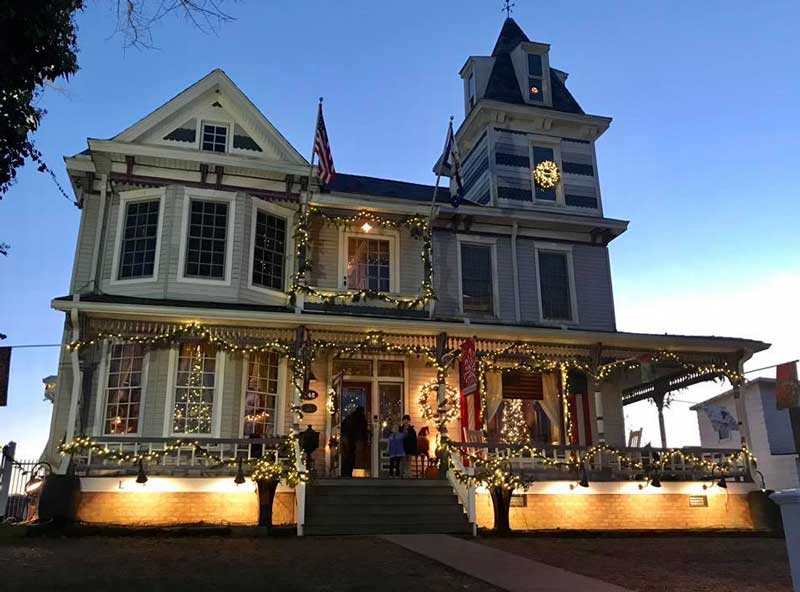 This old home, located on the Ohio River's banks, is well-known for its magnificent pumpkin exhibitions in the C-K Autumnfest.
Every year on the final weekend in October, this festival is held, and for more than 30 years, it has been a city tradition.
This Pumpkin House houses a previous mayor of Kenova. It is lit up with 3,000 jack-o-lanterns throughout the Halloween season.
During this season, various events are planned, including scarecrow competitions, festive parades, cookery contests, vehicle shows, and arts and crafts sales.
When you go there in October, you may take in the magnificent displays, participate in the celebrations, and chow down on mouthwatering fare from the food stalls.
It is located on the outskirts of Huntington, only 7.5 miles away, taking roughly 17-minutes to get there by car.
Address: 748 Beech St, Kenova, WV 25530, United States
West Virginia has some of the best cities in the United States to explore; here are the list of fun things to do in Harpers Ferry and Lewisburg for a fun exploration
16. Barboursville Park
Unwind, and enjoy a lakeside picnic with loved ones at the 750 acres of Barboursville Park. It takes only 25 minutes to drive to the Park from Huntington. When you arrive there, you can enjoy stunning views of the setting sun as the sky turns a rainbow of purple, red, and yellow,
Some of the park's amenities include numerous soccer fields, volleyball courts, baseball diamonds, ponds, tennis courts, splash pads, a playground, barbecue pits, picnic spaces, hiking paths, a disc golf course, and more.
Numerous fish and ducks reside in the lake. But, if fishing is not your thing, take a dip in the splash pad to cool down and thread the lush pathways for an energizing hike.
Enjoy an outdoor movie experience with friends and family at the arena or read a good book while relaxing on any of the benches.
The Park hosts various events like sports competitions, rodeos, and outdoor moves all year, so you will be in for a treat regardless of when you visit the city.
Address: 31/6, Barboursville, WV 25504, USA
17. Joan C. Edwards Stadium
If you are a football fan or an all-around sports enthusiast, it would be great to check out the Joan C. Edwards Stadium in Huntington, WV.
The Stadium offers a welcoming ambience, the crowd is always enthusiastic, and the price of the drinks at the concession stands are pretty fair.
Even if you aren't a fan but appreciate how much the program has grown since the plane crash in 1970, the Stadium is a remarkable place to visit. You can also learn the exciting history of the Stadium when you get there.
You can watch entertaining performances or welcome the players during the thunder walk as they pass through the west lot to pitch before the game kicks off.
The Stadium is designed to get a great view from any seat. The scoreboard is also a big screen for replays for clarity.
Address: 2001 3rd Ave, Huntington, WV 25703, USA
18. Camden Park
Among the most fun things to do in Huntington, WV is enjoying the fun rides at Camden Park.
This well-known theme park, which opened in the early 20th century, is visited by locals and visitors.
Exhilarating rides, a lovely lake, a petting farm, an arcade, restaurants, carnival games, a miniature golf course, snack bars, and more are all included.
The attractions include a haunted house, yo-yo rides, roller coasters, log rides, carousels, and water rides.
Go on exhilarating rides, canoe paddling on Swan Lake, pet the farm animals, play a round of mini-golf, play entertaining games in the arcade, and eat delicious food.
Camden Park hosts events all year, including Halloween Spooktacular, musical performances, and kid-friendly festivals.
The Park is suited for family fun as it also features campsites for visitors to use on the weekends.
Address: 5000 Waverly Rd, Huntington, WV 25704, United States
19. Pump Up The Fun
Visit Pump Up The Fun with your kids if you are determined to show them a good time.
Pump Up The Fun is home to some seriously awesome slides and bouncy houses and is regarded as the Tri State's top Indoor Inflatable attraction.
Slides for little kids, an obstacle path, and a jungle gym are also included in the space. Children can work out here in the most beautiful way possible.
They also host fun occasions, such as lock-ins and birthday parties, and you may rent the place for a long event.
In addition to being functional, practical, and well-built, the new water park component is fantastic for gatherings and gorgeous, sunny, happy images.
Address: 6759 Merrick Creek Rd, Huntington, WV 25702, USA
20. WV Skydivers
No itinerary of what to do in Huntington, WV, would be complete without the idea of going skydiving at WV Skydivers.
You can gain excellent aerial skills when you visit, but it doesn't end there. You will leap out of airplanes at altitudes of close to 11,000 feet.
After you overcome your initial apprehension, it's simple to understand why individuals are so utterly enamored with this intense skydiving action.
So whether you're a veteran diver or a newbie in the sport, WV Skydivers has your best interests in mind, from setting up a tandem leap for novices to assisting seasoned divers in preparing for their upcoming big jump.
WV Skydivers is the ideal location for anyone seeking an exhilarating adventure.
Address: 6090 Kyle Ln, Huntington, WV 25702, USA
21. Pullman Square
If you are a compulsive shopper, browse the numerous stores in Pullman Square.
Pullman Square is a public outdoor square with a wide selection of charming tiny stores that offer distinctive essentials.
A variety of restaurants are available at the square; a good example is Roosters, known for its delectable chicken wings.
In addition, a Starbucks is always around the block so you may drop by for a cup of coffee and a muffin with your partner.
The square encompasses Marquee Cinemas and the Quicksilver Arcade, making it a terrific location for a bit at the movies or a gaming afternoon. In addition, it is an excellent place to stroll around exploring various shops.
Address: 220 9th St, Huntington, WV 25701, USA
22. Mountain Health Arena
Mountain Health Arena
, situated in Huntington, West Virginia, is operated by ASM Global.
The stunning site hosts numerous events throughout the year, including concerts, conferences, and workshops, drawing people from around New York, New Jersey, and Connecticut.
This excellent neighbourhood venue is a perfect size featuring 7,500 seats. It has a very "local" vibe without the crowds, parking issues, drinking problems, and traffic.
You can call it Huntington's Goldilocks venue because it is unquestionably large enough to provide the typical arena sound without appearing undersized or empty.
There is a decent balance between the performers and those watching and enjoying the performance. Hence, there's no need to be concerned about ear bleeding.
The lighting at this location is ideal for its purpose, enhancing and blending with the tones and vibes of any specific performance that may be taking place at the time.
Address: 1 Civic, Center Plaza, Huntington, WV 25701, USA
23. St. Cloud's All-Inclusive Playground
Aside from Pump Up The Fun, an indoor playground, you can take your kids to a fantastic outdoor garden known as the St. Cloud's All-Inclusive Playground.
The park is neat, colorful, and well-structured. It is one of the city's many treasures. This playground features lots of shades and a special section for smaller kids.
Additionally, the more extensive section of the playground is appropriately designed to accomodate kids that require special attention, making sure that they, too, can have a good time.
The playground's design was focused mainly on the safety of kids as they play hence its use of soft, bouncy rubber material to proof the ground to prevent injuries and accidents.
Situated in St. Cloud Common Lodge, the playground has walking trails where you can run and ball fields for different games. It can easily be mistaken for a small park.
Address: 1701 Jackson Ave, Huntington, WV 25704, USA
24. Beech Fork State Park
Located only a 25-minute drive away on the outskirts of Huntington, WV, is the perfect day trip attraction known as
Beech Fork State Park
.
Picnic spots, surplus campsites, long hiking trails, boat ramps, a tennis court, a swimming pool, barbecue pits, a peaceful lake, a volleyball court, and more are among the 3,100-acre park's amenities.
Numerous outdoor activities, including hiking, swimming, mountain biking, camping, picnics, geocaching, fishing, kayaking, and more, are available there.
You stand a chance of spotting ducks, rabbits, deer, and other species that live in the Park. You can also explore the beachfront campsites offering mesmerizing views.
The campgrounds allow for both rustic and modern camping. Enjoy the expansive views of the enchanting lake and lush hills.
Enjoy a lakeside picnic or spend the night here while camping in the wilderness. Then, hike the trails and go kayaking on the gorgeous lake to take in the beauty of nature.
Address: 5601 Long Branch Rd, Barboursville, WV 25504, USA
25. Memorial Fountain
The Marshall University football team, including coaches, supporters, and crew on board a 1970 jet that crashed, were honoured with a memorial fountain. The jet crashed as it was getting close to Huntington airport.
The Memorial Fountain is located on the Marshall University campus in Huntington. A period of introspection and humility is experienced when visiting this fountain. At the absolute minimum, the tragedy's aftermath is motivational.
It's unbelievable how the institution and the town of Huntington managed to bounce back from such a significant setback.
Address: 1 John Marshall Dr, Huntington, WV 25755, USA
Planning to explore West Virginia? Get the best of attractions and activities in Martinsburg, Beckley, and Morgantown for a fun vacation.
Plan Your Trip to Huntington
If you seek a vacation experience that embodies both mild and extreme adventures and a chance to relax and unwind, Huntington, WV, has it all.
Passing up a trip to this city would be missing out on some of the unique experiences you can ever have.