Apart from being known as the third-largest city in France, Lyon is also known for its richness in architecture, history, and fine dishes.
Lyon, which is regarded as a UNESCO World Heritage Site has a very long history in producing and weaving silk.
One of the fun things to do in Lyon is to visit and explore the Traboules, which is a means wherewith the silk are transported.
You will also love to explore other attraction spots in Lyon like the historic sites in Vieux Lyon, the Museum of Fine Arts of Lyon, the museums, and amphitheaters in Fourvière.
Also, check out the art in the Basilica of Notre-Dame de Fourvière and the street art and markets which you will located on La Crioxe-Rousse.
Let's explore some of the best things to do in Lyon during your visit here.
Things to Do in Lyon, France.
1. Basilica of Notre-Dame de Fourvière
A visit to the Basilica of Notre-Dame de Fourvière should not be missing in your checklist of things to do in Lyon.
Constructed in the 1880s, the Basilica of Notre-Dame de Fourvière is dedicated to the Virgin Mary, she is said to be the one who saved the city of Lyon from several terrible situations.
Some of these situations include the bubonic plague that killed many in Europe in 1643, the cholera epidemic in 1832, and the Prussian invasion which happened in 1870.
Thus, the church was built as a place where people can come to reverence her.
If you visit Lyon in December, during the Fête see Lumières – the Festival of Lights, you will love how the church lights up the city.
Basilica of Notre-Dame de Fourvière is built on top of Fourvière Hill and is regarded as both a historical landmark and a symbol of Lyon.
The church offers guided tours, while you are there, you will learn about this beautiful place of worship.
Location: 8 Place de Fourvière, 69005 Lyon, France. Phone: +334-7825-1301.
2. Explore Fourvière
A visit to Fourvière in Lyon is like traveling back to the time of the Roman era.
It's worth noting that Fourvière was the city center of what is called Lyon today when it was founded by the Romans.
Fourvière is filled with so much wonder another interesting stuffs which is worth exploring. It shows a unique aspect of Lyon's history.
You will find several churches in this area. The most popular of them all is the Basilique de Fourvière which can be seen from any part of the city.
You will also find other sites like the Ancient Theatre of Fourvière, the Metallic Tower, Eglise Sainte-Irenee, the Gallo-Roman Museum, Eglise Sainte-Just, Parc des Hauteurs and the aqueducr remains.
A visit to Fourvière should be amongst your list of things to do in Lyon.
3. Grand Parc de Miribel-Jonage
A 2,200-hectare urban park and recreation space, the Grand Parc de Miribel-Jonage is a place that attracts both tourists and the locals to itself on a daily basis.
A visit to this urban park should be on your list of things to do in Lyon, for it has a lot to offer.
You can enjoy your day there by just relaxing, or you can engage in so many fun activities in the park-like horse riding, bicycle riding, hiking, jogging, panicking, and so forth.
You will find in Grand Parc de Miribel-Jonage, guarded beaches, cafes, numerous picnicking spots, bicycle rentals, and trails.
The recreation park is opened to all. You will love the surrounding which is filled with fauna and flora and has a contrasting landscape that ranges from waterways to dry meadows.
Location: Chemin de la Bletta, Vaulx en Velin, Lyon. Phone No: +334-7880-3067
4. Ancient Theatre of Fourvière
Also called the Grand Theatre of Lyon, the Ancient Theatre of Fourviere is located on the hill of Fourvière. It was constructed in 15 BC and its seating capacity is over 10,000 people.
This structure which is one of the oldest structures here was restored in the 20th century after years of deterioration so that it can be usable by her visitors from now to future years.
Apart from being one of the most visited sites in Lyon, the theatre is also the venue which hosts the Nuits de Fourvière.
Nuits de Fourvière is an annual festival that involves a collection of music, circus, dance, and theatre.
During this festival, visitors come down to Lyon from all over the world. You will be glad you added it to your list of things to do in Lyon.
Location: Musèe Gallo-Romain de Lyon, 17 Rue Cleberg, 69005 Lyon, France. Phone: +334-7238-8190
5. Aquarium de Lyon
Aquarium de Lyon is a public aquarium that can be found right in the heart of Lyon. This aquarium which is home to over 5,000 fishes was opened in 2002.
In the 47 tanks placed in the aquarium, you will find 300 different species whose living environment varies from saltwater to freshwater environment.
You are free to explore the interesting aquarium layouts, even the false shipwrecks and other decorative features that are all fascinating.
Check out the wonderful aquatic animals, study their behavior, you will be amazed on how they play with each other.
Amongst all the exhibits you will find in the aquarium, the one you will find most interesting is the "Fosse Aux Requins".
It is the largest and also the most popular exhibit in the aquarium. In it you will find stingrays and sharks.
Your little ones will love "The Five Senses" exhibit, for, in this exhibit, they are allowed to hold hermit crabs, sea stars, and certain other fishes.
A visit to the aquarium will give you and your family a fun time in Lyon.
Location: 7 rue Stéphane Déchant, La Mulatière, Lyon, 69350, France. Phone: 04-7266-6566
6. Institut & Musee Lumière
Both an institution and a museum, the Institut & Musee Lumière is focused on the preservation and promotion of French filmmaking.
They are also dedicated to honoring Auguste and Louis Lumière who are known for their many contributions to filmmaking, especially, the invention of cinematography.
The museum itself is located within the former home of the Lumière family, while the institute is situated in a factory owned by the family. The institute is not far from the museum.
Some of the things you will find in the museum's collection includes the Lumière brother's famous cinematograph, Thomas Edison's kinetoscope, and the Demeny chronophotograph.
You will find your guides at the museum who are ready to give you a wonderful tour guide in French, German, Spanish, Italian, and English.
It's surely going to be a great trip and it should not be missing on your list of things to do in Lyon.
Location: 25 Rue du Premier Film, 69008 Lyon, France. Phone No: +334-6960-0223
7. Lyon City Trek
Lyon City Trek is a great way to walk the city. It doesn't matter whether you are coming from Vieux Lyon to Croix Rousse or Lyon Confluence to the Fourvière
You will get to know the city, the land and the people more this way. The tour lasts for so many hours, and all wonderful spot in Lyon will be visited.
There will be occasional stops in restaurants to refresh, eat nice food, and continue.
During the tour, you will explore all that Lyon has to offer, its cuisine, history, sports, fauna, and flora.
All tours are conducted by Patrick Mathon who is also the owner of the company. Patrick Mathon was born and raised in the heart of Lyon, and this makes him the most suited guide for the tour.
17. Parc de la Tete d'Or
Meaning the Park of the Golden Head in English, Parc de la Tete d'Or is a popular place where visitors and locals go to spend the day relaxing with their family and friends.
The park is quite large. It sits on over 117 hectares space which includes a small zoo, a lake, and a jogging park.
Check out this park during your visit to Lyon, you may decide to spend the day riding a boat on the lake or even riding a bike to have a good view of the area.
Other fun activities you may be interested in this wonderful park include horse riding, playing mini-golf, having a picnic, or going for an evening jog.
Your kids will love the small zoo which is home to animals like the giraffes, deer, reptiles, elephants, and several other animals.
There is also a part in the park dedicated to the Africa plains. In this part, you will find the wetland which serves as home to pelicans, flamingos, and several other species of birds.
9. Le Mur Des Canuts
If you are a lover of artworks, you surely need to add Le Mur Des Canuts to the list of things to do in Lyon.
Le Mur Des Canuts is a large fresco painting which you will find in Lyon. It was designed by CitéCréation.
CitéCréation is quite an international painting company, and they have more than 670 mural artworks all over the world.
Each of their mural work adds beauty to their surrounding and makes everything around it seem so magical.
The mural works also tell stories of something quite significant in the area where it is drawn.
For instance, in Lyon, you will find Le Mur Des Canuts which tells the story of the silk workers that rebelled against their working conditions in Le Mur Des Canuts.
The mural feels so real, that you can see what life was for the workers when they rebelled.
Location: Boulevard des Canuts, 69004, Lyon, France.
10. Lyon Cathedral
Commonly known as Lyon Cathedral, the Cathédrale Saint-Jean-Baptists de Lyon, is a Roman Catholic cathedral which is dedicated to Saint John the Baptist.
This cathedral which is also the seat of the Archbishop of Lyon was built between the 12th and the 15th centuries.
It is worth noting that the very spot that Lyon Cathedral is located was once the place where the churches of St. Etienne (St. Stephen) and Ste Croix (Holy Cross) and a baptistery were located.
You can still see the remains of the churches and their structures right next to the cathedral in the archaeological garden.
As you explore the environs, you will come across a stunning 14th-century astronomical clock which at certain times of the day makes sounds, it is a unique combination of angles heralding, chimes, and roosters crowing.
You will be impressed by this clock which is both a technological marvel to behold.
Lookout to admire its stained glass windows which were made in the 13th century. You will find it close to the choir section of this Cathedral.
Location: Place Saint-Jean, 69005 Lyon, France. Phone No: +336-6083-5397
Are you considering a visit to Mexico, Puerto Vallarta bring lots of fun attractions and activities to give you a fun time here, this guide on the Best Things to Do in Puerto Vallarta will guide you through a fun time in Mexico.
11. AiroTour
Would you like to know what to do in lyon France for fun, a tour company, AiroTour allows the visitors to sign up for a free walking tour in some cities in the world like Lyon.
If you take a tour with this group, you will surely have a fun time during your visit, because they know the best of places and where the fun is at its pick regardless of whether it is local cuisine, religion, or art.
You will learn a lot about the culinary history of Lyon as you take a walking your through amazing patisseries or traditional bouchons.
The tour guides are very interesting to be with, for they are skilled in social relations. They know how to keep the group fascinated with the surrounding.
At the end of the tour, you can tip them whatever comes to your heart.
12. Lyon City Boat
The Lyon City Boat is a boat company in Lyon. They inaugurated their first boat ride in 1984 on the Saône and Rhône rivers
Today, this company has six luxurious boats and river barges all of which are free to be rented by tourists who desire to explore Lyon uniquely and fascinatingly.
Try the Hermés which is a restaurant boat or the Ville de Lyon, it is a river barge. You will truly have a memorable vacation experience while you are aboard.
Lyon City Boat is also a great place to hold special events like anniversaries, birthday, e.t.c.
They also offer private cruises, dinner cruises, and sight-seeing cruises.
Don't forget to come with your camera, for while you are on this trip, you will surely stumble of wonderful angles that give the extraordinary view of the city.
Location: 13 Bis Quai Rambaud, 69002 Lyon. Phone: +334-7842-9681
13. Lyon Winetours
If what you desire is to tour around Lyon tasting varieties of wine, I will suggest you let Lyon Wintour group lead the way.
Regardless of whether you know less about wines and the fact that it is made from grapes, or whether you are an experienced wine taster, you are going to enjoy this trip.
First, the tour company will drive you through to see some of the famous local vineyards in Lyon.
You will be amazed by the stunning scenery. Don't forget to come with a camera to save the memory.
You will also be taught how to distinguish wines from its taste. There will be time to sample delicious foods with these wines to know which pair is the best.
While you enjoy the various dishes and wines, you will get to appreciate the beauty of Lyon's environs.
You can request a private tour if you are going to stay in Lyon for a long period or if you desire to make the tour intimate.
Your taste bud will thank you for adding this to your list of things to do in Lyon.
14. Musee Miniature et Cinema
Also known as the Miniature and Cinema Musuem, Musee Miniature et Cinema is a private museum established by models Dan Ohlmann.
You will find in the museum special effects exhibits, neat movie props, and miniature everyday scenes.
Apart from the founder's works, you will find in the museum collection works by artists such as Yves Chouard, Michel Perez, and Julien Martinez.
All the museum's collections are kept in twelve rooms. The collection comprises of life-sized decor, costumes, animatronics, miniature decorations and vehicles, and mask and prostheses.
You will also get to learn so much about digital cinema, stop-motion and 3D animation.
These will get you to truly appreciate this museum, for it has everything it takes to amaze its visitors.
Location: 60 Rue Saint-Jean, 69005 Lyon, France. Phone No: +334-7200-2477
15. The Gallo-Roman Musuem of Lyon Fourviere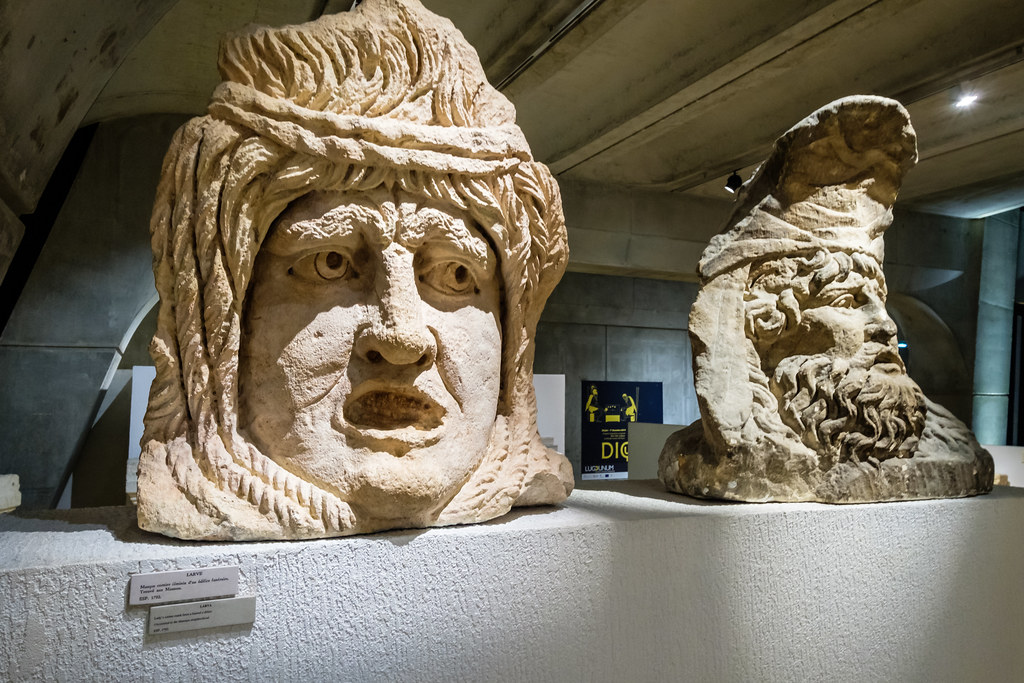 Would you love to know what to do in lyon France for art lovers, visit Gallo-Roman Museum of Lyon Fourviere.
Known as Musée Gallo-Romain de Lyon-Fourvière in French, the Gallo-Roman Museum of Lyon Fourviere is a Museum which is dedicated to narrating what happened when Lyon was ruled by Romans centuries ago.
A visit to this Museum is like being taken back to 44 BC during the period when the city was founded by Julius Caesar as Lugdunum.
You will be shown how Lyon flourished and thrived as a capital by showing you a collection of artifacts used in ancient Lyon.
Some of the things you will find in the museum's extensive collection include sculptures, statues, stunning jewelry, inscription, mosaics, and unique everyday objects.
Try to visit the Museum during one of their many events and activities. For instance, the Night of Museums event which allows visitors to spend a night in the museum exploring its exhibits.
Location: 17 Rue Cléberg, 69005, Lyon, France. Phone No: +334-7238-4930
16. New Generation Guide
New Generation Guide is a non-conventional tour company that offers guided tours in places like Cluny, Vienne, and Lyon.
These professional guides take to taking visitors on an English tour, they also make sure that all their visitors have a good time.
This tour will guide you through Old Lyon, and help you discover the architectural wonders of the old city.
In addition to history and architecture, the tour also focuses on food, art, and French heritage.
Its fun to be with the group, if it's not a private or personalized tour, you will get to meet and make new friends.
There is also an option for a personalised tour if that will suit your vacation style.
Location: 118 Avenue Berthelot, 69007 Lyon, France. Phone No: +336-2124-3428
A visit to Switzerland will give you lots of fun memories, here are the Best Things to Do in Interlaken this will guide you through this amazing city in Switzerland.
17. Le Petit Musée de Guignol
The best place to start your exploration when you get to Lyon is the Le Petit Musée de Guignol. In the museum, you will find puppet exhibits.
They are known to be the masters of puppets in the area, this place makes one of Lyons top attractions and is one of the fun things to see in Lyon France.
Do not miss its basement exhibits, this will give you a fun time, their staffs are the best as they would guide you through the fun this museum has to offer.
Location: 6 Rue Saint-Jean, 69005 Lyon, France. Phone No: +33 4 78 37 01 67
18. Musée des Beaux Arts de Lyon
Popularly known as the Museum of Fine Arts, Musée des Beaux Arts de Lyon is one of the largest art museums in all of France.
The museum is situated in a building which was built in the 17th century as a convent.
In the museum's collection, you will find a wide range of arts and antiquities. These items were gotten from ancient Egypt to Modern Europe.
Some of the exhibits which are most sought after by tourists include famous 16th to 18th century by artists like Philippe de Champaigne, Jean-Baptiste
Greuze and François Voucher as well as sculptures by James and Rodin Pradier.
In the museum do look out for the antiquities department. This department focuses on ancient Egypt and some of the objects found here like the Figurines and the Cases were donated by the Musée du Louvre.
Location: 20 Place des Terraux, 69001 Lyon, France. Phone: +334-7210-1740
19. Musée des Confluences
The Musée des Confluences was introduced to Lyon in December 2014, it has become one of the most sought after attractions in Lyon.
Musée des Confluences is a science center and an anthropology museum, It focus is on natural science, earth science, and anthropology.
You will find all the exhibits in the museum very interesting regardless of age or origin.
Some of the puzzling questions which the museum tries to answer includes "who we are" and "where do we come from".
In a bid to answer these question, the museum will take you on a journey which starts from the beginning of the universe, evolution and how we function in the society previously and today.
The museum promises both fun and learning. You won't be happy with yourself if you miss this great fun. A visit to the Museum is one of the best things to do in Lyon.
Location: 86 Quai Perrache, 69002 Lyon, France. Phone: +334-2838-1212
20. Place Bellecour
Place Bellecour is a large town square which is situated in the heart of Lyon.
Since its one of the largest open squares in Europe, it's not surprising that it is popular amongst locals and tourists.
The square is mostly open to pedestrians, you will find a lot of tourists here.
Apart from the fact that it lacks greenery, the square can be easily recognized with the equestrian statue of King Louis XIV made by a sculptor François-Frédéric Lemot.
You will also find a statue of Antoine de Saint-Exupéry sitting in front of the Little Prince, a popular French character.
From the square, you can easily find Lyon Cathedral and popular shopping streets in Lyon.
21. Savor France Food Tour.
Would you like to know what to do in Lyon France for food lovers, go on a food tour with Lyon's Savor France Tour.
In the tour, you will get to visit a lot of reputable restaurants and eateries.
The whole tour lasts for about four hours. During this period, you will discover that you have not only toured around Lyon tasting the best dishes, you would have seen most of the beautiful sights in Lyon.
French dishes are one of the best in the world, to crown it all, some of the greatest chefs in France are in Lyon.
The tourist are shared into a small group of visitors, these groups will visit six sweet and savory tastings, five gourmet stops, two local wine tasting
You will also be given a book that will help you keep track of the exploration. Some of the foods that Lyon is known for include, chocolates, quenelles, macaroons, and pralines.
22. Traboules du Vieux Lyon
Hundreds of hidden passageways that weaves through the old city of Lyon are what makes up the Traboules du Vieux Lyon.
These pathways or Traboules were built in the 4th century and they were the reason why the Germans didn't take complete control of Lyon in World War II.
Today, this military defense mechanism is now among the many attractions that draw tourists to Lyon.
You are allowed to explore these pathways for about 40 out of 400 that are opened to the public.
While you are on the pathways, you will encounter buildings, courtyards, staircases, and alleyways. It is one of the best ways to explore historic Lyon and the best thing to do in Lyon if you love history.
One of the most popular Traboules which you will find very interesting can be found in Saint Sensation. This pathway includes a six-story historic staircase.
23. Planetarium de Vaulx en Velin
Would you like to know what to do in Lyon France for science lovers, a visit to Planetarium de Vaulx en Velin make one of the things to see in Lyon during your visit.
Planetarium de Vaulx en Velin is a planetarium located in the metropolis of Lyon. It is filled with interactive attractions, astronomy exhibitions, and work programs for all ages.
You will find the planetarium amazing for there is so much to do and to see here
Some of the activities you may love to partake includes visiting one of the astrophysics exhibitions, sitting in on an astronomy session, or participating in a course where you learn about the outer space.
The planetarium tries to answer drugging questions such as how the sun came into existence.
All visitors will find the planetarium fun and adventurous because it gives new ways to explore the universe.
Location: Place de la Nation, 69120 Vaulx-en-Velin, France. Phone No: +334-7879-5013
24. Plum Lyon Teaching Kitchen
Plum Lyon Teaching Kitchen is a school that teaches her students how to make delicious delicacies.
They offer a variety of classes such as children's cooking workshops, seasonal market classes, classic French cooking courses, and so many others.
In this school, you will learn different techniques and themes on how to make French dishes.
Classes are divided into small groups, each group is led by an experienced chef as they aim to give each individual the necessary attention needed.
You will also be thought how to select the best groceries as you tour the markets.
The techniques for cooking French meals which they teach were passed down from generation to generation. You will also learn how to pair these classic meals with a delicious glass of wine.
Location: 49 Rue des Tables Claudiennes, 69001, Lyon, France. Phone No: +339-5172-2208
25. Explore Vieux Lyon
Interpreted as "Old Lyon" in English, Vieux Lyon is the oldest and the largest Renaissance district.
This is one of France's most important cultural sites, Vieux Lyon is divided into Saint-Jean, Saint Paul and Saint Georges.
Each of these sections represents a different aspect of Lyon's past. For instance, in the 16th century, there was the political and religious power, the silk weavers, and the Italian banker merchants that made the city wealthy.
Some of the places you will be interested to explore in this district include buildings in the Rue de Boeuf, Lyon Cathedral, and Gare Saint Paul.
26. Presqu'île
Presqu'île is a finger of land which is located between Saône and Rhône. It is made by a group of people in a humungous 18th-century urban engineering project.
The purpose of the project was to drain marshes and connect what was once an island to the nearby dry land.
Presqu'île is the most happening spot in the city. It is a district where you will find 19th-century architectures, cafes, restaurants, bars, nightclubs, cultural institutions, wide places, and shops.
You will also find the city hall and Lyon's opera house. There are superb restaurants here such as Rue Mercière.
In case you are in Lyon for some shopping, I suggest you start from the Rue de la Républoque which is accessible to pedestrians. The market there has all you need.
27. Musée Gadagne
Musée Gadagne is Lyon's city museum. It is named after the sublime 16th-century renaissance palace where it is housed. This palace was built by two brothers from Florence.
The building consists of four floors which contains 30 rooms. In these 30 rooms, you will find 80,000 items that dares between the medieval times and the middle of the 19th-century.
You will find the map and the sketches of Lyon and how it has changed over time in this museum. You will find maps which shows the city's landmarks and how they were built.
You will also learn from this museum the role that the silk industry played in the 1500s and 1600s which in turn made the city what it is today.
28. Lyon's Murals
One of the reasons you should explore Lyon is its murals, this exploration brings a lot of things to see in Lyon and gives an answer to what to do in Lyon France for some art appreciation time.
There are more than 100 large paintings on the walls of this city. You can't miss them as you tour around the city in both social housing and working-class area.
You can let them be your guide around the city.
États-Unis see to some of these drawings, You will find 25 murals in this outdoor museum in that area.
Most of these metals were painted during the 80s in memory of the architect Tony Garnier who planned the district in the 20s.
There are in Fresque des Lyonnais murals, 24 historical figures, and six Contemporary people relevant to the city.
Check out also for Lyon's original fresco "The Canuts Mural" which tells the history of the Croix-Rousse neighborhood. This mural is updated every ten years.
29. Les Halles de Lyon Paul Bocuse
Les Halles de Lyon Paul Bocuse is a food market which is named after one of France's culinary giants in France's capital of cuisine.
You will get nothing but quality for anything you pay for in this market.
Some of the things brought to the market by the food merchants include charcuterie, meat, fruit, vegetables, and cheese. It is a foodies dreamland.
You will also find in the same complex several restaurant which serve some of the best lunch meals.
If you want an already prepared meal or would you like to prepare it yourself, this market is a place to visit.
The market is best visited in the morning before stalls close down for lunch.
30. Rainbow Stairs of Rue Prunelle
You will find the Rainbow Stairs in La Crouix Roused district. Its sight can't be missed for they are peculiar and easy to spot, this is one of the top Lyon tourist attractions and makes one of the best things to see in Lyon France.
The stairs have been in existence for decades now, but the rainbow colors were added in 2015 by the artist Genaro Lopez.
Genaro got the inspiration to draw on the stairs from what he saw in South America and the art of Mondrian. You will surely be amazed by this work of art.
Location: Rue Prunelle, 69001 Lyon, France
31. Jardin Rosa Mir
Also called Rosa Mir garden, Jardin Rosa Mir is located in La Crioxe-Rousse district, this makes one of the things to see in Lyon during your visit here.
This mosaic garden was created by Jules Senis who was a tiler and a bricklayer. He creates this impressive artwork between 1957 and 1977.
Jardin Rosa Mir has many-layered structures that make the flower border and beds. The place is quite beautiful, don't forget to come with a camera as there are quite some pretty spots to capture
You will be asked to pay an entrance fee before you enter it, but be rest assured that the little token you will be asked to pay is worth it.
32. L'Horloge de Guignol (Horloge Charvet)
You will find L'Horloge de Guignol, (i.e. the Guignol Clock) or as it is locally known, L'Horloge Charvet close to the Puzzle Café at 8 De la Rue de la Poulaillerie.
The great timepiece maker, Charvet created this clock and installed it in the city during the ending of the 19th-century.
Though the clock has stopped functioning due to lack of repairs and renovations, visiting this clock and examining its design is one of the best things to do in Lyon.
The United States makes one of the worlds tourist spots, if you are considering a visit here, i will suggest you explore its capital, Washington, this guide on the Fun Things to Do in Tacoma will take you through this breathtaking city in Washington.
Start Planning Your Trip to Lyon
Lyon has all it takes to both amaze and impress you. You will be glad that you came to this wonderful city.
This is a place to visit for lots of fun exploration, Lyon have lots of fun attractions and activities for everyone, make your itinerary on activities you would like to engage in as well as places to visit.
This guide on things to do in Lyon will guide you through the best of vacation in Lyon, start planning your trip today, before your trip, check-in with your travel agent to check for reservation as well as booking tours.