Along a lake which is just beneath the Alps in Switzerland, you will find Lucerne. Lucerne gives you the whole taste and experience of Switzerland, it is an embodiment of beauty Switzerland has to offer.
For instance, you will find in Lucerne breathtaking mountain views, you will also find a chocolate museum, everything here is interesting and brings amazing sights and activities.
There are quite some fun things to do in Lucerne, Switzerland, fun activities which you can engage in while you are in the city include swimming, hiking and lot more.
It also offers historical and cultural experiences through so many museums that showcase works from fields like transportation, arts, science and music.
Apparently, you are surely going to love this beautiful city, be sure to view the city from different astounding angles as you take a boat ride, cable cars or as you go on a hike.
Things to Do in Lucerne, Switzerland.
1. Kapellbrucke
The Kapellbrucke also known as The Chapel Bridge was built in the year 1333, a visit here really is one of the amazing things to do in Lucerne.
Kapellbrucke spans across Reuss, It is worth knowing that a part of the original building was burnt down in a fire, regardless, this restored wooden covered footbridge is still Europe's oldest surviving truss bridge.
Although it is 700 years, you will still see in the wood panels of the bridge very detailed paintings.
Some of the paintings show historical events like the life and death of St. Leger who was Lucerne's patron saint and other local legends.
You can enter the bridge from either side of it.
Address: Kapellbruke, Reuss River, Old Town, 6002 Lucerne, CHE
2. Natur Museum Luzern
Are you a nature enthusiasts? Are you intrigued by the wonders of nature? If so, I suggest that you visit Natur Museum Luzern for it is filled with exhibitions you are going to love.
Some of these exhibitions include fossils, minerals, butterflies, birds of prey etc.
You will find in the museum taxidermied animals which will help you to get a close view of the European wildlife.
There is also a big display which contains more than 240,000 insects, this display offers both an interactive and educational experience.
Don't forget to visit the geology floor, in there you will find a large collection of crystals of all sizes and shapes, you will also find fossils, rocks, meteorites fragments and so on.
There are also section that teaches natural medicines, gardening, and herbs, a visit to the museum can teach you all you need to know about nature.
Address: Kasernenpl. 6, 6003 Lucerne, CHE.
3. Bourbaki Panorama
The Bourbaki Panorama was built in 1881 by Edouard Castres, it is 10 meters high and 112 meters long, it depicts the Eastern French army which was under General Bourbaki.
The scene shown by the Panorama tries to recreate the army's historic escape to Switzerland during the Franco-Prussian War of 1871.
The army was about 87,000 men, truly this number is Switzerland's largest admission of refugees.
Through the Panorama, you are likely to witness this extraordinary event, for these sculptures are life like, just like a 3D model.
Truly, this alone is worth visiting Lucerne, and it's worth adding to your list of fun things to do in Lucerne Switzerland.
Address: Lowenpl. 11, 6004 Lucerne, CHE.
4. Glacier Garden and Museum
Lucerne has lots of Museums, here is one of the best museums which features a garden is The Glacier Garden and Museum, it is a great place to visit.
Quite a unique Lucerne attraction spot, Glacier Garden and Museum is a combination of both history and geological science, it makes Lucerne a fun place to go.
This Garden and Museum can be found next to Lucerne's Lion Monument, there is also a pothole beside it which dates as far back as ice age.
You can observe these potholes carved of glaciers by climbing the observation tower in the vicinity, don't forget to pay attention to the vistas below, they will marvel you.
As you enter the Museum, you will find a restored traditional Swiss cabin in which both the cabin and it's furniture showcase an impressive woodwork.
Check out also the Hall of mirrors, which is the favorite spot of every visitor to this place, It dates from 1896.
You will be granted free entry into the Glacier Garden if you have a Swiss Rail Pass.
Location: Denkmalstrasse 4, 6006 Lucerne, CHE. Phone No: 41-41-410-43-40
5. Hammetschwand Elevator.
The highest exterior lift in all of Europe is the Hammetschwand Elevator, from this elevator, you will get an outstanding view of the lake and surrounding mountains.
The elevator gives you an extraordinary position in the surrounding, if you want to see the best of Lucerne, add it to your list of things to do in Lucerne.
You will find by either taking a boat or by walking through the hiking trail for 30-40 minutes to the Buregenstock Resort.
The resort is both a luxury resort and a terrace cafe, after having a wonderful view of the city from the Elevator, you can enjoy some of the Swiss snacks and chocolates they serve there.
Address: Burgenstock Hotels and Resort, Burgenstock 24, 6363 Obburgen, CHE.
6. Hans Erni Museum
Hans Erni was one of the most popular Swiss artists who lived from 1909 to 2015. He was a great graphics designer, engraver and sculptor.
Born in Lucerne, he received in 1968 the Art Prize of Lucerne and in 1983, the UN Peace Medal.
This museum which was named after him to honors him and by showcasing more than 300 of his works which he made within eighty years, this makes what to do in Lucerne fun for art lovers.
You will find on the ground floor abstract paintings and works by Hans Erni mixed with three "Tatra" cars that were built by Paul Jaray who is one of those that pioneered automotive aerodynamics and streamlining.
There is a detached hexagonal building of this museum that sits on the grounds of the Swiss Museum of Transport.
It's worth being on your list of top things to do in Lucerne, Switzerland.
Address: Lidostrasse 5, 6006 Lucerne, CHE.
7. Historisches Museum
This historical museum takes you to Lucerne and Central Switzerland's past and historical events through its collection of folkloric and cultural artifacts, this is one of Lucerne Switzerland points of interest.
You will find glass cases and iron grills in which different kinds of items like mannequins dressed in period clothing, weaponry, early pottery, coins, folk costumes and even a guillotine are placed.
The museum is housed by a building which is a former arsenal in the 16th century, there is a barcode on each item, once you get to the Museum, you will be given a scanner that you can use to read the barcode and learn more about each item.
This is one of the best places to visit and It's worth making your list of Lucerne things to do.
Address: Pfistergasse 24, 6003 Lucerne, CHE.
8. Lake Lucerne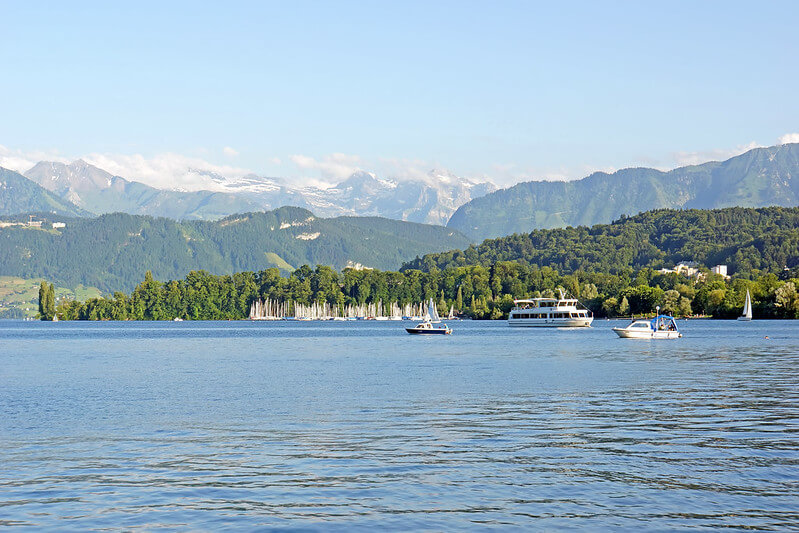 Lake Lucerne is the city's lake, It is about 341 feet in depth. You will find the Alps overlooking the lake from here, all of which together give this Swiss city an amazing countryside view.
The lake kind of sits on the center of the country towards the area of Switzerland that speaks German
You can enjoy the view of the lake and its vastness if you view it from Mount Pilatus, you can also cruise the lake by riding a boat through it.
The lakeshore is a nice spot for a picnic. Don't forget to come with your camera as you pack your picnic bag for there are lots of beautiful spots to take a shot.
9. Kunst Museum Luzern
The
Kunst Museum Luzern
is one of those collection areas which focuses on highlighting modern and historical works of Swiss artists.
In their largest collection, you will find Swiss arts which includes paintings from the Baroque Era by Franz Ludwig Raufft and Kaspar.
You will also find 18th-century portraits by artists like Josef Reinhard, Johann Melchior Wyrsch, Anton Graff and Felix Maria Diogg.
Each year, new collections are added to the Museum, these collections can theme from animals, landscapes, portraits and so on, From the building you can see Lucerne Concert hall and the Lake Lucerne.
Address: Europaplatz 1, 6005 Lucerne, CHE.
During your visit to Switzerland, also do check out Interlaken, this city holds quite a lot of fun attraction and activities, here are some of the Things to Do in Interlaken to guide your visit.
10. Alpineum Museum
You can spend your afternoon at the Alpineum Museum which is located at the back of a gift shop that is not far from the glacier gardens and the weeping lion statue, this is a wonderful place to visit in Lucerne for history lovers.
In the museum, you will find a lot of collections of landscape and historical photos, some of them can be seen through 3D glasses.
The forerunner of cinema and televisions Diromas can be found in this museum. In it you will find metallic and wooden models that show how the locals dressed, mountains, ships, railways and houses.
Only those with Swiss Rail travel pass are allowed to enter. It's truly one of the best place to visit in Lucerne.
Address: Denkmalstrasse 11, 6066 Lucerne, CHE.
11. Lion Monument
Mark Twain the great Author called this the Lion Monument, it is a mournful and heart touching piece of stone, this is one of the top Lucerne attractions, hence it is an amazing things to see in Lucerne, Switzerland.
It was erected in the honor of two hundred Swiss Guards who died in 1792 during the French Revolution in their service as a part of the Royal House of France.
It so happened that as the French King Louis XVI moved his family to Tuileries Palace which is in Paris, the palace was overrun by Swiss Guards.
Major Karl Josef von Bachman who was their commander was killed by guillotine after he was condemned in a trial by those who captured him.
The Lion Monument was designed by Danish sculptor Bertel Thorvaldsen who designed the memorial between 1820 to 1821, later on Lukas Ahorn cut it into a wall of sandstone rock.
Address: Denkmalstrasse 4, 6002, Lucerne, CHE.
12. Meggenhorn Castle
As you tour around Lucerne, stop by the
Meggenhorn Castle,
From this castle, you can get a spectacular view of Lake Lucerne, Mount Polaris, Mount Rigi and the Swiss Alps, this is one of many great Lucerne points of interest.
The castle itself was built by Edouard Hofer-Grosjean from Mullhouse in 1868, in 1926 a Welte Philharmonic Organ was installed in it by the family.
Today, tourists troop into the house to explore the so many rooms with their original decor.
You can book a tour guide, or you can tour around the castle on your own, your kids are going to love the petting zoo and the adventure playground which is nearby.
Address: Meggenhornstrasse 29, 6045 Meggen, CHE.
13. Museggmauer
Museggmauer was constructed in 1386 and it is a part of the City's rampart walls.
You will still find its four towers very much intact, there is the clock towers of which the oldest of them, the Zyt which was built in 1535 by Hans Luter.
This clock chimes every hour and one minute before the rest of the city's clocks.
In your list top things to do in Lucerne, you can add climbing the Museggmauer, you will get an outstanding view of the city up here.
There is no cost for climbing up the towers, you must know that accessing this fortress will require you to climb a steep hill to reach the entrance, but that's the fun part.
Address: 6066 Lucerne, CHE.
14. Museum Bellpark
This museum is located in an old house that is in a park along the main road of Lucerne suburb of Kriens.
The museum is small, but its gallery contains a mix of traditional pieces along with current trends in Swiss arts such as video installation, contemporary collections and photography exhibitions.
Their artworks cover historical discoveries and modern themes like mopeds, bunkers, refugees, motorways and clubs.
The museum was built as a hotel by Emil Vogt who was a famous architect in the year 1911, it still serves that purpose today, especially for private events.
You can get to the Museum if you take a bus from the Lucerne railway station that is at the Hofmatt-Ballpark stop.
Address: Luzernestrasse 21, 6011 Kriens, CHE.
15. Blue Balls Festival
One of the most unique festivals held in Lucerne is the Blue Balls Festival, this festival features a lot of Lucerne activities which cuts across arts, photography, food, film and music from local and international talents.
The venue of the festival is beside Lucerne lakeside and it is held during the summertime, this festival is a nine days festival and it is the largest creative event in the country.
Some of the things the attendees can enjoy includes film screenings, exhibitions and panels as they have a taste of some of the best cuisines from around the world.
You are free to attend this festival, come with your family and loved ones and enjoy a fun time with them.
You will surely love the open-air concert and other events in which the organizers have set in place to give you the best experience.
Address: Culture and Convention Center.
16. Nolliturm
Nolliturm is one of the Museggmauer towers which were constructed in 1386. It was built to fortify the city of Lucerne and keep it intact.
It took a great time for it to be renovated because of its sandstone blocks, apart from preventing invasion, this tower also serves as storage facilities.
In 1922, the Nolliturm portion of the tower served as a guildhall for the Guild of saffron (society of Grocers) which was established in 1400 to supervise commerce and services.
Location: 12 St KarliQuai 9, 6004 Lucerne, CHE. Phone No: +41-14-1227-17-17.
17. Mount Pilatus
You will find this mountain overlooking Lake Lucerne, Mount Pilatus consists of so many peaks of which the highest of them is the Tomlishorn which is 2,128 meters high.
If you visit Lucerne during the winter season, you can join other tourists as they slide down the snowy slopes.
But if you are visiting during the summer, you can hike on the mountain trails or take a journey along the Dragon Trails as you learn about the middle Ages, the locals are ready to tell anyone who wants to listen about the dragons that lived in these cliffs.
From the mountain, you may decide to head towards the Pilatus Rope Park which has a cogwheel railway, this railway is the steepest in the world.
Address: Schlossweg 1, Kriens, Lucerne, CHE
18. Richard Wagner Museum
Richard Wagner Museum is named after a famous German theatre director, conductor, composer and polemicist known as Richard Wagner, it is one of Lucerne points of interest.
In Villa Tribschen which is beside Lake Lucerne was where Wagner was seen to work for six years.
Today, that very building serves as a museum that showcases the collections of Wagner's works which includes paintings, photographs and handwritten letters.
You will also find the Erard grand piano at the exhibition, the Erard grand piano was used by Wagner to complete his works.
Some of those works include a music drama or opera of three acts called the Mastersingers of Nuremberg.
You can easily locate this place for it is just a ten minute bus ride from the center of town.
Address: Richard-Wagner-Web 27, 6005, Lucerne, CHE.
19. Spreuer Bridge
The Spreuer Bridge lies above and across the Reuss River, it is about 1,427 feet in length.
This covered wooden footbridge was first built in 1408 and later on, in 1566, it was rebuilt after it was destroyed by a flood.
The bridge got its name from the fact that the bridge was the only place where the locals could dispose of waste of Spreue.
You will find in the bridge paintings which display stuffs about the donors of Lucerne society.
Some of the paintings about 67 of them were added by Kaspar Meglinger between the period 1626 and 1635, these paintings represent the "Dance of Death" which is just an artistic style that explores the universality of Death.
Address: Reuss River, 6002, Lucerne, CHE.
20. Sammlung Rosengart Museum
The Sammlung Rosengart museum is an art museum that houses hundreds of masterpieces of Classic Modernist and Impressionist art.
You will find in the museum collection works of more than 23 artists of which 180 pieces are from Pablo Picasso and 25 are from Paul Klee.
Managed by the daughter of Siegfried Rosengart, this Museum should be on your list of fun things to do in Lucerne.
You will find works of artists like Marc Chagall, Henri Matisse, Georges Braque, Fernard Léger, Joan Miró and Pablo Picasso.
You can easily locate the museum for it is very close to the Lucerne train station, if you are a lover of art, you are going to love this place.
Address: Pilatusstrasse 10, Lucerne, CHE.
21. Swiss Museum of Transport
A place worth one of the top things to do in Lucerne is the Swiss Museum, this is the most visited museum in Switzerland and it is an amazing place to visit in Lucerne for car lovers.
The museum is so popular that it attracts people far and wide to Lucerne, in the museum, you will learn about the past, present and future of mobility.
Inside its walls, you will find a planetarium, a film theatre, a chocolate museum and an exploration of media and virtual reality.
In 1959 this Museum was first opened and since then, it has seen tourist troop in through its doors for some exploration.
Some of the things you could do while you are here include watching documentaries on the big screen, discovering the history of chocolate, experiencing a planetarium and so on.
The museum offers a 50% discount to all that purchased a Swiss Travel Pass.
Address: Lidostrasse 5, 6006 Lucerne, CHE.
22. Swiss Chocolate Adventure
In the whole world, Switzerland has earned a reputation for making the best chocolates, now for chocolate lovers these place is your heaven.
If you are looking for a place to take your kids to for them to have a wonderful time, this should the place they should go in Lucerne and it also have fun adventures.
The adventure involves riding a cart in which you will learn so much about the process of turning cocoa beans into chocolate.
This adventure is for everyone and it's both fun and informative, for you will get to learn the history of chocolate during this adventure.
Most importantly, the tour ends with tasting some delicious chocolates.
Address: Lidostrasse 5, 6006 Lucerne, CHE.
23. Strandbad Tribschen Beach
A tour around Lucerne will be incomplete without visiting the beach, during your visit, do check out the Strandbad Tribschen beach.
In the beach, you can sit and have a sunbath while you enjoy an array of water activities, you can also go for a swim as you gaze at the stunning views of the Alps.
Water sports offer a choice of paddle boarding and canoeing, you may also decide to engage in some other activities like chess, table tennis, table football, beach volleyball and so on.
You can locate the Strandbad Tribschen beach just beside the Richard Wagner Museum.
Address: Zentralstrasse 5, 6002 Lucerne, CHE.
24. Verkehrshaus Planetarium
Would you like to know what to do in Lucerne fun for science lovers?, do pay a visit to Verkehrshaus Planetarium.
The Verkehrshaus Planetarium is the largest in the country, a visit to this planetarium gives you a 360degree flight to the stars.
In the rotating show which displays different aspects of space such as Planets, Zodiacs, Stella Nova and so much more.
You will find this planetarium as a part of the Swiss Museum of Transport, while you are there, you can check out the Media World, the film theatre and so much more.
The Aviation and Space Travel Hall in the transportation museum serves as a complement to the planetarium.
Address: Lidostrasse 5, 6006 Lucerne, CHE.
25. Wasserturm
Wassertum is an octagonal tower which was built in 1300, it is Switzerland's most photographed landmark.
The name Wasserturm means water tower, and this tower which forms part of Lucerne's city walls stands at 111.5 feet high.
The tower has been used for so many purposes over the years, for instance, it has served as a prison, a treasury, and an archive.
You will get to the tower as you take a turn the Kapellbrücke bridge depending on the starting point, a visit to this tower is truly one of the best things to do in Lucerne.
Address: Zentralstrasse 5, 6002 Lucerne, CHE.
26. Old Town Hall
Visit the old town of Lucerne while you are in Lucerne, it is situated at the bank of Reuss, you will still find there in old burghers' houses and fountains with little squares.
You will find there timber framed buildings, stone streets that have very bright colors as a result of the paints used on them.
All these together gives the old town a unique setting and a fairy tale atmosphere which you will like.
Visit the Kornmark, there you will find the Old Town Hall called the Sites Rathaus which was built in 1602 to 1606 using the Italian Renaissance architectural style and its roof is a typical hipped Swiss roof.
The tower which is close to this hall dates as far back as the 14th century, as you go towards the west of the Cornmarket, you will see a large Gothic Fountain.
You will find the oldest church in Lucerne at the old town named St. Peter's chapel, it was built in 1178 in the area of Old Town called Kapellplatz, this church was renovated to its present form in the 18th century.
You will truly enjoy your stroll through the old town, especially if you follow through the narrow side streets.
27. Hofkirche
Hofkirche has a story that makes it an interesting place to visit hence one of Lucerne, Switzerland points of interest.
During the Thirty year's war in the 17th century, Lucerne's Mediaeval Romanesque basilica was burnt down, hence there was a need to erect another one, as the war was still going on, the city then built its new church.
They built the church in the 1630s, and the church they built is one of the very few that was built around the north of the Alps during this period.
They used the late Renaissance style of architecture in building the church, they also added some designs to the New church from the original one that was burnt down.
Some of the designs from the old church they added include a pair of tower, some medieval and Renaissance ornamentation that was installed in its interior.
You will find on the north side of the nave a polychrome Maria-end-altar which was among the stuff that was saved from the fire that engulfed the first building.
The Maria-end-altar was crafted in the 1500s and it shows a dying virgin Maria that is surrounded by the Apostles.
Some of the stuff that was installed in the 17th century after the rebuild includes wooden choir stalls that are exceptionally carved and a black marble high altar.
28. Jesuit Church
This church was built years after Hofkirche was built, it has quite a beautiful architectural style known as the Baroque style.
This style was chosen as a beacon of counter reformation in the face of protestant cities like Geneva and Zurich.
A look at the church will show you that it ain't the work of one genius but several architects from Austria and Italy.
The church was completed between the 16th and 17th century and it was consecrated in 1677.
Inside the church, you will find at the side chapels, ornate stuccowork which is the very earliest example of the influential German Wessobrunner School.
Check out also the second side chapel which is dedicated to Brother Klaus who was then a hermit, but now a saint, you will be shown his 15th-century vestments.
29. Lucerne Culture and Congress Centre
Lucerne Culture and Congress Centre is a jaw dropping piece of modern architecture that is situated close to the Reuss, the center was designed by Jean Nouvel and it was built between 1995 to 2000.
The building is quite massive, you won't miss it for it will surely catch your eye right away in the area, its colossal flat roof can be seen shading some part of the waterfront.
On the ground floor of the complex, you will find a first-class concert hall designed to give you the best experience in entertainment, it's sitting capacity is 1,800.
You will also find the Lucerne Art Museum right here, in the museum you will find works of art from the Renaissance time to the present.
When you have toured around the cafe, visit the World Café for some snacks and coffee, they offer warning stews in winter and ice cream during the summer season.
30. Engelberg-Titlis
35 Kilometers towards the south of Lucerne, you will find Engelberg-Titlis which is the biggest vacation destination in Lucerne for winter and summer vacation, it is also rated as a top ski resort in Switzerland.
Close to it, you will find Mount Titlis which is 3,239-meter-high, the village Engelberg itself is quite popular because it has a 12th-century Benedictine monastery in which monks still live and work in till today.
Some of the fun Lucerne activities you can engage in while you are here during summer includes hiking, mountain biking, golfing, and mountaineering, in winter you will find so many snowboarders and skiers in the area.
If you are going to visit Lucerne during winter, I suggest you use Mount Titlis Eternal Snow Half Day Trip for it is a fun way to experience the beautiful Alpine scenery here, they also offer snow activities too.
The whole trip will last for 5 hours 30 minutes, you will get to climb Mount Titlis, where you can try snow tubing.
You can also explore the Glacier Cave, take a walk on the cliff, ride on a gondola and the Ice Flyer Chairlift which gives you a breathtaking view of the Bernese Alps.
31. Jungfraujoch
Jungfraujoch also known as Top of Europe is situated about 80 kilometers from Lucerne, this is also happens to be one of Switzerland points of interest.
It is World Heritage listed and it is the home to the highest railroad station on the continent, at a height of 3,454 meters.
There is an elevator that can take you to an even greater height, up to the 3,573meter summit of the Sphinx.
To have fun to the fullest, join the Jungfraujoch Top of Europe Day Trip, it is a nine hours thirty minutes journey that starts by driving through the Bernese Oberland, after that a cogwheel train trip up to the Jungfraujoch, passing through the mountain of Kleibe Scheidegg which is beneath the very popular Eiget North Face.
Don't forget to explore the Ice palace and admire the breathtaking views from the Sphinx Observation Terrace while you on the summit.
32. Mount Rigi
Worthy to be on your list of fun things to do in Switzerland is a ride on the cog railway which is at the shores of Lake Lucerne to the top of Mount Rigi which has an elevation of 1,798 meters.
The cog railway is quite peculiar for it is truly Europe's first cog railway and dates far back, a ride on the restored cars is an amazing experience, some of them were installed in the early 1920s.
From the top of the mountain, you can see as far as the Black Forest in Germany, you will find other beautiful spots in Lucerne as you follow the scenic circle route by first taking a boat from Lucerne to Vitznau.
From there, you can board the cogwheel train which will take you to Rigi Kulm, take a cogwheel train that is heading to Arth-Goldau and when you get to Arth-Goldau catch a train back to Lucerne.
Make sure you come along with your camera to take pictures of these scenic spots, a hike through this mountain would be an awesome memorial event of the top things to do in Lucerne.
Plan a Trip to Lucerne
Lucerne seems to focus on beauty and history, this you can see from the many museums and galleries, a view from her mountains affirms this point too.
Having aced in her purpose, Lucerne in comparison to other cities in Switzerland can be said to be on a class of its own.
There are quite a lot of attractions and activities you can explore in Lucerne, this makes it one of the best places to have a fun vacation and learn about its history and meeting some stunning landmarks.
This guide brings some of the fun things to do in Lucerne, make your list of things to do as you plan your visit to this fun city, also try to book some scheduled activities before you head out for your vacation, am sure you will have a fun time here.