Pigeon Forge can be categorised into two facets.
On a part, it is a lazy, old-fashioned town full of diverse country charm. Settled deep in the mountains of Tennessee, you find a place where you can take some fresh air, relax, recharge and get away from the bustles of the city.
On another part, Pigeon Forge is also an attractive tourist town which boasts of everything from global amusement parks to weird museums.
This town has millions of people visiting every year, and with lots of fun things to do in Pigeon Forge, visitors are in for a memorable time.
You can build an itinerary that comprises of fun, fascinating, crazy and strange things.
Sit tight while we explore the best things to do in Pigeon Forge, TN.
Things to Do in Pigeon Forge
1. Old Mill Square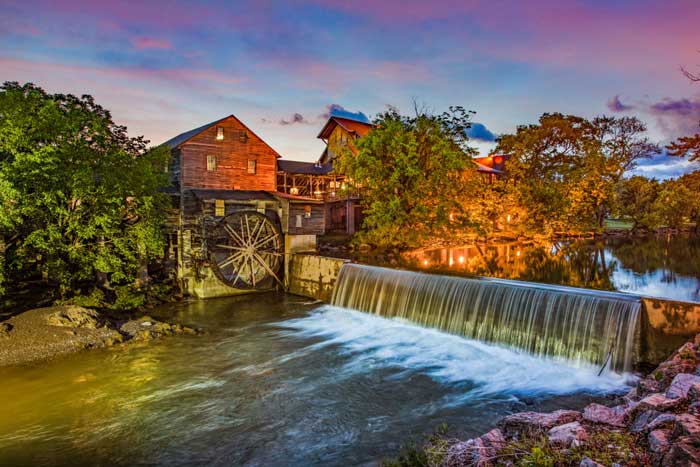 We've established that the late 1700s saw Pigeon Forge's emergence, so it is full of history.
One of the top places to fall back to history is the Old Mill Square.
With a focus on a big wooden gristmill, Old Mill Square was designed to look like when the 18th- and 19th-century settlers came into Tennessee.
You will observe the restaurants and shops lining the square, all housed in strange colonial buildings wrapped with porches. They are also void of digital signs.
People frequently come and go, but you'll still find the atmosphere very friendly.
You will fancy the crafts of pottery makers while the kids will enjoy ice cream scoops obtainable from the local creamery.
There are patios all around, well shaded to help you avoid the Tennessee sun.
You just have to consider Old Mill Square if you need the best things to do in Pigeon Forge.
This place is officially listed on the U.S. National Register of Historic Places because of its historical value. It will be a fantastic way of starting your vacation.
Address: Old Mill St, Pigeon Forge, TN 37863, USA
2. Elvis Presley Museum
Elvis Presley saw Tennessee have a special meaning in his lifetime.
For several years, he dwelled there in the magnificent mansion called Graceland and was even buried on the Graceland grounds.
Though the Elvis Presley Museum is situated on the other side in the star, it is still a worthy tribute to the legend of rock 'n' roll.
The museum displays his memorabilia, costumes, photographs, props and clothes.
You will learn about his life, his habits and experiences in the museum.
There is also an audio tour show with narration made by Elvis's old friends who share fun backstage stories about him.
Indeed, the Elvis Presley Museum is one of the top things to do in Pigeon Forge.
Even if you are not a fan of rock 'n' roll or you don't fancy the white jumpsuit and hip-thrust motions, you should at least appreciate the legacy left by one of the most respected musicians in the world.
Address: 2530 Parkway, Suite 4, Pigeon Forge, TN 37863-7007, USA
3. Alcatraz East
One of the Pigeon Forge Tennessee attraction is Alcatraz East. It is worth an add to your checklist of fun things to do in Pigeon Forge, TN.
Built-in the model of a 19th-century prison, the Alcatraz East is a crime-and-punishment museum that will freeze your feet and even send ghoulish shivers down the spine the moment you pass its bars.
Apart from the exhibits about the real Alcatraz, you will find displays linked to famous criminals like O.J. Simpson, John Dillinger, and Al Capone.
Visitors are always marveled at everything here, from ornament to their clothes to cars. They can even read authentic jury or see critical pieces of proof that led them to the bad guys being clamped.
There is a simulated shooting range for thrill-seekers and an interactive CSI lab for science nerds.
Alcatraz East should be high on your list if you are looking for the best things to do in Pigeon Forge.
Being a specially-designed museum housing irregular artifacts, you will have an experience that you just can't get outside here.
Address: 2757 Parkway, Pigeon Forge, TN 37863, USA
4. The Island
After you've finished viewing the unique historic Old Mill Square, or observing the ancient replicas on the wooden patios, get an alluring trip to the Island.
The Island is one of the top tourist attractions in Pigeon Forge, Tennesee, and will leave you wondering if you are in a different city entirely.
The central water fountain has colored lights that put on a majestic display.
There also is a giant Ferris wheel that rumbles slowly over the skyline.
The island packs no activities with the tours, rides, cafes, games, and restaurants spotted at every corner.
The Island isn't as true as its name, so you wouldn't need a boat to go anywhere.
It extends both far and wide and is just a mini-complex in the heart of Pigeon Forge.
One could spend his entire vacation in this place without covering all sights or even coming in contact with all the steakhouses.
The Island is magnificent to behold, more especially when visiting from the outside.
You will be understood for having thoughts or imagination of going to Vegas rather than this city, Pigeon Forge.
If you are looking for premier locations in this city, the Island is one place to be.
Address: 131 The Island Drive, Pigeon Forge, TN 37863, USA
5. Goats on the Roof
Do you remember or have you ever noticed those weird roadside attractions that you can't help but admire?
Think about their swanky vibes in an entire building. With that done, welcome to Goats on the Roof.
Goats on the Roof is a unique point of interest in Pigeon Forge as it combines various sections of a petting zoo, gift shop, and a bakery. It is one of the most unique places to reckon with while in Pigeon Forge.
You can engage in different activities such as purchasing some souvenirs, feeding the goats, getting some snacks, pastries, and homemade cookies.
There is even the "goat coaster" you can ride if you desire some low-level adrenaline pump.
For each level of Goats on the Roof, you have a new experience to swim in.
Though the indoor floors offer you a shopping opportunity you may not exhaust, the roof is the real deal. It is where the bleating guides you to the goats.
You are permitted to pet them, feed them, and get some pictures for the most uncanny Ascrapbook photos you can imagine.
Don't miss out on Goats on the Roof, this is literally serious
It is the only Pigeon Forge Tennessee attraction with live goats running up and down.
Might sound silly, but it is quite memorable!
Address: 1341 Wears Valley Rd, Pigeon Forge, TN 37863, USA
6. Sawyer's Farmhouse
There is no way you are visiting Tennessee without a take at a Tennessee restaurant.
These eateries are specialists in delectable foods that will your ribs charged like that of a true pioneer.
Though Sawyer's Farmhouse is not the restaurant that serves southern food in Pigeon Forge, it is surely up there as one of the best.
Bearing its name after the Mark Twain character, the Sawyer's Farmhouse clings to its rural roots with plastic roosters, red country walls, and wooden benches aiding its patrons.
You will be caught up by its awesome menu.
From the pancakes paired with hand-mixed butter to gravy-topped biscuits, your belly will be satisfied with delicious meals.
They have their lovely breakfast dishes served all day, so as a bonus, you need not worry about missing out on any time limit.
Whenever you have an appetite in Pigeon Forge, do swing by Sawyer's Farmhouse.
It is one of the most excellent places to visit when you want to free up your gut whilst satisfying your belly.
Address: 2831 Parkway, Pigeon Forge, TN 37863, USA
7. Outdoor Gravity Park
Go get yourself a memorable experience at the Outdoor Gravity Park.
The Outdoor Gravity Park one out of the few place where visitors can go "zorbing" in Tennessee.
It is also referred to as sphereing, globe-riding or orbing, and involves one being strapped into a big transparent ball and then rolling down a water slide or a hill.
Sounds crazy right? That's how fun it is!
This park isn't just your conventional park and isn't your common park activity too.
Get into a very large ball, roll and bounce down the countryside of Pigeon Forge.
This story will crack the ribs of your friends, if it doesn't, nothing else will. This makes what to do in Pigeon Forge, a perfect addition to you bucket list of fun things to do in Pigeon Forge.
Address: 203 Sugar Hollow Rd, Pigeon Forge, TN 37863, USA
8. Dollywood
If you've been studying about Pigeon Forge, there is a high probability you've come across Dollywood.
This park was established by Dolly Parton, a popular country singer, and is one of the biggest attraction in Pigeon Forge Tennessee. It makes our list of the top things to do in Pigeon Forge.
Dollywood covers close to 300 acres of space and reels out several vacation experiences in one steel.
You will find tilt-o-whirls and roller coasters in the amusement park, while the water park bosses splash pads, pools, and slides.
There are luxury suites in the resort from which you can view the mountains.
The museums, music halls, and shops deliver continuous entertainment.
And you can take advantage of the full-size steam train to reach any place around.
Dollywood should definitely make your list, so do visit and activate your vacation and whatever Pigeon Forge has in store for you.
Address: 2700 Dollywood Parks Blvd, Pigeon Forge, TN 37863, USA
9. Big Rock Dude Ranch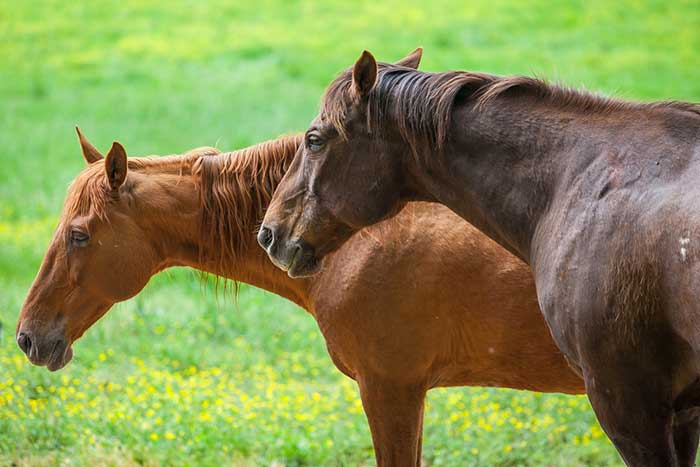 For lovers of animals and nature, the Big Rock Dude Ranch is for you and makes the list of top places to visit in Pigeon Forge, close to the Smoky Mountains.
You can take a ride on horseback along the trails or go to the petting zoo where you can feed the critters with corn.
You may also decide to go picnicking, ATV riding, fishing, or gem mining.
Don't be scared if you are short on funds. There are no fees for usual things like interacting with the animals or wandering the site.
In Pigeon Forge, you can say that the Big Rock Dude Ranch is a relatively cheap attraction.
Go check out this ranch if you want one of the best ways to spend your day in Pigeon Forge.
You are sure of top entertainment without needing to break the bank!
Address: 909 Little Cove Rd, Pigeon Forge, TN 37863, USA
10. Smoky Mountain Alpine Coaster
There are a lot of activities in Pigeon Forge that are centered around the Smoky Mountains.
The common activities include climbing and hiking; however, there is something unique we intend to draw your attention to, which is the Smoky Mountain Alpine Coaster.
Being a low-level coaster ride, the Smoky Mountain Alpine Coaster will move you down the mountains for a least a mile.
Interestingly, you can regulate the speed. For the kids, something leisurely descent while adults can go for a death-defying rush.
You are sure to enjoy the incredible views that your feet can not access while getting the wind blow through your hair.
If you are looking for the best attraction in Pigeon Forge Tennessee, then the Smoky Mountain Alpine Coaster should be top on your list.
Anyone can visit Tennessee, but only a few persons can boast of going sightseeing like this one.
Address: 867 Wears Valley Rd, Pigeon Forge, TN 37863, USA
11. Mountain Valley Winery
While Tennessee has more rustic characteristics than a gleaming tourist area, there are still some refined places to visit in Pigeon Forge.
Mountain Valley Vineyards is just one of these upscale venues.
Located near the Smoky Mountains, the Mountain Valley Vineyards creates and distributes different types of wine and makes a list of the top destinations in Pigeon Forge.
Do visit if you feel like having a drink. The Winery also offer vineyard events,
One of these high-class venues is the Mountain Valley Winery. Wine tastings, tours and many other souvenir shopping opportunities.
If you would be taking a trip to Pigeon Forge in the fall, there is an opportunity of watching them crushing seasonal grapes.
The fun does not just end during your vacation.
You can be a part of a wine club that will provide you with updates about their liquor even after you've left.
The best vacations are those that need not end, and the Mountain Valley Winery duly understands that.
Address: 2174 Parkway, Pigeon Forge, TN 37863, USA
12. TopJump Trampoline & Extreme Arena
Go for an adrenalin pump when you plan a visit to the TopJump Trampoline and Extreme Arena.
Though it has a technical tag of "indoor trampoline park," there is more fun to be experienced here than just cartwheeling off the rubber.
For instance, TopJump has climbing walls, VR games, and obstacle courses, and VR games to keep you thrilled.
There are schedules for dodgeball and basketball. You can race slime aliens and race cars when you get into the arcade hall.
And when you are exhausted, there is a lounge where you can relax, enjoy free WiFi, watch television and have some concessions.
When you've tired yourself out, relax in an air-conditioned lounge that offers concessions, televisions, and free WiFi.
It does not even matter if you're coming with colleagues, friends, or kids TopJump Trampoline and Extreme Arena is simply one of the most exciting things to do in Pigeon Forge.
If you are visiting with the kids, this is one of the fun things to do in Pigeon Forge for everyone. It does provide top excitement for people of every class and perspective.
Address: 3735 Parkway, Pigeon Forge, TN 37863, USA
Considering to explore Texas, here is a list of things to do in Galveston and fun things to do in Amarillo for a memorable exploration of this part of the United States.
13. Country Tonite Theatre
Being one of the biggest performance venues in Pigeon Forge, the Country Tonite Theatre is one place you shouldn't miss.
This theatre plays host to all kinds of variety shows, concerts, celebrity guests, and theatre productions. So, you are sure to meet new activities scheduled in their programs.
No matter when you visit Pigeon Forge, be it the summer or winter, you will find something happening here.
Another exciting thing about the Country Tonite Theatre is its accessibility by guests of any age.
You don't have to leave your kids back at the hotel.
You can bring them along and enjoy the twirling, yukking, acting, dancing, and singing local acts.
Being one of Tennessee's most fantastic tourist attractions, Pigeon Forge is not scared of showcasing its country roots.
Do visit the Country Tonite Theatre to enjoy the south, well-packaged in the form of theatre.
Address: 129 Showplace Blvd, Pigeon Forge, TN 37863, USA
14. Forbidden Caverns
It's only a few persons that realize that Tennessee is home to caves, thousands of them. In fact, of all states in the US, Tennessee has the largest number.
You will see for yourself the moment you visit the Forbidden Caverns.
Though not located in Pigeon Forge; they are in Sevierville, only a few miles north.
The Forbidden Caverns, situated below the Smoky Mountains are clusters of underground caves open for visitors to explore.
With the aid of a tour guide, you will see shiny underground steams moving between the rocks, dripping stalagmites, and every other thing.
Some of the caverns are adorned with stereo sounds and light to provide an eerie show.
One other advantage of the Forbidden Caverns is regardless of whatever the weather is outside; the caverns still stay cool at 60°
So, come to the Forbidden Caverns if you want to avoid the heat on a hot summer day. They are refreshing as well as enjoyable.
The Forbidden Caverns will take you on a journey beneath the earth, leaving you to marvel at things that can only be imagined if not seen.
It is worth the trip if you have a less-busy weekend.
Address: 455 Blowing Cave Rd, Sevierville, TN 37876, USA
15. Parrot Mountain and Gardens
If you love unique, colorful birds and gardens of scenic beauty, then this place is for you.
You will certainly enjoy visiting the Parrot Mountain and Gardens, with its location about 5 miles east of Pigeon Forge.
The attraction features landscaped gardens occupying 4 acres of space. Many people in the area refer to it as a "hidden gem" and a "must-see".
The Parrot Mountain and Gardens is the habitat of flowers, plants and trees, and the home of hundreds of tropical birds.
Travelers can enjoy these sights and some of the birds you can come across include cockatoos, lory parrots, toucans, macaws, and magpies.
You have the privilege of holding and feeding some of these birds if you desire, you can also take photos with them.
Visitors are overwhelmed by the sights and enjoy spending their time among the gardens and birds here.
They are just beautiful and friendly, and you can always interact with the birds. This makes what to do in Pigeon Forge for bird lovers.
Visiting here might be a once in a lifetime experience, but it is worth the cost of its ticket.
Address: 1471 McCarter Hollow Rd, Pigeon Forge, TN 37862, USA
16. Little Pigeon River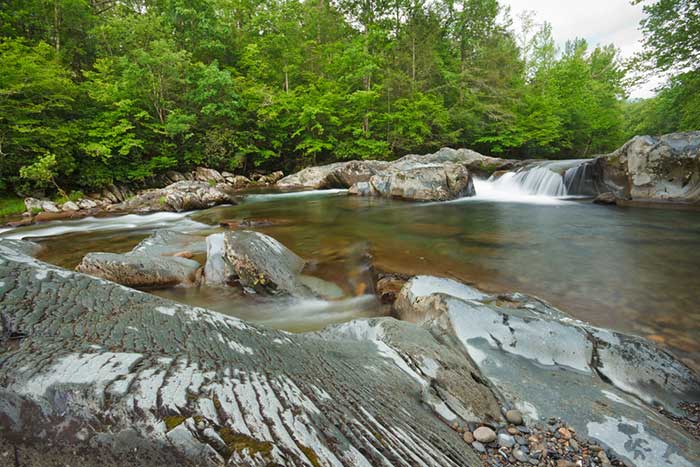 The Little Pigeon River is one of the less famous attraction in Pigeon Forge Tennessee.
This waterway is small in size, but its size does not determine its capacity as it offers a lot to Tennessee visitors.
For adrenaline junkies, there is an opportunity to rent a tube for splashing down the river.
If you are a lover of nature, you can go birdwatching or sightseeing on the Riverwalk Greenway – a two-mile trail.
Photographers are still in business and can capture the dam's whipping force generated by the Old Mill Square's gristmill.
Also, several events take place close to the Little Pigeon River. Ranging from locally-run yoga classes to official festivals and, there is always something to do at the banks.
Little Pigeon River may not provide the flashy excitement of a regular commercial theme park, but you are sure to have something cool if that's what you seek.
Little Pigeon has got authentic attractions in Pigeon Forge, TN. Get your camera and go for it!
17. Splash Country Water Park
One of the fun things to do in Pigeon Forge is a visit to Splash Country Water Park.
The Splash Country Water Park is a 35-acre park full of rides and slides. It is a great spot to cool off and relax, especially during the warm weather.
There are awesome features here, from the exciting whitewater raft winding and rides to a lazy river to a wave pool to twisting waterslides. The park delivers a perfect blend of relaxation and adventure.
Splash Country Water Park has 12 water rides and other unique features. They are classified into different categories, allowing visitors to know which attractions are low-impact and family-friendly, and those that are more adventurous and thrilling.
The kids will love the variety of water rides here, as it accommodates all ages and provides ample opportunity for the family to have fun together.
Splash Country Water Park is one of the top attractions in Pigeon Forge you should not miss.
18. Hollywood Wax Museum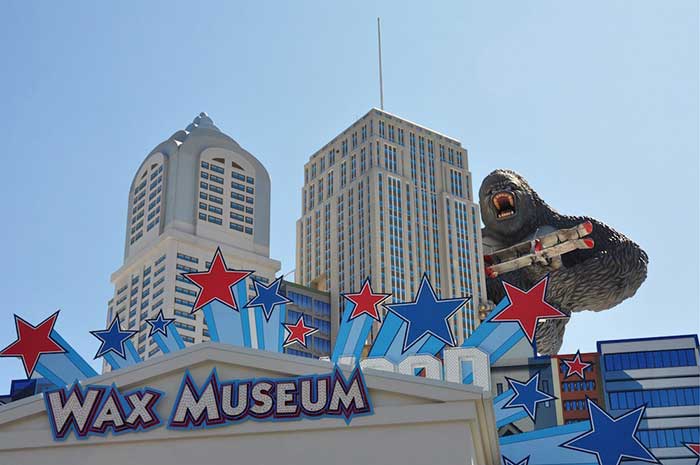 You don't have to take a trip to Hollywood to explore the Hollywood Wax Museum, so ignore the name.
You will find one in Pigeon Forge, which brings all the vibes and glitz straight to Tennessee.
The museum has two floors filled with wax figures of famous celebrities.
The older folks might remember being the most excited for Marilyn Monroe or Elvis Presley; if you are from the millennium generation, you might get a bang out of Robert Downey Jr, Julia Roberts Johnny Depp.
After you've had good photo shots, delve into the "entertainment center" in the museum for even more fun.
There is a zombie escape, a hall of mirrors, and many more attractions for visitors of all ages.
Do have a taste and feel of Hollywood even with you leaving Tennessee. The Hollywood Wax Museum in Pigeon Forge offers entertainment full of stars during your vacation.
Address: 106 Showplace Blvd Unit A, Pigeon Forge, TN 37863, USA
19. Wear Farm City Park
Wear Farm City Park is a well-known spot for both the visitors and locals to have a great outdoor. With plenty of space, playgrounds, and sports fields, you are sure to enjoy yourself.
The park occupies 118 acres and includes baseball fields, three pavilions, two playgrounds, a football field, and a basketball court; there are also concession stands and various walking trails.
The pavilions have lights, picnic tables, charcoal grills, and outlets.
You can host a gathering here if you want to, with the Pigeon Forge's Department of Parks and Recreation reserving specific facilities in advance.
The park is a great place to take your kids. They can play and run around thanks to the playgrounds and sports courts.
You can bring your picnic food or grill under one of the pavilions. The park is well appreciated by families as it is clean and properly maintained.
Do visit Wear Farm City Park during your vacation in Pigeon Forge, accessibility is free.
20. The Incredible Christmas Place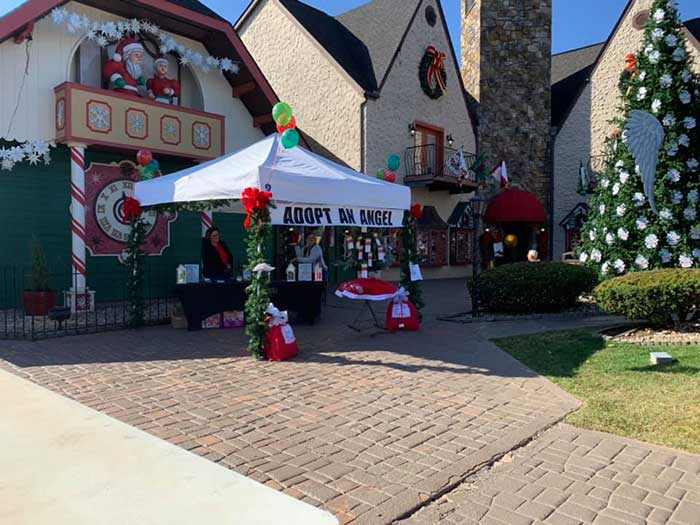 Every day is Christmas at the Incredible Christmas Place.
The Incredible Christmas Places is a holiday-themed village that is open all through the year. The Incredible Christmas Place is always in a festive mood, so you can see eggnogs and fudge even the weather is sweltry.
For sightseers, you can always take a stroll around the beautiful shopfronts while allowing yourself to be temporarily blinded by their decorations and lights.
If your pockets are becoming too weighty, feel free to pick up some customized collectibles, stockings, and ornaments.
Visitors visit most during the real-life holidays, and that is the best time to grace this place.
Every stop is pulled out under the umbrella of Christmas cheer, with a good buzz from the bustling crowds filling the air.
December like we've said is preferable but if you can't, do visit the village anytime. It's always amazing all throughout the year.
Visiting in July creates even more memories. I bet there is no other attraction anywhere else in Tennessee like that of the Incredible Christmas Place.
This unique landmark is one of the top attractions in Pigeon Forge, so make what to do in Pigeon Forge, TN for a fun time hence a preference on your list.
Address: 2470 Parkway, Pigeon Forge, TN 37868, USA
Planning a road trip in California, do not miss our list of things to do in Ventura , things to do in Lake Elsinore and things to do in Pacifica for a fun trip.
21. Titanic Museum
Attractions in Pigeon Forge does not get any greater than the Titanic Museum.
It is a replica of the whole ship on a half-scale, and it has its bow resting in a water fountain; this creates the same smell and sights as its earliest passengers.
Guests of the Titanic Museum are allowed to tour the vessel while observing the displayed artifacts while some tattered life jackets, telescopes, etc.
You would enjoy the fascinating look which the museum provides at the undone 1912 voyage. The undone 1912 voyage is in honor of those who couldn't escape.
The museum provides a fascinating look at the doomed 1912 voyage while still honoring the memory of those who fell a victim.
Are you wondering what to do in Pigeon Forge? Do visit the Titanic Museum.
You can only find two of them in the whole of the US, and one is located in Pigeon Forge.
Address: 2134 Parkway, Pigeon Forge, TN 37863, USA
22. The Great Smoky Mountains National Park
America can always boast of having beautiful places like Pigeon Forge, and you'll affirm that the moment you step your feet on the Great Smoky Mountains National Park.
This national treasure provides a rich, sweeping landscape as much as your sight can cover, with lots of fun activities for visitors.
If you like working up some sweat, then you can go jogging, biking or hiking on any of its numerous nature trails.
Also, visit Clingman Dome of you can keep an exciting countenance in the face of danger. This point is the highest elevation point along the Appalachian Trail and the peak of the Tennessee mountains.
If you are spending the entire weekend in Pigeon Forge, then you can rent an old-fashioned wood cabin (from which you can watch the cliffs) or pitch a tent in any of the campgrounds.
There is a lot to do in the Great Smoky Mountains National Park.
You will also be fascinated by the fact that the park is free of charge. There are no entrance fees, so the entire family can make the most fun without paying a coin.
This makes one of the places to go in Pigeon Forge, do not miss out on this fun.
23. WonderWorks Pigeon Forge
WonderWorks is one place poised to stop you dead in your tracks. Makes one of the fun things to do in Pigeon Forge.
This upside-down building is fantastic as it defies the laws of gravity. Not only about its external, but the interior is also full of curiosities and abnormalities.
The question of what WonderWorks stands for is quite complicated.
You will find some educational exhibits about science and maths, but it doesn't mean it is a museum.
There are laser tag games and magic shows, which doesn't mean it is an activity center.
You will find glow-in-the-dark rope courses, that's doesn't mean it is an amusement park either.
Just as WonderWorks defied gravity, it might same way defy any form of classification.
You cannot deny it; you just have to enjoy it as it is one of the fun stuff to do in Pigeon Forge.
There is just undeniable truth; if you need some crazy stuff to do in Pigeon Forge, it can only be best at WonderWorks.
Address: 100 Music Rd, Pigeon Forge, TN 37863, USA
24. Hatfield & McCoy Dinner Show
Although the real dispute between the Hatfields and the McCoys might have come to an end in the 1890s, this lively show still keeps it alive.
The show commences with a dinner of corn, fried chicken, coleslaw, mashed potatoes, and rolls – after its traditional southern-style.
Do, while you are eating, the performers will present their opening numbers.
Your food might choke you as you watch their exaggerated routines, but there is good news; you'll have sufficient sweet tea to wash it down.
Then, the best parts are rendered later in the show.
There is more to people just standing and reciting stage lines at the Hatfield and McCoy Dinner Feud. They do everything within their capacity to provide an awesome theatre night.
From the eye-widening acrobatics to the live musical presentations, they blend all kinds of entertainment into one energetic show.
If you are seeking fun things to do in Pigeon Forge, purchase a ticket for the Hatfield and McCoy Dinner Feud.The experience will undoubtedly leave you talking long after the show ends.
Address: 119 Music Rd, Pigeon Forge, TN 37863, USA
25. Roaring Fork Motor Nature Trail
The Roaring Fork Motor Nature Trail is situated a few miles south of Pigeon Forge and is a massive attraction for budgeted persons.
You are not charged for hiking to any point of interest or driving along the trail. What you pay for is just parking.
So, the trial is pretty cheap; considering all things, it is more like a day trip.
Additionally, you will be stunned by the sights on this trail.
Roaring Fork Motor Nature Trail takes 5 miles and passes you through diverse hills, streams, and trees. You may decide to stop at will and take an adventure into the wilderness.
There is an incredible waterfall called Rainbow Falls. It is one of the most famous destinations and is nestled deep down the mountains. You can only access it after a long hike.
Another is a low-flow waterfall, the Place of a Thousand Drips which glides smoothly over a protruding rock formation.
You wouldn't need to spend much to have a unique vacation at Pigeon Forge. All you need is, look for low-cost activities like the Roaring Fork Motor Nature Trail and get your weekend rolling.
26. Pigeon Forge Snow
Tennessee's climate is so moderate that it doesn't get snowfall in excess. But, there is an exception; when you pay a visit to a place like Pigeon Forge Snow or when you climb towards the peak of the Smoky Mountains.
Pigeon Forge Snow is a human-made playground designed for wintertime pleasure and it is the only indoor snow park in this area.
There are fun activities here, and its greatest attraction is the string of slopes where you can go sliding down a hired snow tube. You can also have snowball fights or build snowmen in the free-play area.
Like you may be thinking, the powder does not melt, seeing it is artificial.
If you are looking for an entertainment area near Pigeon Forge, that is friendly for your family, you should mark Pigeon Forge Snow as one of the best places to go.
Irrespective of the current season, it does offer something special for everyone.
This makes what to do in Pigeon Forge for a fun time, you would enjoy visiting here anytme you visit Tennessee.
Address: 2533 Teaster Ln, Pigeon Forge, TN 37863, USA
Would you like to know the top attractions in Tennessee? check out this guide on the fun things to do in Tennessee for a fun time in this state.
Plan to Visit Pigeon Forge
We've just seen a few of the best things to do in Pigeon Forge.
Tennessee is one awesome place to visit, and staying in Pigeon Forge makes it is like heaven.
This piece can always act as a guide, so free free to fall back here.
Do have a fantastic vacation!