Looking for the best and fun things to do in Coral Gables, FL?
Coral Gables is a city in Florida, United States, the city is planned as a Mediterranean-themed Community.
The City is located Southwest of Downtown Miami, hence an opportunity to also explore some top Florida attractions in downtown Miami, FL.
The City is known for its history, landmarks, and popular tourist attractions. The University of Miami is also located in this city.
For a fun vacation, here are the top things to do in Coral Gables, FL.
Things to do in Coral Gables
1. Coral Gables Museum
Coral Gables Museum is a vintage museum located at the center of the city in Florida, and the museum is located where an Old Police and Fire station once was.
The Museum added additional galleries and outdoor spaces in 2010, the most recent additions include a courtyard, a 3,000 square foot Gallery, and a beautiful 5,000 square foot Plaza.
The Museum helps preserve history and teaches it to those who want to learn. They offer cellphone audio tours, you can view exhibits in the lobby, and you can also book a guided tour to learn about the history of this building.
Popular exhibits in the Museum include Creating the Dream: George E. Merrick and his vision for Coral Gables, Coral Gables Sister Cities: Partners in peace.
This Museum offers information about the history of the building, the city, and the surrounding areas and fun, beautiful exhibits. The museum helps appreciate the Civic Arts in the city.
History, Vision, Environmental and urban designs, and the city's cultural landscape are all explored and celebrated in the museum.
The Museum is a great place to visit with friends or family and see beautiful, unique, and wonderful exhibits, its open to everyone, both Children and Adults.
A visit to Coral Gables Museum is one of the most fun things to do in Coral Gables, FL with the family.
Address: 285 Aragon Avenue, Coral Gables, FL 33134, United States.
2. Bill Baggs Cape Florida State Park
This state park covers almost one-third of the Key Biscayne Island in Florida. The Cape Florida lighthouse is the oldest standing structure of Greater Miami, and it is based in the park.
The Park offers fun activities like grilling with friends and family at a Pavilion, Sunbathing on Beaches, and fishing. Cape Florida was named by a Spanish explorer, Ponce De Leon, in 1513, during the Spanish first expedition to Florida.
From Thursdays till Monday, they give tours twice a day for the Cape Florida Lighthouse and the Lighthouse Keeper's cottage. The tours are always with a knowledgeable and helpful guide.
They also rent out Bicycles, Umbrellas, and Beach chairs for comfort and adventure. The state park also presents beautiful views like the Atlantic Ocean and the Biscayne Bay.
This is a great place to visit in Coral Gables, and you get to see the oldest and longest-standing building in the city.
Address: 1200 Crandon Blvd, Key Biscayne, FL 33149, United States
3. Deering Estate
The Deering Estate is named after Charles Deering, the estate owner. Charles Deering is well known as a Philanthropist, art collector, environmentalist, the International Harvester Company's first chairman, Chicago Industrialist, and an Early Preservationist.
The estate is located along the South Dade's coast, and the estate has Been listed on the National Register of Historic Places. It is known as a historical site and a cultural asset.
This Estate is a one-of-a-kind modern museum open to visitors to learn and preserve history and enjoy programs and signature events.
Daily tours are offered to visitors. The tours take them through historic homes, natural areas, fossils, and prehistoric tools. This estate also acts as a botanical garden, and it's a lovely place to spend time and make fun, unforgettable memories.
Address: 16701 SW 72nd Ave, Miami, FL 33157, United States
4. Curtiss Mansion
The Curtis's Mansion is another historical building on this list. The mansion is also known to some as the Miami Springs Villas house.
Funds were contributed by the Curtiss Mansion Inc. Corporation and the City of Miami Springs to renovate and manage the Curtiss Mansion in 1998.
Fundraising was continued by the City and Curtiss Mansion Inc. Corporation for the maintenance and operation of the mansion in 2011.
The mansion can currently be booked for special activities like engagement, weddings, celebrations, historic tours, special moments, and corporate events. The mansion also hosts exhibits, classes, films, art presentations, lectures, and other fun events.
Address: 500 Deer Run, Miami Springs, FL 33166, United States
5. Cape Florida lighthouse
Second on this list is the Popular Cape Florida lighthouse. This is a historical building in Florida, and it is located on the Key Biscayne Island in Florida.
The lighthouse is currently located inside the Bills Baggs Cape Florida State Park, and it has been around for about two hundred years. The lighthouse was built in 1825, and it has about 109 steps up in which tourists climb to the watch room for wonderful views
The lighthouse has been destroyed and rebuilt many times since it was established. It was recently destroyed in 1992 when a hurricane (Hurricane Andrew) severely damaged it.
This historical building can be viewed in the Bills Baggs Cape Florida State Park from Monday to Thursday. They hold tours through this facility twice daily.
This is a great place to see and learn about. The lighthouse has been around for a long time and has a lot of historical value.
Address: Cape Florida Lighthouse, 1200 Crandon Blvd, Key Biscayne, FL 33149, United States
6. The Kampong National Tropical Botanical Garden
The
Kampong National Tropical Botanical Garden
is another garden on this list. This is a beautiful garden with a landmass of 9 acres, and this garden is a nonprofit organization.
This garden is one of the five gardens that form a popular nonprofit organization called the National Tropical Botanical Garden. This garden contains different unique fruits and flowering trees that are interesting to visitors.
There are over 50 unique exotic fruits like egg fruit, mangoes, and Candle fruit. The garden also has varieties of flowering trees, Palms, and Cicadas that bring scientists for study.
The Kampong National Tropical Botanical Garden offers guided and Self-guided tours of the garden any time of the year.
Address: 4013 Douglas Rd, Miami, FL 33133, United States
7. Lowe Art Museum
Lowe Art Museum is South Florida's first art museum. This museum was founded in 1952 and had over 19,000 exhibits. The museum was started with a gift from the generous philanthropists Emily and Joe Lowe.
The art museum is located along Stanford Drive in Coral Gables and is managed and operated by the University of Miami.
Some of the museum's famous exhibitions include Giampaolo Seguso: My Page is glass, Hand& Earth; Six Perspectives on Japanese Contemporary Ceramics, Studio Glass from the Florence and Robert Werner collection, and Yousuf Karsh: American Portraits.
The museum is opened year-round for visitors who want to see beautiful, unique exhibits.
Address: 1301 Stanford Drive, Coral Gables, FL 33134, United States.
8. Matheson Hammock Park
Mathewson Hammock Park is a nice and beautiful park located in Coral Gables, and this park has a landmass of 630 acres. The park is situated at the borders of the Fairchild Tropical Botanical Garden.
Matheson Hammock Park has unique and surprising features such as an atoll Pool. The pool is man-made but is flushed naturally by tides from the Biscayne Bay, Matheson Hammock Park has a Beautiful restaurant, nature trails, nice pavilions, a snack bar, and a full-service marina.
The Park also contains fun and comfortable facilities like Picnic tables, Pristine Beaches, wet slips, a power boat, a sailing school, restrooms, and a fishing pier. Fun and adventurous activities that can be enjoyed in the Park include Fishing, hiking, boarding, and sailing.
If you would like a memorable time with family and friends, add a visit to Matheson Hammock Park to your bucket list of things to do in Coral Gables, FL.
Address: 9610 Old Cutler Road, Coral Gables, FL 33134, United States.
9. Coco Bella Gift and Home shop
Coco Bella Gift and Home is a beautiful gift shop near the Coral Gables Museum in Florida. The shop has a diverse and unique amount of home decorative items and gifts.
More popular products are beautiful coffee mugs, family picture frames, 10-ounce cookie Jars, bistro cream sugar sets, wine tumbler sets, bride sequin totes, custom stainless bottles, and cheese serving board sets.
The store staff is also very welcoming, friendly, and very knowledgeable. The staff also have a passion and appreciation for each item in the store.
If you want to get a gift for a family or friend or a gift or souvenir for yourself, add a visit to Coco Bella Gift and Home to your list of things to do in Coral Gables, FL.
Address: 305 Alcazar Ave, Miami, FL 33134, United States
10. Tropical Audubon Society
The Tropical Audubon Society is focused on ecosystem and wildlife conservation, their mission mainly being the conservation and restoration of Florida's ecosystem, especially birds and other wildlife.
This group protects the environment, native plants, and indigenous and unique species by promoting intelligent stewardship of resources.
They allow visitation at the Doc Thomas House and the Steinberg Nature Center. The Doc Thomas house is listed on the National Register of Historic Places, and the Audubon Society has a 2.2-acre land consisting of hammock habitat and Pine Rockland.
Address: 5530 Sunset Dr, Miami, FL 33143, United States
11. The Venetian Pool
The Venetian Pool is a beautiful, large and historic swimming pool opened to the public, located in Coral Gables.
The Pool was created designed specially by Phineas Paist and Denman Fink. It is a unique aquatic facility, and some may say there is no comparison to it in the whole country.
The Pool has thousands of visitors from different parts of the world to experience the waters, vegetation, and beautiful rock and views yearly.
Visitors also enjoy the waterfalls, a plethora of palm trees, loggias, portico, and signature bridge. The pool can contain over 820,000 gallons of spring water filled from a large, underground aquifer.
The Pool also has beautiful views, and visitors get to have fun adventures. The pool is drained and filled daily during the spring and summer months.
If you are looking for fun things to do in Coral Gables, FL, with the family, add a visit to The Venetian Pool to your checklist.
Address: 2701 De Soto Boulevard, Coral Gables, FL 33134, United States.
12. Miami Seaquarium
The Miami Seaquarium is located on the Beautiful Virginia Key Island. It is an Oceanarium of 38 acres, and it is also one of the oldest Oceanariums in the entire country.
The Miami Seaquarium was founded in 1955, and it has a lot of unique and beautiful exhibits like penguins, rays, manatees, and sea turtles.
They also have mammals like Sea lions and Dolphins in this Oceanarium. Visitors are also educated about the care of marine animals and the rescuing of wildlife at the Conservation Outpost of the Oceanarium.
One of the main and most popular attractions is Dolphin Harbor. In the Dolphin Harbor, visitors get the fun and exciting opportunity of swimming with Dolphins.
For some fun time, add a visit to Miami Seaquarium to your checklist of things to do in Coral Gables, FL.
Address: 4400 Rickenbacker Causeway, Miami, FL 33149, United States
13. Tropical Park
Tropical Park is a large, urban park located in Florida, and it Is situated in 275 acres of land, southwest of the busy intersection of Palmetto Expressway and Bird Road.
The current site of the Park was once a racing track for horses back in 1979, and the park has smoothly paved ways for outdoor recreation.
The most popular outdoor recreational activities in the park pathways are walking, running, and cycling.
The Park also has fantastic activities for visitors, including the Optimist Club of Westchester, Tropical Park Boxing, Jazzercise at Tropical Park, and Baseball Camp at Tropical Park.
Address: Tropical Park, Olympia Heights, FL 33155, USA
14. Doc B's Restaurant and Bar
Doc B's Restaurant and Bar is named after the creator, Craig Bernstein, father. This Restaurant and bar's main base is Chicago, but it has different branches country-wide, including Texas, Florida, Illinois, and Coral Gables.
The one located in Coral Gables was recently opened, in 2018, to the public. This restaurant and bar has natural lighting in its dining area and serves casual entrées.
The Dining area has a 700-degree pizza oven and a 900-degree Steakhouse broiler. The oven and broiler prepare delicious meals like Center-cut fillet mignon, Danish-style barbeque ribs, and Palm Beach skirt steak.
They have a different selection of Pizzas, from the normal Pepperoni and Italian sausage to the unique varieties like avocado with cortilla cheese and Pickled jalapeños.
Address: 301 Miracle Mile, Coral Gables, FL 33134, United States.
15. Coral Gables Merrick House
This house is also known as the Merrick house or the Merrick Manor. The house is large and full of history as it was built in 1906 by Architect Althea Merrick.
Famously known as the founder of Coral Gables, George E. Merrick HD, this house was built to be his family residence. The house is currently open for tours.
The Merrick Manor was listed on the National Register of Historic Places in the year 1973, and twice a week, visitors are allowed to tour the building.
The tours are usually led by volunteers who have an intimate and broad knowledge of the property and the patience and passion needed to share the knowledge with others.
This house has 14 rooms and will take you back to the 1920s, This is another very fun place to spend time in Coral Gables by learning about George E. Merrick house.
Address: 907 Coral Way, Coral Gables, FL 33134, United States.
Planning a Florida road trip? also, check out our list of things to do in Lakeland , things to do in Ocala and things to do in Destin, in for a fun Florida trip
16. Barnacle Historic State Park
The Barnacle historic state park is another beautiful state park on this list, and it is situated on the shores of Biscayne Bay in Florida.
This Park was once home to one of the most popular and influential pioneers in Coconut Grove, Ralph Munroe. There are replicas of his boats on display in the Park, such as the Egret and the Flying Proa.
The Egret is a ketch vessel of 1886 length of 28 feet, while the Flying Proa is a unique vessel designed in 1898.
Visitors are welcomed to take a tour of the park, have a picnic while on the beautiful and well cared for park lawn, go on a lovely stroll, relax in a chair on the front porch and watch the boat glide.
Address: 3485 Main Hwy, Miami, FL 33133, United States
17. Crandon Park
Crandon Park is a beautiful park with a landmass of 808 acres located on the northern side of Key Biscayne Island.
The Park is connected to both Florida Mainland and Miami city through the Rickenbacker Causeway, and the Park offers a large number of fun activities on its grounds.
The Park is a place to have nonstop fun with its Pristine Beaches, Golf facilities, wonderful adventures, and tennis facilities. There's always something for everyone to do.
Some of the many activities available for visitors, tourists, and residents to enjoy are wakeboarding, windsurfing, sailing, walking, paddle-boarding, kite-boarding, snorkeling, biking, skateboarding, and also kayaking.
The park also has wonderful facilities, including restaurants, restrooms, cabanas, boat ramps, marinas, docks, a nature center, and a Picnic Pavilion.
The Park has a rule against any Flotation devices on the beach, it is a great place to spend time and enjoy fun adventures.
If you are visiting Coral Gables, FL with kids, do add a visit to Crandon Park to your checklist list of things to do in Coral Gables, as Crandon Park is just a few minute ride to Biscayne.
Address: 6747 Crandon Blvd, Key Biscayne, FL 33149, United States
18. Titanic Brewing Company
Titanic Brewing Company is a brewery located in Coral Gables; it has been around for a long time and serves as a restaurant and a brewpub. Titanic Brewing Companyits located near the famous University of Miami.
The brewing company owner, Kevin Rusk, decided to name the brewery according to the nickname of Miami( the cruise capital of the United States).
The Titanic Brewery Company is unique because it's a conjunction of three entertaining establishments, it's a seafood restaurant, a microbrewery, and at the same time, it's also a place to showcase entertainment.
The brewery has exceptionally beer selections, like Britannic Best Bitter, Boiler Room Nut Brown, and the Shipbuilders Oatmeal Stout. Many people also love and recommend the BBQ Pulled Pork served in the restaurant with Coleslaw and pickles on brioche.
Address: 5813 Ponce De Leon Boulevard, Coral Gables, FL 33134, United States.
19. Bulla Gastrobar
The Bulla Gastrobar is a popular Spanish tapas restaurant that opened in different areas in Miami, including in Coral Gables, which was opened in 2013.
The restaurant is Mediterranean styled and was created by Carlos Centurion, popularly known for his work at Por Fin, another popular dining location.
The Restaurant serves different tapas selections throughout the day, including Veal albondigas, chorizo-stuffed dates, Catalán-style Cannelloni with Mahón Cheese and oil, Codfish fritters, and Oxtail Flatbreads.
They also serve Cheese plates and Cured meat, together with grilled pork, paella, and churrasco. The restaurant also has varieties of drinks like imported draft beer, Spanish wines and Cocktails, and Artisanal Sangrias.
Address: 2500 Ponce de Leon Boulevard, Coral Gables, FL 33134, United States.
20. Pinecrest Gardens
The Pinecrest Gardens is a tropical park located in Florida. It is 20- acres landmark of botanical and wildlife conservation and preservation.
This Park was once used for a theme park, Parrot Jungle, in 1936. Pinecrest Gardens is also known for its cultivation, celebration, and conservation of Florida's Botanical life forms.
The Park has more than a thousand different and unique palm trees and tropical plants. Visitors can create beautiful memories in the park by exploring the gardens, taking educational classes, taking guided tours, enjoying picnics, seeing movies, attending festivals, and browsing art galleries.
Address: 11000 SW 57th Ave, Pinecrest, FL 33156, United States
21. Fairchild Tropical Botanical Garden
The Fairchild Tropical Botanical Garden is a Beautiful, 83-acre botanical garden located in Coral Gables, Florida. The garden is dedicated to exploring, explaining, and conserving the World's tropical plants.
This garden is a popular, educational garden known for its outstanding work worldwide, and the garden currently has over 45,000 members and more than 1,200 volunteers.
This garden plays various roles like a laboratory, museum, education center, conservation facility. However, the most important role it plays in the preservation of biodiversity.
Fun festivals are held at the garden year-round, including the International Orchid Festival, International Mango Festival, and International Chocolate Festival. This garden also has butterfly exhibits, with different unique and beautiful butterflies
This is a great Horticultural destination for tourists and anyone who wants to be amazed by lovely, rare, and unique plants and wildlife.
Address: 10901 Old Cutler Road, Coral Gables, FL 33134, United States.
22. Santa's Enchanted Forest
Santa's Enchanted Forest is a Christmas holiday attraction located in Florida. This is a public attraction open for everyone between October and January yearly.
The Enchanted Forest features Christmas displays, food, a petting zoo, holiday songs, and many other exciting features. Some attractions in the forest include mistletoe lane, the Christmas light show Spectacular, Christmas Karaoke, and South Florida's Tallest Christmas tree.
Fun Rides are also available in the forest, popular rides like Wacky Shack Fun House, Wacky Worm Coaster, Christmas train, Haunted Mansion, Daytona Race Cars, Rock and Roll Fun House, Merry Go Round, and Pirate Ship Fun House.
Address: 3100 E 4th Ave, Hialeah, FL 33013, United States
23. Per'La Specialty Roasters
This is a beautiful café located in Coral Gables. It is popular and outstanding in the area as it was named by the Miami New Times, Miami's best Coffee shop.
This shop was founded by Paul Massard and Chris Nolte in 2016. The café is a combination of Giorgio Rapicavoli expertise and Per'La Specialty coffee.
Giorgio Rapicavoli is the executive chef of the café. He is widely known for his Eating House and Glass and Vine dining area.
During the morning and afternoon hours, lattes, espressos, and other beverages are served. They are prepared from locally roasted beans in Miami.
The café also offers great meals and snacks like croissant, Sandwiches, and Nutella toasts, the Coffee beans used are also chosen very carefully from the top five percent of the best coffee beans made in the world.
Address: 4657 SW 71st Ave, Miami, FL 33155, United States
24. Shops at Merrick Park
Like other communities in South Florida throughout Miami, Coral Gables is well known for being a paradise for tourists looking forward to enjoying a deluxe lifestyle.
This outdoor shopping mall is perfect for anyone wanting to give themselves something unique or browse through Merrick Park shops.
Visitors can find the best brands, such as Burberry, Tiffany & Co., and Gucci. Shops at Merrick Park also have a complete gym facility and varieties of dining shops.
Everything to see at this place is of the highest quality, including clothing. If you would like a unique shopping experience when you visit Coral Gables, this attraction is a must-see.
Address: 358 San Lorenzo Ave #2140, Coral Gables, FL 33146
25. Actors Playhouse at the Miracle Theatre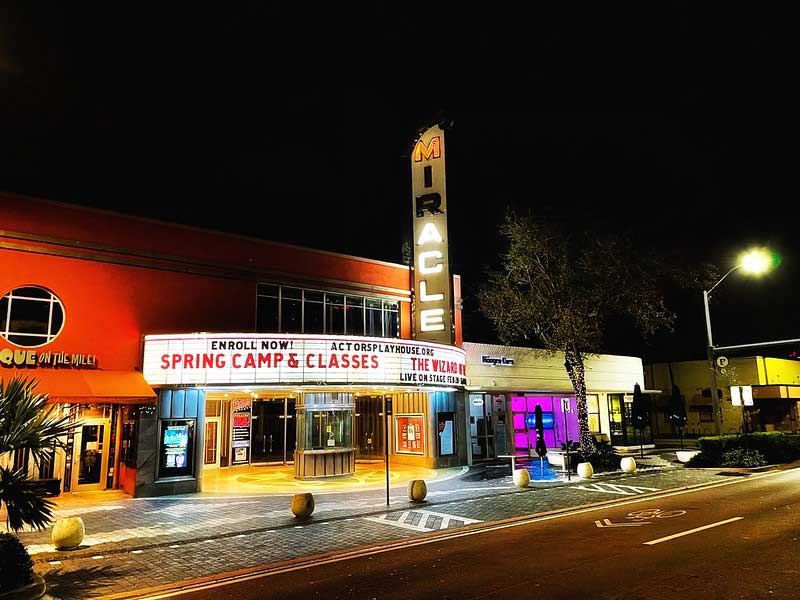 If you are a fan of theatrical performance, one of the best things to do when you visit Coral Gables is to check out the Miracle Theatre.
The theatre was established in 1988. It is a well-known art performance facility in Coral Gables that features various events throughout the year.
Miracle theatre went through a major renovation which cost millions of dollars. This renovation gave it a new facelift with other additions to make theatre performances endearing. The theatre has top-notch sound and lighting equipment.
They host a wide range of performances ranging from stand-up comedy shows to even lighter kiddies events. You can check their website for recent and upcoming events.
Address: 280 Miracle Mile, Coral Gables, FL 33134, United States
26. Alhambra Water Tower
The Alhambra Water Tower is a popular landmark in Coral Gables. It is a lighthouse that has never witnessed the sea and serves as proof of George Merrick's innovative idea for Coral Gables.
This tower, constructed in 1924, is made up of two distinct structures. It is perched in the Alhambra Circle area in North Coral Gables.
A steel tank was first constructed to create a look-alike of a lighthouse. After that, it was covered with a wooden frame and reinforced concrete, which covered the not too eye-catchy water tank inside with a better outside architectural outlook.
The lighthouse was designed by Merrick's uncle, Denman Fink, as a steel-framed water tower that was a source for supplying water to the city. The water tower is a lovely place to unwind. The environment is peaceful and beautiful and has a lot of history.
Address: 2000 Alhambra Cir, Coral Gables, FL 33134, United States
27. Old Cutler Trail
The Old Cutler Trail covers 11 miles and meanders through the city's most beautiful landscapes. The trail is an ideal destination for families who want to enjoy the outdoors far from the noisy city life.
This place is available to all, including walkers, runners, and bikers. There are tall trees on every side that massively shelter the place. The trees to see here are unique. The ideal time to check out this place is before sundown.
This trail is one place you will enjoy exploring. The trees, houses, and lovely air make it a haven for outdoor lovers.
The Old Cutler Trail provides visitors access to the Matheson Hammock Park, Pinecrest Gardens, and Fairchild Tropical Gardens.
Address: Florida, USA
Want more of Florida attractions and activities? do check out our list of things to do in Punta Gorda, things to do in Tallahassee, and things to do in Gainesville for a memorable vacation.
Plan your trip to Coral Gables
The City of Coral Gables has a lot of fun activities and places to visit, and you may pick out your favorite from the list or just decide to visit all.
Start planning your trip to Coral Gables today, pin this guide and go have a fun time in Carol Gables, Florida.