Spring is a pleasant city situated in Harris County, Texas, USA. This welcoming community offers plenty of attractions for guests to explore, such as the stunning Spring Creek Greenway.
The city is an outdoor lovers' paradise, and from large to small parks, open spaces, and trails, there is something for everyone.
Whether you are searching for where to take your loved ones for a picnic or want to spend time in nature alone, Spring, TX, has got you covered
Are you planning an outdoor experience in Spring? Let's explore the best parks in Spring, TX.
Best Parks in Spring, TX
1. Pundt Park
This 380-acre park has a dog park, playgroup, primitive canoe launch, picnic look with ten tables, restrooms, two pavilions, bicycle racks, two lakes perfect for fishing, and separate equestrian and multi-purpose trails.
Pundt Park has access to the 16-mile Spring Creek Greenway Trail, a paved bike and hike trail that links Carter Park, Jesse H. Jones Park & Nature Center, Stahl Preserve, and Dennis Johnston Park.
Boats, canoes, swimming, and kayaks are prohibited in the lakes. Fishing is permitted in the pond and on the banks of Spring Creek inside Pundt Park.
Lake winter and early spring are the best times for catching crappie and white bass, while catfish can be caught throughout the year.
Pundt Park also has an excellent dog park divided into two sections; one for smaller dogs and the other for larger dogs.
The dog park has trees, water fountains, and a hose-off station where they can wash off after playing. Pundt Park is undoubtedly one of the top parks in Spring, TX.
Address: 4129 Spring Creek Dr, Spring, TX 77373, United States
2. Dennis Johnson Park
Dennis Johnson Park is a 45-acre attraction with picnic tables, a pavilion, walking trails, a small pond, a butterfly and hummingbird garden, and access to Spring Creek.
There are several recreational opportunities at Dennis Johnston Park, from fishing to hiking along the Spring Creek Greenway Trail.
The Park is suitable for nature lovers and those looking for a place to unwind.
Although Dennis Johnson Park does not have many amenities, the size and clean state of the area make up for it.
Additionally, there are many shade trails and benches to sit and take Instagram- worthy photos.
Dennis Johnson Park is one of the best parks in Spring, TX.
Address: 709 Riley Fuzzel Rd, Spring, TX 77373, United States
3. Forest Oak Park
The approximately 60 acres of Forest Oak Park provide a playground, a covered and uncovered picnic pavilion, and a walking and jogging trail.
The park hosts many events throughout the year, such as Trunk or Treat, National Night Out, Easter Egg hunts, fun runs/walks, community tournaments, and fishing events.
There are four stocked fishing lakes featuring bass, bluefish, and channel fish. However, fishing at Forest Oak Park is catch-and-release only.
The park is open from sunrise to sunset, but visitors must leave before sunset. Park security is enforced to ensure that visitors leave the park at closing.
Address: Spring, TX, United States
4. Meyer Park
If you enjoy playing outdoor sports like soccer, you will adore Meyer Park. It is one of the fun parks in Spring, TX.
The 180-acre park has 26 soccer fields, with ten of them lighted. You will never run out of space to kick a ball around.
If you prefer to play basketball or softball, visit the Park's two unlighted basketball courts and softball fields.
After playing, you can chill at the gazebo or enjoy a barbecue at the pavilion.
Then you can get some more workouts by walking down the nature trails or fishing at the three-acre lake. You can even decide to feed ducks at the pond.
In addition to all these features, Meyer Park houses an archaeological site that contains freshly discovered historical artifacts.
When you visit the park, you can inquire for more information.
Address: 7700 Cypresswood Dr, Spring, TX 77379, United States
5. Charlie Grant Park
Charlie Grant Park has numerous walking and biking trails that meander through the forested areas.
It also has benches and plenty of picnic tables where you can unwind and take in the views of the city.
During fall, the leaves change color, and during winter, the park is a famous spot for sledding.
Charlie Grant Park is worth checking out if you are searching for a place to enjoy some fresh air and nature.
Additionally, the park has a playground which is quite popular among little ones, and a basketball court.
There's ample space for children to run around. You can carry them to a picnic area to eat if they get famished.
Dogs are allowed in the park, so you can bring them for a fun walk.
Address: 23826 Birnam Wood Blvd, Spring, TX 77373, United States
6. Timber Lane Hike & Bike Trail
There is a plethora of reasons to visit Timber Lane Hike & Bike Trail, and one of such reasons is the scenic views and wildlife.
Timber Lane Hike & Bike Trail is a wonderful place to take a nature walk, hike, relax, and admire the scenery. There are many benches along the way to sit and enjoy the view.
If you are looking for a place for a workout and fresh air, don't go too far and head to Timber Lane Hike & Bike Trail. You can also bring your furry friend for a run or walk.
The scenic trails at the park loop through the meadow and woods and offers the best views of nature at every turn.
Looking for one of the best parks to hike? Lace up your hiking boot or get on your bike and go to Timber Lane Hike & Bike Trail for an enjoyable day and fresh air.
Address: 22700 Lemon Grove Dr, Spring, TX 77373, United States
7. Spring Creek Greenway Nature Center
The expansive
Spring Creek Greenway Nature Center
offers visitors of all ages an opportunity to experience the marvels of biodiversity firsthand.
This facility which spans 12,000 acres, houses numerous wildlife and plant ecosystems
One of the various programs you can join at this nature park is Story Time at the Pond.
Your preschool-age kids will undoubtedly enjoy this activity as they will get to read nature stories and create crafts.
Another family-friendly activity you can partake in is family fishing at Bluegill Pond.
Spring Creek staff will happily educate you on the basics of fishing, like how to set up a pole, tie fishing knots, and name native freshwater fish.
Novices and professionals will discover terrific fun in this course.
Address: 1300 Riley Fuzzel Rd, Spring, TX 77386, United States
8. TGR Exotic Wildlife Park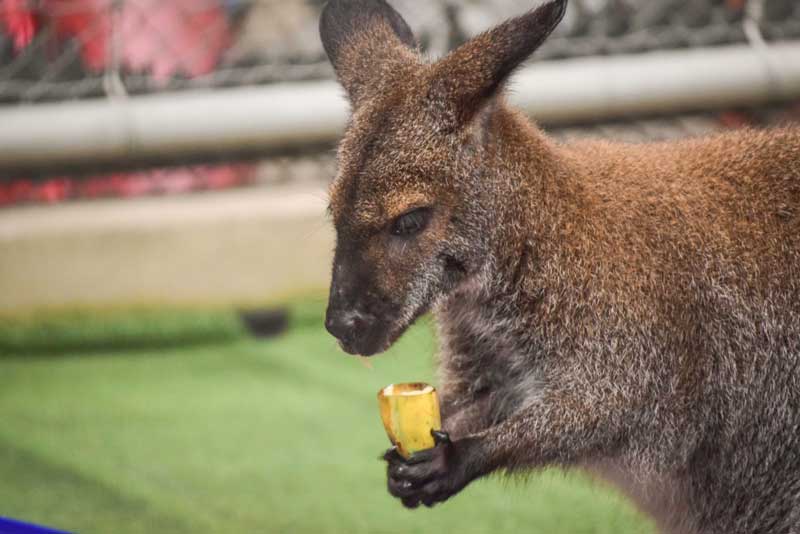 TGR Exotics Wildlife Park has evolved from having a single pot-bellied pig into a selection of approximately 100 animals for visitors to observe.
You can see exotic animals such as Wallaroos, Ilamas, and African Crested Porcupines at this Park.
Among the things that make TGR Exotic Wildlife Park unique is that the operators take care of the Park's animals themselves, therefore displaying their obvious passion for the creature of the earth.
You can also notice this passion echoed in the animal's friendly personalities.
You can get close and personal with these endangered animals when you tour the park.
With over 100 animals representing more than 25 species, there is something at TGR Exotic Wildlife Park to entertain and inspire all ages.
It's more than fun; it is an opportunity to see, touch and learn about some remarkable animals.
Address: 22115 Sherrod Ln, Spring, TX 77389, United States
Want more Texas attractions and activities? Check out our list of things to do in Marshall and things to do in Granbury for a memorable vacation.
9. Fox Spring Park
Fox Spring Park is a neighborhood park with a lovely pond with ducks and a sidewalk.
The park has a shaded picnic area, a playground for kids and toddlers, and an open field for sporting activities.
Besides having many play amenities, Fox Spring Pari has exercise machines, a pavilion, an artificial lake, and paved concrete that loops around parts of the park.
This well-maintained park is fenced-in, making it safe for little kids. Dogs are allowed at Fox Springs Park.
Address: Spring, TX 77386, United States
10. Spring Creek Greenway
This attraction is a 10-foot expansive paved hike extending over 40 miles of green space through the forest on the south side of Spring Creek.
Spring Creek Greenway offers opportunities for hiking, cycling, jogging, and wildlife viewing through the natural slough sand beaches by the creek or parts of the Piney Woods.
The lush greenery surrounding the area makes it almost impossible to believe you are in a city.
Spring Creek Greenway connects Six Harris County Parks and has many trailheads.
The greenway provides habitats for bald eagles, gray foxes, salamanders, sycamores, bald cypress, and centuries-old palmetto.
Visitors can explore over 19 miles of natural forests and white sandy beaches filled with local wildlife and plant species while kayaking, canoeing, archery, hiking, and biking.
Address: 709 Riley Fuzzell Rd, Spring, TX 77373-2620
11. Collins Park
Collins Park, nestled along cypress creek, features a basketball court, an amphitheater, and five softball fields.
The park has one sand volleyball court, a soccer pitch, a skate park, four baseball courts, and much more.
The park has two incredible playgrounds for kids with play structures to explore and play with
Collin Park also contains nature tracks called Cypresswood Trails that are suitable for biking and open to everyone regardless of age or skill level.
The park is home to stunning picnic areas with restrooms and barbecue grills. It is one of the fun parks in Spring. TX.
Address: Address: 5969 W Rayford Rd, Spring, TX 77389, United States
12. The Cove Park
The Cove Park is a terrific woodland area that is great for a day of relaxation and recreation.
Several activities in the park keep you engaged, including bird watching, fishing, and hiking.
The Park also has a playground and picnic area to enjoy a delicious meal outdoors.
Cove Park is the ideal place to unwind and appreciate nature's beauty if you are searching for serenity.
Cove Park has a fishing pier that is great for casting your line. You can catch catfish, bass, and perch in the park's peaceful water.
The park is a haven for bird watchers. It has a nature trail that curls through the woodlands, providing guests with remarkable views of the local wildlife.
Cove Park also contains a pavilion suitable for hosting a party or small gathering. The pavilion has a charcoal grill and picnic tables.
There are nature trails in the Park, perfect for a quiet and peaceful stroll. The nature trail meanders through the woodlands and provides guests with views of local wildlife.
You are allowed to bring your four-legged friend to cove park, but you must abide by the law of the Park by keeping them on a leash and cleaning up after them.
With such a massive space, you and your pet will have great fun at Cove Park.
Besides admiring the natural surroundings, visitors can partake in various recreational activities at Cove Park, including frisbee, tennis, basketball, and other ball games.
Address:31 Leeward Cove Dr, The Woodlands, TX 77381, United States
13. Lakeside Park
Lakeside Park contains the best of everything.
It has a lovely skateboarding park, well-maintained tennis courts, two amazing playgrounds for smaller kids and toddlers, and a lake.
The tennis courts, basketball courts, and swimming pool provide numerous opportunities for you and your loved ones to come together and unwind.
The Park has many spots that offer water views, with picnic tables nearby, where you can grill hotdogs or burgers while enjoying nature.
With an incredible trail and many things to see and do, Lakeside Park is an amazing place to visit.
Whether you are kayaking, trekking, skateboarding, or taking a stroll, this Park is a top-tier family attraction.
Address: 5001 S Alden Bridge Dr, The Woodlands, TX 77382, United States
14. Waterway Square Park
Waterway Square Park is a one-acre public plaza in The Woodlands, TX, 12 minutes from Spring, TX.
It has extraordinary water features and green spaces that act as the heart of The Woodlands.
The fountain at the park offers a synchronized water movement in tandem with a rotating playlist.
A family-friendly musical selection contributes to the already breathtaking environment of The Woodland Waterway,
Waterway Square Park houses the Waterway Nights Concert series and numerous restaurants with large patios and waterfront views.
Enjoy a meal, drinks, and a fantastic view.
Address: Waterway Square Park The Woodlands, TX 77380, USA
15. George Mitchell Nature Preserve
George Mitchel Nature Preserve is a breathtaking 1,700-acre natural recreation area in Creekside Village.
This preserve has been opened since 2007 to link and safeguard nearly 12,000 acres of forest along Spring Creek.
When you visit George Mitchell Nature Park, carry your camera to view all the native species, such as ticks, velvet ants, snakes, and other critters.
Nestled between neighborhoods and major crossroads are excellent walking trails and a magical creek in George Mitchell Nature Preserve. A stroll here rewards you with gorgeous flora.
In addition to being a great place to unwind and enjoy nature, the park is also perfect for novices to go mountain biking.
There are pointers as you bike through to protect you so you can enjoy the scenic view, and when you feel like taking a break, check out this area's terrific trees that make the scenery stand out.
Address: Flintridge Drive Trailhead, The Woodlands, TX 77381, United States
16. Rothwood Park
This attraction is a 71-acre park that provides access to a 3.2- mile Spring Creek Greenway Segment.
This greenway links and protect numerous acres of forest along Spring Creek.
It also provides access to many recreational activities like hiking, archery, canoeing, and biking.
The Park is undoubtedly perfect for a bike ride or a stroll.
Rothwood Park has a parking lot, restroom, and a caretaker building. It is open every day from 8 am to dusk
Address: 23110 Fox Hunt Dr, Spring, TX 77389, United States
17. Montgomery Country Preserve
This attraction is a preserved park referred to as an ecological oasis since it lies within the center of Montgomery County.
At Montgomery County Preserve, you can escape from the city's noise, bask in the sun's warmth, and relax your mind and body while enjoying a hike on one of its many peaceful trails.
A hike through this park won't consume much time but will offer unrivaled views.
If you do not feel like going on a road trip, hiking through the preserve may be a perfect choice.
It has magnificent views and is an excellent place for anyone searching for a serene place.
Address: 1118 Pruitt Rd, The Woodlands, TX 77380, United States
Also, check out our list of things to do in Abilene, things to do in Bryan, and things to do in Conroe for a fun time in these cities of Illinois.
Plan a Visit to Spring
Spring, TX, provides visitors with plenty of opportunities for a fun time, from parks to natural sites and preserves.
You will not forget your trip to Spring in a hurry because it will offer unforgettable memories that will please you whenever you reminisce about your adventures.