Boone is the county seat of Watauga County, North Carolina, US. The town's population after the 2021 census was 18,036.
The town is a slice of Blue Ridge Mountain, filled with outdoor activities and other attractions.
From challenging mountain sports to parks, scenic spots, and mountain cabins, this town is where leisure seekers and adrenaline lovers visit for the perfect getaway.
From the gorgeous vistas of the Blue Ridge Parkway to the welcoming forest and trout streams of the Blue Ridge Mountains, Boone provides a billion ways to step away from your comfort zone.
Are you planning a visit to Boone? Here are the best parks in Boone, NC.
Best Parks in Boone, NC
1. The Boone Jaycee Park
The Boone Jaycee Park has been a permanent fixture for kids in Boone for generations.
It has different play equipment for kids of all ages, including several climbing areas, a sandbox, two swings, and a play place for toddlers.
It also has a community library with books for all ages. At the back of the park, you will discover a unique tree that has endured many storms.
Visit Boone Jaycee Park and explore the park with your loved ones. It is one of the top parks in Boone, NC, especially for children.
Address: 728 Horn in the W Dr, Boone, NC 28607, United States
2. Howard's Knob Park
Howard's Knob is a mountain and a park in the North Carolina High Country. This attraction is well-known among locals and tourists.
The mountain rises approximately 1,000 feet above Boone and the Appalachian State University, providing scenic, panoramic views of the area below. Howard's Knob has an elevation of 4,396 feet above sea level.
The town's glorious views and the mountain's beauty from its peak spurred the High Country Conservancy and several residents to sign a conservation easement that safeguards the area.
Howard's Knob Park has picnic tables, shelters, parking spaces, and a portable restroom.
After admiring the view of the town from the panoramic vantage point of the park, you can go down the park and explore the town.
Although the drive up to Howard's Knob Park is steep, the views you will enjoy are worth the stress of climbing.
You will not see a better view of the scenic town or the university anywhere else. The park also serves as a backdrop for a flawless photo shoot.
Additionally, it is an excellent place to meditate or enjoy the natural views just for the fun of it. Howard's Knob Park is no doubt one of the top parks in Boone, NC.
Address:604 Howard Knob Rd. Boone, NC 28607, United States
3. The Rocky Knob Mountain Bike Park
The Rocky Knob Mountain Bike Park is run by the Watauga Country Parks and Recreation Department in partnership with the Boone Area Cyclists. The Park is one of the fun parks in Boone, NC.
The 185-acre park offers over 8 miles of exhilarating single-track with different degrees of difficulty. These trails can be accessed by runners and hikers.
Additionally, four skill areas along the trail have features designed to push the skillset of the advanced riders.
These four skills development areas also include the PBJ Trail, featuring different berms, pumps, and jumps.
The Park was developed as a unique park to help riders learn and expand mountain bike skills.
The aged people and kids will also have a fabulous time at Rocky Knob Mountain Bike Park since it has a playground with exercise and play equipment.
Hikers, families, and trail runners can enjoy the trails as well. The Pump Track is another mountain bike feature.
The pump track offers a string of berms and rollers designed to aid riders in learning, practicing, and acing the rudimentary skills of mountain biking.
The top goal is to effortlessly ride over the barriers and "pump" your way around the course without pedaling.
Address: 285 Mountain Bike Wy, Boone, NC 28607, United States
4. Clawson-Burnley Park
Clawson-Burnley Park is situated in the middle of the South Fork of the New River and the Boone Greenway.
Many dispersed picnic tables and two picnic shelters are available at the park.
Clawson-Burnley Park is a perfect area for kids and adults to hang out and enjoy the pleasant scenery of the town.
Besides providing picnic shelters for parties and a pavilion for occasions, the park has an extraordinarily unique feature; the Clawson-Burnley Wetlands.
All the rainwater from the park is filtered via these wetlands through a pipe system.
Runoff from the street, pet waste, parking lots, and baseball fields are filtered through the wetlands. Once the water has been purified, it is released into the South Fork of the New River.
Additionally, the wetlands provide homes for several wetland creatures and plants, which in turn helps sustain the town's natural wildlife.
Address: 355 M.L.K. Jr. St, Boone, NC 28607, United States
5. Tot Lot
Tot Lot, situated in the Watauga Country Recreation Complex, has modern playground equipment and divided play areas for 2 to 5 and 6 to 11 years olds.
Tot Lot is an excellent park fenced-in with random toys for children to enjoy. Lovely fields and walking trails surround the park.
The Park has a sandbox with many sand toys, six-saddle swings, four infant seats, and two swings for the senior children who require more assistance.
Tot Lot has three slides with separate climbing structures for the younger kids and a track around the park for kids to ride bikes. The older kid's play area features a rock climbing area.
Tot Park is also neat and well-maintained. It is undoubtedly one of the best parks in Boone, NC.
Address: 231-299 Complex Dr, Boone, NC 28607, United States
6. Humane Society Dog Park
Human Society Dog Park is a fenced-in, off-leash dog park that has existed in Boone since 2006.
From sunrise to sunset, your four-legged friend can run free with other dogs, splash in doggie pools and play fetch as long as they want.
Three divided fenced-in areas in the Park create a vast space for large and small dogs.
There are benches at different sections of the park, and you can find some under the trees to provide shade for visitors.
Games such as fetch and frisbee can be played at the park since there is ample space to run about.
The park and the grass are not well-maintained through spring and summer.
Address: Paws Way, Boone, NC 28607, United States
7. Junaluska Park
Junaluska Park is one of the fun parks in Boone, NC. It is an excellent place for visitors of all ages to go and enjoy.
The park contains basketball courts, kids' playground equipment, and open fields to play soccer or picnic.
Junaluska Park also has covered picnic shelters for rainy and sunny days.
You may encounter a deer playing in the woods surrounding this gorgeous park if you are lucky enough.
Address: 135 Bear Trail, Boone, NC 28607, United States
8. Jimmy Smith Park
Jimmy Smith Park is the smallest park in Boone, NC. It was dedicated in 2005.
The Park commemorates the work and legacy of Jimmy Smith, a Boone Town Council member and Appalachian State University Professor.
He was popular in the community and across North Carolina for his work at the university.
The park features three benches, three rocks, and a copper visage.
As a Town Council member, Smith was a vital part of creating Boone's state-of-the-art wastewater treatment plant, previously known as the Jimmy Smith Wastewater Treatment Plant.
The plant has received engineering excellence awards from the American Council of Engineering Companies of North Carolina.
The Jimmy Smith 'Maranon' and Street Party takes place at Jimmy Smith Park every year.
The peaceful atmosphere that Jimmy Smith Park offers is incredible. You will be glad that you visited.
Address: 884 Rivers St, Boone, NC 28607, United States
Are you planning an exploration of North Carolina, do not miss our list of things to do in Goldsboro, Antique Stores in Boone, and things to do Morehead City for a memorable experience.
9. The Greenway Trail
The Greenway Trail welcomes runners, walkers, cyclists, wheelchairs, and hikers.
The Trail is home to historic ruins, many resting benches, picnic tables, shelters, and interpretive signs.
Two easy loops are suitable for a quick walk, and one has a great flower and birdwatching view.
The Trail may not seem challenging for professional hikes looking for an intense adventure. However, it is ideal for beginner hikers, families, or anybody who wants to sample the charm of the Boone Area.
The Trail, with its three bridges, provides a great barrier-free route through open fields blooming with goldenrod during summer.
Dogs brought to the park must be on a leash and picked up after.
Address: Boone, NC, United States
10. Moses H. Cone Memorial Park
Moses Cone and his brother Caesar founded one of the state's largest textile empires during the late 1800 and early 1900.
Cone designed his estate with a 23-room Colonial Revival mansion Flat Top Manor to serve as a wholesome retreat from the severity of his business empire.
Two artificial lakes, an apple orchard, and 25 miles of carefully planned carriage roads are part of the estate.
The carriage roads are famous for horseback riding, hiking, and cross-country skiing, mainly by Boone and Blowing Rock locals.
Moses H. Cone Memorial Park and the Julian Price Memorial Park contain the largest developed area kept aside for general recreation on the Blue Ridge Parkway.
Visit the Parkway Craft Center open every season at Moses Cone Manor, and view mountain handicraft demonstrations.
Explore the apple farm, family cemetery, carriage, and a vast system of trails.
Visitors can also enjoy cross-country skiing and horseback riding on 25 miles of historic carriage.
Address: Blue Ridge Parkway, Milepost 294, Blowing Rock, NC 28605, United States
11. Grandfather Mountain
Grandfather Mountain is in Blowing Rock, 15 minutes from Boone, NC.
It contains two parts: the nature center overseen by the Grandfather Mountain Stewardship Foundation and State Park.
The State Park houses different wildlife, including bald eagles, river otters, deer, and black bears.
Visitors can bike, hike and drive the winding roads that cross the parks, but there are also many trails for those who wish to get closer to nature.
Throughout the history of Grandfather Mountain, picnicking has been a well-loved hobby for guests looking to create unforgettable memories with their pals and family over a meal outdoors.
The attraction has approximately a dozen picnic areas.
These sites are in some of the mountain's most scenic settings, including the forested Wood Walk area.
It provides platforms that offer surprising views of the surrounding mountains. Some even offer peeks of resident animals in their natural habitat.
Visitors are welcome to bring their meals and use the many charcoal grill at the picnic sites.
Additionally, if you are interested in camping, there is a part of the mountain that you can use.
Address: 2050 Blowing Rock Highway, Linville, NC 28646, United States
12. Thunder Hill Overlook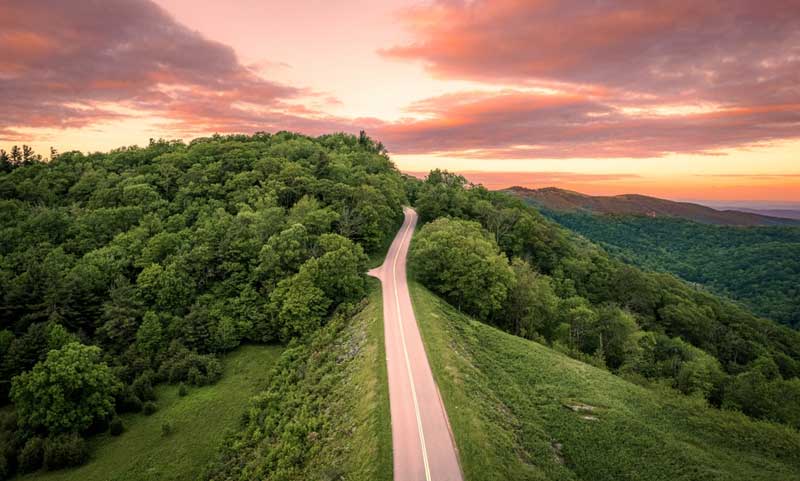 Thunder Hill Overlook is among the famous places to admire the sunrise on the Blue Ridge Parkway.
Locals flock in numbers to the area to view the thunderhead coming in from the south and to see lots of stars at night.
You can even see the Charlotte skyline from this place. The parking area is quite large.
Thunder Hill Overlook is an ideal place to pull off and enjoy some food and a unique view.
The spot also has a paved parking lot which is fantastic for those who want to eat with the roof down or on the tailgate.
Address: Blowing Rock, NC 28605, United States
13. Broyhill Park
Broyhill Park, also called the "Walking Park," is a mystical wonder of nature. It has been meticulously well-themed and well-maintained by the Park's owners.
You can bring your family here for a few quality hours or go on your own to explore and find peace.
Broyhill Park extends over a large area consisting of different types of gardens.
One part is a favorite among guests due to its alternate colored trees, including orange trees or trees with blossoming pink flowers.
The Park also has a lake where you can sit and admire the scenic sunset. There are beautifully decorated pathways that you can use for hiking.
You can also go boating or fishing, have a lovely picnic by the garden, or read a book while sitting on the rustic benches.
There is a gorgeous pavilion on the Lake's banks, where you can enjoy the waterside views
A quick visit to Broyhill Park during your stay in Boone is a must.
Address: 173 Lakeside Dr, Blowing Rock, NC 28605, United States
14. Julian Price Memorial Park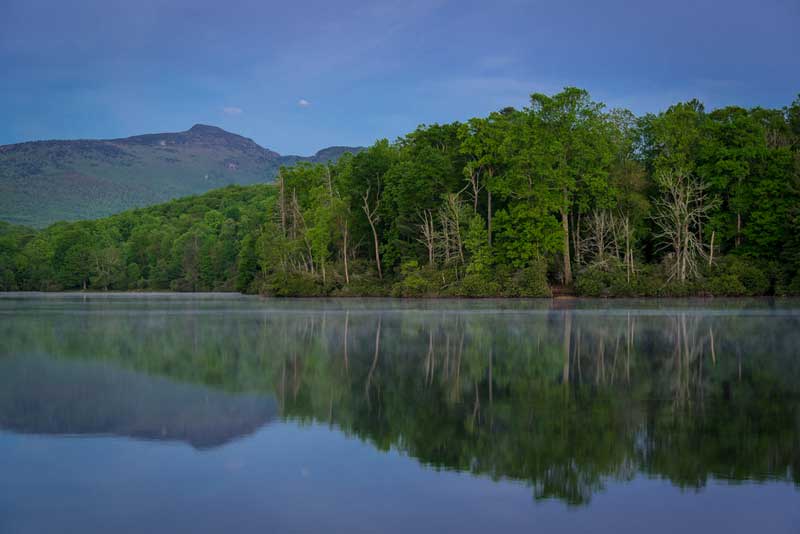 Julian Price Memorial Park is named after its old owner, Julian Price, an insurance giant.
Julian purchased the 4,200 acres as a recreational retreat for his staff. After he died in 1946, his children donated the land to the parkway as a memorial.
The Park is now a famous parkway destination with several opportunities to fish, hike, camp, canoe, and picnic.
Guests can enjoy 47 acres of Price Lake in the Park in many ways, such as fishing, hiking around the edge, canoeing, and driving across the dam.
The Lake is open to fishing to everyone as long as you have an accurate Virginia or North Carolina fishing license.
The Park also had 197-site campgrounds to spend the night under the stars.
Additionally, you can enjoy a picnic at the Park's 100-site picnic area.
The picnic area is open throughout the year, but the restrooms are closed in winter.
Address: Milepost, 297 Blue Rdg Pkwy, Blowing Rock, NC 28605, United States
15. Bass Lake
Bass Lake is regarded as a must-visit attraction for photographers across the state because of the different views of nature it provides.
A walking tour of the whole area would require three to four hours.
A natural park encircles the massive Lake; beyond that, there are deep woods with the finest species of trees.
An almost creepy feeling will encircle you as you stand quietly or stroll through the richly colored rainbow path of olive, green, honey, mustard, and crimson leaves.
Animal-watching and fishing are some activities to engage in when visiting Bass Lake.
Address: Bass Lake Loop Drive, Blowing Rock, NC 28605, United States
Explore more fun things to do in North Carolina, check out our list of things to do in Manteo, and things to do in Oak Island for a fun North Carolina trip.
Plan a Trip to Boone
Boone is a famous vacation spot for tourists and locals. Its scenic parks, surrounding mountains, and fishing spots are a few reasons why millions of people visit this area throughout the year.
Boone is undoubtedly a town with a lot to offer. This town will not let down the inner adventurer and traveler in you.
Make sure to add a visit to all these parks to your itinerary of fun things to do in Boone, NC.