Petaluma is a city in Sonoma County, California. It is situated in the North Bay region of the San Francisco Bay Area.
Petaluma is well-known for its busy downtown area dotted with wineries, artisan cheese shops, Victorian architecture, and food trucks.
Whether searching for an adventure-filled shopping day trip or a relaxing weekend getaway, Petaluma has something for everyone.
The city has numerous antique stores. So you can easily spend a few hours searching for obscure items.
Here are the best antique stores in Petaluma, CA, and neighboring cities.
Best Antique Stores in Petaluma, CA
1. The Petaluma Collective Antique and Military Mall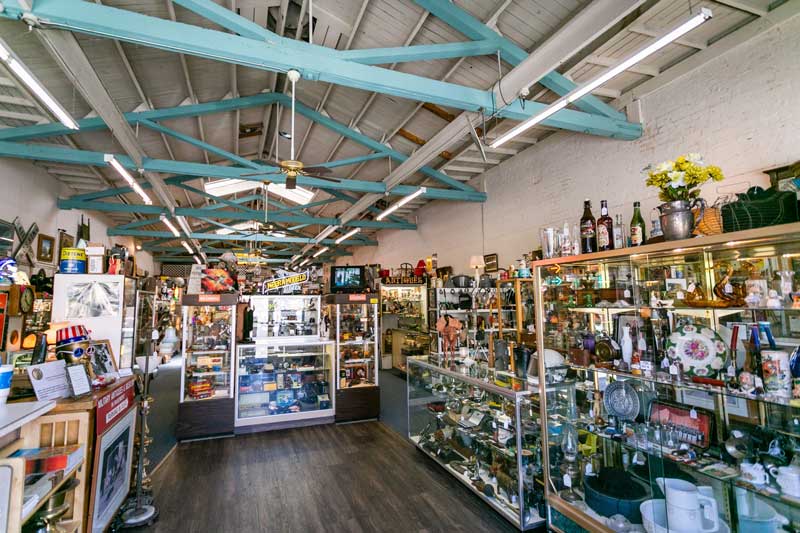 Wally Petersen, the original store owner, began this museum to share history.
When you first look at the Petaluma Collective Antique Mall, it looks like many other antique shops in the area.
However, visitors will discover 4,000 square feet of military antique retail space and unrevealed history when they roam around.
The space has license plates, old signs, gas and oil items, collectible toys, and vintage kitchenware.
Along the back wall, visitors will come across a military museum showcasing uniforms, trench art, home front items, a vintage jeep, and life-size dioramas illustrating war scenes.
Address: 300 Petaluma Blvd N, Petaluma, CA 94952, United States
2. Chelsea Antiques
This antique store located in downtown Petaluma is a well-known and respected establishment that has been dealing in antiques for 31 years.
Chelsea Antiques is one of the best antique stores in Petaluma, CA. It promises unique offerings when you visit.
This antique store offers lighting, furniture, estate jewelry, unusual artifacts, and artworks with more than 25 independent dealers.
You may also discover a collection of old leather baseball mitts, a wire egg basket to brighten your kitchen, a carved paneling for your wine cellar, a Remington typewriter for your office, and more.
Their selection constantly changes, with fresh pieces arriving daily, so you will only find new items when you visit.
Address: 148 Petaluma Blvd N, Petaluma, CA 94952, United States
3. Sienna Antique Store
Sienna Antique Store offers exceptional home furnishings ranging from modern items to 300-year-old antiques.
This 14,000 square feet of antique store frequently draws many visitors and clients from far and wide.
Prepare to be amazed by the different antique items you will find here. Items include elegant chandeliers, unique sculptures, figures, beautiful tables, paintings, furniture, metal, glass, and wood.
Their antiques are authentic, and their prices are pretty competitive.
Several items sold at Sienna Antiques are of museum quality, more than a hundred years, and have historical significance.
Their prices, special sale events, and selection keep people returning frequently.
All the dealers at Sienna Antiques take pride in their collections and displays.
The spaces at this antique mall are curated to provide a feeling of adventure for visitors who troop in.
Even if you want to wander and browse without buying anything, you are permitted.
The staff at Sienna Antique are always ready to help you with anything you need.
Address: 119 Petaluma Blvd N, Petaluma, CA 94952, United States
4. Woodchuck
Woodchuck specializes in different types of lighting from the 1870s to 1920. The owner, Chuck, is gifted, and his inventory is remarkable.
Their inventory includes a great selection of period antiques lighting in styles like art nouveau and art deco.
Woodchuck also has a selection of bronze sculptures from the mid-1800s to the 20th century, which include neoclassical, art nouveau, and a lovely selection of Vienna bronzes.
Woodchuck's furniture dates from the late 19th century to the early 20th century and often includes bookcases, library tables, desks, pedestals, and file cabinets.
If you love antique lighting or sculpture, this place is a must.
Address: 148 Petaluma Blvd N, Petaluma, CA 94952, United States
5. Annual Fall Antique Faire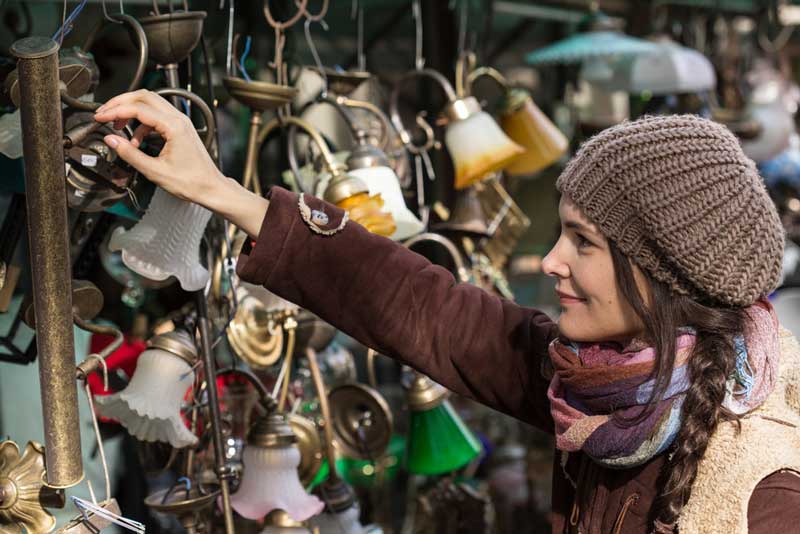 The Annual Fall Antique Faire is a shopper's paradise.
The Iron-front buildings and architectural treasures of the late 19th century provide a perfect backdrop for over 200 antique dealers.
The dealers sell antiquities of all types at the Fall Antique Faire organized by the Petaluma Downtown Association.
Guests will find an unrivaled selection of budget-friendly antiques amid the breathtaking historic buildings, unique stores, and remarkable restaurants and cafes.
From postcards and campaign buttons to heirloom artworks and armories, there is something here for everyone.
The show features a variety of linens, estate jewelry, furniture, art, vintage décor, kitchenware, book, and other unique collectibles.
The Annual Fall Antique Faire draws over 8,000 collectors and first-time buyers who want to collect and invest in authentic antiques.
While exploring the captivating array of antiques, refuel and refresh at a café or restaurant downtown before setting off for another round of treasure hunting.
Address: 10-50 Western Ave, Petaluma, CA 94952, United States
6. Petaluma Estate Jewelers
Petaluma Estate Jewelers was established in 2000 and has been an important vintage jewelry store since then.
Since the owners opened their doors, they have gained a reputation for being welcoming, affordable, and approachable, which keeps patrons coming back often.
Petaluma Estate Jewelers boasts a large selection of stunning jewelry. Visit this antique jewelry store and marvel at the beautifully designed engagement rings.
Petaluma Estate Jewelers also offers many jewelry refurbishing and repair services for men and women.
There is a lot to love about their selection of goods and accessories.
Additionally, Petaluma Estate Jewelers sells gold, jewelry, coins, and watches at their coin shop.
Their workers can help you with what you want and offer helpful advice if you have a problem picking a specific jewelry piece.
Regardless of the type of jewelry you are searching for, you will certainly find it at Petaluma Estate Jewelers.
Address: 119a Kentucky St, Petaluma, CA 94952, United States
7. The Find
The Find is a collective home furnishing and consignment store featuring retro, current, vintage, classic, and contemporary furniture and home décor.
The Find offers everything in a gently used state. It also features mid-century modern items, gifts, local arts, French country décor, and more.
The Find's inventory changes daily; therefore, the store's look transforms as well.
Address: 322 Western Ave, Petaluma, CA 94952, United States
8. French Salvage Antiques in Petaluma
French Salvage Antiques, a 2,300 square feet store, opened its doors on May 27th, 2016. It is one of the top antique stores in Petaluma, CA.
This antique store is a highly curated collection of pied de terre, French Flea Market, and Loire Valley estate finds.
What makes this store extraordinary is the quality and variety of the items obtained from France and the creative vignettes.
The perfect taste and distinguishing eye of the owner, Laura Viola MacDuff, saturates every item and space of the store.
What will strike you is the outstanding exhibit and juxtaposition of casual, tailored, rustic, ragged, beautiful, elegant, sophisticated, and romantic finds.
Every display in French Salvage Antiques is a unique and inspiring experience.
Other antique items at the store include a carved 1600s garden gate, a silver and linen shaded lamp ideal for a cocktail cart, two mohair slipper chairs, and French watering cans.
Laura MacDuff is the proprietor of French Salvage Antiques. She is a resident of San Francisco with a house in Saumur in Western France, which she occasionally visits to source unique pieces for the store.
While many of the items from the shop are from the less popular flea market outside of Paris, there is also a diverse range of unique and grand pieces from appointed penthouse flats and world-famous hotels.
Visiting French Salvage Antique is more than just a shopping outing. It is a chance to share in the keenness and passion of the owner and to be motivated by her ability to bring beauty into the homes and lives of people.
French Salvage Antique opens on Fridays and weekends from 10:30 am to 5:30 pm and by appointment
Address: 307 Bodega Avenue, Petaluma, CA, United States
Want to check out other places in California? Here are guides on things to do in Guerneville, and things to do in Calistoga for fun exploration.
9. Green Fish Trading
For more than 12 years, Green Fish Trading has been importing top-notch antiques and collectibles.
Japanese cabinets, storage chests, and Tansu have been their specialty.
These exquisite chests and folk art accessories decorate northern California houses.
The proprietor, Frank Masterson, often spends a lot of time taking trips to Japan to search for unique treasures.
All the items at Green Fish Trading are hand-picked with passion. Green Fish Trading also has splendid handmade Tibetan Carpets from Inner Asia.
There are also ageless classic rugs infused with sharp colors influenced by ancient Tibetan symbols and motifs. These rugs are woven in Tibet by Tibetan people.
Green Fish Trading is an oasis of peacefulness and good taste, exciting music, the scent of fine Japanese incense, and authentic, warm hospitality. It offers you a fantastic shopping and cultural experience.
Green Fish Trading is in Santa Rosa, 24 minutes from Petaluma.
Address: 204 Wilson St, Santa Rosa, CA 95401, United States
10. Thrift Hippy Thrift Store
The Thrifty Hippy is not your usual second-hand store. What makes this store outstanding is its welcoming and cheerful atmosphere.
The owner has a discerning eye for merchandising. The place feels like a mixture of hip clothing, trinkets, and furniture store.
Another extraordinary aspect of the store is offering free children's clothing. They have a room full of kids' clothes and merchandise for anyone who can use it.
The Thrifty Happy is filled with books, bric-a-brac, clothing, tapestries, music, and furniture. Additionally, the shop carries jewelry from local artists.
The Thrifty Hippy opens Tuesday to Thursday from 11 am to 7 pm and Friday to Sunday from 11 am to 8 pm.
Address: 218 Petaluma Blvd N, Petaluma, CA 94952, United States
11. Summer Cottage Antiques
Summer Cottage Antique opened in 2001. Here, you will discover a healthy combination of vintage California items and more contemporary pieces.
This store, created and run by Interior genius Michelle McCauley, is a haven for simple shoppers and sharp-eyed collectors.
No matter what you like, whether cottage, rustic, or romantic, you will surely find something to complement your home and lifestyle.
Summer Cottage Antique is a fabulous place to find lovely gifts, unique vintage, antique-style accessories, and décor to brighten your home.
Summer Cottage can assist if you want to go bold and big with a grand chandelier and stunning picture frames.
If you prefer more casual decorative things like Corningware or candles, they will still help you.
Address: 153 Kentucky St., Petaluma, CA, United States
12. Olde Towne Jewelers
Olde Towne Jewelers contains the county's most extensive and stunning collection of fine Antique and Estate Jewelry.
Their products include antique and modern diamond engagement rings, used wrist and pocket watches, cocktail rings, wedding bands, and pre-owned jewelry from the Victorian Art Nouveau, Art Deco, Retro, Edwardian Mid-Century, Retro, and Modern eras.
When you enter this shop, you will feel like you have walked into a museum of rare and unique items.
Olde Towne Jewelers also produces jewelers. Their diamond brokers can aid you with building a customized piece of your dreams by utilizing the most recent CAD/ CAM technology.
With a skilled watchmaker on-site, they often serve as the go-to for watch repair. They can offer you everything from an easy battery change to a complete restoration of your timepiece.
Address: 125 4th St, Santa Rosa, CA 95401, United States
13. Whistlestop Antiques
Whistlestop Antiques is a colorful and well-stuck antique and collectible store situated in the Historic Railroad Square shopping district of Santa Rosa.
This antique business was established in 1973 and, for years, has been a favored stop for residents and visitors.
The brick walls of this antique building, constructed around 1910 after the 1906 earthquake, are an ideal backdrop for different antiques and collectibles.
The store features country pieces, art, pottery, china and glassware, estate and costume jewelry, waxes and polishes, and books.
With 10,000 sq ft of collectibles and antiques and 36 gifted antique dealers, you will undoubtedly find the perfect item you seek.
You might also discover snowshoes, vintage postcards, or vintage toys.
Visit Whistlestop Antiques and discover why it is frequently voted "Best Antique Store" in Sonoma County by North Bay Bohemian readers and the Press Democrat's Reader Choice Award.
Whistlestop Antiques opens daily from 11 am to 5 pm but is often closed on major holidays.
Address: 130 4th St, Santa Rosa, CA 95401, United States
14. Hot Couture Vintage
This destination is a locally owned and run vintage clothing shop in Historic Railroad Square in Santa Rosa.
Hot Couture Vintage offers a meticulous selection of quality, excellent-condition jewelry, vintage clothing, and accessories that are over 30 years.
They also have a full costume rental if you need a costume for an event.
If you want to put on something shiny to a dinner or a date, you can rent accessorized period costumes such as a Victorian gown.
Aside from having quality goods, the prices are pocket friendly. The staff and the owner are polite and friendly.
If you are around the area, and even if you are not, ensure to drop by and explore this amazing shop.
Hot Couture Vintage is open from 10 am to 6 pm, Mondays to Saturdays, and 11 am to 5 pm on Sundays.
Address: 101 3rd St, Santa Rosa, CA 95401, United States
15. Antique Society
Prop artists, designers, set directors, and collectors frequent the Antique Society.
Antique Society is among the largest antique stores in the West and has offered friendly, organized, and adventurous shopping for more than 27 years.
About 125 resourceful dealers offer museum-quality heirlooms ranging from primitive to mid-century, contemporary and more.
The shop is dog-friendly and wheelchair accessible, with expansive, well-lit aisles.
The Society Café on the premises offers home-style sustenance and a delicious selection of pastries.
Spend a few hours or an entire day at this unforgettable store. It is open seven days a week from 10 am to 5 pm.
Antique Society is in Sebastopol, 30 minutes from Petaluma.
Address: 2661 Gravenstein Hwy S, Sebastopol, CA 95472, United States
Check out our list of things to do in Inglewood, things to do in Cayucos, and things to do in Culver City, for a fun vacation in California.
Plan a Trip to Petaluma, CA
If you love shopping for antiques, Petaluma is a city you should visit and explore.
In Petaluma, you will discover collections of lovely treasures, from vintage clothes to jewelry, mid-century furniture, Japanese rugs, and heirlooms.
Whether searching for the ideal vintage item for your home or a unique gift a family member will love, you will have a fantastic time shopping in Petaluma antique stores.
So what are you waiting for? Pack that bag and get on the plane to Petaluma!