Playa del Carmen is a resort town along the Caribbean sea in Quintana Roo, Mexico.
This area is popular for its white sand beaches, coral reefs, blue turquoise water, and surrounding rainforests.
The weather is hot throughout the year, with the summer and winter being the popular season for tourism.
There are many things to do in Playa del Carmen and its environs for adventure and nature lovers, from ATV tours to birdwatching and ziplining through the Mayan wilderness at adventure parks.
Do you want an adrenaline-pumping experience in Playa del Carmen? Here are the top ziplines in Playa del Carmen, Mexico, and neighboring towns.
Ziplines in Playa del Carmen, Mexico
1. Adventura Mayas
Adventure Mayas is a company that will ensure you enjoy your holiday to the fullest. It offers many fun activities that will leave you with unforgettable memories of Riveria Maya.
Put on your helmet and hold on tightly because the ATVs Xtreme Ziplines Tour at Adventuras Mayas can be intense.
Their fleet of Can-Am 450 Outlander Max XT ATVS is among the most formidable in the Riviera Maya, providing you with unimaginable speed and control.
Since safety is their priority, their professional guides will give you thorough instructions to ensure a secure and exciting tour.
Adventura Mayas' trails were designed for ultimate fun. So you'll enjoy racing down the tracks through the flora of the Riviera Maya Jungle.
Step away from your comfort zone on their Riveria Maya Zipline circuit with five styles to pick from, gliding over the treetops and viewing the world in a new light.
After you have worked up a sweat, refresh your body and mind with a snorkel and a swim in an extraordinary underground river.
Adventura Mayas's ATV Xtreme Ziplines Tour includes a delicious buffet lunch with non-alcoholic beverages. You are also provided with kits and guidance that you will need for your ideal adventure.
Adventure Mayas undoubtedly offers one of the most incredible and fun ziplines in Playa del Carmen.
Address: Carretera Federal Playa del Carmen-Tulum km. 2.5 Ejido Sur, 77712 Playa del Carmen, Q.R., Mexico
2. Xplor Adventure Park
Xplor Adventure Park offers one of the best ziplines in Playa del Carmen. It is among the world's most visited adventure parks.
The Park has two zipline circuits that will take you flying through the jungle and end with water landings. There's a total of 14 ziplines, so there's something for everyone.
Your entrance to this extraordinary adventure includes transportation in a fully furnished coach to make it easier to get to the park. A staff onboard will fill you in on all the fantastic attractions that await you.
The park features ziplines, rafts, swimming inside underground rivers, and amphibious vehicles. These features are enjoyed outdoors, delivering a fun-filled adventure in a natural environment.
When you are hungry, you can stop at the EI Troglodita restaurant, where you will discover the perfect blend of fresh, top-quality food and drinks.
Address: Carretera Chetumal, Puerto Juarez Km 282, 77710 Playa del Carmen, Q.R., Mexico
3. Xavage Adventure Park
Xavage Adventure Park offers a fun day to clamber through hanging challenges on a rope course. It is in Cancun, 1 hour from Playa del Carmen.
The first rope course here is ideal for those just beginning to discover the wondrous world of adventure. Obstacles at this level are more stable and less complicated to get through.
It's a fabulous way to build your confidence in trying new stuff at this park.
The next level is 46 ft, and although the obstacles are still simple and stable, you may still find some more difficult than others.
On the third level, you will see that the obstacles are becoming less stable, reaching 82 feet, therefore becoming an authentic challenge
On the fourth level, you will discover the most authentic and creative obstacle, including a hanging bike.
The challenge is undoubtedly more formidable, but the view will compensate for all the trouble.
After you finish this level and ring the adventure bell, you will glow with a feeling of satisfaction. This adventure will test your strength, balance, and skill.
Other adrenaline-pumping activities at this park include white-water rafting, rope courses, high-speed jet boat, intense rope courses, and monster trucks.
Address: Xavage se encuentra en Cancún, sobre la carretera Chetumal – Puerto Juárez, km 338, en el municipio de Benito Juárez, Quintana Roo. Cancún, Quintana Roo., Cancun 77500 Mexico
4. Cento Zapote Ecopark
This gorgeous Riveria Maya zipline is the one at Cenote Zapote Ecopark. It is in Puerto Morelos, 31 minutes from Playa del Carmen.
At this park, you can swim in the freshwater of 4 beautiful outdoor cenotes and an underground cenote with a makeshift overwater zipline where you can jump into the water.
The different amenities here include zipline circuits to soar above the trees, bike trails, jumping platforms to the gorgeous bike trails, and a fun ATV ride surrounded by plenty of greenery.
The zipline circuit is naturally hugged with resting platforms around tea trunks.
Cento Zapote Ecopark is perfect for those searching for a more natural experience. The park's guides are certified, and their top-notch service is recognized worldwide.
Address: Ruta de los cenotes km 19 más 5.5 km entrada al parque Puerto Morelos, 77580 Puerto Morelos, Q.R., Mexico
5. Native Park Playa Del Carmen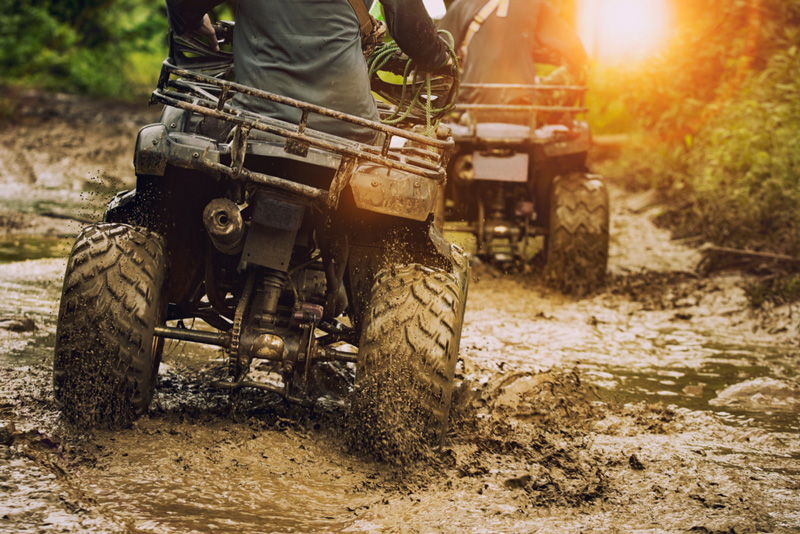 Native Park Playa Del Carmen offers a Riveria Maya ATV and zipline adventure to keep your adrenaline pumping and your heart racing. It offers one of the best ziplines in Playa del Carmen.
The Riveria Maya jungle was designed for extreme adventures, the ideal setting of lush doors and beautiful local fauna.
Test your driving skills with a quick ride down the jungle trail on a mighty Riveria Maya ATV adventure.
Fly over treetops, feel the wind on your skin on a fun zipline, and then restore your mind with a swim at a cenote.
Finally, enjoy a detectable lunch of original Mexican meals to complete your day.
Address: Km 285, Carr. Cancún – Tulum, Ejido Sur, 77712 Playa del Carmen, Q.R., Mexico
6. Xplor Fuego
Xplor Fuego is the only nighttime adventure in Cancun and Riveria Maya. The natural park begins when the sunset starts, allowing you to experience a night filled with unforgettable moments and emotions.
Watch the gorgeous view from the top of the trees illuminated by the stars while you soar in this nighttime zipline.
The park is illuminated with torches and bonfires and accented with orange and red hues to add an enigmatic fiery element.
You will have fun ziplining under the stars and flying through an outer fire ring. It offers one of the best ziplines in Playa del Carmen.
Xplor Fuego is an excellent option if you are searching for a unique nighttime adventure.
Address: Carretera Chetumal, Puerto Juarez Km 282, 77710 Playa del Carmen, Q.R., Mexico
7. Extreme Adventure Cancun
Extreme Adventure is an ecological park in Puerto Morelos, 31 minutes from Playa del Carmen.
They have been providing secure family fun since 2008, offering guides in Zipline, Cento, ATV, and snorkeling trips.
Extreme Adventure Cancun offers a four-wheeling adventure inside the jungle and a horseback ride through the Mayan wilderness.
Also, you can zipline through the treetops and complete the day with a refreshing swim at a Mayan Cenote.
Keep your adrenaline pumping by zipping through trees and challenging your balance on three interactive bridges and five ziplines.
When you return to the base, enjoy a pork taco before returning to your hotel.
Address: QROO, Leona Vicario KM 19.1, Ruta de los Cenotes, 77580 Puerto Morelos, Q.R., Mexico
8. Aktun Chen Park
Aktun Chen is a Mayan word meaning "a natural well inside a cave." This park is 55 minutes from Playa del Carmen.
Aktun Chen Park takes you into the forest's heart, from soaring through the foliage to snorkeling in the underwater tunnels.
You will soar through the canopy 25 feet above the ground with kits catering to children and adults.
Professional instructors will coach beginners through the process so they can enjoy the thrilling ride.
Restore yourself and experience the magic of swimming in a crystal-clear water sinkhole inside a cave of over five million years.
The Park also has a wildlife zoo in a 7.4 acres area where you can view faunas and local flora.
Come and enjoy this adventure, glide through trees, swim in a cenote, and explore the caves in Aktun Chen Park
Address: Carr. Cancún – Tulum Km 107, 77780 Akumal, Q.R., Mexico
Are you planning a road trip to Mexico? here is a guide on things to do in Acapulco, and fun things to do in Mazatlan for a memorable
9. Selvatica
Selvatica adventures, often seen as one of the top outdoor activities in Cancun, allows visitors to switch their beach routines with off-road tours, ziplines, cenote dives, and much more.
Selvatica provides an ideal action-packed day trip and offers suitable and customizable options for the entire family. It is among Rivera Maya's most famous extreme zipline adventures.
Selvatica Extreme Zipline Tours has been named one of the "35 Greatest Adventures in the World by Travel + Leisure Magazine."
This zipline tour appeals to anyone searching for an adrenaline-pumping experience.
Envisage sliding through 2 miles of natural Yucatan jungle, dashing from one tree platform to another on ultra cables.
Envision feeling the wind in your face and a liberating sensation of excitement and freedom as you zip around.
You can be guaranteed that the entire Selvatica Zipline Tours meets International safety standards. This zipline tour is also suitable for children as young as three years.
After partaking in the zipline adventure, more surprises await you; an exciting ATV ride through the Yucatan jungle to a hidden cenote.
When you get there, you can either stroll, dive, or zipline into the refreshing cenote.
An additional perk of the day trip at Selvatica Zipline Park is a mouth-watering free lunch when you are done.
Address: Ruta de los cenotes Km 18 Carretera, Quintana Roo Puerto Morelos – Leona Vicario, Sin Colonia, 77580 Puerto Morelos, Q.R., Mexico
10. Maya's Adrenaline
The Maya's Adrenaline is not a park but an adventure in the deep jungle with tours offering nature, fun, and culture.
The Maya Adrenaline excursion includes a circuit of 4 ziplines, including the fastest and longest zipline on the Riviera Maya, known as the "Evolution" Zipline.
You can also enjoy swimming, a wall of rappelling, and exploration in the cave cenote.
The Maya's Adrenaline also provides the opportunity to experience an authentic Mayan ceremony.
Food, beverages, and transportation are also included in this excursion.
Address: Carr. Tulum – Cancún km 240, 77780 Tulum, Q.R., Mexico
11. Edventure Tours
Edventure Tours is a Mexican family-owned and operated business that has been in the Riviera Maya area for over 35 years. Edventure Tours is in Tulum, 55 minutes from Playa del Carmen.
Edventure Tours is a small company with local guides showing you the best places and days, offering the best services.
From the ruins of ancient Maya to the clear turquoise water of the Caribbean and many more, there is so much to do here.
Snorkeling, ziplining, and Jungle ATV ride are some of the best services that this tour company offers.
Zipline deep in the wilderness with connecting hanging bridges, cliff jump, rock climb, and rappel.
Address: PLAZA, TULUM RUINS, LOCAL #5, 77780 Tulum, Q.R., Mexico
12. Dos Ojos Cenote
Dos Ojos is a beautiful natural sinkhole near Tulum, Mexico. It is popular for its crystal-clear waters and link to the Sac Actun Cave System.
The name "Dos Ojos" means Two Eyes and refers to the two round opening in the surface of the cenote that permits light to penetrate the dark interior.
One of the eyes houses a bat carven, adding a layer of fascination to this unique destination.
This attraction's water clarity and temperature are among the best in the Yucatán Peninsula, making it a trendy destination for snorkelers and divers.
You can swim in the refreshing waters, explore the cave system or enjoy the breathtaking beauty of this ecosystem.
Although the zipline at Dos Ojos Cenote is not long, it is safe for you and your kids to have fun.
The link to the larger Sac Actun system, one of the world's most extensive underwater cave systems, makes this attraction a must-visit destination for anybody searching for an incredible experience.
There are impressive food stands and shops close to the cenote entrance for people who might want to buy some things.
However, make sure you bring cash because they don't accept cards.
Address: Cenote Jaguar Rd, 77780 Tulum, Q.R., Mexico
13. Boca Del Puma
Boca Del Puma is an ecological reserve offering tours, history, and culture while safeguarding wildfire and trees in the jungle.
This reserve is the pioneer of the tour of ziplines, cenote swimming in the Cancun area, and the Riviera Maya and ATVs.
Enjoy seven fantastic ziplines and get your adrenaline pumping as you fly over the canopy of the trees of the Mayan jungle, well-known for its magnificent flora and fauna.
Swim in the crystal-clear waters of one of the most stunning Mayan Cenotes.
Boca del Puma EcoPark is not a place you should miss when you visit Playa del Carmen.
Address:KM 16 Ruta de los Cenotes, 77580 Puerto Morelos, Q.R., Mexico
14. Cenote Zacil-HA
Cenote Zacil-Ha is a natural pool with pristine and clear waters. You should not miss this amazing open-air cenote if you visit Playa del Carmen.
This glorious cenote with its crystal blue waters is a beautiful sight to behold in Riviera Maya.
Zacil-Ha is a restorative sinkhole that can assist you In cooling off on hot days, especially after exploring the Mayan Ruins.
One of the most fantastic things is the zipline above the cenote. If you feel bold, you can zipline to the center and jump into the cenote.
If you want to swim in this cenote, it is compulsory to have a certificate for cavern diving or open water.
There are also other impressive amenities to enjoy with your loved ones.
A visit to Cenote Zacil-Ha will be a memorable experience for you and your family.
Address: Coba km 8, México 180D, 77780 Tulum, Q.R., Mexico
15. Tankah
Enjoy an active tour that provides excitement and exploration of cenotes with the incredible ruins of Tulum.
Go on a guided tour of the archaeological site and learn everything about the Mayan civilization and Tulum from your experienced guide.
Then go to Parque Tankah, where you will zipline over one of the broadest open cenotes, paddle a kayak, see the stunning lagoons, snorkel, ride canoes, cliff jump, and enjoy a delicious local delicacy.
The park is operated by the Mayan Community, who reside on the premise, so you can see how they live and sample their local meals.
The Park is an ideal option if you are searching for a dynamic, active, and fun-filled day.
Address: Carretera Federal 307 Km 233, Tulum 77760, Mexico
Explore other cities in Mexico, check out our list of things to do in Rosarito, and Things to Do in Ensenada.
Plan a Trip to Playa del Carmen
Playa del Carmen is a stunning resort town on the Riviera Maya. It is popular for its adventure tours, ziplines, and ATV rides.
Visitors to the town can enjoy immaculate beaches with crystal-blue waters and sandy shores
You will discover freshwater cenotes for snorkeling, ziplining, swimming, and Mayan-themed eco-adventure parks.