In search of the best and most fun things to do in Salina, KS?
Salina in Kansas is a beautiful city rich in art, culture, history, and natural beauty, creating its unique community identity.
There is something for everyone in this beautiful city, making it a perfect place for a vacation. It has several parks, galleries, theatres, museums, wildlife, festivals, restaurants, among other attractions.
Have an exciting time exploring the city of Salina. Plan to have your vacation here and create amazing memories to cherish. Certain attractions may be temporarily closed or require reservations. Some restaurants are presently offering pickup only.
Here's a list of the best places to visit in Salina, Kansas
Things to Do in Salina, KS
1. Fun at Stiefel Theatre
The Stiefel Theatre, which was initially known as the Fox–Watson Theater, is one of the fun places in Salina, Kansas. This historic theater established in 1931 was on the National Register of Historic Places list in 1988.
This intriguing Theater is worth $400,000 with amazing chandeliers, a sophisticated staircase, and a magnificent gold leaf. The museum offers many live performances throughout the year, such as dance shows, comedies, concerts, plays, orchestra, and many others.
Several top artists have performed in this great theater, such as Emmylou Harris, Goo Goo Dolls, Darius Rucker, Lindsey Buckingham, Sarah McLachlan, Peter Frampton, and more.
The Theater also features a visual arts gallery with rotating exhibits that display several art pieces. There's a spire with lovely lighting, which gives the theater the Ghostbusters building ambiance; this makes it a good site to enjoy in the evening.
The Stiefel Theater is perfect for friends and family to enjoy wonderful evening entertainment. So pick up a ticket and enjoy the shows.
Address: 151 S Santa Fe Ave, Salina, KS 67401-2809, USA
2. Rolling Hills Zoo
One of the top fun things to do in Salina, KS, is spending some time at Rolling Hills Zoo .
The Rolling Hills Zoo in Salina, Kansas, covers almost one hundred acres of prairie in Salina, Kansas, and is composed of two parts; the zoo and wildlife museum.
In the zoo, animals are kept in habitats that resemble their natural habitat and are left to roam free rather than enclosed in cages. The animals are seen through the observation area, which offers an up-close view of the animal.
The zoo is home to many rare and endangered animals, including flamingos, Amur leopards, tigers, greater one-horned and white rhinoceros, ring-tailed lemurs, cotton-top tamarin, golden eagles, wolves, bears, Sumatran orangutan, and much more.
When the weather is not suitable (at extreme temperatures) for visiting animals, visit the wildlife museum. The 64,000 square-foot museum features exhibits relating to the plants and animals from across the world displayed in naturalistic dioramas. The museum houses the Helen L. Graves Hideaway Hollow, an education center with several hands-on exhibits on different wildlife. The museum also possesses a visual arts gallery with rotating exhibits.
Ensure you make reservations online. The destination has Strollers and wheelchairs for rent. Visitors can ride the tram on summer weekends. Pets are not left out as there are Free air-conditioned kennels. Have a fun-filled day at this zoo and museum, and end your day with a delicious meal from the on-site restaurant.
Address: 625 N Hedville Rd, Salina, KS 67401, USA
3. Oakdale Park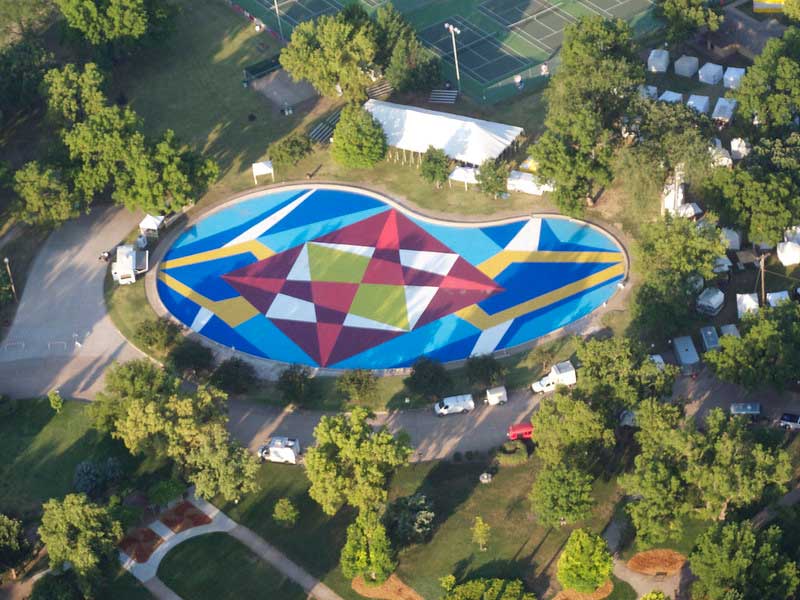 Oakdale Park is a beautiful park with a beautifully trimmed garden with gorgeous flowers, two playgrounds, eight lighted tennis courts, picnic areas with grills, Eric Stein entertainment stage, a pond, dense vegetation, and many other features.
Oakdale Park is the perfect place to take a walk or attend events. It is the venue for some popular events like the Smoky Hill River Festival held every June, vintage car shows held in July, and many others. The park is also visited by many fishermen who come to fish.
Have a relaxing evening walk in the park and enjoy the scenic views of the well-kept garden and lovely surroundings. You and your family can also hold a picnic in this destination characterized by its peaceful ambiance.
One of the top things to do in Salina, KS, with kids is a visit to Oakdale Park. Explore this spectacular park with friends and family!
Address: 730 Oakdale Dr. Salina, KS 67401
4. Webster Conference Center
The remarkable Webster Conference Center in Salina, Kansas, encompasses over 220 acres. This beautiful site is the perfect relaxation spot covered with a serene stream. This destination aims to create a place where people can unwind and rest for a day or more after a stressful day or season.
Aside from relaxation, there are many varying outdoor recreation activities and facilities for visitors to enjoy, whether young or old. These facilities include basketball and volleyball courts, archery ranges, open fields for outdoor games, Frisbee golf, a swimming pool, challenge courses, canoes, paddleboats, nature trails, and more.
The features above make the Webster Conference Center a great place for family, friends, and even organizations to visit when on vacation in Salina, Kansas.
Address: 2601 N Ohio St, Salina, KS 67401, USA
5. Smoky Hill River Festival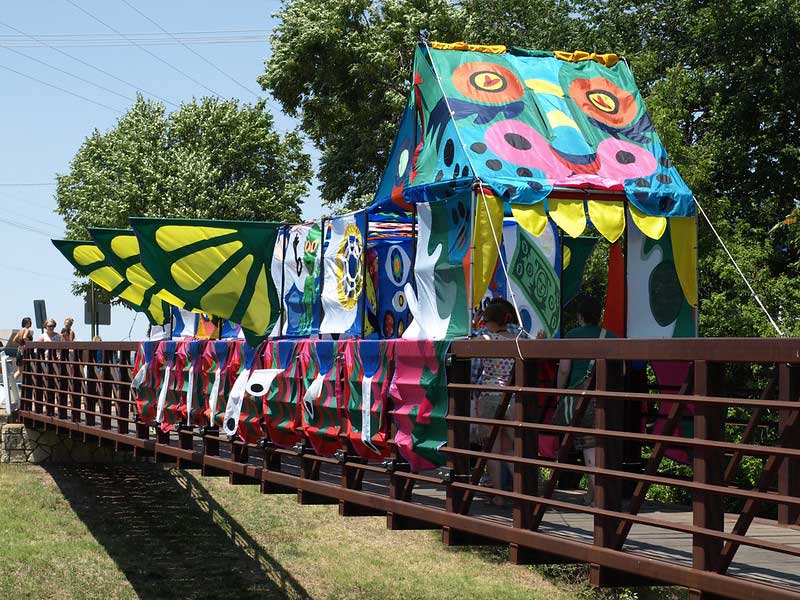 The Smoky Hill River Festival started as far back as 1977. This fascinating Festival is a four-day event held annually in June. It is a major part of the culture of Salina and aims to connect people through the region's creativity.
The Festival features many musical concerts, arts and crafts markets, fine arts shows, dance battles, food stalls, fascinating art installations, interesting games, parties, health runs, treasure hunts, and much more.
The Festival uses four live stages with creative bands, great artists, and fun children's acts. More than 40 groups with different musical styles, genres, and crafts come from worldwide.
There are numerous amazing artistic works by over 135 artists from far and wide for your viewing pleasure. These artworks are affordable, high-quality original artwork, and you also get a chance to interact directly with the artists while you view their work.
The kids are not left out as there is a lively children's area that offers face painting, dance battles, hands-on arts and crafts, Game Legos, Street fun, and more to ignite children's creativity. Wandering performers interact with the visitors, enhancing the amazing festival moments.
Additionally, there is a food row with numerous food stalls which offer any meal you can think of, such as funnel cakes, homemade ice cream, Asian noodles, catfish, Indian tacos, and more. Join the festivities and experience the great local culture of this Salina, Kansas.
Address: 730 Oakdale Park, Salina, KS 67401, USA
6. Hickory Hut Barbecue
Hickory Hut Barbecue is one of the best places in Salina, Kansas. The enterprise, which has existed for over 30 years, is family-owned and operated. Robin and Dale Blake, the owners of this great barbecue restaurant, have been serving some of the best barbecues in Salina and the state of Kansas.
Robin and Dale Blake saw and grabbed the opportunity to open a business serving tasty and quality barbecue in Kansas and have recorded great success, having many loyal customers from across the country.
When you happen to visit Salina, Kansas, and want to have a taste of that mouth-watering barbecue amongst other dishes on their menu, you can see the outstanding Hickory Hut Barbecue from Monday to Saturday.
Address: 1617 W Crawford St, Salina, KS 67401, USA
7. Smoky Hill Museum
Another attraction in Salina, Ks is the Smoky Hill Museum– a famous museum standing since 1985 and pays special attention to the history of Salina and the state of Kansas.
The museum has more than 30,000 artifacts and local memorabilia from several stories of the locality dating back to the 19th century and beyond. The exhibits in the Smoky Hill Museum are made up of permanent exhibit galleries and special exhibitions.
On your way up the museum's front steps, you will see high-relief sculptures on both sides. The museum's exhibits are changed every six months, and the permanent exhibits' artifacts are also changed regularly.
The Smoky Hill Museum offers several activities such as lecture series every first Thursday, museum's street fair, which features live music, historical demonstrations, etc., on the fourth Saturday in September. These activities make the museum enjoyable and captivating for both adults and children.
The museum is free and is open from Tuesday to Saturday. Visit this museum and learn about the interesting history of Salina. Afterward, you'll realize that Salina is a great opportunity to visit, just as it says on an arch hanging at the entrance of the museum.
A visit here will open you to history, definitely one of the top things to do in Salina, KS, for history lovers.
Address: 211 W Iron Ave, Salina, KS 67401, USA
8. Sculpture Tour Salina
Sculpture Tour Salina is a yearly competition where skilled sculptors from across the country compete for $15,000 prize money. About 20 to 30 sculptures are selected and displayed for a year in downtown Salina for visitors to view and buy.
Locals and visitors, young and old, are allowed to tour the sculpture and vote for their favorite sculpture in the People's Choice Award program. There are voting ballots in silver boxes kept at the foot of each statue. You can also get ballots from downtown businesses like boutiques and restaurants.
After the exhibition season, the city of Salina buys the sculpture with the highest votes. The purchased sculpture is left in Salina for the viewing of the public. Anyone interested can also buy sculptures.
So far, over 40 sculptures have been purchased through Sculpture Tour Salina exhibits, which mean there are currently many sculptures for your viewing pleasure.
This makes what to do in Salina, for some exploration, quite a perfect addition to your bucket list of fun things to do in Salina, KS.
Address: 120 W Ash St, Salina, KS 67401-2308
For a fun road trip in Kentucky, do not miss exploring the top attractions and fun activities in Cave City and Lexington.
9. Fossett Plaza
Fossett Plaza, which was opened and dedicated in 2018, is a great sight for flight enthusiasts. It was established to acknowledge Steve Fossett's unprecedented around-the-world, non-stop, solo flight in the global flyer in 2005, 22,936 miles covered in 67 hours without refueling.
The monument, an 8-foot stainless steel globe that stands above the 12,300-foot runway, was created by Bruce and Brent Bitter of B&B Metal Arts of Hoisington, Kansas. The stunning sculpture is a prominent feature in Salina Airport's Fossett Plaza.
The lowermost part of the monument has the entire route of the human-crewed flight written down. Tim Rogers, A.A.E., the executive director for the Salina Airport Authority, said the sculpture is to serve as an inspiration to aviation enthusiasts, both young and old, for years ahead, according to the Salina Airport Authority.
Fossett Plaza is one of the interesting places in Salina, Kansas, especially for aviation enthusiasts.
Address: 2035 Beechcraft Rd, Salina, KS 67401-5008, USA
10. Yesteryear Museum
The 40 years old Yesteryear Museum is one unique attraction in Salina, Kansas, that you shouldn't miss. The museum focuses on the history of agriculture and the early days in Kansas. It displays several historical artifacts and local keepsakes, including agricultural tools, appliances, and equipment from past centuries.
Rather than the usual fixed, protected displays, the exhibits in this museum are displayed openly, giving room for visitors to interact with the presentations by touching them, thus enhancing the appreciation of the art and the educational aspect of history.
The museum also has two buildings of historical significance: an early 20th-century church and a schoolhouse. The museum is the venue for many events, such as tractor and car shows, Christmas celebrations, the fourth of July party, and more.
Visit the Yesteryear museum and check out the intriguing exhibits, definitely one of the fun things to do in Salina, KS. The theater is open to the public from Tuesdays to Saturdays but is based on appointments.
Address: 1100 W Diamond Dr, Salina, KS, 6740, USA
11. The Cozy Inn
Cozy Inn is among the 8 Wonders of Kansas Cuisine, located in Salina, Kansas. This historical hamburger palace started in 1922 and has used the same 100 years old grill since its opening.
The tiny burgers are sold by the sack, but sometimes the hamburgers are unwrapped and just stacked in the Cozy Inn brown paper sack. The Cozy Inn serves all their burgers with onions and without cheese at a very affordable price. The Cozy Inn offers only 90% lean hamburgers, coffee, hot chocolate, soda, potato chips, and Cozy Inn souvenirs.
The small restaurant has just six seats along an old counter coated with clippings of old news about the Cozy Inn. The restaurant always smells like hamburgers and onions, giving it that home-like atmosphere.
Although the Cozy Inn has had a different manager, they still managed to maintain the quality of their burgers; however, they are bigger now. The Cozy Inn is more recognized because of its history than its food.
This restaurant is open every day of the week.
Address: 108 North 7th Street Salina, Kansas 67401, USA
12. KKOA (Kustom Kemps of America) Leadsled Car Show
The KKOA Leadsled car show, which started in 1980, is an annual four-day event held in Oakdale Park in July. This show attracts innumerable classic car enthusiasts. The show features a vintage car show, car races, car auctions, vintage marketplace, dances, and concerts.
KKOA show is one of Salina, Kansas's biggest and most popular events. The show features custom cars, trucks, and hotrods from all over Kansas, the Midwest, and around the United States, even as far as California.
This event is one of the best things to do in Salina, Kansas, continues to evolve, and attracts many visitors to the city, making Salina a more fun place to be.
Address: 730 Oakdale Dr.Salina, KS 67401, USA
13. Salina Community Theatre
This remarkable award-winning theater in Salina, Kansas, was opened in 1961. The Salina Community Theater is regarded as the top regional and local theater in Kansas.
This amazing theatre offers so many comedies, music shows, and dramas by local and regional artists throughout the year in its contemporary theater near downtown Salina.
In addition to offering standard theatrical plays for adults and children, the Salina Community Theater also serves as an educational organization to give adults and children from all backgrounds an opportunity to participate in theatre activities.
Visit this theater as it is one of the best places to visit in Salina, Kansas, and enjoy a spectacular performance by talented artists from Kansas, perfect for your bucket list of unique things to do in Salina, KS.
Address: 303 E Iron Ave, Salina, KS 67401, USA
14. Indian Rock Park
Indian Rock Park is the perfect destination for nature enthusiasts. It is said that the rock marks the battleground of the 1857 Battle of Indian Rock, which is the last significant minor battle between Kansa, Delaware, and Potawatomi Indian nations.
This scenic park is very popular for rock climbing, fishing, and mountain biking. It features a peaceful river, two waterfalls, lush foliage, nature trails, sledding hills, picnic areas, and much more.
The Smoky Hill River meanders through Salina, Kansas's amazing Indian Rock Park. The Smoky Hill River has two waterfalls; the upper and lower Smoky Hill River falls. You can go hiking on the verdant 1.2-mile trail along the river with scenic overlooks.
You can visit this park early in the morning for your workout, watch as the sun rises, and breathe in the clean air. Later in the day, enjoy the sounds of nature and the picturesque view. Organize a lovely picnic by the riverside and relax. During winter, so many visitors come to the park to enjoy sledding.
There is also Indian Rock Lodge which is up for rent for private events. So, do well to add this destination to your itinerary list.
Address: 1500 Gypsum Avenue, Salina, Kansas 67401, USA
15. The Salina Fieldhouse
For sports lovers, one of the fun things to do in Salina, KS, is a match at Salina Fieldhouse,.
The Salina Fieldhouse, another attraction in Salina, Kansas, is a sports facility located in downtown Salina that spans 70,000 square feet. This facility is built for sports and features numerous land areas for different sports such as turf, synthetic, and hardwood.
This destination inspires and fosters a healthy lifestyle through several sports services, programs, and recreational opportunities.
The Fieldhouse has room for every type of group game, such as basketball, softball, soccer, volleyball, baseball, and football. Walkers are also permitted in the Salina Fieldhouse.
The Fieldhouse has adjustable basketball courts, which can be altered to contain volleyball courts and an indoor regulation soccer field. The Fieldhouse also has drop-down batting cages and pitching tunnels.
You can also enjoy dodgeball, kickball, dance, field hockey, among others, in the Salina Fieldhouse. This destination is perfect for sports lovers.
Address: 140 N 5th St, Salina, KS 67401, USA
Also check out our list of things to do in Mount Pleasant, things to do in Spartanburg and cool things to do in Aiken, if you are planning a South Carolina road trip.
16. Salina Art Center
Salina Art center was established in 1978 and is accredited by the American Alliance of Museums. Salina Art Center is composed of the Art Center, Art Center Cinema, and Warehouse, which are located in the center of downtown Salina, Kansas,
The Art Center is a modern visual arts gallery displaying unique and exquisite artistic works by regional, national, and international artists. Have fun while strolling through the galleries featuring the rotating exhibits. Many of the art exhibits are for sale.
Buy a $5 token from the art center and place it in the Art-O-Mat machine; a small art piece will come out. It can be mysterious because you can't predict the art that will come out. The Art Center is open to the public from Wednesday to Sunday based on appointment at no price.
The Warehouse is where you can find artistic works yet to be completed, and it also serves as a professional art studio. You can tour this place by appointment.
The Art Center Cinema is a popular 92-seat venue theatre established in 1997, featuring several indie films, documentaries, and more. Grab a ticket to a show and have an amazing time. The art center is open every day except on Christmas Eve. You don't want to miss this when in Salina, Kansas.
This makes what to do in Salina for art lovers, quite a recommended addition to your bucket list of things to do in Salina, KS, for fun.
Address: 242 S. Santa Fe Ave, Salina, KS 67401
17. Kenwood Cove Aquatic Park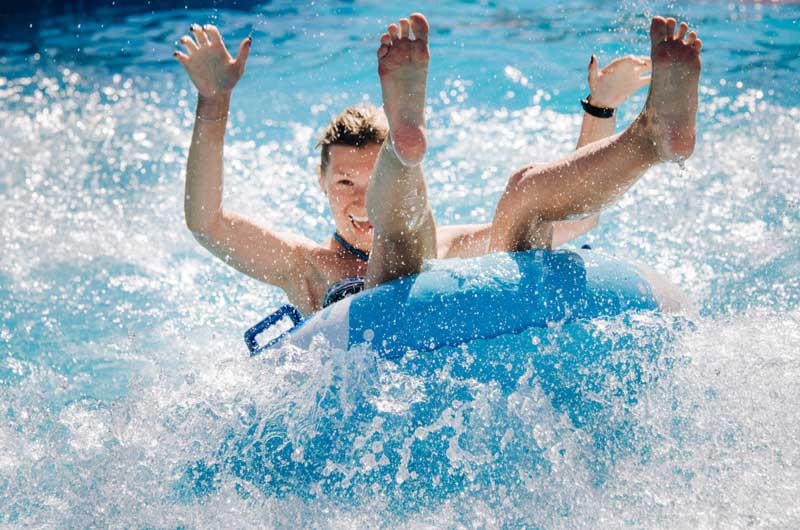 Kenwood Cove Aquatic Park is a famous recreation center that features 1400 feet water slides, a children's play area, multiple pools, and several other fun features for the whole family. The family-friendly, cheap aquatic park possesses a Caribbean-inspired décor, dense leaves, and falling waves for a real island experience.
It is the perfect place to unwind after a stressful day's activities. Have a relieving experience sliding down the tornado slide and playing in the wave pool.
If you don't know how to swim, you don't need to worry because the park offers swimming lessons. The park is accessible every day of the week.
Unwind, soak up the sun, and enjoy your day at Kenwood Cove, one of the best things to do in Salina, KS.
Address: 701 Kenwood Park Dr, Salina, KS 67401
18. Stutzman's
One of the best places in Salina, Kansas, is the Stutzman's, situated on 9th & Cloud in Salina, KS. Ervin and Emma Stutzman founded this destination in April 2007.
Stutzman Greenhouse was born out of Ervin and Emma Stutzman's enthusiasm for growing vegetables and flowers, and it is found under a canopy in the outdoors.
These plants are grown in a nursery until they are transferred to a more stable growing ground or pots. You can buy a wide range of common and rare flowers and vegetables from this destination. You can visit their website for the different available plants.
Stutzman's is the perfect place for your plantings whenever you're in Salina, Kansas.
Address: 1705 S. 9th, Salina, KS, 67401, USA
19. Jerry Ivey Park
This 23.8-acre parkland was acquired in 1974, but construction began in 1978.The park was named after Jerry Ivey, a Salina police officer killed in 1975.
The picturesque park features an enchanting pond, lush foliage, basketball courts, walking paths, picnic shelters, a playground, volleyball sandpit, soccer fields, four lighted tennis courts, a splash park, and many more attractions.
Hike on the trails filled with lush vegetation that cuts across this beautiful park. Have fun playing tennis, soccer, or volleyball, chill in the splash park, drop your kids at the playground, and finish with a lovely picnic by the pond. You can play with the ducks and geese at the pond and feed them.
In 1995 the large gazebo initially in Oakdale Park was transferred to Ivey, and the scenic view makes it great for holding events like weddings, receptions, concerts, etc.
This park is fun to visit in Salina, Kansas, for nature enthusiasts. For fun things to do in Salina, KS, add this to your checklist of places to visit in Salina.
Address: 2465 Edwards, Salina, Kansas, USA
20. Dagney's Ice Cream
Dagney's Ice Cream is a locally owned and operated attraction in Salina, Kansas. They are known for making and serving the best and freshest ice cream using top-quality ingredients. Apart from ice cream, they serve dessert, frozen yogurt, and soft drinks.
This destination has become a popular destination among locals of all ages. Aside from their tasty treats, Dagney's Ice Cream is also known for its remarkable customer service. They also offer takeouts.
Dagney's Ice Cream is perfect for those who want to satisfy their sweet tooth. The ice cream shop is currently open from 12:00 pm to 9:00 pm only on Saturdays. Come and taste the difference!
Address: 105 E Iron Ave, Salina, KS 67401, USA
21. Lakewood Park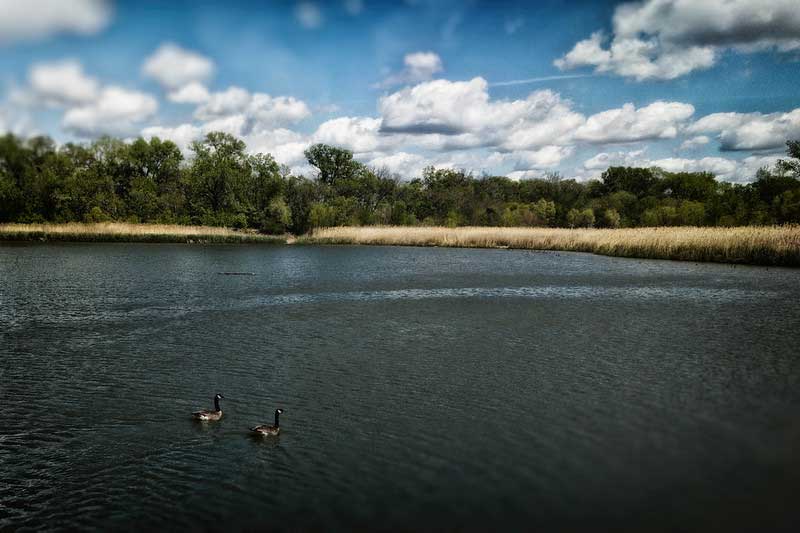 Amongst the top fun things to do in Salina, KS, is spending some time at Lakewood Park.
Lakewood Park is another fun place in Salina, Kansas, especially for nature enthusiasts. This picturesque park has lush vegetation, a prairie, a nature center, beautiful gardens, a peaceful pond, a playground, and many more.
This destination features several fascinating plants and animal exhibits that will make you curious. Many anglers visit the pond in this destination. You can go hiking on the park's trails to explore the park's wide wilderness.
You can see various creatures such as deer, squirrels, beautiful birds, raccoons, and insects in the garden. You can also play a game on the disc golf course. After touring the park, you can relax and have a picnic with your friends and family and enjoy burgers made on the grills amongst other delicious meals in the picnic area.
Address: 1323 E Iron Ave, Salina, KS 67401-3231, USA
22. Tony's Pizza Events Center
Tony's Pizza Events Center, initially called Bicentennial Center, holds several events such as sporting events, concerts, trade shows, family shows, and even conventions.
The center can accommodate over 6,500-visitors in its multipurpose arena. It also has a Heritage hall, an 18,000-square-foot convention center, and meeting rooms.
Tony's Pizza Events Center is home to two champion football leagues- Salina Siren's roller derby and Salina Liberty football team. The center hosts various events like the Salina Home and Leisure Show, the Tri-Rivers Fair, the Mid-America Farm Expo, and Shrine Circus.
This destination is one of the best places in Salina, Kansas. You don't want to miss it!.
Address: 800 The Midway, Salina, KS 67401, USA
23. Salina Downtown
Salina Downtown, located at the center of Salina, Kansas, is a place where you can eat, shop, participate in games and other fun features due to the numerous small business situated in this location. These features align with their vision of "to keep downtown a healthy, vibrant place to live, work and play."
Downtown Salina features many attraction sites, including historic buildings, restaurants, cafes, antique stores, boutiques, bars, art galleries, museums, theatres, hotels, etc. This destination has a friendly ambiance that encourages exploring and having fun.
Every Friday, various entertaining events are held here in Downtown Salina. The events include musical performances, stand-up comedy, and poetry events performed by regional artists. These events aim to encourage and support indigenous artists and local businesses.
An art walk also takes place every first Friday of every month, where marvelous art creations by regional talent are displayed. Have a fascinating evening enjoying the great events and features Salina downtown has to offer.
This is one of the best free things to do in Salina for fun, it's a great way to spend some outdoor time in the area.
Address: 120 West Ash, Salina, KS 67401, USA
24. District Eat & Play
Matt Ibak founded the 26,000 square feet District Eat & Play in the spring of 2018. Salina's branch was established in 2019.
The company's founder imagined building a pleasant environment where families and friends could partake in a unique experience.
District Eat & Play is a collection of entertainment and fun in a single location. It features 75,000 square feet of space and the longest Go kart race track in the Central U. S
The company provides game enthusiasts with a thrilling, adventurous, and exclusive escape room so they can have limitless fun within a short period.
Boutique, bowling, arcade games, HD sports simulation, go-karts, mouth-watering dining, and axe throwing are all available for extra adventure.
You can also buy meals and drinks at the facility's restaurants and bars.
Address: 2259 S 9th St #75 in Central Mall Old Sears, Salina, KS 67401, United States
25. Salina Public Library
Salina Public Library has been serving the city since the 20th century by providing access to information, culture, and knowledge.
This Library is a community space that provides fast and free internet, meeting rooms, gaming, programs, and events.
Salina Public Library has a diverse and extensive collection of materials for visitors to borrow.
The Library features 30,000 cardholders and a yearly circulation of over half a million items.
Salina Public Library has an outstanding children's section downstairs with books about planets and dinosaurs and large tables for art projects.
You will also find many PlayStation 4s and PCs in this Library.
Address: 301 W Elm St, Salina, KS 67401, United States
26. Alley Salina
Another family-friendly destination suitable for locals, families, and kids is the amazing Alley Salina.
Alley Salina is a family-friendly center where families and loved ones can visit for fun.
This indoor entertainment facility has modern bowling lanes, laser tag, black-light bowling, a family-friendly arcade, a hologate virtual reality experience, a bowling pro shop, and AJ's Sports Grill.
Among the best places to visit during your stay in Salina is Alley Salina.
Address: 115 E Ash St, Salina, KS 67401, United States
27. River Woods Nature Area
River Wood Nature Area is a fun natural attraction for the family that lies between Salina Levee Trail and Smoky Hill River.
It is managed by Salina Parks. The Area is best known for its loop trail, which measures 2.6 km.
The Trail is considered a fairly simple route and takes approximately 30 min to complete. It is commonly used for mountain biking and hiking.
This singletrack trail has some fun perks, which include numerous twists and turns, an exciting descent area, and a few short climbs. However, it is rarely crowded.
While exploring this Trail, do not derail from the designated paths, as there is Poison Ivy in the lower regions.
River Woods Nature Area is dog-friendly, but your four-legged friends have to be on a leash. Do not hesitate to check out this attraction.
Address: 21 Red Fox, Salina, KS 67401, United States
Kansas presents breathtaking attractions and activities, explore some of its fun cities, here are guides on things to do In Lawrence , Dodge City, Topeka, and Overland Park.
Plan your Trip to Salina, KS
Despite its small size, Salina, Kansas, is rich in historical features, recreational activities, and much more. You don't want to miss the attractions in this city, which are fun, relaxing, and educative. Plan your itinerary and come and have the time of your life.
Pin this guide as you go for that exploration in Salina. Happy Travels!