Topeka is a medium-sized city situated on the sandy loam river bottomland, rumored to have been the settlement of the Native Americans (The West Indians) many years ago.
It is the capital city of Kansas and currently the seat of Shawnee County. This medium-sized city can be located in Kansas's northeast region, just roughly about 100km west of Kansas City.
In Topeka, you have a captivating holiday destination with a magnificent array of attractions and activities, hence, you will not run out of fun things to do in Topeka, KS.
During your visit, do not miss a tour of the Combat Air Museum, a peek into the captivating Mulvane Art Museum, a walk with the kids, exploring the Topeka Zoological Park, and an educative tour of the Kansas State Capitol.
Here is a list of the best things to do in Topeka, KS, to help create the perfect bucket list.
Things to Do in Topeka
1. Gage Park
Gage Park is a wonderfully structured park that offers the tranquility of mind and scenic views to its visitors.
The 0.6km² city park, established in 1899, has many breathtaking attractions, such as the Selbach sensory garden, which offers robust and beautiful garden viewing opportunities.
Other exciting attractions featured in the park include a zoo, a children's discovery center, the Doran rock garden, and most fascinating of all, the Reinisch rose garden.
The Reinisch rose garden is a beautiful sight to behold as it has more than 6500 plants, including 400 different varieties of roses.
Although the roses bloom can be seen from May to October each year, the peak bloom usually begins from late May till early June.
Initially, the rose garden was mainly an idea by the first landscape architect and horticulturist in Topeka named Reinisch in 1926. It has become one of the most captivating sights in the gage park that visitors from all over the world come to see.
Address: 635 SW Gage Boulevard, Topeka, Kansas
2. Evel Knievel Museum
The Evel Knievel Museum is pure heaven for dreamers of impossible feats and daredevils who love extreme sports.
This non-profit museum is located in Topeka, Kansas, adjacent to Topeka's historic Harley- Davidson.
The two-story museum has about 13,000sq ft. is a proud host of the world's most extensive collection of authentic Evel Knievel memorabilia and the Knievel's original performance leathers jump bikes.
The nostalgic experience is undoubtedly educative and a morale booster if you are an extreme sports lover.
The museum is also built and structured with the latest interactive technology, which enables the experiences and moments of Evel Knievel's death-defying feats to be re-lived and immensely felt by the people who visit the museum.
The museum also features some wonderful experimental exhibits that explain the unimaginable physics behind the jumps, the intricate working principle of the engines that aided the jump's success, and the unforgettable damages, including broken bones and torn muscles Knievel sustained.
In addition to the exhibits, there is also a 4D virtual reality jump, which allows visitors to experience Knievel's jumps without any risks involved fully.
The Evel Knievel Museum is a wonderful experience, a perfect addition to your bucket list of things to do in Topeka, KS.
Address: 2047 SW Topeka Boulevard, Topeka, Kansas
3. Lake Shawnee
Lake Shawnee is located southeast of Topeka. The lake is a great place to swim, row a boat, fish, or sail a boat. The lake also offers visitors opportunities to partake in non-water activities like golfing, playing tennis, and camping.
This man-made lake was built between 1935 and 1939. It sits within an 1100-acre park that offers features like foot trails for hiking or biking, a marina for boats, a golf course, tennis courts, children's playing ground, shelter houses for picnics, and a sizeable campground.
Shawnee Lake is a great place to visit if you are looking for a place to have fun with your family, mainly because the lake gives a feel of fun in nature.
Address: 3137 SE 24th Avenue, Topeka, Kansas
4. Brown Vs. Board Of Education National Historic Site
One of the best things to do in Topeka, KS, is a visit to Brown Vs. Board Of Education National Historic Site.
The Brown vs. Board of Education National Historic Site was established and adorned a national historic site on October 26, 1992, by the United States as a realization of the decision to end racial segregation in public schools to support the verdict pronounced by the United States Supreme Court on May 17, 1954.
This national historic site, situated in the Monroe elementary school (which was bought by the trust for public land in 1991), is a very educative place to visit.
The national park service currently manages and operates this historic site.
Visitors to the site go on a 15 to 25 minutes well-narrated tour of the galleries and exhibits in the building, anchored by an experienced professional.
Address: 1515 SE Monroe Street, Topeka, Kansas
5. Mulvane Art Museum
The Mulvane Art Museum is located in Washburn University, Topeka, Kansas. This museum is more or less an educational facility whose collection brings to light the beautiful works of art created in Kansas and the Midwest.
The Mulvane art museum was established in 1924; it is ascribed to as the oldest accredited art museum on the western part of the Mississippi River.
The museum serves as an educational tool that informs the public on the gradual development of Kansas art.
It has become an integral bliss of Topeka's art culture, featuring a hands-on art activity center for all ages, part of its excellent art lab.
You can tour this artistic home of wonder; the museum opens Tuesdays from 10:00am to 7:00pm, on Wednesdays till Fridays from 10:00 am till 5:00 pm, and on Saturdays from 1:00 pm till 4 pm.
Address: 1700 SW Jewell Avenue, Topeka Kansas
6. Boswell Square Park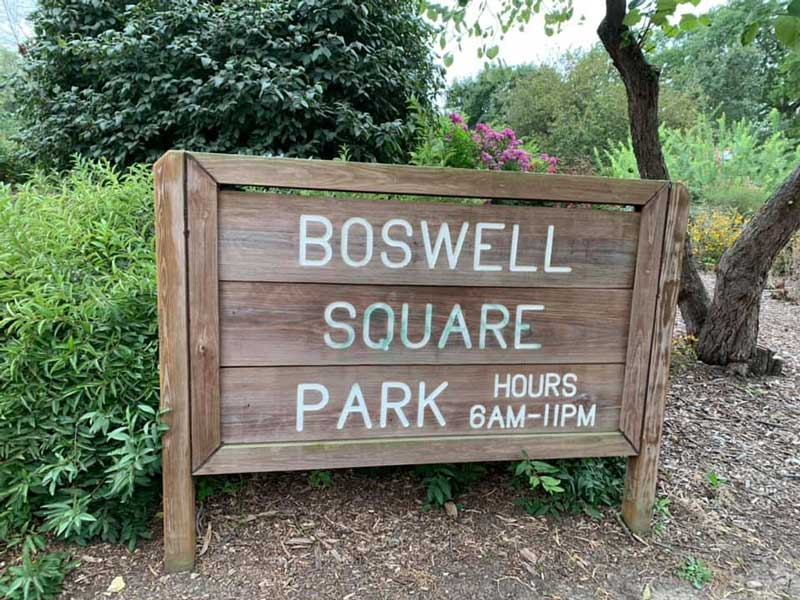 Here in Topeka, Kansas, there are very hospitable and neighborhood-friendly side attractions that can easily be visited to cool off.
One of the best side attractions is the fascinating and wonderful Boswell Square Park, which initially started as Boswell junior high school in 1922 till it became a park shortly after 1980. Boswell Park is known and loved by locals for its serene environment.
The park features a playground for kids, picnic tables, a gazebo, pristine drinking fountains, an open field, and some small hills.
Plan to visit the park for games and all sorts of fun. It is a great park to see, especially with your kids and loved ones. The park is open from 6:00am to 11:00pm all year round.
Address: 1300 SW Jewell Avenue, Topeka, Kansas
7. Old Prairie Town at Ward Mead
Old Prairie Town at Ward Mead is one of the top Topeka attractions. It is an open-air museum, a park, and a historic site. This unique tourist attraction has an area of 5.5acres of land.
The site is operated by the Recreation Department and the Shawnee County Parks, which strive to keep this area maintained and ready for visitors.
The complex features a 2.5-acre botanical garden, an 1874 ward mead mansion, a replica of ward's cabin, the prairie crossing town square, and many more historical sites, all seated in the lush, green park.
There are annual events hosted by the park throughout the year, and visitors are immensely entertained during these events; an example is the "Tulip time" and the apple festival.
During Tulip Time, about 45,000 tulips are planted in the old prairie town in April.
The apple festival, which is held on the first Sunday of October, is a celebration of beautiful arts and crafts, also featuring lots of food, music, and entertainment of all sorts.
Plan a visit to this park during your trip to Topeka; it makes what to do in Topeka for some fun time.
Address: 124 NW Fillmore Street, Topeka, Kansas
8. Combat Air Museum
The Combat Air Museum, a place history meets engineering.
Featuring a lovely collection of flying beasts, Combat Air Museum is dedicated to the local and regional communities' education.
This museum also creates facilities for exhibition, conservation, and preservation of technology, aircraft information, artifacts, aircraft, and incredible arts associated with the United States military aviation.
The museum has over 38 aircraft's on display, and these aircraft dates back to World War 1. In addition to the planes, there are also various military vehicles and aircraft engines on display.
Visitors of all ages can be well educated and inspired through the wonderful guided tours, bi-monthly lectures, and a great collection of displayed exhibits.
Fortunately, there is an affordable admission fee charged on entry into the museum, and parking is free.
Address: Topeka regional airport, 7060 SE Forbes Avenue, Topeka, Kansas
9. Kansas Museum of History
Kansas Museum of History in Topeka represents Kansas's history right from the prehistoric era through the era of the Native Americans to modern times. The museum features a mind-blowing 2,800 m² area of exhibits.
In the museum, exhibits on display include a biplane built in 1914, a 1950s diner made by the Valentine industries, a stocked covered wagon ready for a trip on the Oregon trails, and various weapons.
In addition to the exhibits, this award-winning museum has a museum store, laboratory for exhibit fabrication and conservation, and many classrooms.
The museum is perfect for kids as it is very educative and colorful. Children below the age of nine get excited here as there are lovely play areas with a wide variety of things to do.
Visitors can access the museum on Tuesdays to Saturdays from 9:00am to 5:00pm and on Sundays from 1:00pm to 5:00pm.
Admission into the museum is not free, but the cost is relatively cheap. There is also a 50℅ discount on the admission fee offered for minors.
Address: 6425 SW 6th Avenue, Topeka, Kansas
10. Truckhenge
If you are a lover of the strange and unusual, this is one place you should visit.
Located just between Tecumseh and Topeka is the Truckhenge, which could hardly be called an exhibit of art, as it is creative yet in a weird way.
This wonder was created by Ron Lessman in the year 2000. Funny enough, the Truck Henge was made from antique trucks and buses collected over many years.
This combination of recycled art featured in sanctuary arc farm consists of six antique trucks elevated on the ground in an England's stone henge look-alike pattern.
The truck henge might not be an excellent place for relaxation, but the sight to behold is undoubtedly worth it.
Most fascinating of all the tour by Ron Lessman. He is very enthusiastic and fun to hear.
Truck henge makes what to do in Topeka for an 'on the road ' adventure and sightseeing, this is also one of the free things to do in Topeka, KS, to consider for your bucket list.
Address: 4124 NE Brier Road, Topeka, Kansas
11. Great Overland Station
This historic site was formerly known as the Union Pacific railroad station and was registered as a historic site in October 2002.
The Overland Station functions both as a museum that showcases the Topeka railroad's rich heritage and as an education center that enlightens locals and foreigners on this great heritage.
The Great Overland Station is a wonderful place to have an educative and fun time out with your kids as the railroad heritage museum features special exhibits, historical pictures on display, costumed docents, and best of all, the big red Caboose.
The big red caboose is a child-sized miniature. Kids board this train to have an incredible experience of its functionalities and interior design.
The station opens by 10:00 am and closes by 4:00pm from Tuesdays to Saturdays.
Address: 701 N Kansas Avenue, Topeka, Kansas
12. Ted Ensley Garden
Ted Ensley garden is located on the west side of Lake Shawnee, Topeka. This garden offers beautiful scenery of the lake and also tranquillity for visitors as they watch birds chirp away in the garden.
Many people have reviewed this 37.5 acre garden as nothing less than world-class owing to the breathtaking and outstanding marvels the garden has to offer.
The garden features over 280 varieties of annual plants, 1200 types of perennials, trees, assorted roses, shrubs, meditation garden water, rock gardens, walking paths, and many other intriguing features.
The Ted Ensley garden is really like a fairytale come true, and this is why it is mostly used as a wedding reception venue.
Address: 3650 SE West Edge Road, Topeka, Kansas
13. Topeka Performing Art Center
One of the fun things to do in Topeka is some theater time at the Performing Art Center of Topeka.
Located in the magnificent 1930s Art Deco Municipal Auditorium, this performing arts center offers visitors the opportunity to watch various captivating performances, including music shows, dance performances, theater, and many other shows.
Although the Art Deco Municipal Auditorium was renovated in the early 1990s to create the Performing Arts Center, the renovators did not temper the Art Deco Municipal auditorium's already-in-place architecture.
Apart from the main auditorium, the performance art center has an additional two halls, a smaller theater called the Hussey playhouse, which has just a bit over hundred seats and a banquet hall called the Hill's festival hall.
Also, the Performing Art Center has educational facilities for kids, and it is an excellent place for couples to have a date.
The Performance Art Center is an place for visitors to have fun and enjoy amazing shows, so plan a visit here!.
Address: 214 SE 8th Avenue, Topeka, Kansas
14. Topeka Civic Theater and Academy
Topeka Civic Theater is a great place for visitors to relax and have a great viewing experience with wonderful shows which will bring back memories, keep you on your toes, and generally entertained.
The Civic Theater shockingly holds the record as the oldest running community dinner theater in the United States, being established in the late 1930s.
However, the theater still offers dinner shows, non-dinner shows and has an excellent bar service.
The civic theater has three stages: the Main stage Theater, the old father theater, and the Helen Hocker Theater.
These stages have featured productions like 'A Christmas carol' and musicals like Bonnie and Clyde.
Kids are not left out as entertainment. Shows such as Disney's 'The little mermaid are also be featured in this theater.
Finally, the theater offers the opportunity for summer camps as well as special classes. This makes one of the fun stuff to do in Topeka, consider addition to your checklist.
Address: 3028 SW 8th Avenue, Topeka, Kansas
15. Topeka's Sports Center
Topeka Sports Center
is a fun zone where everyone in the family can enjoy themselves due to the vast array of sports and games.
A 10 ft. high kangaroo, a 20ft tall T-rex dinosaur, a life-sized igloo, and a volcano are some of the magnificent structures visible on the 18 holes Goony golf course where beginner golfers can have fun.
Professionals can have a relaxed training experience on the golf driving range.
Have a non-stop fun experience with the thrill gotten on the sports center speedway. The speedway offers various cart sizes as adults can race against their friends, family, or associates.
The kids are not left out; they can do the same with the 48 inches tall carts, which are functional, fun, safe, and perfect for the kids
Have fun dodging or smashing balls in the city's best batting cages. The sports center offers a total of nine cages, including softball and baseball cages.
Visitors can also enjoy themselves in the sports center arcade and redeem their winnings before going home with prizes. The Topeka sports center does not just sound like a lot of fun, it is fun.
Address: 6545 SW 10th Avenue, Topeka, Kansas
Plan to explore Richmond, Virginia. Here is a tourist guide on the top things to do in Richmond today, a fun time in Richmond awaits you.
16. Heartland Motorsports Park
The Heartland Motorsports Park is a place to go for all motorsports lovers. The motorsports facility is located just 13km south of downtown Topeka.
Heartland Motorsports Park was established in the year 1989. It was the first modern motor racing facility to be built in the US.
This park features a road-race course with about four different configurations: the Grand Prix road course, the clay oval, the drag strip, and the motocross track.
The Heartland Motorsports Park has also hosted major events like the national hot rod association (NHRA) Heartland nationals.
Visitors can feel the revving of the monster engines moving side by side, shaking the seats closest to the track as a racing event is ongoing.
Enjoy the thrills of every overtake and the mind-blowing speed of the race cars. Best of all, visitors are allowed to ride their vehicles on the track to have a better feel of the track.
Address: 7530 SW Topeka Boulevard, Topeka, Kansas
17. Topeka Zoological Park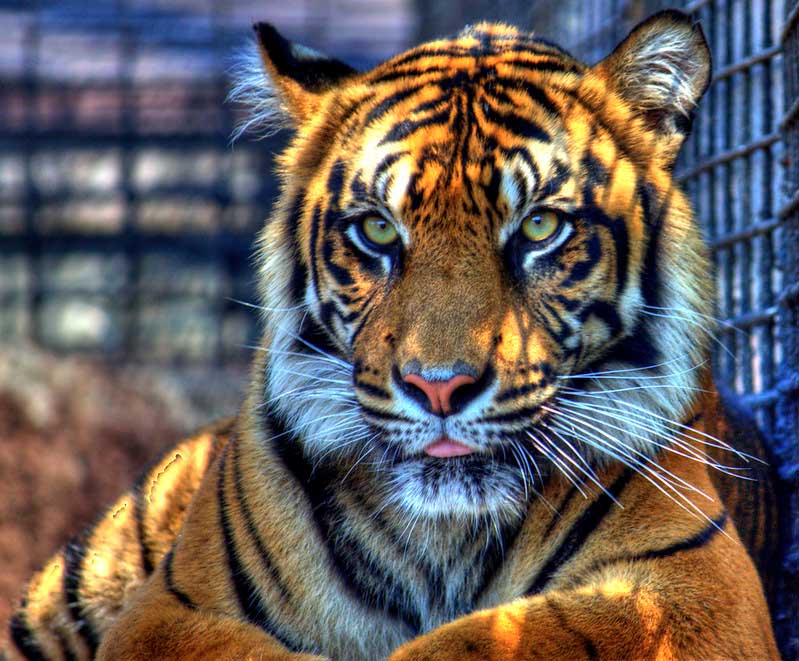 The Topeka Zoological Park is a popular zoo located on the outskirts of Gage Park. The medium-sized zoo was initially established in 1933.
The zoo was upgraded in the late 1960s to house larger mammals; however, in 2003, the zoo was fully renovated, and a lot of new exhibits were added.
Now Topeka's zoological park houses over 300 animals from all over the world, and in addition to that, the zoo has an indoor tropical rain forest, the first of its kind in the United States.
The zoo is well landscaped with native and other beautiful plants to improve the visitor's overall experience. It is also worthy to note that Topeka's zoological park has nearly 200,000 visitors each year.
Some of the park's beautiful exhibits include the Kansas carnivores, the waterbird lagoon, the Hill's black bear woods, the tropical rain forest, the jungle cats, the children's zoo, camp cowabunga, animals and man, lianas forest, Adventure trail, and many more.
The Topeka's Zoological park is a magnificent wildlife heaven that is as captivating as it gets. This makes one of the fun things to do in Topeka, KS.
Address: 635 SW Gage Boulevard, Topeka, Kansas
18. Kansas Children Discovery Center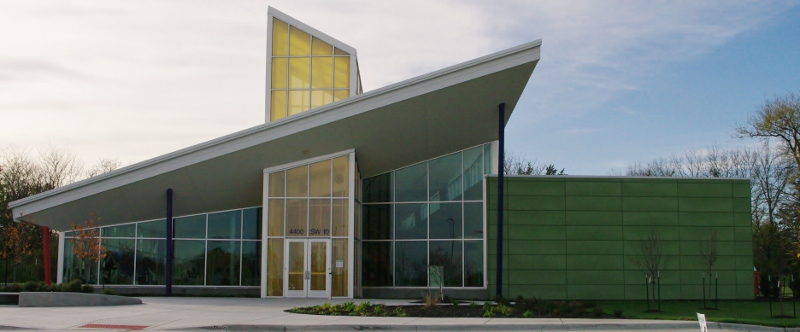 Visit the Kansas Children Discovery Center and treat your kids to a fascinating and educative experience. This non-profit organization is located at the marvelous Gage Park, Topeka, Kansas.
Kansas Children Discovery Center is a unique children's museum that offers the opportunity to have various exceptional learning experiences.
Its exhibits create an encompassing interactive environment that explores various disciplines, including math, science, and arts.
The center also supports the kids in conducting various experiments and creating mechanical tractions like building towers, creating artistic masterpieces, composing musical pieces, and many more.
This 4.5-acre section of Gage Park also offers visitors engaging activities like obstacle courses, hiking trails, and bike paths that are safe enough for both children and adults.
The children's discovery center offers field trips, camps, daily programs, and special events like birthday parties in addition to the exhibits.
During the summer, the center opens from Tuesdays to Saturdays by 10:00am until it closes by 5:00pm, while during school days, the center opens from 9:00am till 3:00 pm on Tuesdays to Fridays. On Sundays, the center opens by 1:00pm and closes by 5:00 pm.
Address: 4400 SW 10th Avenue, Topeka, Kansas
19. West Ridge Lane and Family Fun Center
For a family get-together and a fun time, the West Ridge Lane and Family Fun Center is the place to visit. This fun center is located on the southwest port drive, Topeka, Kansas.
The West Ridge Lane offers features like miniature golfing, bowling, and go-carting.
There is open bowling for bowling lovers, which gives visitors a full bowling experience providing bowling balls and shoes, an automatic counting system, and other state-of-the-art bowling equipment.
The center also provides bumping bowling for kids to take part in the bowling experience. Bowling leagues are allowed, and a league can be formed with as low as eight players.
The center also accepts a field trip proposal allowing students to take advantage of special packages.
Address: 1935 SW West Port Drive, Topeka, Kansas
20. Going Bonkers
Going Bonkers is the place to visit for a dose of extreme indoor fun and games with family and friends.
Located at the Southwest of 21st Avenue, Topeka, Kansas, Going bonkers offers the biggest playground housed in a building.
This unique fun zone offers features like a massive jungle gym, mountain sized arcade, and a redemption center where you can redeem your winnings.
The 18,400 cubic feet playground also offers special services like limos for hire during birthday parties and special events.
Going bonkers is the place to catch your well-deserved fun with kids, family, and friends. This is one of the fun things to do in Topeka, consider adding a visit to your Topeka bucket list.
Address: 5515 SW 21st Street, Topeka, Kansas
Indianapolis presents lots of fun attractions and activities waiting to be explored, here is a tourist guide on things to do in Indianapolis for a memorable vacation.
21. The Great Mural Wall of Topeka
The Great Mural Wall is one of the most remarkable Topeka attractions. This excellent piece of public art immediately gives you a more or less visual history of Topeka.
The Great Mural Wall is covered in a stunning array of color that celebrates Topeka and its locals. The wall art tells a story of the ups and downs of the great Topekans.
The magnificent mural is on a bare wall, formerly a water reservoir on the SW Western Avenue of Topeka.
Chesney Park started the mural wall project in 2006, but the mural wall's beauty was evident in 2007 when neighborhood residents made efforts to express their ideas and stories on the blank black canvas.
This artistic jewel of Topeka's history has attracted the attention of many volunteers and local organizations. The lead artists KT Walsh, Ashely laird, and Dave Lowenstein have directed the great mural wall's progress in design and research towards the Topeka rich heritage to be depicted on the wall.
Visitors will be amazed at the breathtaking sight of the great wall of Topeka.
Address: 1969-1999 SW western avenue, Topeka, Kansas
22. Kansas State Capitol Building
The Kansas State Capitol Building, popularly known as the Kansas statehouse, is the residence of Kansas's state legislative and executive arms.
This magnificent structure is one of the most popular Topeka tourist attractions, apart from being a historic site.
The 93m dome, which sits on the Kansas State Capitol building, is a remarkable sight to behold.
The state still offers guided tours to visitors, taking them to the top of the dome, although visitors must climb the extensive 296 steps covering over five floors of the building.
Address: SW 8th and SW Van Buren, Topeka, Kansas
23. Museum Of Kansas National Guard
This museum is a great place to see the historical heroes of Kansas, Museum Of Kansas National Guard preserves the history and heritage of the Kansas National Guard.
Located at the Southwest Topeka Boulevard, the museum offers various exhibits dating back 145 years of Kansas National Guard history, including artifacts from the civil war and unseen weapons and technology used in the gulf war.
Some nostalgic exhibits in the museum include various kinds of helicopters, beautifully crafted sidearms, and heavy-duty assault vehicles like tanks, fully intact howitzers, and assault rifles.
Visitors to the museum can also enjoy themselves during events hosted by this historical museum. One of the most popular events is the civil war reenactment, which is fun and educative.
Address: 125 SE Airport Drive, Topeka, Kansas
24. Cedar Crest
Cedar crest, popularly known as the official residence of the Governor of Kansas State, is a magnificent sight located on Southwest Cedar crest road on the west side of Topeka.
This carefully sculpted mansion was built in 1928 and renovated in the 1990s. The Cedar crest mansion is seated in MacLennan Park, which is a 244-acre estate. It is listed in the United States' national historic places.
The Cedar crest is an amazing structure. The mansion's architecture is of French origin featuring beautiful gardens, hiking trails, and ponds surrounding the building.
Given to the state in 1955, Governor's has been residing here since 1962. Guided tours are offered to visitors who have an interest in seeing every inch of Cedar Crest.
Address: 1 SW Cedar Crest Road, Topeka, Kansas
25. The Kaw River State Park
For a wonderful experience of the Kansas State River, visit the natural and breathtaking Kaw River State Park.
The Kaw River state park can be located on the famous Kansas Riverbank in Topeka, just west of the Cedar Crest and northeast of the Kansas wildlife and regional park office.
West of The Kaw River State Park features some additional trails with rugged terrain, although these lands are private property marked "no trespassing."
The Kaw River State Park is the only existing modern urban park in Kansas.
This 76 acres park was a property donated in 2005 to Kansas but was officially established as a public park in September 2010.
The park offers an opportunity to engage in many activities like fishing, swimming, and boating. Visitors can also come to enjoy the serene view of the Kansas River while enjoying the evening breeze.
This is not only one of the best things to do in Topeka, but it is also one of the free things to do in Topeka, KS, to consider for your list of Topeka checklist.
Address: Topeka, Kansas
26. Regal West Ridge Theater
For movie lovers looking for things to do in Topeka, Kansas, this is a real jackpot as you can visit the theater and watch your favorite movies.
This movie theater is a discount theater; hence visitors should not worry about the cost of seeing a movie.
The Regal West Ridge theater features eight impressive auditoriums, showing your favorite movies using a powerful digital projector that produces crisp and clear pictures.
The theater also features a gaming room and a lobby snack shop filled with many mouthwatering food and drinks.
To enable visitors to obtain tickets easily, the theater also offers a wonderful mobile ticketing service.
Address: 1727 SW Wanamaker Road, Topeka, Kansas
27. Hollywood Theaters 14
Located at the southwest 6th avenue in Topeka, it is one, if not the only place to watch your newly released blockbuster movies.
The movie theater is a must-visit as you do not want to miss a single minute of the action in this high definition theater.
Hollywood Theaters 14 offers impressive features of a wonderful stadium-sized auditorium, also providing its mobile ticketing service.
Address: 6200 SW 6th Avenue, Topeka, Kansas
28. Topeka State Hospital
The Topeka State hospital is an unusual place to visit for a good time. However, with the stories told of the hospital and its actual history, you have here a tale of a horror movie come to life.
The Topeka state hospital, formerly known as Topeka insane asylum, was a public institution that treated Topeka's insane patients.
This sounds normal, but this once thought treatment heave became crowded with mad and gravely insane people.
Although many parts of the hospital were demolished in 2010, adventure-seeking visitors still visit to uncover the mystery of this former asylum.
Address: 634 SW Mulvane Street, Topeka, Kansas
Are you planning a road trip in Connecticut?, do not miss our list of things to do in Milford, things to do in Danbury & things to do in Hartford for a fun trip.
Plan a Trip to Topeka
Topeka stands out to be quite a vibrant city in Kansas, where there are many things to do and places to visit for a fun time.
However, during a visit to Topeka, it could be quite challenging to start your expository adventure due to the numerous places to go and things to do.
This guide can always aid in creating your bucket list of things to do in Topeka, Kansas, pinning is caring.
Have a fun trip!.