Brussels, the capital of Belgium is a place of art and interesting historic stories.
Generally known as the center of the European Union, it brings to thought that it is a business-minded area. However, there are many more to this city.
Its multi-layered atmosphere makes this place an interesting place to visit featuring some of the best tourist attractions which could keep you busy for days.
Here, there is an answer to everyone's need for a place to spend some relaxation time as it features some unusual attractions which you might not lay your hands on many other places.
You will find the best waffles, off the edge architecture and lots more. Spending a couple of days in this city will just get you to love it here.
Are you planning on taking a trip to Brussels and you would like to get your checklist on what to do in Brussels right? This article has put together a checklist of what to see in Brussels and things to do in this city. This list also features some obscure places within this city but these are equally some of the most fascinating places to pay a visit to.
Now let's explore some of the best things to do in Brussels:
Things To Do In Brussels
1. Visit Grand Place
This is, without a doubt, one of the best buildings and visiting here is undoubtedly one of the best things to do in Brussels Belgium.
Grand Place is the heart of the city of Brussels and normally referred to as Grote Markt in Dutch. You won't help but notice its ornate guildhalls buildings which surround the central square.
Amongst these buildings is the towering Town Hall and the Breadhouse which is home to the must-visit Museum of Brussels. Also, a place you must not miss is the UNESCO World Heritage Site which is quite the view.
If you are a lover of history, it would be nice to know that some buildings in the Grand Place are dated as far as the late 1600s. Quite an age right?.
Visiting the Grand Place of Brussels you will be caught by its overwhelming view which spring from the beauty of its historic buildings at all corners.
Do you intend meeting tourists? Then, here is the perfect spot, yes! You won't miss tourists because they are at several spots either having a picnic, chatting, or selecting a spot for drinks.
Also get the perfect selfie leveraging the tall buildings around. There are quite a lot of things to engage in hence it is a place worth visit if you are planning on taking a trip to Brussels.
2. See The Historic "Old England Building"
Have you heard about the old England building of Brussels?
It will come as a shocker but the Historic Old England building was once a department store. This historic building was constructed in the last year of the 19th century.
Every year, this building attracts numerous visitors from all over the world due to its stunning view. Aside from its looks, it is house to the vast musical Museum of Brussels.
Furthermore, you can also decide to take a view of the city on this building as it houses a café on the roof which will gives you a nice sight to the amazing view of the city of Brussels.
Now you do have to add this in your list of the best and fun things do in Brussels.
3. Admire Le Botanique
This is said to be a historical garden and to this day Le Botanique still attracts thousands of tourists into this city.
Le Botanique according to history dates back to the early days of the 19th century and is home to numerous cultural heritage such as performing arts which brings more of a cultural feeling than a garden.
There is the green garden and here makes the perfect spot (with its glory) of the surrounding gardens.
Want to get that welcoming garden feeling in Brussels, this is a place to go, add this to your bucket list right away and you be glad you did.
4. Taste the Best Waffle in Brussels
If you have only a day to spend in Brussels and don't know what to do in Brussels, then you should make it your top priority to indulge yourself with some delicious Brussels waffle.
I would recommend your go for this at Maison Dandoy. This place is known for their delicious taste waffle and having been in this business since 1829 their experience is undisputed.
Many stands located in Belgium have their waffles to reheated before serving, but this is not the case at Maison Dandoy. They see to making everything in order, from their tearoom even to their counter.
Their quality is quite the thrill and not one to be compared to others any time, any day.
Making a selection which menu like the fluffier or the sweet Liege waffle. Toppings on this would include a hot chocolate sauce, ice cream, caramel and an array of some other sweetness that will give that special delicious taste of a waffle.
The Maison Dandoy has about eight spots around the city of Brussels but I will recommend you try out that one Rue Charles Bulls. This place gives you an upstairs tearoom relaxation to slowly enjoy your delicious waffles.
5. Smile at Manneken Pis
Are you one to love and adore arts, the Manneken Pis statue is definitely a place to visit.
This is an art of a 2-foot tallboy peeing.
During the day, you will always meet individuals ranging from young school students to businessmen and tourists taking photographs of this statue.
Many vistors make a selfie pose with this famous statue.
This statue is quite a historic one as history has it that it dates back to early 1619.
Quite historic right?
But this does not make it lose its value any less.
Over the years, this statue has been stolen several times but it however has always been replaced. The current version is known to date back to 1965.
Manneken Pis is often dressed in several customers and many copies of this have found a place in some permanent exhibition centers such as the City Museum which is located in the Grand Place.
This status alongside two other peeing status have become famous in the Brussels landscape. Other peeing statues are one of a girl and another of a dog.
Hit the nearby store to get yourself some chocolate and then head to the Manneken Pis statue to join the group of onlookers.
Don't forget to save the memory by taking a selfie in this spot.
6. Visit the Musical Instrument Museum
Music they say, heals the soul.
If you are a music lover, then there is no other place to visit like the Musée des Instruments de Musique (in English, The Musical Instrument Museum).
For sure one fun thing to do in Brussels, Belgium.
This facility is a house for varieties of musical instruments known to man. These instruments have been gathered from all around the world with time to make a compilation of the best.
Musée des Instruments de Musique contains about 1200 electrical and mechanical instruments from around the world.
Included are instruments that date back to the 19th century such as the 19th-century Orchestra, the African split drum, the Scottish bagpipes and other collection of traditional instruments.
You not only get to see these instruments, you also have the unique opportunity to get to hear what these instruments sound like to the ears which is all thanks to headphones located around the exhibits.
Visiting in a lucky time, you might have the option of attending one of their events as this musical mosque also has a concert hall which is known to host events at several times within the year.
Many have testified of an awesome time in this museum, definitely impressed by the extensive collection of musical instruments.
The 'wow' comes when you meet an instrument you have never known before your visit. Producing sounds you never have imagined.
Many others love the sounds produced by these instruments the more when listening to them through the provided headphones.
This museum is located in the Old England Building. So, are you visiting this building? Make time to go inside to have a musical time
7. Indulge your love of comics street art
If you are a lover of art and would like to know what to do in Brussels as related to arts, one of the top things to do in Brussels Belgium is to check out the artistic expressions of Brussels.
Brussels takes arts to another dimension. Just akin to comic arts which aims to pay tributes to known comic characters.
Artistic displays in Brussels range around cartoon drawings which are also featured in museums.
Walking around the city, you won't help but notice fun artworks around Brussels which highlights the beauty of this city.
These arts could be seen in more than 50 places in Brussels implying notable spots for sightseeing.
You can decide to take up the game of locating these spots and see how many you can get to see during your trip.
However, in the city center, you will find about 10 of these spots located in separate spots.
If locating these comic books arts is not enough for your sightseeing, you can decide to go to the heart of it all.
Take a stop at the Brussels' Comic Book Museum where you will get to see the best of the comic world.
At the Brussels' Comic Book Museum, you can get to learn about the history of the comic world and how they came to be. You will also meet some of the famous comic creations such as The Smurfs.
8. Royal Museum of the Army and Military History
Are you a fan of the action of war heroes and military history.
Checking out the Royal Museum of the Army and Military History is one of the fun things to do in Brussels.
It would make you a great afternoon.
Make your way to the Cinquantenaire district, Musée Royal de l'Armée et d' Histoire Militaire, as popularly known keeps a record of the violent ages of the world dating back to the middle age.
This museum displays some of the famous combat Amory ranging from weapons, documents, uniforms and various war technologies dating back to various points of time.
What can you do while here?
Go, locate the airplane hanger. This is a place to spend some time filling your eyes with sights of more than 80 war aircraft.
This can also serve as a home for educational purposes, hence one of the fun things to do in Brussels with kids.
Children would love the exploration and go as far as taking adventures through various educational activities in these museums.
Tourists who come by this place have always given testimonies of being impressed with what they met as the extensive collection of war instruments were quite the sight.
Many also enjoy going close to aircraft which you mostly have to see in military movies.
The only complaint made by most visitors is the lack of English placards hence making some terms less difficult to understand for English speakers.
9. Stay in a Home of comics.
After a day spotting comic arts around, how would you feel to come back home to a comic home?
A room full of comic arts, awesome right?
Hotels like Radisson Red Brussels preserve the comic views making these views part of your daily views in Brussels.
Entering the Radisson Red Brussels, you would be welcomed by comic arts as soon as you step into the door.
This brings an energetic view, a happy one, the hope of seeing something fun at every turn of your eyes.
Cartoons are definitely for fun or don't you think the same?
10. See special exhibits at the Bourse
Brussels is known for its building as you may have just observed.
Another building you won't want to miss is the Bourse building. Visiting the Bourse building is one of the best things to do in Brussels.
Also known as Belgium's stock exchange, this building dates as far back as 1873.
A magnificent building that features large columns (they are quite a lot) of sculptures all around to give that historic feel.
Some of these sculptures are some of the early works of Rodin.
You are yet to miss the real fun if you haven't taken a trip inside the Bourse building.
After years of being empty, this building is now used to display exhibits such as photography and amazing arts from ruins of Pompeii and works of Vincent Van Gogh.
As you also look out for the beer museum which is slated to open sometime this year 2020.
Wear your shoes and take a walk to the Bourse building where you can fill your eyes with amazing views.
11. Take a Sip at Le Cirio Cafe
This awesome cafe dates back to early 1886 and is one of the things to see in Brussels.
A visit to this cafe will see you welcomed by some unique artworks which dates back to the early days of this cafe. You will also be welcomed by exquisite touches of polished brass.
There is a stop to give your feet a break from the days walk. Do enjoy the mix of sparkling wines, the house specialty and a half en half perfectly poured at your table.
For sure one of the best things to do in Brussels.
12. Politics at the Parlamentarium
Thinking about the top things to do in Brussels?
You definitely should not miss the European Parliament.
Located outside the historic city center, the European Parliament drives you thoughts into politics.
Even though you do not take a liking to politics, meeting the visitors center of this place is definitely worth the stop.
A walk through its door welcomes you with an engaging exhibit that takes you through the time of the world war as it tries to give you a glimpse of what Europe was like even in the war ages.
You will further get to learn about why the European Union was created as it tries to summarise the need to build alliances, improve trade within states and give them a reason to care for one another's welfare.
This visit which can last within the range of 60-90 minutes will get you a chance to get close to the members of the European Parliament, even to hear their stories and get to watch some short documentaries about them. You can know how to be a member of this Parliament and the benefits of the citizens.
13. Visit a mini Europe
You definitely can't travel to Europe in a few days.
This brings to the fact of missing out on various sights about Europe.
Reality, Europe is quite a big vast of land and only if you are willing to give up a whole lot of your life to this journey, you won't get to cover its view.
But how does a visit to a mini Europe sound?.
The theme park located north of central Brussels could give you a good view of what Europe looks like on a small scale.
This park features models of some of the biggest and best buildings.
Attractions here range from the Tower of Pisa, Seville's bullfighting ring and even cutting across a view of the London Big Ben, some of the best landmarks of Paris such as Sacred-Coeur and the Eiffel Tower.
It takes just a day here to meet some of the best sights in Europe.
Be sure to include your kids in this tour as this Park features some mini-attractions -the Berlin wall and Naples' Mount Vesuvius- which will be loved by kids.
This place has always had may thumbs up from many visitors both locals and tourists.
Some travelers recalled marveling at the detailed view of these structures.
If you are visiting Brussels with your kids, do well to pay a visit to this Park. Even if you are coming alone, I think you will be impressed by the sight of this park.
14. See the Mont des Arts View
Here is another place to meet the arts in Brussels, Mont des Arts, also referred to as Kunstberg.
This is an area that separates the lower and upper parts of Brussels.
Here you have the opportunity to experience Brussels more artistically with lots of artistic activities to make your day.
These activities may include going to a concert at Bozar, going to the movies at Cinematek or visiting the museums of fine arts or going to the musical instruments museums.
There are so many activities to invest your time into but the best thing to do is to enjoy the view.
It features a geometric garden giving a nice vista to downtown Brussels and the Townhall is also a place to look out for.
Here, you will find people any time of the year. They are either found hanging out on benches or lounging on steps.
This is quite a peaceful place to calm your nerves and relax the heart from the horrors of the city.
15. Scout out Art Nouveau buildings
Here are another must-see buildings in Brussels, the Art Nouveau buildings.
Made with bright wall paintings, swirling irons and quite some large windows, these buildings are an architectural delight that utilizes the exquisite view of natural light.
Many buildings here in Brussels have been recognized by UNESCO for their great architecture. A place to find most of these buildings is outside the historic center.
If you are a lover of the art, you will definitely enjoy the 15-minute ride to Saint-Gilles or the Ixelles neighborhood to have a site of some of the great architecture of Brussels.
One of such building that catches the eye is the Hotel Tassel building.
These buildings are done with wrought iron and feature quite some large windows. You will also notice an old England sign.
The Art Nouveau building style is always a fanciful one loved by most people and am sure you will take a liking to its view.
The art Art Nouveau building style is dated back to the 19the century. This building style was introduced to Brussels buildings by Victor Horta, a popular architect who's home is known today to be a popular tourist attraction known as the Horta Museum.
Aside from visiting this museum to have a view of some of the great works of Victor Horta. You can decide to take trips to see the magnificent view of these buildings.
You will notice the brilliant ideas behind these buildings, fabulous painting, sharp intricate balconies and so many other decorations which make them a state-of-the-art in Brussels.
Feel free making a reservation to see the inside of these buildings.
Are you close the center, an example of these building types is the Musical instruments museums or the Comic Book Museum.
Take a visitation trip to these places, definitely amongst the fun things to do in Brussels Belgium.
16. Meet Art at the Royal Museum of fine arts of Belgium
If your schedule is tight and you an only make time for one museum, the Royal Museum of fine arts of Belgium is the place to go to.
This Fine Art museum is home to some of the best works in arts dating back to the 15th and the 21st century.
Comprising of more than 20,000 artworks, this museum is subdivided into smaller museums of which include the Modern museums and the Old Masters museums.
A walk through its walkway will expose you to works from Van Dyck, Rubens, Magritte, Brueghel and many more renowned art masters.
You will be impressed by their collection of artworks as they are well spoken of even amongst travelers. Many say you can spend as much as four hours here to take the time to appreciate the beauty of arts.
Some tourists say they could visit here twice whereas others find it boring to take the trip and advice against it, if you are not totally into artworks.
17. Find the Black Tower
How about playing seek?
One of the buildings you won't notice in Brussels is the Ancient stone tower which is hidden by some modern buildings.
This is a medieval tower which is behind the Sainte-Catherine and is almost covered by a modern hotel. It many not be easy locating this tower though its popular amongst tourists.
It features a rounded wall and a black turret and history has it that this tower dates back to the early 13th century as it was part of an original fortification of Brussels center.
Many years now, this building has survived the waves of development in the area and now is an inland port.
A great site located at the heart of the city center but having a sometimes improbable location.
On your visit to Brussels, do well to locate this spot. Do take a picture or more. Definitely one of the best things to do in Brussels.
18. Visit the Sablon neighborhood
During a very busy trip you to take a pause and enjoy the surrounding environment.
This neighborhood is towards the Mont des Arts neighborhood, not too far from the first Brussels city wall.
Just like many areas, history has it that this was once a large open space covered with grasslands, wetland and sand.
A good place to visit in this neighborhood is the Church of Our Blessed Lady
19. St. Michael and St. Gudula Cathedral
This is a place worth the view.
The design of its building has quite some quality finishing and you must agree that St. Gudula Cathedral and the St. Michael give quite an awe feel at view.
These have been known through history mostly by the words of French writer who goes by name Victor Hugo. He referred to them as:
"The purest flowering of the Gothic style."
The Royals of Belgian felt the same way about this building and it is still today a known site for royal funerals and weddings in Brussels.
The construction of these churches dates back to the early 13th century, having a solid stone exterior with magnificent glass windows.
This cathedral is popular amongst most visitors as a good site to visit as they tend to appreciate that architectural design of these buildings, with special note of the stained glasses used for the windows which makes its beauty.
Other travelers would recommend you pay some extra fee to have a visit to the archeological site as it brings interesting historic facts about the churches.
From the park across the street is the "Église Notre-Dame du Sablon" or the Church of Our Blessed Lady of the Sablon.
This is a church that dates back to the 15th century and is still today visited by most of the wealthy citizens in this area.
You can also decide to make a stop at a coffee spot, view collections of an antique store, or just enjoy the view.
20. Try Out Belgian foods
Many would say Belgium goes with the frites, the waffles and the beer.
Taking out some time to try out some real traditional Belgian meals is one of our top things to do in Brussels Belgium.
Amongst many meals is the waterzooi. This meal is a creamy stew made of egg and butter which has either chicken or fish.
Do you take a liking to seafood? Then, try out the modules frites, they are quite authentic and you won't regret a dish.
Another meal to try out is the Belgian staples. This meal is meshed potatoes blended with carrot, vegetables and onions. You could try out the Brussels sprouts which is often a side dish.
You could also decide to try out the carbonade flamande, this is a dish quite similar to the beef bourguignon.
It's a slowly cooked until the meat tends to come apart, quite a delicious meal you have there. It is usually served with frites and this give two of the best Belgian food in a dish.
Don't miss out on Belgian traditional meals, they are worth the taste.
21. See Christmas markets In Brussels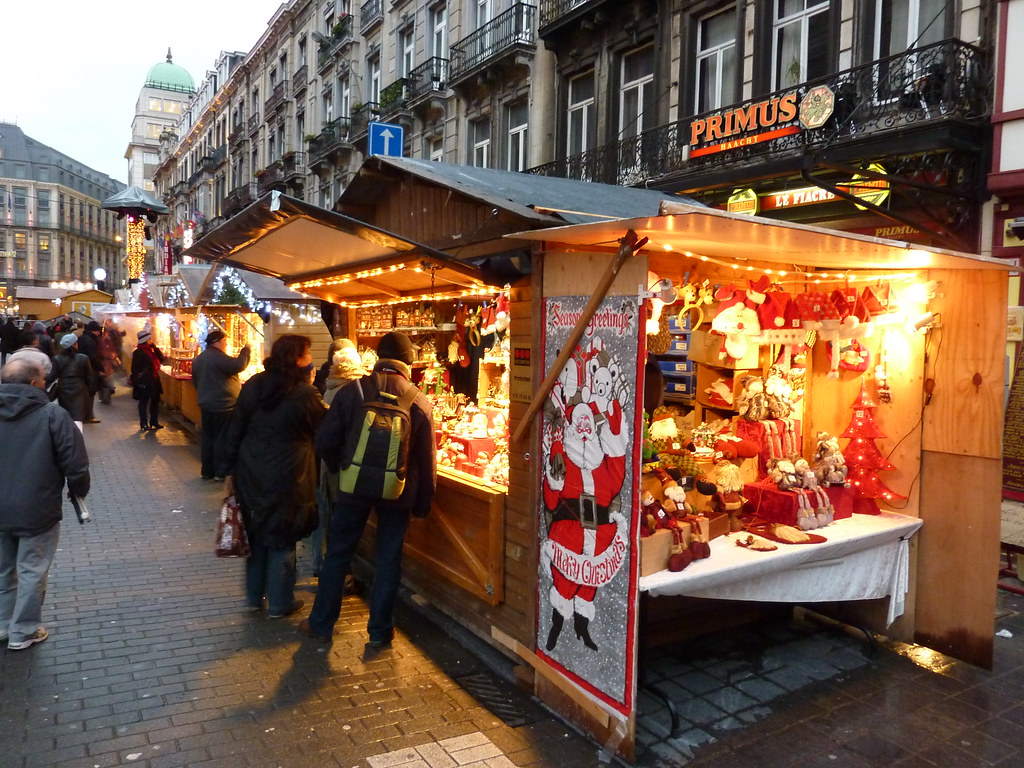 Christmas is one of the best times to visit Brussels.
The area comes to life during this period due yo the holidays. Through the historic centers the markets are decorated with light and amazing Christmas trees.
The main activity is at Sainte-Catherine and the Bourse which all seem like a massive market.
Visiting a Christmas market at this period, you will take to notice vendors selling Candy, gifts and some others serving hot mulled wine, also referred to as Vin chauda.
You will also meet vendors serving champagne, oysters and also filling plates with tartiflette. Every year a country is celebrated and this celebration features Brussels Christmas customs and food.
22. Take a day trip
Brussels is a good place to take day trips, you can decide to take a trip and reach your destination in an hour or less.
Take a trip to the merchant houses or you can decide on a trip to the Townhall where you can have the opportunity to drink in the longest bar on the planet at Leuven.
A trip to Antwerp will open you to the works of Peter Paul Rubens and you could also go from there to the UNESCO World Heritage museum.
A trip to Ghent will see you open to the view of a beautiful city and you will fall in love with the huge towers now you can decide to be back in Brussels for your night.
I trust you love traveling and traveling the Ares around Brussels is one of the best things to do in Brussels.
23. Enjoy Brussels Nightlife
Do you want to know what to do in Brussels at night?
The nightlife in Brussels is something of awe.
Here you meet a fun nightlife which has everything needful to answer to your taste and budget.
A place to be during the night is Madame Mustache, a club which has Waiters of in sailors outfit to tend to you as you enjoy varieties of music.
The entry fee to this club is free during weeknights but on the weekend when things get busier, you will have to pay an entry fee.
The best way to enjoying your weekend is dancing in this club but if you are not a fan of that, there is a table room for you.
This club also features a Locals Pub and Club Crawl which lasts about 4 hours. So, you can decide to book for that too.
Enjoy your night in Brussels at this club, or some other, definitely something worth doing in Brussels.
24. Go on a Belgian beer crawl
You can't talk about Belgium without Beer, they tend to go hand in hand.
So, one of the best things to do in Brussels is to check out some of the best spots for beer in Brussels, there are quite a huge list of them.
If you are not a beer lover, you have the option of selecting other drinks in these drinking spots to make your day worth it.
If you are considering trying a beer spot, you might consider spots like the "historic A Mort Subsite", You could also get food to accompany your drinks in this spot.
Another place to try out is Moeder Lambic, they mostly specialize in lambic-style beers. And just like those bejeweled in Cantillon, you can also decide to get varieties of beers in this spot.
Just near the Manneken Pis, is a small downstair spot referred to as "The Puppet Cellar" which is known amongst locals to provide the best Beers you can get in Brussels.
You could also decide to pay a visit to the Delirium bar. This spot is mostly recognized by their elephant logo and it has it that the have in stock about 2000+ varieties of beers on their list.
Visiting here, you definitely will find quite some number of people in this spot. So, if you are the private one like me, you might just need to consider other options.
But some say that sometime in the year, this place has some space to move around. Just know this is a super beer parlor, but if you must see, do pay a visit to the Delirium bar.
After a days walk, take a ride to a beer spot and calm your nerves in Brussels.
25. Go science with Atonium
The Autonium is considered to be one of the symbols of Brussels and visiting here is one of the things to see in Brussels.
This is made of stainless steel shaped in a molecular form to create a steel structure.
History has it that the Atomium dates back to the 1958 World's Fair and as it got popular in this fair, it became a spot which is home to some of the Belgian culture cutting across arts and science with quite a lot of exhibition spaces.
The Atonium is certainly one of the best places to go with your kids in Brussels as they have quite an option of children play centers to keep kids busy during a visit.
They may decide to play with the Kids' Sphere and can also decide to spend the night in its attraction.
This is one which answers what to do in Brussels at night.
However, one of the best reasons to take a tour north to the Autonium is the great views of the city you will notice on the way.
Regardless, some travelers however have the opinion that this place is not worth the price charged for an admission in a lounge or the time to get into the attraction center.
Also travelers gave the opinion to only pave a visit to this place on a sunny day and going in bad weather gives a lackluster view when looking at it from the top.
26. Take a Walk Through Cinquantenaire Park
Though you may have heard Brussels is a busy city.
Regardless, it also has quite some green space which you will love if you like being close to nature and taking a walk to check out this Park is one of the top things to do in brussels.
The weather in this city is quite unpredictable, however, the city is at its life during a sunny day and one of these sunny days should get you a visit to "Parc du Cinquantenaire" or in English the Cinquantenaire Park.
Paying a visit to this park, you will take to notice families taking picnic in various spots around this park. Also you will notice cyclists taking a ride down its paths.
You may also decide to go to the fountains, here you will also find quite some visitors.
As earlier mentioned, located around this park is the Royal Museum of the Armed Forces and Military History which houses some of the best military history and interesting fun to know facts.
Also, you can decide to have a good view of this park in this museum. This will expose you to a sight that keeps you in awe.
27. See and be seen at Cafe Belga
This is a well-known institution in the city of Brussels and if you are taking a visit to Brussels, Cafe Belga is one of the things to see in Brussels.
Popular amongst locals and tourists, Cafe Belga is located at the heart of the cultural mixing spot of Place Flagey.
This Café provides great views and an amazing atmosphere where you can sit and enjoy some of the best Belgian foods.
The summer is a busy time to visit the café but it comes with its charms too.
If you are in this area and would like to get some of the best fries in Brussels, you might consider visiting Frit Flagey for this.
Get to a comfort zone in this café, it is definitely worth its while.
28. See Place Sainte-Catherine
Few Kilometers from the Grand Place is Sainte-Catherine.
This is one of the lively neighborhoods in Brussels as it is home to quite a lot of markets, café and churches.
Do well to pay a visit to this spot and when you are there, do not miss a visit to De Noordzee. This is an aesthetic restaurant where you can get the best of seafood.
Would you visit  here? I would recommend you try their fishing burger, a taste worth a million words.
If you are not keen about seafoods, you can decide to choose from the numerous café nearby. Or you can decide to visit here during the evening hours to have a good view of the nightlife.
You may also decide to visit the food and flower market located in this area any day of the week but a good day to pay a visit is on Wednesdays. This market set their focus on organic foods from 7:30 am to 3:00 pm.
The bedrock of this area is the Sainte Catherine's Church.
This church dates back to early 1874 but still provides quite an astonishing view with contrast to other buildings in the area.
Its architectural design got inspiration from French churches of the 16th century, you might decide to take the time to notice the arts presented around which include status of gargoyles, buttresses and lots more.
29. Visit the Palace of Justice
Amongst the notable buildings in Brussels is that which houses the Belgium courthouse. Located g&y in the Marolles area, this building is one known for its aesthetic architecture and one of the top things to see in Brussels.
Though still is scaffolding, the Belgium Palace of justice is quite a structure to reckon with.
Take a trip and get to behold the sight of this magnificent building.
You don't only have to look from the outside, take a walk into the courthouse to discover its classic architecture and there is no restriction on entry.
30. Check Out Anderlecht
Many tourists usually ignore visiting Anderlecht on their trip to Brusells, but this has to make this checklist of the best things to do in Brussels.
There are some interesting reasons to pay a visit to Anderlecht. One good reason is the open-air graffiti gallery.
This is located around Brusells with a bridge supported by about 150 columns. These columns have been covered with graffiti masterpiece to bring quite the view.
31. The Royal library
If you want to do some research work or reading, the Royal Library is a place to go.
This library don't only give you the books they also give you a good view around Brusells. The top of the Royal Library could meet your need, taking this view in a camera makes one of the top things to do in Brussels you should consider.
Do add this to your checklist of things to do, access to this library is free. At the top, you get a good view over the Palace of Justice building and the Mont des Arts building.
32. Visit an urban farm
I love the view of an urban farm and I think you should add this to your checklist of things to see in Brussels.
You may never know but in the heart of this city is an urban farm, just towards Mont-des-arts, Brussels.
This place is a place to get closer to the green part of life in this city.
If you are thinking of taking the children on a trip, this is one of the best things to do in Brussels with kids.
Plan a Trip to Brussels
Its time to start planning your trip to Brussels. If you would like to spend some vacation time with family members or loved ones, then this is a place to be.
Here, you have a comprehensive checklist of what to see in Brussels and the best things to do in Brussels. Do take your time to decide which would make the top of your list but be rest-assured that this checklist will give you the best of experience of the amazing city of Brusells.
Trust me, you definitely will have a good time in this city. Now, I will leave you to making plans for your trip!.