In search of the best and fun things to do in Newport News, VA?
Newport News is located in southeastern Virginia on the banks of the Hampton Roads harbor. This charming town is situated just minutes from Williamsburg,
It is a short drive to the Atlantic Ocean and Virginia Beach and is full of things to see and do for the entire family.
There is an array of beautifully preserved traditional buildings, historical gems, and several museums that preserve and record the region's history and maritime heritage.
Newport News is also home to one of the largest municipal parks in the USA and numerous parks, zoos, and nature preserves. It also captures important periods of the Civil War in America.
Let's see some of the best things to do in Newport News, VA.
Things to Do in Newport News
1. Go to the Mariners' Museum and Park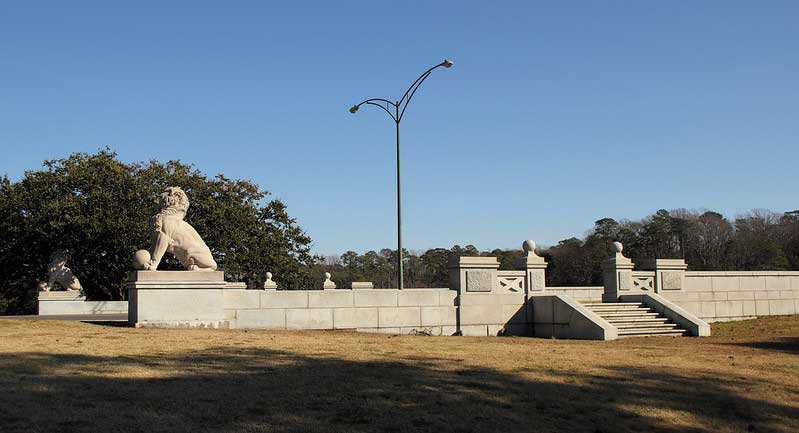 Also known as America's National Maritime Museum, The Mariners' Museum and Park are devoted to everything about nautical and maritime history.
This museum was established in the 1930s by Archer Milton Huntington and Homer L. Ferguson and explored seafaring history from the period of European exploration down to the modern-day United States Navy.
The museum seeks to explore everything about seafaring.
Address: 100 Museum Dr, Newport News, VA 23606
2. Visit Virginia Living Museum
The Virginia Living Museum is recognized as the jewel in the crown of the state and makes our list of things to do in Newport News.
The museum is a combination of an animal sanctuary, an aquarium, a botanical garden, a science center, and a nature park that displays the natural beauty, fauna, and flora of Virginia.
The interactive center has a vast range of displays, exhibits, and hands-on activities for visitors of all ages and classes.
You will see habitats for animals like otters, red wolves, otters, bald eagles, and bobcats, and at night you could observe the sky in the state-of-the-art digital planetarium theater.
The features at this center are a Conservation Garden, a Butterfly Garden, and a Green Living House, which contains a broad array of native plants local flora from Virginia.
More attractions here include self-guided tours of the gardens and the boardwalk.
Address: 524 J Clyde Morris Blvd, Newport News, VA 23601
3. Check out the U.S. Army Transportation Museum
Located on the grounds of Fort Eustis this is another interesting thing to do in Newport News.
The U.S. Army Transportation Museum is devoted to collecting, preserving, showcasing the history of transportation in the U.S. Army by displaying transportation-related equipment, vehicles, and memorabilia.
This museum boasts an expansive collection of more than 1,000 exhibit props and 7,000 artifacts, ranging from planes, helicopters, and landing craft to hovercraft, trucks, jeeps, and trains.
You will find signature items in the collection to include the only existent hovercraft to see combat and the first helicopter to fly at the South Pole, as well as the only surviving gun truck from the Vietnam War.
Do well to check out this museum while in the city.
Address: 300 Washington Blvd, Fort Eustis, VA 23604
4. Have fun at Newport News Park
With two freshwater reservoirs and 8,000 acres in size, Newport News Park is one of the largest parks in the United States.
This natural oasis is home to a wide range of fauna and flora, including flowering meadows, lush wetlands, and lush woodlands, along with native wildlife such as otters, beavers, deer, foxes, and raccoons.
You would enjoy recreational activities here too. Facilities include a disc golf course, a five-star archery range, ropes and initiative course, a golf course, a horse show arena with a stage, and more than 30 miles of mountain biking and hiking trails.
Do visit as Newport News Park is open every day from sunrise to sunset.
Address: 13560 Jefferson Ave, Newport News, VA 23603.
5. Explore the USS Monitor Center
The USS Monitor Center is amongst the most popular ships in history, and it is based at the Mariners' Museum, and Park should not be missed.
The iron-hulled steam-powered warship was built during the American Civil War for the Union Navy and played an essential role in various decisive battles.
Visitors can go on guided tours to explore the ship and participate in several interactive activities like taking a walk on the deck of a full-scale replica of a Monitor.
You can also partake in a battle in the ultramodern high-technology battle theater.
This vessel allows self-guided and guided tours, and it is open throughout the year. This attraction makes the list of top things to do in Newport News.
Address: 100 Museum Dr, Newport News, VA 23606.
6. Go back in time to Virginia War Museum
The Virginia War Museum is devoted to documenting American military history through various collections of unusual historical antiques from 1775.
The museum is located in Huntington Park Beach and houses several exhibitions and displays. Some of its features personal artifacts, weapons, uniforms, vehicles, posters, documents, and other U.S. military-related items traceable from 1775 till date.
Signature displays include articles and photographic exhibits such as Women at War and Marches Toward Freedom, and a piece of the outer wall from Dachau Concentration Camp
The museum plays host to various evening programs and different special events all through the year.
Address: 9285 Warwick Blvd, Newport News, VA 23607.
7. Learn more history at Lee Hall Mansion
Built between 1851 and 1859, Lee Hall Mansion or Lee Hall is one of the final remnants of antebellum homes on the Virginia Peninsula and a perfect example of Victorian architecture.
The mansion was home to Richard Decauter Lee, a well-recognized resident. It has been beautifully restored to its former glory and stands as a house museum that reels visitors back to the mid-Victorian era.
A historic brick plantation house also served as the Confederate headquarters of General Johnston and Genera Magruder and boasts diverse kinds of period antiques and exciting exhibits.
If you want to learn more about the historical relic, visit this place to enjoy guided tours of the house and grounds
Address: 163 Yorktown Rd, Newport News, VA 23603
8. Explore Endview Plantation
Endview Plantation
is an 18th-century plantation that looks at the cultural and historical significance of the area.
Endview Plantation was built in 1769 and used to be the home of Dr. Humphrey Harwood Curtis, from where he started to run his medical practice before the home was converted into a hospital during the Confederate era.
The house is a museum that represents an informative exhibit of colonial and Civil War life.
It offers visitors an opportunity to explore the house on guided tours and learn more about the life process during the Antebellum era.
Address: 362 Yorktown Rd #1017, Newport News, VA 23603
For a fun time in Texas, take to exploring our list of things to do in Nacogdoches, things to do in Bastrop and fun things to do in Denton for a fun vacation time.
9. Newport News Victory Arch
The Newport News Victory Arch is a monument which was built in 1919 in memory of those who sacrificed their resources during wartime in the American armed forces.
This monument is located in Victory Landing Park and underwent reconstruction in 1962, with an eternal flame (donated by the American Legion) added to the arch on Memorial Day in 1969.
Now, the Newport News Victory Arch stands as a memorial with the constantly burning eternal flame for all the people (both men and women) of the armed forces.
Address: West Ave, Newport News, VA 23607
10. Enjoy Huntington Park
Huntington Park is next on our list of things to do in Newport News.
Occupying 60 acres, Huntington Park is a popular park with various recreational facilities, equipment, and amenities for outdoor activities.
The park is home to a public beach and boat ramp, a bigfoot playground close to the James River with lovely views, and Lake Biggins – which offers the Urban Trout Breeding Program and excellent tour fishing.
More facilities include an award-winning rose garden, sports fields, 20-lighted outdoor hard courts, and a beach food concession stand usually open during the summer.
Address: 361 Hornet Circle, Newport News, VA 23607, Highway Exit: 263A from I-64
11. Take the kids to Peninsula SPCA and Petting Zoo
The Peninsula SPCA and Petting Zoo exists as an animal sanctuary and adoption center that works and maintains a "no-kill" policy, rehabilitating rescued animals until they pass.
In addition, the SPCA hosts various educational programs for visitors of all ages and offers preventive veterinary care for injured, rescued, and orphaned animals.
At the petting zoo part of the sanctuary, you will see various rescued animals housed in it. They include chicken, sheep, goats, tortoises, alpacas, peacocks, and a black leopard.
The kids can pet and feed the barnyard animals, and there is an opportunity to learn more about exotic at the zoo.
Address: 523 J Clyde Morris Blvd, Newport News, VA 23601.
12. Newsome House Museum & Cultural Center
Newsome House Museum & Cultural Center used to be the former home of J. Thomas Newsome and honors the legacy of this eminent and well-respected attorney.
He was also a civic leader, journalist, and churchman who was popular for his ongoing African American history and culture work.
This Center is a recognized gathering spot for the African-American community in the area, and this house was essential in the culture and history of the region.
Newsome House Museum & Cultural Center is listed on the National Register of Historic Places. It plays host to various educational programs and special events all through the year.
Address: 2803 Oak Ave, Newport News, VA 23607
13. Shop at Patrick Henry Mall
Another exciting thing to do in Newport News, especially for shopping enthusiasts, is visiting Patrick Henry Mall.
Patrick Henry Mall is a mall that features and is anchored by major stores like Dick's Sporting Goods, J. C. Penney, Macy's, and Dillard's.
There are indoor and outdoor shops specializing in women's and children's accessories and apparel. You would also like beautiful clothes, home décor stores, and accessories.
The outlet mall also has contained dining and entertainment options and modern amenities such as ATMs,center-wide accessible parking, modern restrooms with baby changing stations, children's play areas, nursing mother stations, and a security and police substation.
It provides a complete mall experience!
Address: 12300 Jefferson Ave, Newport News, VA 23602.
14. Newport News must-visit: Ferguson Center for the Arts
If you are a lover of art, then the Ferguson Center for the Arts is somewhere that you don't want to miss as it is known for housing some of the best artwork from all parts of the world.
Ferguson Center for the Arts is part of the Christopher Newport University and comfortably makes the best things to do in Newport News.
The center also hosts regular performances held in the onsite theatre, such as dance recitals and musical concerts.
Every year, over one million visitors flock to this place, establishing its stance at one of the best places to absorb culture if you are in Virginia.
Address: 1 Avenue of the Arts, Newport News, VA 23606.
15. Riverview Farm Park
Located in Newport News, Riverview Farm Park is a municipal park run by the Newport News Department of Parks, Recreation, and Tourism.
This park is home to the Fantasy Farm Playground, a 30,000 sq. ft. open area community playground. It also has picnic areas and restrooms accessibly sited near the playground and soccer field.
The family-sized picnic shelters are used on a first-come-first serve basis, but the large barn-shaped shelter, located in the middle of the playground, is accessible by the general public.
There is also a group shelter located across the parking lot, which can be booked for special activities and picnics and an accommodation capacity of up to 100 people.
The park is open every day of the week from 8 am to 6 pm
Address: Riverview Pkwy, Newport News, VA 23602.
Are you planning a road trip in Florida?, here is a list of things to do in Palm Coast , things to do in Gainesville and things to do in Pompano Beach for a fun time in Florida
16. Associate with locals at Dean and Don's Farm Market
Dean and Don's Farm Market is a family-owned, managed, and operated farm market that has been supplying fresh farm produce and homemade goods since the year 1967.
This farm market is open and operated annually between April and October.
It sells fresh fruits and vegetables sourced straight from the farm and is delivered by the family's fleet of trucks to maintain absolute freshness.
You will also find freshly cut Christmas trees at Dean & Don's Farm Market during November and December.
Address: 12601 Warwick Blvd, Newport News, VA 23606
17. Eat nice at Second Street Restaurant
Second Street Restaurant is an American bistro that offers contemporary cuisine classy ambiance.
They are open every day for lunch and dinner. It offers an invitingly presented menu of creative and innovative dishes, seasonal small plates, appetizers, desserts, and entrées, made with fresh, locally sourced ingredients.
Their signature dishes are watermelon salad, goat cheese pizza and roasted garlic with balsamic glaze, and New York-style cheesecake.
Their cuisines are backed up with a comprehensive list of wines from all parts of the world, along with handcrafted cocktails, imported spirits, and craft beers.
Address: 115 Arthur Way, Newport News, VA 23602
18. Enjoy seafood at Skrimp Shack
Located in several locations around the area, Skrimp Shack is a family-friendly fast-food chain that serves seafood and sides for both lunch and dinner.
Shrimp Shack serves a wide range of seafood delights such as-fish sandwiches, fried shrimp and fish, dinner specials, po'boys, various kinds of sides, and special kid's meals.
This restaurant also has a rentable food truck for special events and festivals. So, while in Newport News, do take advantage of this fast-food chain.
Address: 13175 Jefferson Ave #13, Newport News, VA 23608
19. Fin Seafood
If you are looking for a place to get fresh seafood, surf-and-turf, and shellfish in Newport News, then you should head to Fin Seafood Restaurant.
With chef and owner Kenny Sloane at the helm, the restaurant offers a menu of tempting seafood dishes which are prepared making use of only the finest and best quality local and organic ingredients and fish.
Fin Seafood has a signature of its surf and turf menu, where it uses prime steak and the best quality seafood to make a mouthwatering blend of fruits from the land and sea.
The restaurant features an impressive wine list that offers fine wine from all parts of the world and imported spirits and craft beers.
You can check in any day for lunch and dinner.
Address: 3150 William Styron Square North, Deer Park, Newport News, Virginia, 23606.
20. Anticipate Port Warwick Art and Sculpture Festival
Port Warwick Art and Sculpture Festival is an annual juried fine arts festival that is well recognized for the phenomenal treatment of the artists, many of whom return year after year.
This festival takes place in the beautiful Styron Square in the center of Port Warwick! It sees both locals and visitors enjoy the beautiful Fall weather and the fine Artisans from near and far to display lovely artwork amongst the community.
There is live entertainment all through the weekend-long including Latin Dance Instruction handled by a professional Instructor to the music of the Latin Jazz Conspiracy.
The kids will have fun at the educational Children's and Family Area. It features Scavenger Hunts and take-home games, and Young Collector's Tent where children under 14 can buy artwork donated by artists at subsidized prices.
Address: 3100 William Styron Square N, Newport News, VA 23606.
21. Battle of Lee's Mill
One famous battle in Virginian history is the Battle of Lee's Mill. A battle saw the Confederates hindering the Union flanking movement in 1962.
In 1856, a grist mill on the Warwick River was constructed here by Richard D. Lee, and it still stands and commemorates this event.
Now, access to the battle site is through a small parking area inside a residential subdivision west of Warwick Boulevard (U. S. Route 60) through the Rivers Ridge Circle.
There are several historical markers and interpretive waysides located close to the river. They all make for an interesting tour
22.Skiffes Creek Redoubt
Skiffes Creek Redoubt is a historical landmark on Newport News, constructed during the Peninsula campaign's Warwick-Yorktown line siege in 1862.
It is one of five earthworks built by the Confederates to help protect the Mulberry Island/James River flank of Maj. Gen. John Bankhead Magruder's Second Peninsula defensive line.
The line's right flank was massively fortified by Magruder, including this redoubt—a small, circumscribed defensive fort built from timber, sod, and earth.
Only two of these series of redoubts remain, and they stretch from Lee's Mill on the Warwick River to Skiffes Creek, thus preventing any Federal flanking movement by way of Skiffes Creek or Mulberry Island.
Today the Skiffes Creek Redoubt is located in a wooded area between industrial parks, and visitors can gain entrance via a short, wheelchair-accessible boardwalk.
Address: 22 Enterprise Dr, Newport News, VA 23603, United States.
23. James A. Fields House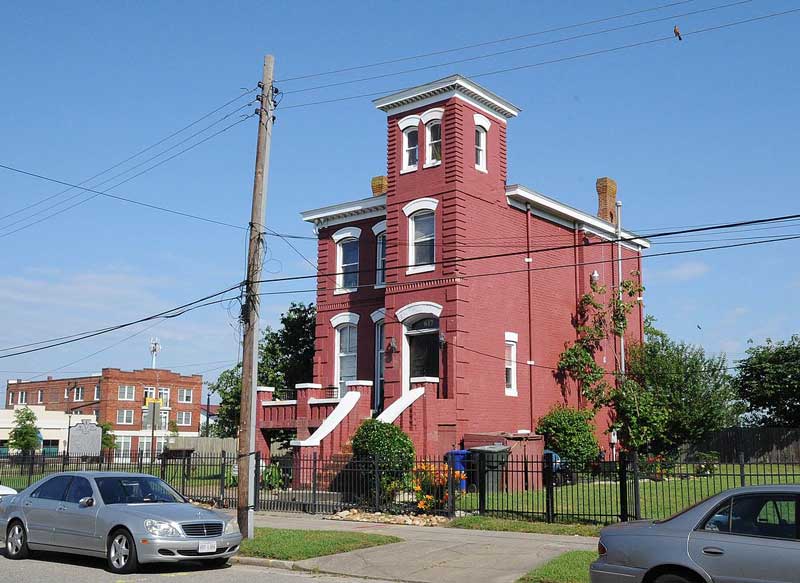 James A. Fields House used to be the home of a well-known teacher and lawyer from Newport News.
This house is popular as it served as his law office for so many years and was operated as the first hospital in the African-American community.
The house went through a thorough restoration, but now it is a museum that gives visitors a pinch of how life in Newport News was like in the 1900s.
You can take a docent-guided tour here with the guides, all friendly and willing to answer your questions even to the cultural and historical significance of the residence.
The museum is open on Sundays from 10 am – 4 pm. Do visit as you are sure to have a great time here!
Address: 617 27th St, Newport News, VA 23607, United States
24. Peninsula Fine Arts Center
Peninsula Fine Arts Center should be a must-visit for anyone who loves art. You will find diverse range of artwork on display in this place.
Located along Museum drive, the Peninsula Fine Arts Center is accredited with the American Alliance of Museums and one of the exciting things to do in Newport News.
You will see both static and rotating exhibits here, but one of the most interesting aspects of this center is the fact that you can as well create your own artwork if you desire as a visitor.
There is a Hand On For Kids gallery here where the younger folks can exert their masterpiece.
You can also purchase different kinds of showcased artwork and take them back home as a souvenir.
Address: 101 Museum Dr, Newport News, VA 23606, United States
25. Downing-Gross Cultural Arts Center
Downing-Gross Cultural Arts Center adds to our beaming list of best things to do in Newport News.
The Downing-Gross Cultural Arts Center is popular for being the location of the Ella Fitzgerald Theater, which was built in honor of the legendary singer – Ella Fitzgerald.
Ella Fitzgerald was born in Newport News in 1917, but many visitors don't realize this until they visit the theatre.
The theater is a deserving tribute to one of the city's stars and has a capacity of more than 270 spectators. It attracts people from all parts of the country for diverse events and shows.
You can see a range of shows here, so do well to check the local listings when you are in town for available events.
Downing-Gross Cultural Arts Center is open every day from 9 am to 5 pm except on Sundays.
Address: 2410 Wickham Ave, Newport News, VA 23607, United States
26. Peninsula Community Theater
Amongst the interesting things to do in Newport News is visiting the Peninsula Community Theater. The Peninsula Community Theatre is an inexpensive, multifaceted venue that has become a major center for entertainment and events.
This theater was initiated in the 1950s as the Newport News Little Theater, and since then, it has been excelling strongly in the local community.
Peninsula Community Theater is a movie auditorium built in the art deco style. Regular transformations and improvements have seen the auditorium transformed into a stage theater.
Consequently, you can anticipate a whole range of shows here, such as murder mysteries, Broadway musicals, comedy nights, and even special productions for the kids.
Address: 10251 Warwick Blvd, Newport News, VA 23601, United States
27. Fort Monroe
Fort Monroe was built in 1834 and is famously claimed to be the largest stone fort to have ever stood in the United States.
The essence of building this fort was to provide defense along the coastline of Chesapeake Bay, and it operated in this regard for hundreds of years before it was made inactive.
Currently, Fort Monroe is a National Monument in the United States, available for tour. Join other visitors to tour the fort as you learn more about its history.
It is open every day of the week from 5 am, and 12 am.
Address: 41 Bernard Road, Building #17, Fort Monroe, VA 23651, United States.
28. Historic Jamestowne
Historic Jamestowne is indeed historic as it marks the spot where the first English men settled in North America. It is also serviced and maintained by the Colonial National Historical Park.
You will find a visitor center here, and it features a range of galleries that tells about the permanent settlement, and coming along with this in mind brings a lovely theater experience.
While at Historic Jamestowne, you can take a tour of the amazing Archaearium to learn more about the area's archaeology. It would also help you find out more about the history and geology of Historic Jamestowne.
29. Denbigh Park
Denbigh Park, the only public zone in Newport News, VA, is a salt marshland park that spans 13.3 acres. It is situated near the Warwick river, which honors the James River.
Sited on the southern corner of Denbigh Boulevard, Denbigh Park is home to a boat ramp and an intriguing hiking/walking trail through the natural habitat of several wildlife species.
During winter, you will most likely see migrating passerines and tiny rafts of ducks. Other times you may come across nesting Yellow-crowned Night-Herons.
The park also had a little fishing pier, which is currently inaccessible; however, there is also a boat ramp that gives visitors easy access to the Warwick River.
It is home to species like Boat-tailed Grackles, Clapper Rails, and Brown-headed Nuthatches that are difficult to locate in the other parts of the city.
Denbigh Park is among the best things to do in Newport News, VA. It does not require you to break the bank as no entrance fee is required to get in.
Address: Newport News, VA 23602, USA
30. Tilt Studio Patrick Henry
Tilt Studio Patrick Henry, a 19,000 sq ft indoor entertainment complex, is full of excitement. At this facility, you may play more than 100 video and arcade games, laser tag, mini bowling, and bumper cars.
In the arcade, you can play the crane games filled with tickets and candy, compete against friends on the car race simulator game, enjoy a game of pinball, or show off your shooting skills on the basketball point rims.
Additionally, there is a shooting gallery where you and your friends can compete to see who has the most points knocking down targets. You also get to choose from various guns.
Kids love bumper cars but must be at least 44″ tall and weigh less than 275 lbs. There is also a mini bowling amenity, but the main attraction is the laser tag which is perfect for group and family fun.
Tilt Studio Patrick Henry has a designated room for birthday parties, reunions, corporate events, and other special occasions. For bigger occasions, there are bigger event spaces. They can also champion your occasion if you wish.
Address: 12300 Jefferson Ave #600, Newport News, VA 23602, USA
Want more of the beauty of Virginia? check out our guides on things to do in Staunton, things to do in Lexington, and things to do in Richmond for a memorable time in Virginia.
Plan your trip to Newport News
No doubt, you would not want to miss out on the intriguing opportunities that Newport News has to offer. And as exposed here, they are a lot to enjoy and try out while others still lay by the side.
You should start making plans on visiting Newport News as your next vacation location. It's going to be a memorable one.
Create your bucket list of things to do in Newport News, and go on that fun trip