If you are searching for fun things to do in Montecito, CA, then you are in the right place.
The town of Montecito is an oasis of posh in a sunny, seaside corner of Southern California. It has a stylish and somewhat exclusive vibe thanks to the numerous celebrity homes located here.
There are abundant alluring destinations, exquisite dining, high-end boutique shopping, and memorable views of the Pacific Ocean.
If you are planning to visit this area, you should enjoy it in its entirety. There are so many things to do that you'll think your visit deserves an extension.
During your trip, head to Jeannine's for a bite to eat, spend a day at Butterfly Beach or Lotusland, go back in time at Casa del Herrero, and much more.
Let's check out some of the best things to do in Montecito, CA!
Things to Do in Montecito
1. Enjoy outdoor activities at Andree Clark Bird Refuge
Check out Andree Clark Bird Refuge if you want a place to enjoy outdoor activities around Montecito.
This refuge is home to around 200 bird species, so you will see your favorite birds and some you've never known about.
There is a lot you can do here besides bird watching, as visitors can also enjoy biking and hiking. There is an 11-7 hectare (29-acre) lake on-site as well, however, activities on the water are not permitted.
If you enjoy bird watching, then you should visit Andree Clark Bird Refuge.
Address: 34a Los Patos Way, Santa Barbara, CA 93108, United States
2. Visit Vedanta Temple
Relish astonishing views of the Pacific Ocean from Vedanta Temple; this is among the top things to do in Montecito, CA.
Vedanta Temple is a Hindu temple built back in 1965. Apart from being a temple itself, this property houses a bronze temple bell from the 12th century, which is rung three times a day.
Since it was opened to the public, visitors can absorb the view, enjoy the fresh air, or get to the on-site bookstore – run by a convent of nuns.
Opening hours are 6:30 am – 7 daily.
Address: 927 Ladera Ln, Montecito, CA 93108, United States
3. Wade the waves at Butterfly Beach
If you are interested in nature add a visit to Butterfly Beach to your list of fun things to do in Montecito, CA.
This charming coastal town of Montecito offers a stretch of pristine white sand beach that is perfect for water recreation activities.
Butterfly Beach is a great destination where you can enjoy an afternoon under the sun. Located only 10 minutes from Downtown Santa Barbara, this beach is ideal if you don't want to wander away from the city.
You can surf the waves, go kayaking, wade the waters, and even spot whales and dolphins from afar.
Whether you want to indulge in exciting water activities or just absorb the sun while listening to the waves crashing to the shore, head to Butterfly Beach. Do well to pack your sunscreen and other beach essentials for a wind-down by the ocean!
Address: Butterfly Beach, Montecito, CA 93108, USA
4. Take a trip back in time to Casa del Herrero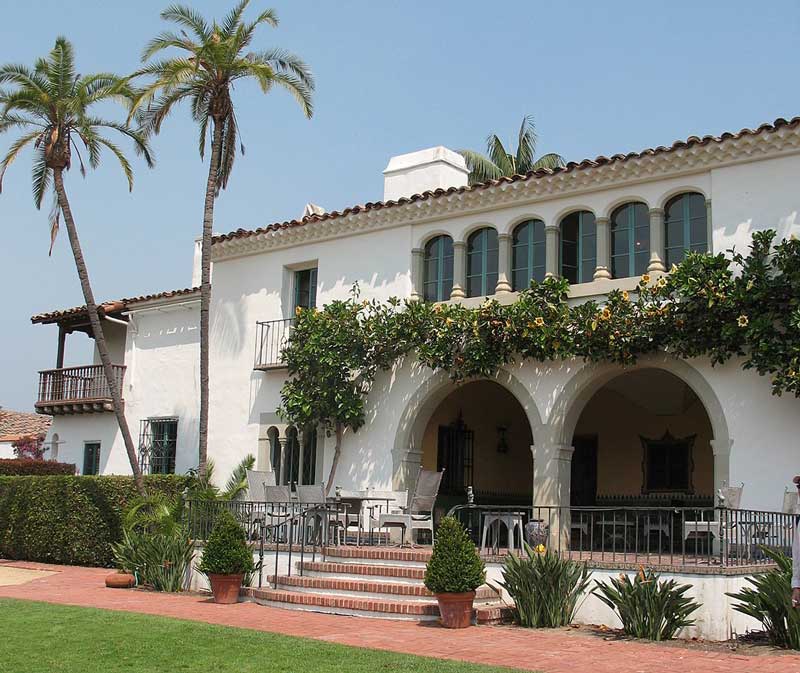 Do you want to roll back the hand of time for a glimpse of what life looked like back then? If yes, stop at
Casa del Herrero
.
Designed by George Washington Smith, Casa del Herrero is a charming estate built in the 1920s and owned by George Fox Steedman.
Located east of Valley Road, this Spanish revival-designed estate is filled with history and scenic outlooks. A tour of this stunning 1920s home would unveil a collection of historical artifacts and you'll be marveled at the sophisticated architectural details.
Casa del Herrero is a must-visit, whether you are an architecture enthusiast, a history lover, or simply someone who adores exploring beautiful places.
Opening hours: Wednesday & Saturday: 10 am – 11:30 am, 2 pm – 3:30 pm (closed from Monday – Tuesday, Thursday – Friday & Sunday).
A visit to Casa del Herrero is one of the best things to do in Montecito, CA for history buffs.
Address: 1387 E Valley Rd, Montecito, CA 93108, USA
5. Book a spa session at Rosewood Miramar Beach's Sense Spa
If you want the perfect vacation in Montecito, spend your day at the beach and have a luxurious massage afterward.
Located inside Rosewood Miramar Beach hotel, Sense Spa offer various services. All you need is to check out the treatment options available
You can pamper yourself and book a massage, a facial, a manicure section, and many more.
Address: 1759 S Jameson Ln, Montecito, CA 93108, United States
6. Hike the trails going to Tangerine Falls
Do you want to include a relaxed outdoor adventure on your itinerary list? Then, check out the Tangerine Falls of Montecito.
It is a 2.5-mile hike to the roaring Tangerine Falls starting at East Mountain Drive. You will find a wooden sign that marks the trailhead and as you hike through the trails, you'll see scenic natural sceneries and quiet woodlands.
There are a few rocky paths, slippery rocks, and steep steps which make the hike a bit challenging. But endure, after you have triumphed over the challenge of this hike, the breathtaking sight of Tangerine Falls lies in wait for a reward.
Take a chill pill and snap some photos, enjoy the cascading sounds of the water, and revel in the company of nature.
Address: E Mountain Dr, Montecito, CA 93108, United States
7. Admire the stained glass at Our Lady of Mount Carmel Catholic Church
Next on our list is a religious building; you'll particularly enjoy this one if you love visiting beautiful churches on your holidays.
Our Lady of Mount Carmel Catholic Church has been around since Montecito saw its first rural settlers, which is about 160 years now.
It is one of the most popular and recognized landmarks here in the city, and it houses beautiful stained glass art.
If you want to see a piece of history in Montecito, you should head to this church. You can also worship with the brethren.
Address: 1300 E Valley Rd, Santa Barbara, CA 93108, USA
8. Have a Picnic at Manning Park
Do you want a place in Montecito where you can relish some quiet time on a sunny afternoon? If yes, get down to Manning Park and take your baskets along well filled with hearty snacks.
This hidden gem is located along San Ysidro Road and is the perfect destination to take the whole family. Manning Park has an expansive open space with playgrounds, ball fields, horseshoe pits, and ball courts.
There are BBQ grills in the picnic areas, so you can have an amazing picnic outing with friends and family. If you want to get active and play some games or read a good book under the canopy of the trees, Manning Park fits in perfectly.
Among the fun things to do in Montecito, CA is visiting Manning Park.
Address: 449 San Ysidro Rd, Montecito, CA 93108, USA
Planning a road trip in California? explore this list of things to do in Ojai, things to do in Redding and things to do in Stockton for a memorable road trip.
9. Make beautiful sand castles at Miramar Beach
Are you a beach bluff? Do you enjoy taking walks on the beach? Visit the lovely Miramar Beach if this is you.
Miramar Beach is a great public beach that faces in the direction of the south. It has a narrow sandy beach which is ideal for short strolls and family visits seeing the kids will love building tiny sandcastles here.
On a personal note, you'll love taking a quiet and relaxing walk here while observing the activities unraveling around you.
Make that date with your loved one at Miramar Beach.
Address: Montecito, CA 93108, USA
10. Appreciate the Arts and Culture at Westmont Ridley-Tree Museum of Art
There is one thing you would never find wanting in Montecito, and that is the number of places you can visit to cherish the artistic works of local talents.
The Westmont Ridley-Tree Museum of Art is a hub for artists and art enthusiasts looking to have a platform to unleash their creative minds.
Westmont Ridley-Tree Museum of Art is devoted to educating the community and exhibiting the power of the visual arts to the world with this quaint art gallery is located on La Paz Road in the middle of Westmont Campus.
Visitors are allowed to take a tour of the gallery where they will see creative exhibits crafted by a talented artist, as well as participate in art events if they want to venture deeper into arts.
Opening hours: Monday – Friday: 10 am – 4 pm (closed on Saturday & Sunday).
Visitors interested in art and culture should add a visit to Westmont Ridley-Tree Museum of Art to their list of best things to do in Montecito, CA.
Address: Westmont College, 955 La Paz Rd, Montecito, CA 93108, United States
11. Enjoy a lovely weekend brunch at Jeannine's Restaurant & Bakery
Are you searching for a place where you can enjoy a nice weekend brunch? Jeannine's Restaurant & Bakery is the perfect place for you.
It is a cozy establishment with an outdoor patio where guests can enjoy al fresco dining. You can sit amidst the hydrangeas and absorb the beautiful atmosphere of the place.
They offer sandwiches, salad, and a variety of drinks.
If you plan to stop by for breakfast, order the waffle breakfast. It's a lovely treat topped with mixed berries and served with two eggs and your choice of protein.
Address: 1253 Coast Village Rd, Montecito, CA 93108, USA
12. Shop and dine at Coast Village Road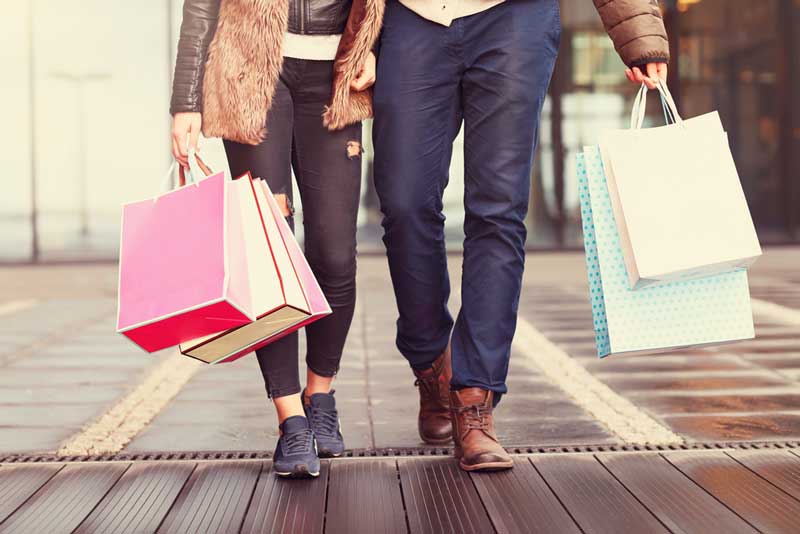 A trip to Montecito requires a fine dining experience and a bit of splurge on unique luxury items. You have that in Coast Village Road – the most vibrant part of Montecito.
You can shop in locally-owned boutiques and experience the energetic restaurant scene here. This shopping and dining center is the best place to explore if you desire to get familiar with the enchanting coastal community.
Delight yourself with a tasty brunch, have a cup of coffee in one of the cozy coffee shops, and shop for special items at Coast Village Road.
Whatever you are looking for, be it the best dining option, meeting new people, or hunting for artisan items, this is the place to go!
13. Shop at K. Frank
For a memorable shopping experience, add a visit to K. Frank to your list of fun things to do in Montecito, CA.
K. Frank is a shopping outlet in Montecito which specializes in men's and women's designer clothing, accessories, shoes, and jewelry.
Established by Kevin and Katie Frank, who brought their thoughtfully focused fashion edit to cut across relevant fashion collections from various parts of the world.
They have a roster of designers, including timeless collections and trends from Veronica Beard, Golden Goose, A.P.C., Rag & Bone, Stone Island, Herno, and Moussy.
It is dynamic because emerging and established designers homogenize to create the perfect modern aesthetic for you.
Address: 500 E. Montecito Street, Santa Barbara, CA 93103
14. Have a relaxing hike at Hot Springs Canyon Trail
The Hot Springs Canyon Trail is a haven for you if you enjoy hiking and taking a dip in natural hot springs.
This 3.7-mile trail is the ideal destination to explore the beauty of nature and can be accessed along East Mountain Drive.
You would see a landmark along the trail, the Hot Springs Canyon, a remnant of the original hot springs resort from the 1800s.
The hot springs are enveloped by lush greeneries and stone ruins, making it a great destination if you want to ignore your daily stress.
Be sure to wear appropriate hiking clothing for a comfortable and safe hike to get to the hot springs.
Address: 1202-1298 E Mountain Dr, Montecito, CA 93108, USA
15. Climb the Montecito Peak
If you are adventurous, you'll appreciate the hike going to Montecito Peak. It is expected because you'll be left in awe viewing the fascinating coastline of the Santa Barbara Area at Montecito Peak.
You will enjoy the sounds of nature along the hike while seeing the gorgeous mountain vistas and the rich flora and fauna of the region.
One can access the trailhead through East Mountain Road close to other trailheads which lead to scenic landmarks.
With a height of 3,214 feet, this peak is one of the highest summits in the area. You can reach it after a 7.1-mile round trip hike.
Hiking here to its peak can be an overwhelming task, however, you'll be rewarded with astonishing views of the Pacific Ocean and coastal cities.
Planning to explore California? Get the best of attractions and activities in Auburn, San Pedro, and San Juan Capistrano for a fun California vacation.
16. Explore the mystical Lotusland
If you are in Montecito, go on a serene exploration at Lotusland! Located on Cold Spring Road, this mystical garden spans up to 37 acres and is full of nature.
The expansive gardens and historic estate used to be owned by Madame Ganna Walska, who transferred her legacy to the opening of Lotusland in 1993.
Check out the stunning gardens of Lotusland beaming with over 3,000 plants, including rare cycads, euphorbias, and cacti.
Embrace the serene atmosphere these lush greeneries offer and take a brace from your daily cares.
Lotusland is poised at educating visitors about the relevance of plants in the life of everyone and the planet at large.
They are open from Monday – Saturday: 9 am – 5 pm (closed on Sunday)
Address: Cold Spring Rd, Montecito, CA 93108, USA
17. Get a glimpse of the Spanish influence at Old Mission Santa Barbara
Standing in Santa Barbara is this fascinating piece of history that reminds the people about the region's history.
Built in 1786, Padre Fermín Lasuén founded Old Mission Santa Barbara to convert indigenous locals.
A visit to this historic structure would be going on a cultural and historical journey.
You can walk the grounds and enjoy the relaxing aura, while also taking a tour inside to see an assembly of historical artifacts and memorabilia.
Old Mission Santa Barbara is a 15-minute drive from Montecito, however, you'll realize it's worth the moment you step inside this remarkable piece of history.
18. Book Your Stay at Montecito Inn
Would you want a place to get spent on a warm, cozy bed and rest your tired feet? If yes, book your stay at Montecito Inn for comfortable and graceful accommodation in town.
Built in 1928, this quaint, upscale inn came to reality when Charlie Chaplin fell in love with the coastal delight of Montecito.
Today, Montecito Inn is the best destination to bring that dreamy vacation by the coast to fruition for people visiting California.
It is a chic, Spanish-style hotel that blends modern comforts and beautiful history to ensure the best experience for the visitors.
The inn also provides a fitness room, a heated outdoor pool, an upscale bar, and a restaurant, meaning you have all your needs in one place.
19. Eat by the Ocean at Stearns Wharf
Enjoy an idyllic brunch with your partner while enjoying the relaxing sea breeze at Stearns Wharf.
Stearns Wharf bears its name after its notable builder, John P. Stearns, who executed the pier in 1872 to accommodate passengers and freight shipping needs on the South Coast of California.
Located just 15 minutes outside Montecito, this storied wooden pier in Santa Barbara's harbor is a perfect meeting place if you want to spend that great food with captivating ocean views.
Take a ride on the water taxi, enjoy the best dining experience, walk on the old wooden planks, and shop for souvenirs in specialty shops at Stearns Wharf.
This is the go-to destination in the Santa Barbara area, whether you want to eat out, separate yourself from the hustle and bustle of the city, or hang out by the pier.
20. Taste delicious wine at Montecito Wine Bistro
What about sitting out to enjoy a nice wine with your family and friends?. Montecito Wine Bistro is a modern bistro, where you can have dinner and drinks with your close circle.
Enjoy various kinds of amazing Californian wine and fresh vegetables from the farmer's market. They also have a patio where you can sit and enjoy your drink.
Montecito Wine Bistro has a dinner menu with options such as wagyu burgers, pizzas, salmon piccata, and more. There is also a kids' menu.
Opening hours are between 11 am and 9 pm every day.
Address: 516 San Ysidro Rd, Montecito, CA 93108, USA
21. Learn about Natural Wonders at the Santa Barbara Museum of Natural History
Learn more about nature by discovering scientific facts and unraveling the history of nature's wonders. At the
Santa Barbara Museum of Natural History
, you'll get to explore different realms of nature.
The museum is just a few minutes from Montecito, as it is close to nature in Mission Creek in the Mission Canyon area.
Check out several exhibit halls featuring various species that existed in the world, see the fluttering butterflies at the butterfly garden, learn about the planet and space at the planetarium, and dig deep into marine life at the sea center.
If you want an educational yet memorable experience on your trip itinerary, you should visit the Santa Barbara Museum of Natural History.
22. Interact with the Animals at Santa Barbara Zoo
What else can be compared to the classic family bonding achieved by roaming around the zoo, so don't miss out on a trip to Barbara Zoo!
With over 140 species of animals here at Santa Barbara Zoo, you have the opportunity to get an up-close view of different animals.
You'd meet over 500 animals exhibited in open, naturalistic habitats such that the safety of both visitors and animals is assured.
Apart from meeting the zoo animals, you can also have a picnic at the picnic area or ride their miniature train ride.
Santa Barbara Zoo also organizes a series of events that guests can join to learn more about conserving and preserving wildlife.
Visiting the Santa Barbara Zoo is among the top things to do in Montecito, CA with kids.
23. Get lost in the beauty of nature at Santa Barbara Botanic Garden
Santa Barbara Botanic Garden is located only 15 minutes outside Montecito at Mission Canyon in Santa Barbara.
This 78-acre botanical garden holds more than 1,000 species of rare and ingenious plants from California. You can tour this mystical garden to learn about California's native plant diversity and assist in its mission to conserve the gifts of nature.
This magical place is a gem in the Santa Barbara area, where visitors can enjoy quiet natural scenery under the canopy of luxuriant trees.
If you can't get enough of nature's wonderful offerings, be sure to visit the Santa Barbara Botanic Garden to inhale the fresh air and exhale your stresses.
Check out more cities in California, here is a guide on things to do in San Mateo, things to do in Beverly Hills, and fun things to do Roseville in for a fun time
Plan a Trip to Montecito
Montecito, California, is a place that has all types of activities and things to do for all age categories.
It creates an idyllic vacation where you can take in the offerings of nature as well as vibrant historic places.
You can enjoy a day at the beach, indulge in delicious food, or simply go shopping. Do well to pin and check back this list of fun things to do in Montecito, CA if you need some guidance for your itinerary.