In search of the best and fun things to do in Chatham, MA? Chatham is situated close to Cape Cod, in the eastern part of Massachusetts, United States.
For visitors who intend to have a good time in a rather cold and chill environment, Chatham is the place to visit as the cold Atlantic breeze gives it such ambiance.
Having numerous attractions and activities, here is an important place for anyone who want to have a fun time with friends and family.
Chatham has beautiful seaside logging, an attractive Main Street, and lovely sandy beaches. For a fun time, here are the top things to do in Chatham, MA.
Things to Do in Chatham, MA
1. Visit Chatham Lighthouse
The first item on our list of things to do in Chatham, MA, is visiting the Chatham Lighthouse. The Chatham Lighthouse was once known as the Twin Lights and has been in existence since 1808.
The Chatham Lighthouse accommodates the National Coast Guard Station and its Living quarters. It was also used as a film setting for Hollywood movies known as Finest Hours featuring Casey Affleck and Chris Pine.
Lighthouse tours are readily available for tourists on weekends; depending on which season you wish to visit, time and days may vary, so do well to make inquiries via their website.
Visitors are to put on footwear that can enable them to claim the peak of the lighthouse as there are 44 steps and an 8foot ladder.
Address: 37 Main Street, Chatham, MA 02633,
2. Explore Beaches in Chatham
Amongst the fun things to do in Chatham, Massachusetts, is checking out its beaches. Having a good time on the beach is an exciting activity for anyone to have a relaxing time and enjoy the rays of the sun and the lovely waves of the ocean. Do well to make a stop at any of the beaches here.
There are various white sand beaches to check out with many fun filled activities. You can kick start the day with a stroll on the beach, engage in yoga, swimming, etc.
The well-known beaches in this area include Harding's Beach, Ridgevale Beach, Chatham Lighthouse Beach, and Cockle Cove Beach.
3. Monomoy National Wildlife Refuge
The next item on our list of fun things to do in Chatham, MA, is visiting the National Wildlife Refuge to explore an area that has been banned for migratory animals and birds.
The Wildlife refuge was founded in 1944 and can be seen just outside the famous Cape Cod. It has a land area of 7,604 acres consisting of saltwater and freshwater sites for animals.
In 2019, the Monomoy National Refuge had five species of birds who made it their home and were on the extinction species list. And also, a total of 35 species are still under care at the refuge.
Here is a famous site, and about 30,000-50,000 where seals come to the shoreline to relax and reproduce.
Address: 30 Wikis Way, Chatham, MA 02633,
4. Biking in Chatham
Another exciting activity to engage in and enjoy in the town of Chatham is going biking. This town has beautiful roads—a road area and paths you can bike on when you visit.
Visitors can go on an evening cruise through the entire town and enjoy the lifestyle of the Main Street in Chatham or enjoy nature by biking into the wilderness and enjoying the scenic heart of this area.
Bike rentals are easy and affordable for anyone in Chatham, and there are numerous places to rent one and have a wonderful tour around the area.
Address: 400 Main St, Chatham, MA 02633,
5. Chatham Railroad Museum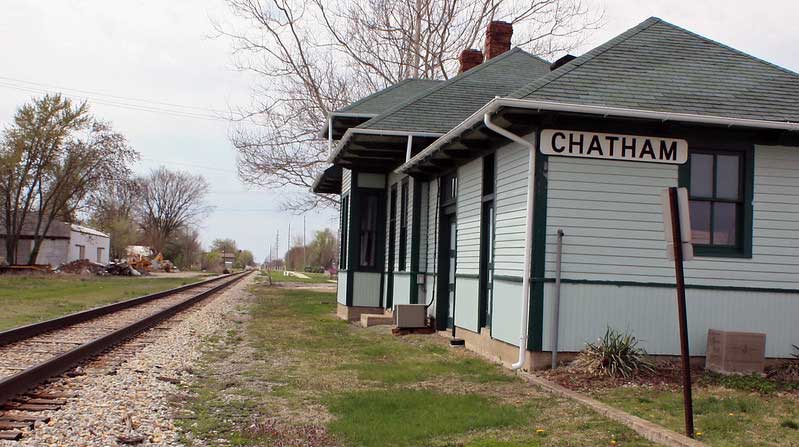 For visitors who are so much in love with the rails, one of the fun things to do in Chatham, MA, when you visit is to check out the Chatham Railroad Museum, and it should be on your checklist of places to visit in Chatham.
The Museum was established in 1960 and is housed in a revamped 1887 railroad depot that was used one time as an actual depot for Chatham.
Over time the museum has garnered various unique antiques essential to railroad history in America. Visitors will find a 1910 wooden Caboose revamped to its initial state.
For a scenic experience about railroads and their vital role in the activities of the people, here should be an ideal stop for you when you visit.
Address: 153 Depot Road, Chatham, MA 02633,
6. Chatham Anglers Baseball game
If you are a fan of baseball games, one of the best things to do in Chatham, MA, is to visit the Chatham Anglers Baseball game. It should be a primary item on your checklist of places to visit in Chatham.
The team is part of the famous Cape Cod Baseball League which comprises ten units, and the league has been in existence since the year 1885.
This destination is very close to many eateries and restaurants, making it easier and more convenient for visitors to get food items to eat or drink quickly. The exciting part of visiting this place is that the games are free to watch.d
Address: 702 Main St, Chatham, MA
7. Chatham Village Market
Another interesting spot to visit in Chatham, Ma, is the Chatham Village Market. The market is managed by four Chatham lovers who provide complete grocery store services to all and sundry.
It does not matter what you are searching for, and you will find them freshly kept for you in the Chatham Village Market. Meats and farm produce can be freshly packaged in their various sections.
Here is an ideal place to visit to stock up on your groceries. If you wish to have a quick bite, there are many sandwiches, French bread pizzas, salads, and many more in stock for you.
Address: 20 Queen Anne Road, Chatham, MA 02633,
8. Chatham Shellfish Company
If you are a fan of seafood, visiting Chatham is a great idea. You should be part of the unique activity of collecting and harvesting oysters. The experience is lovely.
The Chatham Shellfish Company offers visitors a beautiful and interactive experience of their oyster farms and the opportunity to know how oysters are harvested.
Numerous local seafood restaurants are available to satisfy your cravings with their delicious seafood menu. Here, the restaurants to find here include Pisces, That Talkative Pig, and Impudent oyster.
Morning hours come with a new stock of kinds of seafood; the restaurants to find here provides visitors with the best seafood meals, which include Wellfleet oysters, Cape Sea scallops, and Chatham bottlenecks
Address: 393 Barn Hill Rd, Chatham, MA 02633,
9. Chatham Marconi Maritime Center
One of the best things to do in Chatham, MA, is to check out the Chatham Maritime Center and dig deep into the history of wireless communication.
Wireless communication in today's world is the internet and phones. But individuals whose jobs were on water knew about it even before cell phones came into the limelight.
The museum focuses on the history of recent waves in wireless communication, also known as the internet. You can check out the Chatham Radio WCC, interact with Morse Code Station, and see the WWII Enigma Cipher Machine.
Together with the museum exhibits to see here, the center provides the general public with programs and STEM unique subject talks for adults and kids throughout the year. You can also stop by the gift shop to purchase rugged shirts.
Address: 831 Orleans Road, North Chatham, MA 02650,
10. Congregational Church of Chatham
You might also want to check out the
First Congregational Church
in Chatham. It is an ideal place for religious tourists.
Although its current structure was done in 1866, the church has a history stretching back to when Chatham was founded in 1655. You can join in their Church worship and school, which are done by 10: am
The church is always open to visitors who intend to visit congregational churches, not minding their faith or belief. After their Fellowship and service hours, you will be opportune to mix with some of the locals and have a cup of coffee as well.
Address: 650 Main Street, Chatham, MA 02633,
Are you considering exploring Massachusetts, here is a guide on things to do in Rogers, things to do Worcester, and things to do in Lenox, and for a fun exploration
11. Stick's Rudder Aero Tours
One of the best things to do in Chatham, Massachusetts, is check to out the Stick'n Rudder Aero Tours. This company gives you the best experience ever as you fly through the town to catch a splendid view of the beautiful areas in Chatham. Be sure to bring a camera with you to take photos as well.
The experience is exciting as you can see everything from the top. Catch a birds-eye view of the beautiful beaches, many indigenous harbor seals, and the ocean. You might be lucky to spot a Great White shark as well.
Other interesting sights to behold include the Provincetown attraction, the wreck of SS James Longstreet target ship. As explore Chatham, the pilots will guide you through every step of the way, pointing out critical areas, guiding you into the history of the various regions, and also answering your questions as you enjoy the splendid views.
The Stick'n Rudder Aero tours provide her guests with a beautiful biplane ride in their two-passenger unique Waco Bi-Plane. The experience is unforgettable as you see everything from the top in the beautiful aircraft.
Address: 240 George Ryder Rd, Chatham, MA 02633,
12. Atwood Museum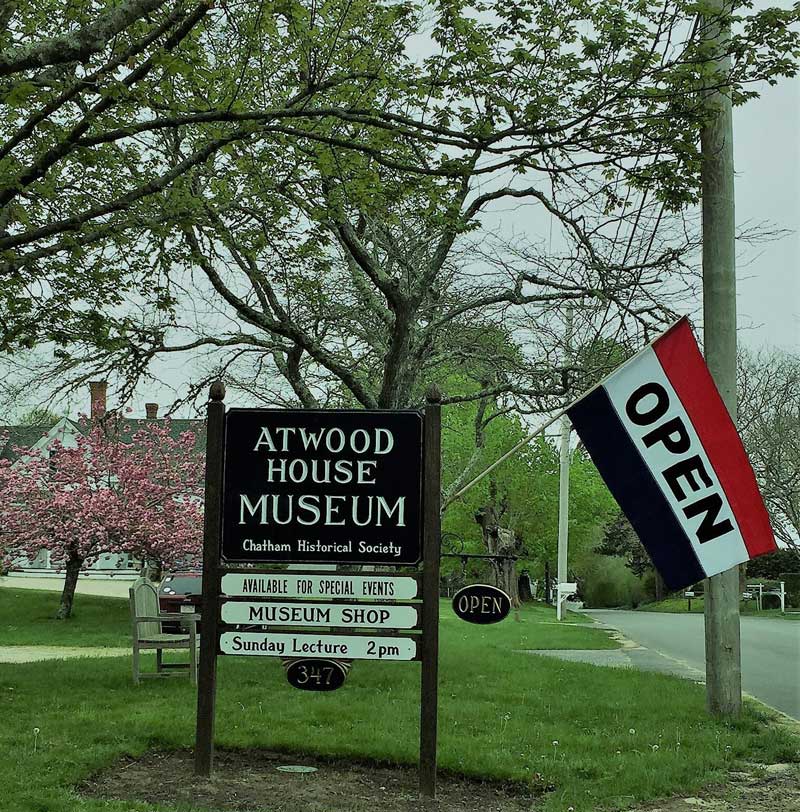 Here is an excellent spot for individuals of all sizes and ages to learn about the history of coastal New England, and an ideal place to gain this knowledge is at Atwood in Chatham, Massachusetts.
The Museum comprises over a dozen different exhibits, a garden, a gift shop, and more than ten galleries. There is something for everyone to find here that will pique their interest, not minding if you are into art, history, culture, or even fashion.
Exhibits on display at the Atwood Museum are the Fishing Gallery, The Life Saving Services Exhibit, the Alice Stallknecht Mural Barn, and the Old Atwood House dating back to the 1700s, Main Street Cape Cod, a Native American dwelling, and lots more.
Address: 347 Stage Harbor Rd, Chatham, MA
13. Antique Stores
Antiques are not for everyone, but checking out antique stores in Chatham is a fun activity that is recommendable for anyone visiting this charming town as it holds the most delicate antique stores.
An excellent way to kick start your day with antique touring is by visiting the Kahn Fine Antique store perched on Chatham Main Street.
The Antique Store has in store the King of England's initial signed documents and weapons that are over one hundred years old. If you are not an antique enthusiast, visiting here will change your mind.
The next stop for you on Main Street should be the Map of Antiquity and Monomoy Salvage; these two great antique stores are exciting places to check out. Of course, there are antique stores on Route 6 as well.
Address: Chatham, Massachusetts, United States
14. Captain House Inn
There are many hotels in Chatham, you must consider having the best comfort and meals during your stay, and Captain House Inn is the ideal place to have such a wonderful stay.
The building comprises four buildings with 16 different guest rooms for visitors to feel at home; Chatham is home for everyone. Gourmet is served for breakfast every night, coupled with wine as well.
Every room in Chatham's Inn is classic and perfect and comes with fireplaces and jetted tubs. The rooms consist of terry robes, luxury toiletries, and a welcome basket.
You can also have a good time outdoors in their beautiful gazebo, outdoor herd pool, and garden. You can easily hit the road from here to access Martha's vineyard, Nantucket or Provincetown.
Address: 369 Old Harbor Road, Chatham, MA 02633,
15. Eldredge Public Library
If you are a fan of history and want to dig deep into the history of this area, one of the best things to do in Chatham, MA, is to visit the Eldredge public library. The library was established in 1985 and recently has a volume of more than 105,000 materials.
Despite being owned by the Chatham town, the aid of some individuals was implored to help manage the library and its budget. The library also provides individuals, both kids, and adults alike, with educational programs.
The library organizes classes and writing groups during the month, so be sure to plan ahead of time. You can have a lovely library round and search for books that will pique your interest and study.
Address: 564 Main Street, Chatham, MA 02633,
16. Chatham Windmill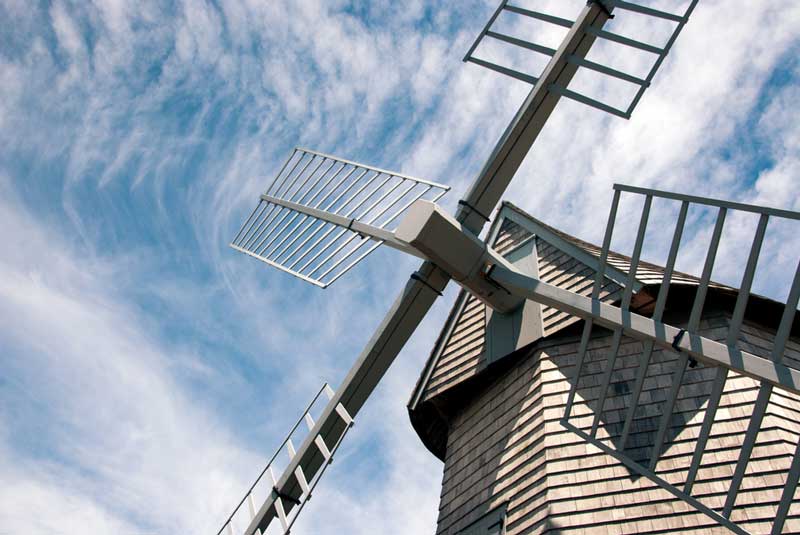 Another essential destination to look out for when visiting Chatham is the Chatham Windmill. These windmills played a considerable part in Chatham while working with the salt works.
The number of windmills to find here was about eleven, but it currently has just two surviving windmills. And the only one that is readily accessible by tourists is the windmill in Chatham.
The windmill known as the Old Grist Mill was constructed in 1797, and to this day, the old building is very well maintained.
There are tours available during summertime, although horrible weather conditions can disrupt QB times or cancel. The mill is used at specific periods of the year to mesh corn as it was used during the 1700s and 1800s. Admission to the museum is free.
Address: 125 Shattuck Place, Chatham, MA 02633,
17. Mayo House
Another item on our list of things to do in Chatham, MA, is the Mayo House, which is perched on the Main Street of Chatham and is seen as a typical traditional Cape Cod Sort of house.
This house was constructed in 1820; due to its long history, the historic home is used as the headquarters for the Chatham Conservation Foundation, and meetings are held regularly here.
The Mayo house, over time, has gone through revamping and renovations after it was donated by the Cape Cod Five Cents Savings Bank to the foundation. The Home is also available for visiting in the summertime, especially at noon on specific days of the week.
Address: 540 Main St, Chatham, MA 02633,
18. Steve Lyons Art Gallery
Steve Lyons was raised in Portsmouth, OH; he is an artist in Chatham that implores the art technique known as sculptural painting. You can visit his Art Gallery to view his 3-D paintings.
Many of his artworks are famous and displayed all over the world. When you visit Chatham you can stop by his gallery to view most of his famous works, especially his digital paintings.
You will also see the works of other artists in the gallery who are either amateurs or professionals. You can also find a poured resin collection on display at the gallery.
Address: 463 Main Street, Chatham, MA 02633,
19. Caleb Nickerson House
Another significant stop for guests wanting to have a quality experience in the city is the Caleb Nickerson House, which has been in existence since 1829. It is one of the many oldest houses to find in Chatham.
The home is open during the summer months when it is warm, and visitors are allowed to have a wonderful view of this house.
You can check out the working beehive oven to view what is inside, and you can also see the kitchen garden to view the grown farm produce and have a chit-chat with volunteers who have taken this place as their very own.
Since the homestead has a history stretching back to 1664, you can check out their archaeology display that showcases unique artifacts that can be seen on the property.
Address: 1107 Orleans Road, Chatham, MA 02633,
20. Cranberry Bog Tour
The next item on our list of things to do is something you want to be part of when you visit Chatham, Massachusetts, the Cranberry Bog Tour.
Here is an ideal place to bring along with you your family and friends to learn about the processes of cranberry harvesting and also have fun with various local animals on this privately owned estate.
The tour is interesting and filled with lots of information that will show you the intricate processes of nurturing and harvesting berries. Be sure to be a part of this tour when you visit.
Address: 1601 Factory Rd, Harwich, MA 02645,
21. Chatham Pier and Fish Market
One of the best things to do in Chatham, Massachusetts, is to visit the Chatham Pier and Fish Market. The Fishmarket provides visitors with a classic New England Menu due to the Chatman seawater that carries water into its tanks.
You would be glad to watch the anglers offload the fish they caught for the day, even as they treat themselves to tasty, fresh seafood dishes.
The Chatham Pier Fishmarket provides visitors with an extensive menu including sandwiches, clam chowder, homemade salad, seafood rolls, lobster bisque, and seafood such as scallops, fish, chips, shrimps, and lots more.
Address: 45 Barcliff Ave, Chatham, MA 02633
22. Chatham Chamber of Commerce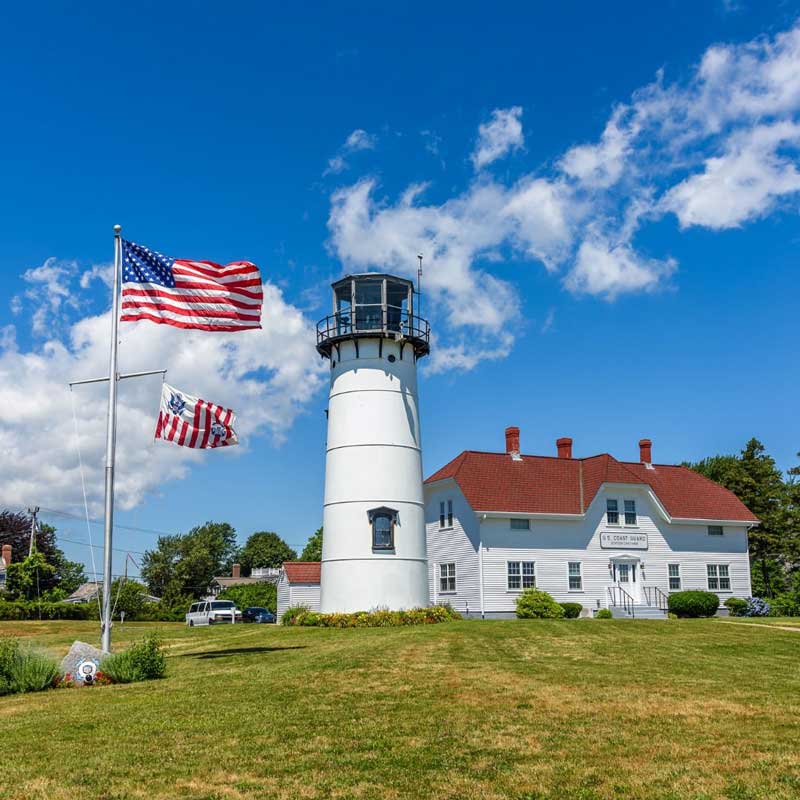 The chamber of commerce is another exciting place to visit in Chatham, Massachusetts; there are many activities to be part of, including festivals and others, during your visit.
This destination is focused on providing visitors and locals with an extensive list of the hotels, restaurants, shops, and businesses in Chatham.
Whenever you wish to have your trip, do well to visit the Chatham Chamber of Commerce or, more still, see their website for more information.
Visitors are often lucky to stumble upon strange events or interesting attractions within the town that the locals and COC know of.
Address: 2377 Main Street, South Chatham, MA 02659,
23. Ducks in the Window
One of the fun things to do in Chatham, MA, especially with kids, is to visit the Ducks in the Window, a place of abode to the biggest rubber duck in the world.
Aside from the numerous rubber ducks in the store which are available for purchase, visitors can also find items such as candy, baby gifts, and many other current stocks available at the store.
The Ducks in the window is perched on Chatham Main Street, and it brings in new designs of rubber ducks annually.
Ducks are available for everyone, and no matter your personality, occupation, age, or size, there is something for you at the store. The ducks are 100 percent organic, eco-friendly, biodegradable, and toxic-free.
Address: 507 Main St, Chatham, MA 02633,
24. The Chatham Marconi Maritime Center
The
Chatham Marconi Maritime Center
is a museum made in relation to the history of a short-wave station that ran for several years in Chattam, MA.
The Chattam Marconi Maritime Center lies on the grounds of the Marconi-RCA Wireless Receiving Station, a National Register Historic District.
The facility used to be the rowdiest ship-to-shore receiving station on the East Coast and a necessary military installation during the Second World War.
The Museum has interactive displays, special events from April to November, and information exhibits.
Additionally, the center has another building on Marconi's maintained 11 acres, a 10-building campus.
Address:847 Orleans Rd, North Chatham, MA 02650, United States
25. The AWSC Shark Center
One of the things to do in Chatham is to learn about the great white shark at The AWSC Shark Center.
The AWSC Shark Center offers a thorough look at one of the ocean's spectacular and misconceived species; the great white shark.
Whether you are scared of them or appreciate their significant role in the ocean's ecosystem, nobody can deny sharks' alluring effects on everybody.
This 2,000 sq ft facility provides an intimate look at the population of the great white shark in the area.
The center presents several ways to learn about innovative research through videos, interactive exhibits, and displays.
It also respects Frank Mundus, famous for catching the world's largest great white shark in 1988.
The chair he sat on when he made the global-famous catch is featured at the Shark Center.
The Shark Center caters to everyone who loves sharks, making it an excellent activity for children and adults all summer, even on rainy days.
There is also a gift shop where you can buy the perfect memorabilia to remember your visit or gift your fellow shark lovers.
Address:235 Orleans Rd, North Chatham, MA 02650, United States
Explore other parts of Massachusetts, check out our list of things to do in Great Barrington, Falmouth, and Hyannis , for a fun vacation time.
Plan your Trip to Chatham
Chatham is a fun place to spend that perfect getaway experience with family and friends. It has excellent eateries for you to enjoy the very best of delicious cuisines and drinks.
In addition, it has numerous historical attractions to for you to explore. Start planning your trip to Chatham, have a fun one!