In search of the best and most fun things to do in Berea. KY?
Nestled along the Cumberland Plateau, Berea is regarded as the Folk Arts and Crafts Capital of Kentucky thanks to its deep roots in arts and crafts.
This town encompasses over 8,000 acres of vibrant flora and fauna, forest, and trail systems. In addition, its geographical location makes it the perfect destination for an outdoor adventure.
You'll have a first-hand experience of festivals, art workshops year-round, and art galleries filled with different masterpieces of both local and renowned artists.
Surrounded by Owsley Park, the Appalachian Mountains, and Berea Pinnacles with countless outdoor activities, the town is an excellent attraction you just need to discover.
Are you planning an exploration of Berea? Here are the best things to do in Berea, KY.
Things to Do in Berea, KY
1. Experience Campus Life at Berea College
Founded in 185he Berea College provides free tuition where students enjoy a work-study career.
By recognition, it is one of the best colleges for liberal arts as well as one of the fountains of Kentucky's current and future artists.
As you know, visiting universities or colleges is a special experience where one gets to know about campus life and the regular days in the life of students.
Go to Berea College for a typically same experience.
This institution has many facilities worth checking out, such as the College Square, Loyal Jones Appalachian Center, and the Berea College Phelps Stokes Auditorium.
So, take some time out, stroll along with the vast Berea College, and reel in a relaxing experience with the campus community.
2. Drop by the Berea Welcome Centre
First thing before you set out for your travel adventure in town, head to the
Berea Welcome Center
.
This place offers you the needed brochures of great locations, restaurants, and interesting stuff about the town. You would also get the Berea's town map and nearby places.
As an addendum, the Berea Welcome Centre has very hospitable staff who would answer all your questions.
Therefore, it is recommended you stop by the Berea Welcome Centre before you explore the town.
The center is open from 9 am to 5 pm every day.
Address: 3 Artist Circle, Berea, KY 40403, United States
3. Learn Innovative Farming at the Berea Urban Farm
If you think that visiting farms is boring, the Berea Urban Farm will give you a whole new experience that would make you rethink.
The Berea Urban Farm organizes and hosts various farm-related workshops that feature innovative and stable farming programs.
Even if you have no interest in farming, your curiosity about this sector will be ignited when you join one of its workshops and you'll end up appreciating the benefits of farming.
Berea Urban Farm offers different workshops and enjoyable hands-on activities on its 1.4-acre farm site.
But if you are time-restrained and cannot attend a workshop, you can still have fun by harvesting the farm's produce, one of its attractions.
Opening hours: Tuesday – Thursday: 6:30 pm; Saturday: 10 am – 6:30 pm (closed on Sunday – Monday & Friday).
Visiting the Berea Urban Farm is one of the best things to Do in Berea, KY and it is worth adding to your checklist.
Address: 201 Adams Street, Berea, KY 40403, United States
4. Discover Unique Goods at the Artisan Village
The Artisan Village showcases Kentucky's rich art heritage and tradition through its galleries, shops, and historical sites. It offers a special kind of shopping experience that you won't see anywhere else.
Artisan Village is a popular attraction in Berea that is well regarded as the central place for arts, thanks to its vast gallery where one can watch demonstrations and regular performances from various Kentucky authors, artists, and artisans.
After enjoying the gallery, head to the Appalachian crafts and the Log House Craft Gallery for more amazing and beautiful artworks.
Shop as much as possible at the Artisan Village with various artisanal products, souvenirs, and gourmet food from 18 stores managed by locals.
5. Play Golf at the Greens at Churchill (Berea Country Club)
The Berea Country Club, now called the Greens at Churchill, is the second oldest country club in Madison County.
If you are a golfer or a lover of this sport, you will surely appreciate this challenging course that spreads over the Appalachian landscape.
It has been hosting golfers since 1951 and features 3,067 yards of a scenic 9-hole course for 36.
Apart from the course, you would love the picturesque backdrop of sloping hills and lush treelines.
A visit to the Greens at Churchill (Berea Country Club) is one of the top fun things to do in Berea, KY for golfers.
6. Spend the Night at the Historic Boone Tavern Hotel
Check out the Historic Boone Tavern Hotel – one of the top places to visit in Berea, KY.
The white marble columns stand out in elegance and you'll be amazed at its Colonial Revival-style architecture designed by J.C. Cady in 1907.
The Boone Tavern Hotel accommodated some famous people including former first ladies Eleanor Roosevelt and Grace Goodhue, Maya Angelou, Dalai Lama, Henry Ford, and former United States President Calvin Coolidge.
This tells that it holds a historical relevance not just in Berea but also in Kentucky. This hotel stands as an important historical landmark in town and is on the list of the National Register of Historic Places.
In addition, Boone Tavern Hotel is close to Berea's famous attractions, including the Berea College. This makes it a very convenient place during your visit to the town.
Address: 100 Main Street North
7. Learn folk dances at Russell Acton Folk Centre
Go with your partner to relish an evening at Russel Acton Folk Centre. It is a volunteer-built activity center that helps preserve this form of dance.
Get to the center every last Saturday each month, you would enjoy watching or participating in the contra dances and sharing in the fun-filled workshops presented by the community.
The center is perfect for receptions, talent shows, weddings, special occasions, etc. as it features washroom facilities, a spacious hall, a kitchen, a large deck, and green space to be enjoyed by large groups.
Opening hours are Monday – Saturday: 8 am – 5 pm (closed on Sunday)
Address: 212 W Jefferson Street, Berea, KY 40403, United States
8. Purchase fresh produce at the Berea Farmers Market
One of the places to best indulge yourself with Berea's locals is the Berea Farmers Market. It runs from April to October and you can buy freshly harvested fruits and vegetables from the local farmers.
You can also try the delicious homemade jams, pastry, bread, and food from local vendors. One of the in-demand products at this market is homemade cinnamon rolls.
You can also buy gourmet edibles, organically raised pinto beans and black beans, medicinal herbs, plant-based soap bars, edible mushrooms, and a huge assortment of baked goods.
Berea Farmers Market is located along Chestnut Street and is open every Tuesday and Saturday.
Address: Fee Park, 401 Chestnut Street, Brea, KY, 40403 United States
Planning to explore Kentucky? Get the best of attractions and activities in Newport, Covington, and Elizabethtown for a fun vacation.
9. Camp under the stars at HomeGrown HideAways
Come pitch your tent for a time to sleep under the same onyx star-filled sky just like pioneer Daniel Boone did while also absorbing the sounds and chills of the surrounding natural environment.
Reserve a modern cabin or three houses to exempt itself from the elements of the cooler fall and the winter stays.
Rent a kayak to paddle across the Owsley Fork Reservoir or enjoy a moment of relaxation in a hammock under the shade of a giant oak tree during a visit to the great outdoors.
You can allow your kids to run in the green space while you unwind on your cabin's deck with a vitalizing mint julep in hand.
If you are in search of fun things to do in Berea, KY with the family, this is a perfect place to visit.
Address: 500 Floyd Branch Road, Berea, KY 40403, United States
10. Hike through the Historic Boone Trace Trail
Covering over 150 miles, the Historic Boone Trace Trail cuts through counties that traverse north by northwest.
Don't be intimidated, because you must not hike the entire 150 miles to have a full experience. In Berea, you'll see the historical marker that pays homage to American frontiersman Daniel Boone, who played the historic route in 1775 in the company of 30 others (his men and migrants).
Today, this historic trail is cherished and you'll come across historical landmarks and diverse museums where Boone and his men passed through.
The Historic Boone Trace Trail is a wonderful destination for the outdoors and the history of Kentucky's popular pioneers.
If you are adventurous enough, you can follow the footsteps of Boone where you'll pass through diverse landmarks in this exhausting 150-mile journey.
The landmarks and sites include Pineville, Knox, Cumberland Gap National Historical Park, Barbourville, Knox Historical Museum, Livingston Trail Town Visitor Center, Levi Jackson Wilderness Road Park, Winchester/Clark County, Boone Gap, and Fort Boonesborough State Park.
11. Join a Craft Tour at Berea College Visitor Center and Shoppe
Get signed up for a craft tour, where you will be guided by one of Berea College's students and learn about a program that holds in the Berea College Visitor Center.
Having started in 1893, the program educates students in design and craftsmanship regarding special areas including weaving, wood, and ceramics.
You would see how the outreach craft program affects the lives of the community's children as they revel in excitement learning how to produce brooms, pottery, and other items from natural materials deposited in the Appalachian region.
Before you leave the center, ensure to stop by the shop to buy a Berea emblazoned sweatshirt or one of the artworks to support the enhancing program.
Opening hours: Monday – Saturday: 9 am – 5 pm; Sunday: 11 am – 4 pm
Address: 104 S Main Street, Berea, KY 40403, United States
12. Explore The Pinnacles in the Berea College Forest
Amongst the best things to do in Berea, KY is a visit to the Berea College Forest.
This is largely because you would have the opportunity to explore the Berea Pinnacles – a vast scenic trail that cuts through forests, hills, and farmlands.
The Native Americans navigated the trail throughout history as they once dwelled in Berea's lands.
Presently, the trail is a well-known outdoor destination that guides people to numerous natural attractions in Berea, including Daniel Boone National Forest, the Berea College Forest, Eagles Nest, Buzzard's Roost, Devil's Kitchen, and Indian Fort Lookout.
13. Hike Indian Fort Mountain Trails at Berea Pinnacles
If you want to have an adventure in the great outdoors, the numerous trails found throughout the Berea Pinnacles provide amazing treats.
Go solo or join a group hiking the trails ranging in difficulty from the start through the dense forest woodland. You'd admire the stunning views of the valleys from rocky cliffs or at the end of each trail of the surrounding forest.
Relish walking along the dirt or paved trails while playing audience to the chirps of songbirds and squirrels throughout the canopy.
Be sure that you are cautious because some of the trails are now narrow. Also, some of the rock platforms providing these striking vantage points can be slippery due to alternating weather conditions.
Opening hours are 6 am – 8 pm (daily). Exploring the Berea Pinnacles is among the fun things to Do in Berea, KY fo a memorab
Address: 2047 Big Hill Road, Berea, KY 40403, United States
14. Go on a Shopping Spree at College Square
The College Square boast some of the top things to do in Berea, KY and it is one of the best reasons you need to visit Berea College's campus.
Berea College's College Square has an upscale shopping center and visitor's center in its unique campus environment.
It would offer you a super shopping experience to access top-notch products from Berea College's students.
Various products from handicrafts, gourmet food, ceramic wares, artworks, clothing, and many more can be purchased here.
One of the highly-recommended shops for you to check is Log House Gallery, the largest and oldest running craft gallery in Kentucky. It features class artworks from over 400 artists, including products from the Student Craft Program of Berea College.
Others include the Appalachian Fireside Gallery, Berea College Student, Crafts Berea College Farm Store, Berea College Visitor Center, Gallery 103, Berea Fudge Shoppe, The White Stitch, and Peace Craft.
15. Delight in a picnic at Memorial Park
Memorial Park is one spectacular place to visit with the kids and adds to our growing list of fun things to do in Berea, KY.
Allow the kids to let off some steam while you stand by them as they swing and slide in any of the two age-fitting playgrounds while running in the large open green space.
Ready your basket and sit at one of the tables or put down your blanket on the grass to enjoy a picnic on a warm summer day.
You would enjoy the cool breeze winding through the trees as it provides a refreshing break from the fervid Southern heat.
The warmer months come with its vibes, as visitors can enjoy performances on the small stage and classic car shows.
Memorial Park is open every day of the week.
Address: W Jefferson Street, Berea, KY 40403, United States
Kentucky has some of the best cities in the United States to explore, here is a list of fun things to do in Owensboro, things to do in Williamstown and things to do in Richmond for a fun exploration
16. Score Rare Finds at the U.S. 25 Yard Sale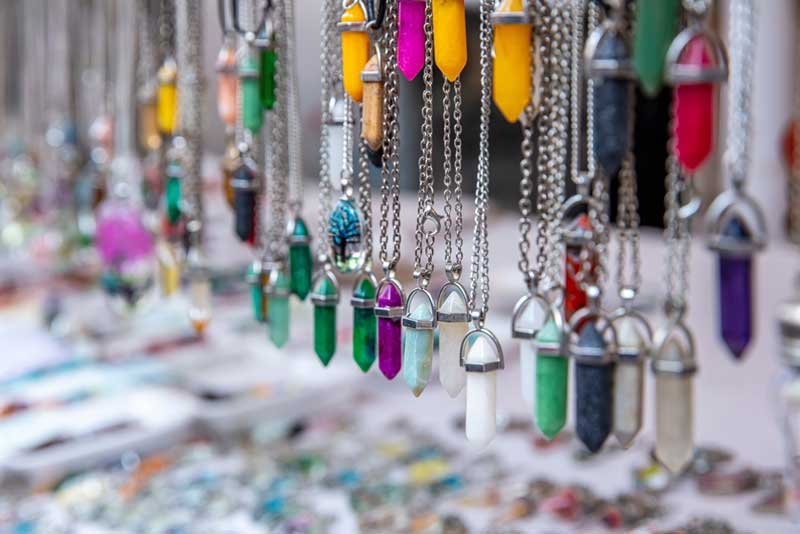 The U.S. 25 Yard Sale is the most extensive gathering of Kentucky's backyard sellers and flea market vendors.
It started in Grant County in 2012 and has expanded massively, now covering 14 cities and 200 miles, including Berea in Kentucky.
Here, you'll find second-hand items from clothing, collectible cards, toys, old vinyl, jewelry, housewares, glassware, fresh produce, furniture, and more.
This major yard sale has been held every first week of June for the past decade.
Going to the U.S. 25 Yard Sale is your perfect chance for garage or yard sales fans because you record rare finds while assisting schools, small businesses, the church, and non-profit organizations in earning.
17. Kayak the Serene waters of Owsley Fork
Prepare your kayak for a paddle in the quiet waters of Owsley Fork Reservoir where you can admire views of the surrounding, thick evergreen forest.
The summer months are great because you'd by the calls of native birds such as thrashers, warblers, and hawks while paddling through the waters.
If you are in luck, you might see a bald eagle soaring in the skies while observing the water for bass before taking a dive for the kill.
Watch out for thirsty deer drinking by the water bank and a fisherman sharing the waters with them. Do well to pay attention to other lovely wildlife residents of the area.
Opening hours: 24 hours (daily)
Address: Owsley Fork Road, Berea, KY
18. Learn to Dance at the Contraire Dance Association
For music and dance lovers, the Contraire Dance Association promotes folk dances in Kentucky through its habitual contra dancing sessions with the opportunity for everyone to join.
For the past three decades, this activity has featured the local dance culture of Kentucky.
It holds every fourth Saturday of the month where locals in Berea assemble at the Russell Acton Folk Center to dance with so much enthusiasm to the tune of traditional music courtesy of the New England contra dance bands.
Some folk dances featured in this classic fun-filled activity include American contra, Celtic dancing, square dancing, and quadrille.
This activity aims to introduce the exceptional dance culture to the public as well as promote and bring the innovation of the traditional dances to visitors.
You would also meet and commune with the locals of Berea here. Opening hours: Saturday: 8 pm – 11 pm (closed from Monday – Friday)
Address: 128 N Broadway Street, Berea, KY 40403
19. Grab a cup of coffee at Berea Coffee & Tea Co.
Drop by Berea Coffee & Tea Company for a quick pre-shopping breakfast of sticky cinnamon bun dripping with icing.
Berea Coffee & Tea serves sandwiches, salads, and paninis to patrons, perfect for those in need of something a little hardier before going out on a day adventure in its environs.
Just relax and make an order. It could be a jasmine chai or one of their numerous specialty teas or coffees to enjoy with a freshly made pastry as you feel at home in this local tea salon.
This delightful coffee shop is the best answer to those missing their Starbucks fix. This place is nice as guests can sit back with a book while enjoying a hot latte.
They are open from Monday through Friday (7:30 am – 7 pm), on Saturday (8 am – 7 pm), and on Sunday (10 am – 2 pm).
Address: 124 S Main Street, Berea, KY 40403, United States
20. Indulge Yourself with Arts and Leisure at the Kentucky Artisan Center at Berea
One unique place to visit in Berea is the Kentucky Artisan Center as it perfectly blends the traditional and modern arts with leisure.
Not only is it a great art gallery that features the works of around 800 artisans, but it is also a superb place to shop and dine.
The entire space contains innovative artworks from the finest arts of Kentucky through its galleries, restaurants, shops, and museums.
The center also boasts of a vast collection of books and music that you can look through.
Visiting this place should be top on your list of things to do in Berea, KY because it highlights Berea's rich art culture and community.
Address: 200 Artisan Way, Berea, KY 40403, United States
21. Find bargains at Boone Square Mini Mall
Would you like to check for antiques, crafts, toys, books, or art while visiting Berea? You might find something suiting your taste in Boone Square Mini Mall.
Browse through the stands of local vendors in search of unique artwork or jewelry among many other items.
If you love collecting antique furniture to accent your home, Boone Square Mini Mall has items ranging from tables, chairs, desks, and other handcrafted furnishings.
The shop operates Monday to Saturday, 9 am – 5 pm, and on Sunday, 1 pm – 5 pm.
Address: 254 Mini Mall Drive, Berea, KY 40403, United States
22. Watch Live Performances at the Spotlight Playhouse
For drama and acting aficionados, this is something for you. Berea as a city beams with theater arts and if you want to witness one, head to the Spotlight Playhouse.
In the Spotlight Playhouse, talented performers offer everyone a thrilling experience with family-friendly and highly-entertaining plays. They even feature Broadway-themed performances.
Getting entertained here is a wholesome experience, especially with reenactments of popular Hollywood movies and a twist of live theater performance.
If you want to see the other side of Berea's blooming arts community, Spotlight Playhouse is the place to go.
The cinema opens on Friday: 6:30 pm, 8 pm; Saturday: 7 pm; Sunday: 2 pm, 8 pm (closed from Monday – Thursday).
Address: 214 Richmond Road N, Berea, KY 40403, United States
23. Ride along the Silver Creek Bike Park
The Silver Creek Bike Park is a modern mountain bike course that provides the locals of Berea with a new cycling destination.
This new bike park was put up to improve the tourism of the town with a focus on sport this time.
AGT Engineering and Andrew Parsons designed the entire bike park and it is managed and maintained by the Kentucky Mountain Bike Association.
The Silver Creek Bike Park stretches for about 3.5 miles with very safe climb ends and rundowns for novice bikers. As a plus, the bike park is open to the public.
So, ensure you include biking at the Silver Creek Bike Park in your bucket list of fun things to do in Berea, KY.
Kentucky holds quite some breathtaking attractions and activities, do check out our list of things to do in Somerset , things to do in Lexington, and things to do in Cave City.
Plan a Trip to Berea
As a casual explorer, an art lover, or whatever category you fall in, Berea promises you a good time with many reasons why it should be on your list of places to visit.
There is something unique for everyone. The wonderful museums, galleries, local markets, and shopping malls are among the many attractions you'll be visiting once you come into town.
What else? Plan to make Berea your next vacation destination and pin this article as a guide to easily check back while making a list of things to Do in Berea, KY.