The Amalfi Coast, which is situated along the southern edge of Italy's Sorrentine Peninsula, is a very beautiful yet rugged 50 kilometer stretch of coastline.
Dotted with small beaches and fishing villages, this coast with rugged shorelines and sheer cliffs is a popular holiday destination to tourists.
You will find along the coastal road between Sorrento (known for its clifftop) so many grand villas, Cliffside lemons groves and terraced vineyards
Amalfi Coast has no replica in the world, you will fancy how nature blends itself in every little thing on this coastline.
Aside its beauty, Amalfi Coast has history, culture, art, wonderful food and Wine collection that will make any visitor desire to stay.
With all the beauty in this city, it's not a thing of surprise that so many writers, musicians and artists find inspirations from the villages and towns along the Amalfi Coast.
Let's explore the best things to do in Amalfi Coast.
Things to Do in Amalfi Coast, Italy.
1. Explore Villa Rufolo
A villa built in the 13th century which is located in Ravello, Villa Rufolo is a monumental complex that is named after the company that built it.
The number of rooms in this complex is greater than the number of days that are in a year.
In previous times, this wonderful heritage was nearly lost as a result of negligence, but thanks to careful and loving restoration, the Villa with its gorgeous sites are now beauties to be beheld.
Looking at this building, you will love the tower gateway with its terracotta columns, as well as the cloisters. You will be amazed by the design in the ancient walls which are lined with lime trees and lush cypresses.
Don't forget to check out the 36 intact columns, hall of the knights and the great towers, getting a view of this building is one worth adding to your list of top things to do in Amalfi Coast.
This makes one of Amalfi Coast attractions and one of the things to see in the Amalfi Coast.
Address: Piazza Duomo, Ravello, Salerno, Italy 84010.
2. Museo Casa Rosssa
Located in Anacapri, it is without contention that Museo Casa Roses is one of the most remarkable buildings in all of Anacapri.
The walls of the building are painted red, a color that catches the eyes of any visitor from a distance.
The architectural design of the building is outstanding, It was designed by an American Colonel named John C MacKowen towards the end of the 19th century.
Today, this building is a Museum which contains different stuffs like paintings, sculptures, and archaeological artifacts.
You should add a visit to this museum to your list of "what to do in amalfi coast", the building and what it contains are worth seeing.
Some of the things which will grasp your attention in this building include its Moorish windows, majolica cupola inspired staircases, and the classical columns of the building,
Address: Via Giuseppe Orlandi, 78, Anacapri NA Italy 80071.
3. Villa Romana
Located in the very heart of Minori, is the
Villa Romana
, a well-preserved Roman villa. It is a place where water travelers can get a taste of what it was like living as a Roman during the first century.
You can easily spot the Villa, it is situated right beside the bay of the Amalfi Coast, the exact place where Regina Minor River meets the Sea.
You will also find other Roman ancient buildings which are now just ruins. Nonetheless, a walk on the ancient stairs will convince you that it's worth adding in your list of fun things to do in Amalfi Coast.
Address: Viva S. Maria Vetrano, 19, Minori SA., Italy 84010
4. Museo d'Arte Sacra Don Clemente Maiori
If your reason for visiting Amalfi is in search of divine experience through artistic beauty, then add a visit to Museo d'Arte Sacra Don Clemente Maiori on your checklist of best things to do in Amalfi Coast.
In this museum located in the crypt of a collegiate church, you will find so many religious artifacts and artworks, all which tells the worth of religious history to Italy.
Take out time to enjoy the Museum, you will gain understanding and appreciation of the 'sensus fideo' of the Maiorese people, also get to watch closely valuable Catholic arts pieces.
Address: Via Capitolo, Maori, Italy 84010
5. Ignazio Cerio Museum
In the Ignazio Cerio Museum which is Capri, you will see a lot of collections of classical, fossils and prehistoric archaeological findings.
You will also find collections that relate to minerals like flora and fauna of Capri. The Museum is perfectly situated in a location that just overlooks the square of Capri.
Most of the items you will find in the Museum were gathered by Ignazio Cerio through the late part of the nineteenth century and the twentieth.
All these are displayed through seven collection divided among four exhibition halls.
You will be amazed how the Museum tells a 190 million years old story in an interesting way.
When you are done exploring the Museum, head towards the terrace of the Palazzo Cerio, there you will be able to see the Capri Piazzetta and the Gulf of Naples.
Address: Piazzeta Ignazio Cerio, 5, Capri, Italy 80073.
6. Paper Mill Museum
Another interesting place worthy of your list of fun things to do in Amalfi Coast is a walk through the ancient paper mill in Amalfi, Paper Mill Museum.
The paper mill museum, which is housed in a 13th-century authentic paper mill is quite an interesting place to visit, it is one of the Amalfi coast attractions.
This museum allows you to take a trip back in time and experience ancient paper production techniques.
You will find amongst other things centuries-old machinery that was used in the making of paper like wooden hammers, water wheels, hemp rags, and lots more.
If you desire to have an in-depth tour experience of the Paper Mill Museum, there are guided tours available in several languages.
The tour guides here know their onions in paper making hence you are in for a trait of knowledge.
Address: Via Delle Cartiere, 23, Amalfi SA., Italy 84011.
7. Museo della Ceramica
Located in the Belvedere Tower, the Museo Della Ceramica, Vietri Sul Mare was inaugurated in the year 1981, this is amongst what to see in amalfi coast.
The Belvedere tower itself can be found in an eclectic complex called the Villa Guariglia. Villa Guariglia is known for being the summer home of Raffaele Guariglia, the ambassador of Italy.
In the Museum, you will find some of the pride of the locals such as traditional ceramics which when looking at you get to see the unique craftsmanship involved in making all these ceramic pieces.
Ask for the Vietri Ceramics, they are some of the oldest preserved specimens of ceramics in the country.
Also, look out for the floor and walk tiles from Calle Driggiole, they will inspire you to get them for your home.
Address: Villa Guariglia, Via Nuovo Raito, Raito di Vietri Sul Mare SA, Italy.
8. Appreciate Arts at Liquid Art System
Located both in Capri and Positano, is the Liquid Art System, where you get to learn about art research as well as learn to appreciate various forms of art, and also get to see some of the best contemporary arts and fine arts.
The number of artists featured in the art museum is quite a number, they feature collections of both local and international artists.
You will get to appreciate over 800 pieces of arts when you get to Liquid Art System some of which are rotating exhibits.
A few among the artists whose works you will see in the Museum include Antonio Sannino, Marco Corning, Matteo Procacciolo, Umberto Ciceri, and Coderch & Malavia.
You will also get to see art pieces by Peter Demetz, Seo Young-Deok, and Zhuang Hong Yi.
This is amongst the best places to see in Amalfi Coast, one worth adding to your list of best things to do in Amalfi Coast.
Address: Via Vittorio Emanuele, 56, Capri, Italy.
9. Italian Fine Art Gallery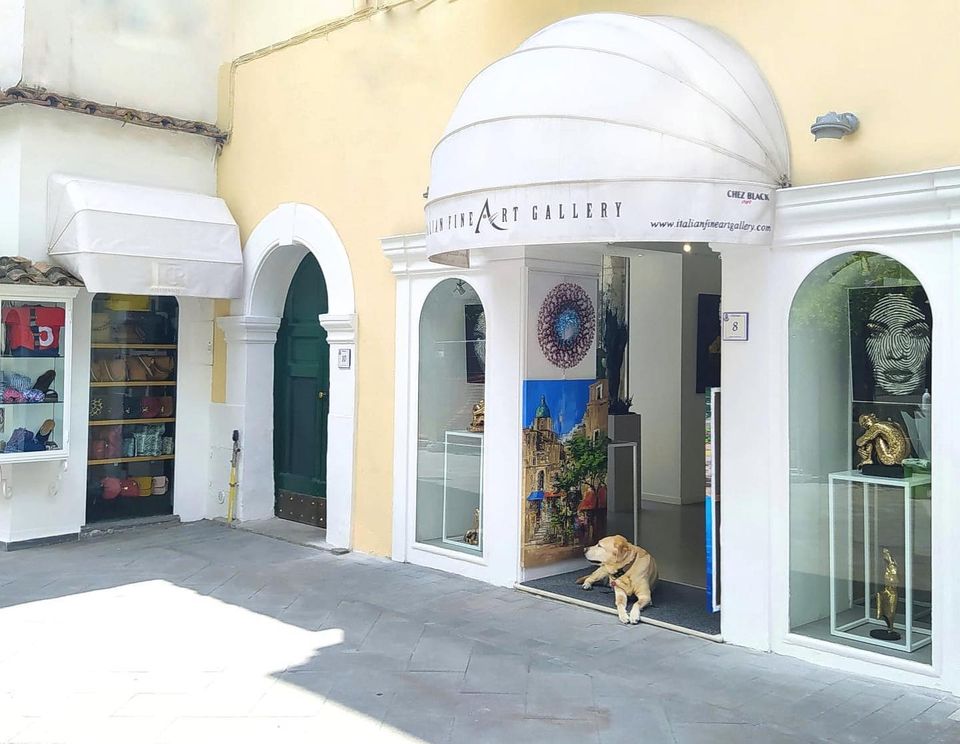 The people of Positano have an uncommon bond with the Sea because they believe the folklore which states that the town was born by Poseidon.
This ancient love and bond with the sea can be seen in the awareness displayed through the works in the Italian Fine Arts Gallery.
In the gallery, you will find some of the finest paintings from men like Claudia Giraudo, Ciro Palumbo, and Roberta Diazzi.
You will find sculptures from notable sculptors like Mariela Garibay, Ermanno Leso, Isabel Miramontes, Coderch and Malavia and so many others.
You can peruse and study some of the various photographs you will find in the Italian Fine Art Gallery.
Address: Piazza dei Mullini 8, Positano SA., Italy 84017.
10. Torre a Mare
Located right in the comforting and commanding presence of Praiano is Torre a Mare, which overlooks the emerald-green sea by the Amalfi Coast.
Torre a Mare is an ancient medieval tower which sits calmly on a beautiful promontory, it was built was to protect the coast from possible Saracen invasions.
If you want to get the full knowledge of Amalfi Coast's history, then add a visit to Torre a Mare as one of your top things to do in Amalfi Coast.
While you are there, you will get to see other tourists who came to appreciate this amazing medieval architecture.
Though it makes a good war defense strategy, Torre a Mare is a place where you can spend a romantic evening with a loved one.
Beside the Torre a Mare, in the side streets, you will find the great collection of ceramics and artists by Paolo Sandulli. You can as well decide to check them out too.
11. La Caravella Art Gallery
The La Caravella Art Gallery is a ceramic museum located in a rear place for a museum to be situated, a restaurant.
This small museum was founded in the year 2009, the same year that the La Caravella restaurant celebrated its 50th anniversary.
In the museum, you will see several colors, shapes, and textures of ceramics, through each of these pieces displayed, Amalfi Coast comes alive.
Unlike in other museums where you are only allowed to see but not to touch the artworks, the museum allows its guest to touch the displayed artwork to appreciate them more.
But that not all they have to offer, after checking out the ceramics, you are welcome to have a meal of cuisine made purely using local ingredients.
Don't forget to check out their wine collection while picking out your meal.
Address: Vicolo Masaniello 14, Amalfi, Italy 84011.
12. Meet Art at Luggi Nappa Gallery
Would you like to know what to do in Amalfi Coast for art lovers?
Home to modern art, the Luigi Nappa Gallery is a gallery that solely displays the works of Luigi Nappa who is a prolific artist.
Through the works displayed in the gallery, you will see the artist passion for traveling, cooking, culture, and people.
You will get to see Luiggi Nappa modern paintings which are characterized by irrational textures, unexpected patterns, colors, and imperfect borders.
You can as well ask for the stories behind each of the paintings, this way, each texture, and stroke of brush made by Luigi Nappa becomes personal to you.
You will learn a thing or two from the paintings nd the story behind them, you are also free to purchase them if you desire to do so.
These paint works are quite a view, making Luggi Nappa Gallery one of the best places to visit during your vacation on the Amalfi coast.
Address: Via Roma, 50, Procida NA, Italy 80079.
13. Chair Lift
If you seek for the best way to take in the sounds and sights of the Amalfi Coast, then I suggest you do that on the Chair Lift to Monte Solaro which is in Capri.
This Chair Lift takes the guest up in a rapid ascent to the mountainside, this will introduce you to the spectacular view of the Gulf of Naples.
You will also love the way Mount Vesuvius blends with the panoramic view of the surrounding and the distinctive color of the Sea which tends to sparkle when hit by sunlight.
The lift takes you to the peak of Mount Solaro  known to be the highest land sight in Campari.
You will enjoy the 13 minutes ride and also the wonderful view you will get when you get to the top.
Address: Via Copascuro, 10, Anacapri, Italy 80071.
14. Kayak to a Private Cove
Another interesting thing to add in your list of best things to do in Amalfi Coast is a kayak exploration trip to a private cove at Capri.
To start the tour, hire a boat, or you can join the Capri Island tour which starts the by taking you to the Island of Capri.
During the boat ride to Capri Island, you will experience the unique view of Sorrento Peninsula, Li Galli Island and so many other spots of the Coastline.
If you are going with a tour group, you will be given all safety instructions before the kayak begins.
Some of the sights that you should look forward to during this tour include the Villa Jovis, this view known to be the most stunning of all of Emperor Tiberius' island residence.
Look out also for the iconic Faraglioni Rocks, the Rock Window to the Sky, and a natural cavity.
15. Visit Sorrento Town
Sorrento is a town you will find in the northern arm of the Amalfi Coast.
Very famous for its beautiful scenery, you will love its range of gigantic buildings and coastal walkways.
When it comes to the economy, the major source of income of this town is through tourism, though its production of Limoncello is renowned.
Some of the places you will love in Sorrento is the Cathedral of Sorrento which is a very beautiful 11th-century building.
I will suggest you add a visit to this cathedral on your list of fun things to do in Amalfi Coast.
You will also find in Sorrento two ports which are filled with sailing and fishing boats as well as series of public parks in this town.
Some places tell the history of the town like the Corrale Museum and the Museo Della Tarsia Lignea, both of which have in their displays very fascinating artifacts.
Sorrento is a gem in the Amalfi Coast, and a trip without a stop in this very wonderful town might be regarded as less fun and incomplete.
16. Visit Positano Town
Positano is considered one of the most beautiful towns in Amalfi Coast, it is also considered the most romantic, its beauty makes Positano to be one of the most frequented places in Amalfi coast.
From strategic points, you will get to see beautiful colored houses that lie in the mountainside, and a nice array of vegetation.
Located right on the southern arm of Amalfi Coast, you can access the town through a bus.
You will love the wonderful view of the sea, and also the spectacular view of Positano when you view it from her waters.
There is also a beach in Positano, which is a perfect place to relax or have a fun time.
Check out on the winding streets the lots of restaurants, bars, and cafes scattered around the town.
17. Escape the Crowd in Praiano Town
Just in between Positano and Amalfi, you will find Praiano, a quiet town, that allows you escape from the crowd seen in other well-known spots on this coastline.
As expected from a typical Amalfi Scene, the town itself hugs the mountainside, the houses are placed staggered on the Cliffside.
The roads which run through Praiano just winds back and forth till it reaches the small harbor, you can see the sea from miles away.
Consider going on a picnic with your loved ones on the Habour and beach, or you take a stroll along it.
Also, have a taste of their ice cream, you can get some from one of the stalls around.
18. Explore Amalfi Town
Amalfi is highly frequented area by tourists and is regarded as the main town of this beautiful coastal region called Amalfi Coast.
This town leads the region in everything including beauty with its multi-colored houses which are wonderfully arranged and very beautiful to behold.
Amalfi has its cathedral and it is also larger than others in most of the town in this region.
The cathedral, the beach, and the Piazza del Cuomo are the main places that attract people and make them visit Amalfi.
Amalfi's cathedral looks magnificent, for its front facade is covered in an opulent stripped stonework pattern showing an amazing architectural design.
There are also shops in Promenade town, Check out the shops to get a souvenir you will take home.
19. Villa Ravello
A place that has the best views in the whole of Amalfi Coast is Ravello,This is not surprising for a town that can be found on top of the mountain right in between Maiori and Amalfi.
Ravello is more reserved and relaxed, unlike other busy tourist locations in Amalfi Coast.
The main place that attracts people to Ravello is the Villa Rufola which is a Roman Villa.
Aside being a fantastic place for relaxation and basking in the sun, It also offers one of the best views available in the city.
You will also find in Ravello a range of restaurants each having an outdoor terrace as well as a romantic setting for both lunch and dinner.
Other places that will interest you includes the Ravello Art Gallery, the Cathedral, and Piazza Centrale.
Piazza Centrale is worth a visit, here you can get to see the Cathedral and the Ravello Art Gallery.
20. Visit Maiori and Minori
Located only a short distance away, you will find Maiori and Minori, neighbor to Amalfi.
Each has something which makes it special.
For instance, if you 're looking for a place that you can relax and rejuvenate your mind, while relaxing on a beach, then Maiori is the best place to visit.
The beach in Maiori is divided into two sections. One to the left and the other the right. Both sections contain beautiful sands. Each of the beaches meets with the clear Mediterranean waters.
You will love the place to want to spend the rest of your life here. In case you decide to, there are many amenities here to keep you comfortable.
You will find a series of stalls, cafes, restaurants and shops in the city. Corso Reginna has some of those.
Don't forget to head towards Minor which is a bit smaller after visiting Manori for exploration. It is just along the coastal SS163 route.
21. Go Fishing in Cetara
One of the most authentic and unspoiled villages on the Amalfi Coast, Cetera is truly a place you are gonna love.
A place which has not even been affected by tourism, it still retains all of its original charms.
Cetara gives a picture of how the towns in the Amalfi Coast looked like before the area became influenced by the tourist attractions.
This particular attribute is what makes Cetara even more frequented by tourists.
The main and only economic source of Cetara is their fishing fleet which you will see operating all through this coastal region.
You may decide to watch this fisherman, sitting in their brightly colored boats as they fish.
When you get hungry, visit some of their high-quality restaurants. These restaurants are known for serving the best delicious fresh seafoods.
22. Grotta cello Smeraldo Cave
Created by natures activities, Smeraldo cave is one of the most beautiful caves in all of Italy, it is one of Amalfi coast attractions.
You find the Smeraldo cave just in between Amalfi and Praiano. The cafe is one of the few caves in the world that is bathed in a natural emerald light. It is not surprising that it is called Smeraldo Cave.
You will love the effect this lighting has on the color of the water and the cave. It is simply amazing.
You can access this cave through an elevator that is on the SS163 route.
23. Centro Storico Salerno
One of the largest towns in the Amalfi Coast, Salernonis situated at the eastern edge of the region.
It is still a debate whether it is a part of Amalfi Coast for some say it is while others say it is an outskirt. Nonetheless, it is worth adding to your list of top things to do in Amalfi Coast.
You will find in this town both old and New but beautiful architectures, especially when you wander through the streets of the Centro Storico.
Head down to the downtown area if what you want to do is to enjoy a night out, for there are clubs, bars, and pubs in that area.
Check out the beautiful beaches, gorgeous harbor and port in Salerno while you are in Amalfi Coast.
Salerno has a very organized transport system and it is very easy to travel from Naples, Rome and other parts of Italy from here.
24. Go Hiking at Valle Delle Ferriere
Would you like to know what to do in amalfi coast on a cool day?, hike Ferriere Valley.
This is an area that is protected in the province of Salerno, Ferriere Valley is through a wonderful region to explore.
In the region, you will find stunning natural scenery and there is so much hiking and cycling training.
You can follow these trails to the luscious forest to enjoy a wonderful time with nature.
Because this area is protected, you won't find little traveling activity and all the bustle of tourists which you find in the busy towns along the Amalfi Coast.
As you follow the trails, you will be presented with some viewpoints which gives an interesting view of the city because of its unusual angle.
Don't forget to come along with your camera!
25. Visit Capri Island
One of the magical places and the most popular destinations on the Amalfi Coast is Capri
You will find this Island called Capari just at the western edge of Amalfi Coast. To get here, you can board any of the regular ferries you will find in any of the coastal towns.
You will be amazed by its gorgeous landscapes, it's a very beautiful array of beaches and it's mountains which give superb views of the town.
For the greatest fun experience, I suggest you take a boat trip from Positano to this magical place. When you get to Capri, try to spend the evening.
At night, Capri is vibrant with life. You will find the main square quite bubbly for it has lots of bars. All these give it a superb atmosphere.
Don't forget to take a trip to go see the cave complex called the Blue Cave Grotto. You will enjoy your stay here in this Island.
26. La Circumvesuviana Train Line
La Circumvesuviana Line
is the train line owned by the northern part of the Amalfi Coast.
The train railway runs from Naples to Sorrento. Thus, if you don't want to admire here sitting on a boat, you can admire the scenery of this coastal region by train.
Apart from being a wonderful means of sightseeing, La Circumvesuviana Line is a true and efficient way to travel from Naples to Sorrento. The price is cheap too.
You can follow the train line from Naples through fantastic scenery like the monolithic Mount Vesuvius and down to Sorrento.
Don't forget to get a window seat at the left for that side offers a wonderful view of the Mediterranean Sea.
27. Take a Boat Tour.
You can get a total view of all of the Amalfi Coast on a boat tour. You can go alone or you can join an organized boat tour.
One lovely thing about a boat tour is that you need not worry about colliding with someone while you stop to admire the scene.
From the boat, you can see towns like Minori, Amalfi, Positano, and others in all their splendor. You are going to love how the multi-colored houses look from the angle.
You will also get to admire the green landscapes of this amazing region. Don't forget to come along with your camera to take some beautiful shots.
This should answer what to do in Amalfi coast for fun.
28. See Sirenuse Islands
Sirenuse Islands is just a chain of small islands that can be found right in between Capri and Positano in the Southern region of Amalfi Coast.
These small Islands which are considered a part of the Campanian Archipelago are named after the mythological Sirens who are said to have lived there years ago.
Some of these Island include Gallo Lungo, Castelluccia, La Rotonda, Vetara and Isca.
Among all of them, Lungo is the largest. In Lungo Island, there was once a prison and a monastery. You can still see the Aragonese Guard Tower till today.
Though you are not allowed to step into this Island, you can at least have a boat trip on the waters that surrounds it. Don't forget to look out for aquatic lives here.
29. Visit Town Furore
Though Furore is not as popular as other places like Amalfi, it has a lot of attraction spots and it is a place worth being adding on your list of things to do in Amalfi Coast.
Starting from the roads that lead to Furore, you will be amazed at how spectacular they are. You will get to see limestone cliffs and rows of terraces that are fully packed with gorgeous vines.
You will also find within true town wonderful selection of murals that are beautifully painted on the walls of shops and some houses.
All these murals are hand-painted, some of them depict the culture and life in the Amalfi Coast.
Furore also has a brilliant view of the sea and the surrounding cliffs and coastal towns.
30. Find Peace at Atrani
Atrani is one of the coastline's smallest and also most attractive villages in the Amalfi Coast. You will find it just between two sheer cliffs that overlooks the Tyrrhenian Sea.
Even though it is very close to Amalfi, it is not as buzzy as Amalfi. It has this intimate, friendly, local, and little fishing hamlet feel.
The whole life of this village just revolves around Piazza Umberto I which just a truly a perfectly preserved medieval converted to a pretty central square.
Oh, you will also love the colorful houses, the ancient churches, the flowered balconies, and the atmospheric passages.
The village is truly a place you can relax. You may decide to head to Atrani's warm black sand beach which is in front of the square for relaxation.
You can all sit down at the sidewalk cafes for an Aperol Spritz and a delicious Aperol Spritz.
31. Visit Erchie
Situated right in a valley that is both secluded and also bounded by the Lattari Mountains,
Erchie
is a very tiny fishing hamlet occupied by less than 1000 persons.
Quite a place, if you seek for a place where you can enjoy quietness alongside deliciously prepared seafood.
The village is a little part of the Maiori municipality. Amongst other things, it has two beaches with eateries.
While you are here, look out for the 13th century Norman tower which can be found in the area.
32. Vietri Sul Mare
Vietri Sul Mare is a town in amalfi coast which is to the west of Salerno, they are known for their ceramics works which is displayed like an open-air museum.
You will find in this town lots of shops and boutiques that display pottery in all the styles and patterns you can imagine.
Apart from ceramics shopping, there are so many other things you should see here such as the exquisite majolica domed church, six charming hilltop hamlets, and its seashore.
They also host special events and festivals in this town, all of which you are going to love of you attend, exploring this area answers your question of what to do in Amalfi Coast.
Would you like to visit Washington, here are some of the best and fun things to do in Tacoma during your visit to Washington.
Plan a Trip to Amalfi Coast
Amalfi Coast confirms the perfection-through-togetherness principle, for though the town's might be lacking individual in a thing or two, but collectively, this is the finest place in the world and a place you will be glad you visited.
You are in for a treat visiting the Amalfi coast, you will love its lovely beaches, mountainside villas as well as its coastal walks.
Also, take some time to explore its Island, there are so many cool things to do in Amalfi Coast, all aimed at giving you a fun vacation in this part of the world,
With this guide you can make your checklist of things to do based on your interest, this is one of the most beautiful parts of the world, start considering adding a visit here on your visit list.