Would you like to go horseback riding in San Diego, CA?
San Diego is California's second-largest city and the eighth-largest in the United States of America. The city has a population of approximately 1.3 million residents.
The city is known for its idyllic climate, an astonishing array of world-class family attractions, and 70 miles of immaculate beaches.
San Diego offers many things to see and do, appealing to visitors of all ages. The city also offers an array of incredible experiences guaranteed to create unforgettable memories.
Whether you want to take an exciting ride on trails or in the open nature area, this city has various equestrian tours that you can pick from.
Here are the best horseback riding in San Diego, CA.
Horseback Riding in San Diego
1. Blanco Brothers Ranch
Blanco Brothers Ranch offers horse boarding, horse rentals, riding lessons, and beach ride (the most popular) through Imperial beach.
They have horses for beginner, intermediate and advanced riders. The guide Chuy, who is incredible and trained, provides informative and customized rides.
He will allow you to ride at whatever speed you prefer, give you helpful tips for riding, and answer all your questions about the area and the horses.
The beach ride is fun. You can gallop back and forth on the beach many times.
Blanco Brothers Ranch is one of the best horseback riding tours in San Diego, CA, especially for people who have never been on a horse but are willing to go on a horseback riding adventure.
Address: 2181 Hollister St, San Diego, CA 92154, United States
2. San Diego Beach Rides
You can find the San Diego Beach Ride in Imperial Beach, at the south end of San Diego County.
At San Diego Beach Rides, guided tours carry riders on the only side of the beach in the country where horses are permitted.
This full-service stable offers horse rentals on the trails and the beach.
They also offer ride lessons with riding instructors who enlighten visitors on the levels and discipline of a rider.
They are also hand-led pony rides and a petting zoo for kids. As you ride on the beach, enjoy the pleasant fresh air and admire the beautiful white water waves as they hit the sand
Address: San Diego, California, United States
3. D & J Stables
As horse lovers, Dick and Jenny wanted to enjoy their retirement by saving and training wild mustangs, boarding and caring for horses, and trail riding to the beach.
Dick & Jenny began this family-operated center in 2005. Jenny died in 2012, but Dick continued with the stables with the aid of his sons. In 2018, Dick died, and his son Scott became the stables' manager.
D & J Stables offers quality horse boarding with over 14 modern outdoor stalls, including feeding, daily watering, monthly tack room rentals, and mucking services.
The stable features a walking track around the stable, a turn-out, and a round pen.
There is also a huge wash stall that can carry up to 3 horses at a time and an on-site maintenance worker and caretaker 24 hours and seven days a week.
D & J Stables offers beach riding to individuals and groups for day or overnight camping.
Trail riders can access all the equestrian trails from the property, including the paths that lead to the beach.
Space is abundant for horse trailers, camping, and barbecuing. Riders can access the horse track, wash stall, and round pens.
Water, feed, veterinarians, and farriers are available when requested.
Address: 2810 Hollister Street, San Diego, CA 92154, United States
4. Warner Valley Horse Riding Stables
Warners Valley Horse Riding Stables will carry you back in time with an authentic old-west flavor.
You can enjoy trail riding throughout the year at this horse riding stables. Warner Valley Horse Riding Stable's trail riding programs suit riders of all levels, from beginners to experienced riders.
Whether you are a professional at handling horses or meeting them for the first time at this stable, you will experience a fantastic adventure filled with long-lasting memories.
You can also enjoy the guided trail ride, an excellent way to see their glorious acreage.
The 90 minutes trail rides take you past notable sites, old oak groves, and across different terrain.
You can even enjoy wildlife sightseeing, including coyotes, deer, hawks, bobcats, and hawks as you ride through their habitats.
Address: 31652 Ca-79 Warner Springs Ranch Resort, Warner Springs, CA91902, United States
5. Surfside Ranch
Surfside Ranch provides a calming adventure through the gorgeous nature trails of the State Board Park in San Diego. Unwind and enjoy a horseback ride with professional guides on gentle horses.
Whether you are proposing to the love of your life, celebrating an anniversary, or want to experience the peacefulness and charm a sunset ride offers, Surfside Ranch will help make your ride exceptional.
Even kids can partake in the fun of riding a horse at this Ranch. They have pony rides for kids below the age of eight.
Your kid will saddle up, and a wrangler will lead them while an adult will walk alongside or snap pictures from the side.
Surfside Ranch has small, medium, and large ponies for different sizes of riders.
Surfside Ranch has more to offer than traditional horse rental services. Other services include venues for children's birthday parties, guided beach & trail rides, riding lessons, and summer programs.
Whatever you want, this Ranch has something for you, and its polite staff will ensure you enjoy your time here.
Address: 2225 Hollister St, San Diego, CA 92154, United States
6. Arroyo Del Mar
Arroyo Del Mar is a twenty-two acres training and boarding center in gorgeous San Diego that provides the best horse care.
The devoted, meticulous, and knowledgeable management team led by Steffen and Shannon Peter brings to this horse facility over 25 years of experience taking care of equestrian facilities for competitive show horses.
Arroyo Del Mar runs like a well-oiled machine, all thanks to Juan Rodriguez, the foreman; Sierra Trigg, the manager; the staff members.
The supervisor and manager, who lodge on-site, aim to ensure 24-hour and seven-days-a-week care and service to patrons and their horses.
Address: 7070 Black Mountain Rd, San Diego, CA 92130, United States
7. Pony Land Rides And Petting Zoo
Relax your mind and restore your spirit with Pony Land's trail and beach rides. Their rides are on a gorgeous River Valley Nature Preserve.
Their beach adventures and sunset rides take you through the preserve to the only beach in the city where you can ride a horse.
Their riverbed ride is a serene escape into a fairly popular part of San Diego filled with lush greenery and wildlife viewing.
You can also inspire an everlasting love of horses in your kids with a safe and exciting hand-led pony ride.
They have ponies for children under six who weigh less than 70 pounds.
Their pony rides are designed for edgy, first-timer riders and comprise three laps around a corral with a trained guide.
They also have a pony carousel with different sizes of ponies ranging from small to large.
Aside from horses and ponies, you can take the kids to the petting zoo to pet goats, piglets, bunnies, or other animals.
Pony Land Rides and petting zoo offers an affordable and thrilling family outing that kids will not forget in a hurry. It is one of the top fun horseback riding in San Diego, CA.
Address: 2606 Hollister St, San Diego, CA 92154, United States
8. 2nd Star to the Right
Jennifer has been a professional teacher and rider for more than 20 years.
After she graduated from Cal Poly Ponmax, she started working in Imperial Beach, assisting people with their horses. She later advanced and established a show barn.
2nd Star to the Right offers lessons ranging from novices to advanced students of all ages.
They aim to offer a secure atmosphere for you to learn about horses in all aspects, from caring for the horses to handling them and becoming a skilled rider in whatever discipline you pick.
2nd Star to the Right is here for you when you are ready for your first horse and competitive career.
Address: 1775 Leon Ave, San Diego, CA 91902, United States
9. South Coast Equestrian
South Coast Equestrian offers the best horseback riding lessons in San Diego. It is one of the top horseback riding in San Diego, CA.
South Coast Equestrian trail riding, horseback riding, and horse training are offered to everybody regardless of experience or age.
During your time at South Coast Equestrian, you will learn the techniques of horse riding, horse craft and games, primary care and grooming, horse anatomy, and saddle and tack care.
You will find the adventure you are looking for at South Coast Equestrian, whether you want a memorable ride through Los Penasquitos, wish to saddle up and take to the trails, or want to improve your riding skill.
They have it all, from pony rides for kids to scenic trail riding and fun summer camps.
Visitors with horses can have their horses trained at South Coast Equestrian.
Address: 5275 Del Mar Mesa Rd, San Diego, CA 92130, United States
10. Sweetwater Farms
Sweetwater Farms is a 16 acres working horse ranch that goes back to the early 20th century. This farm is located in Bonita, 16 minutes from San Diego.
The owner, Roberta, and this farm have evolved into more than a horse farm by growing a community based on friends and family and developing lasting relationships between horses and people.
The property features several of the original building still used and rustic ground, all encircled by willow, cottonwood, and eucalyptus trees.
Sweetwater Farms provides numerous equestrian services, including a riding academy for large equestrian camps for kids.
Address: 3051 Equitation Ln, Bonita, CA 91902, United States
11. Rancho El Camino Riding School
Rancho El Camino Riding School has taught children horseback riding lessons for over 20 years.
Their instructors are professional expert riders and skilled in working with kids.
Your kids will learn to connect with and care for these incredible creatures at Rancho El Camino. They will learn how to groom and saddle a horse and become a professional in the saddle.
They will be exposed to various horses and learn how each has their distinct personalities.
Rancho El Camino Riding School also hosts birthday parties, girls scout troops, and summer camps. It allows kids to enjoy and practice their newly gained riding skills.
When you visit, you will see instructors always around to answer questions from guests. Visit Rancho El Camino Riding School and see their horses.
Address: 13998 Old El Camino Real, San Diego, CA 92130, United States
12. Suncoast Farm
Sun coast Farm is a 40-acre center in the Spurling family since 1977. This destination is a top-notch, full-care horse boarding facility in San Diego, CA.
This center is a few minutes from Interstate 5 and 805 and some miles from the Pacific Ocean.
Cooling breezes, summer, and mild winter with low rainfall are the perfect horse riding weather.
Mike and Emma Spurling, the owners and managers, offer experience and professional maintenance for all the horses.
Address: 2805 Hollister Street, San Diego, CA 92154, United States
13. Horseland San Diego
Horseland San Diego lies on 14 acres in the center of Tijuana River Valley.
It offers horse boarding and care facilities, trainer lease, private instructions, clinic, and summer camps; all you can think of for the horse or the horse lover.
Kindness, horsemanship, and safety towards their horses are important to them.
Horseland has provided a secure and accommodating environment for horses and their riders regardless of skill for over seventy years.
There's a supreme connection between horses and those who love and care for them.
Horseland San Diego believes in sharing their love for horses and creating bonds with all the animals, visitors, owners, and boarders.
Horseland's facility has all the tools a trainer will need, including over 20 stalls to stay in. It can also carry different disciplines, including jumping/ eventing and dressage.
Horseland features many arenas, a presentation area, and more. It also offers an entire boarding facility at different levels, including covered mare motels with an outdoor run, available stalling, and different corrals.
Riding lessons are available at Horseland San Diego with instructors and resident trainers.
There are also trails and beach access from the property available to Horseland residents and horse boarding.
Address: 2454 Monument Road, San Diego, CA 92154, United States
14. San Diego Trail Company
Whether a novice or a professional rider, you will feel relaxed and at home on the San Diego Trail Company horses.
Enjoy the lovely scenery as you ride through some of the most stunning environments in Poway.
If you have never been on a horse, the San Diego Trail Company will reveal the riding basics to ensure your safety and comfort.
Horse riding with this company will help you build confidence throughout your ride.
If you are a professional rider, you will love the quality of San Diego Trail Company and enjoy the selection of challenging trails.
If you love horses, this is an opportunity to ride one, and what better place to do so than on the beautiful terrains here?
The San Diego Trail Company will pair you with a horse that complements your ability, size, and personality.
Address: 14875 Mina de Ore Rd, Poway, CA 92064, United States
15. Flower Hill Farms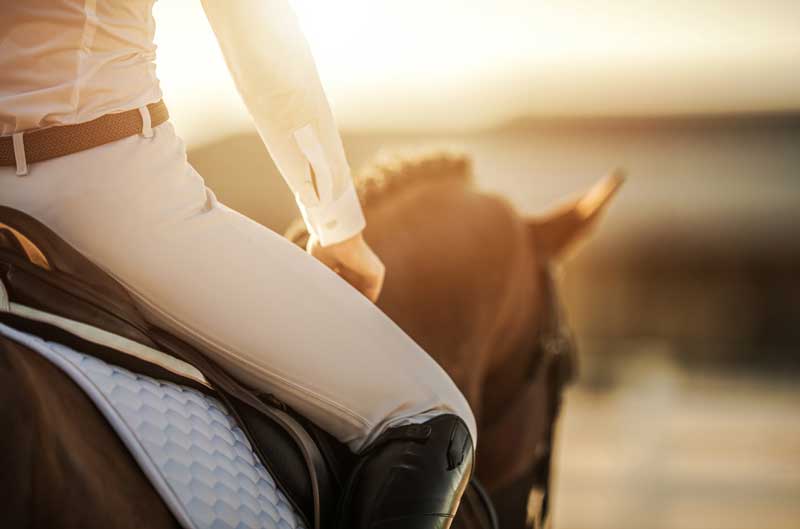 Flower Hill Farms in Del Mar specializes in hunter-jumper riding under the training of Mclane Peed and Hailey Scharping.
The owners seek to create a family-like atmosphere where riders feel welcomed and comfortable.
Students learn to be independent in riding on and off the horses here.
The staff selects an array of horses to complement your riding skills and help you reach your personal goals.
This facility provides one of the top horseback riding tours in San Diego, CA.
Address: 13872 Old El Camino Real, San Diego, CA 92130, United States
Want to explore more of California? Here are the best things to do in Arcadia, things to do in Fairfield, and things to do in Chula Vista.
Plan a Trip to San Diego
The beautiful city of San Diego is indeed a fun vacation destination. The various horseback riding in San Diego offer a fun and memorable experience.
The horseback riding tours are excellent hangout destinations for the family, regardless of skill and age. You will certainly enjoy riding San Diego's horses. Do check them out!