Meredith is a small town located in Belknap County, New Hampshire, in the United States of America.
The United State Bureau recorded a total population of 6,662 people in the town after the 2020 census.
Meredith, located in the state's Lakes Region of the Granite State, known as a lake resort destination, is a significant vacation destination. Even though Meredith is a small town, it has a lot to offer, from its distinctive museums to breathtaking beaches and lakes, historic sites, and entertainment hotspots.
There are a lot of fun things to do in Meredith, NH, such as strolling through Meredith's lively streets, searching the area for unique businesses, or going to the town's hotspots such as Lake Waukewan, MS Mount Washington, Meredith Historical Society, and lots more.
Are you curious about what to do in Meredith, NH? This article will point you toward some of the exciting activities you can engage in while in Meredith.
Here are the best attraction and activities in Meredith, NH.
Things to Do in Meredith, NH
1. Lake Waukewan
Meredith's Waukewan Lake, measuring 928 acres, is a well-kept public beach that is renowned for its clear, clean water and shallow waters along the shore, making it the perfect place to take children to splash around.
Lake Waukewan is the ideal location if you want to spend your weekend in a serene setting where you can also engage in various outdoor pursuits.
The activities you can engage in at the Lake, include swimming and fishing for native fish species like rainbow trout, horned pout, smallmouth bass, and more.
In addition to the many fun outdoor activities that will keep you energetic and on your toes throughout your stay, you can add boating, jet skiing, and wakeboarding in Lake Waukewan.
The size of the lake shores, which is 8 miles long, allows guests to fully experience an outdoor camp and a picnic in Lake Waukewan.
The number of entertaining recreational activities that Lake Waukewan provides all year round is truly limitless. Don't miss any opportunity to stop by and visit this attraction.
Although there aren't many facilities at this Lake, there is still plenty of room to spread out in the water.
Come and have a swirling time in the beautiful Lake Waukewan, as it's one of the best places to visit in Meredith, NH.
Address: 1 Waukewan Street, Meredith, NH 03253, USA
2. Hermit Woods Winery & Deli
Due to the distinctive handmade wine produced in Hermit Woods Winery & Deli, the facility was listed as the fourth-best tasting room in the country.
You can have a taste of their best wines that were meticulously produced from foraged flowers obtained from the wild and fruits obtained locally.
Tours and tastings are services Hermit Woods Winery & Deli offers, where you will be given samples of their finest wine.
During the tours, the tour guide will educate you on important topics like when the business was established, how it started, and the processes that go into producing its top-ranking wines.
Hermit Woods Winery & Deli is open to everyone.
Address: 72 Main St, Meredith, NH 03253, USA
3. Pirate's Cove
Still wondering what to do in Meredith, NH? You and your family will love the countless exciting activities offered at The Pirate's Cove in Meredith.
The mini-golf course with a pirate motif is a favorite hangout for visitors and residents looking to spend a fun family day.
You can play or practice swinging your golf clubs on the 18-hole mini-golf course at The Pirate's Cove, which is surrounded by beautifully landscaped flora.
Along with engaging activities, you can take pleasure in exploring the man-made features around the golf course, such as the caves, waterfalls, and footbridges.
So board the ship, plunge yourself into the world of pirates, and spend an unforgettable day in Pirate's Cove with your family.
Address: Pirate's Cove Rt. 3, Meredith, NH 03253, USA
4. Mill Falls Marketplace
If you want to experience unique shopping, visiting Mill Falls Marketplace is one of the best things to do in Meredith, NH.
Mill Falls Marketplace features special shops, hair salons, and varieties of restaurants you can visit.
This shopping facility has other attractions apart from its shops and restaurants. You can easily locate these other places by taking a walk down the brick track to see the gardens, a waterfall, and the sculpture walk Meredith takes pride in.
You can always visit Mills Falls Marketplace at any time of the year and buy something from any of the many shops at the shopping center.
Mills Falls Marketplace is always available for you to visit, whether you want to do some retail or window shopping.
With a reservation at lovely Mill Falls at the Lake, you can take advantage of the resort's lovely lake views and generous amenities. Stand-up paddleboarding, sunset cruises, yoga, and shopping are among the available activities.
Address: 312 Daniel Webster Hwy, Meredith, NH 03253, USA
5. Weirs Beach
The Weirs Beach, a scenic natural area located in nearby Laconia, 9 minutes from Meredith, is situated in Lake Winnipesaukee's southernmost regions.
Weirs Beach offers 1,380 feet of boardwalk, a drive-in theater, mini golf, and Funspot, the biggest arcade in the world, making it a popular destination for Winnipesaukee family fun.
As its name suggests, Weirs Beach offers a large amount of beach space, so be prepared to enjoy the lovely Lake Winnipesaukee! Swimming, tanning, and having a picnic on the beach's sandy shores are all common outdoor activities at Weirs Beach.
Motorcycle Week is celebrated in Weirs Beach in June, where you can run into a group of bikers.
A fun day at the beach is always guaranteed, so grab your towels and sunscreen and head to Weirs Beach.
Address: 279-3915, 18 Quarry Road, Meredith, NH 03253, USA
6. Town Docks
Town Docks is the place to go if you want to eat by the lake on Lake Winnipesaukee. It's a fantastic spot to stop in for a swift bite during your day out on the lake because there is plenty of room to dock the boat.
The traditional summer fare, including hamburgers, hot dogs, seafood, and even homemade ice cream, can be found on the menu.
Additionally, there is a tiki bar where you can sip a cool drink with your toes firmly in the sand. I'm not sure what else could be more obvious than to suggest a day at the lake.
Address: 289 Daniel Webster Highway, Meredith, NH 03253, USA
7. Meredith Marina
Have you ever dreamt of owning your boat or, better still, renting one to tour the lakes of Meredith for a temporal period? Dream no more, for Meredith Marina is the perfect place for you.
At Meredith Marina, they sell and rent out boats, and you will certainly find your preferred spec. If you are not there to rent or buy boats, you can simply enjoy the alluring scenery at the facility because no one is left out from enjoying this site.
Meredith Marina offers services for boat rentals, valet services, boat registrations, ship stores, fuel docks, and storage for boats.
If you have chosen to purchase a boat, you will find great boats at Meredith Marina that are worth every penny.
The products the facility offers include fish finders, anchors, and trailers, together with new, used, or rental boats.
An excellent team of staff at Meredith Marine, which comprises both experienced and professionals, is always available to guide you in all your boat-related needs that arise.
Address: 2 Bayshore Dr, Meredith, NH 03253, USA
8. Barnz Meredith Cinema
This cozy, little movie theater is a popular hangout spot in Meredith for people of all ages.
You can watch the newest movies all in one location at The Barnz Meredith Cinema, which has a three-screen movie theater.
You can still enjoy watching movies the old-fashioned way thanks to Barnz Meredith Cinema.
You can get dressed up for a romantic date or invite your friends and family over to see a nice, uplifting movie.
While you watch, you can chow down on some delectable treats provided in the cinema concession, where you can pick from a wide variety of treats like sodas, popcorn, and more.
Nothing beats the traditional method of enjoying some good movies with a friend or loved one, so stop by and have a movie experience unlike any other at Barnz Meredith Cinema.
Address: 38 NH-25 #5, Meredith, NH 03253, United States
9. MS Mount Washington Ship
Experience the beauty of the waters of Lake Winnipesaukee by boarding a first-class
MS Mount Washington
Ship. The Ship offers scenic and group tours on the biggest lake in New Hampshire.
You will be opportune to see a picturesque view on the MS Mount Washington Ship while crossing the window-clear blue waters of the lake.
The MS Mount Washington Ship has various ports where it terminates. They include Alton, Center Harbor, Wolfeboro, Meredith, and Weirs Beach.
You will have the best and most unforgettable time glancing at pleasing sights with MS Mount Washington Ship.
Address: 211 Lakeside Avenue, Weirs Beach, NH 03246, USA
10. Ahern State Park
Visit
Ahern State Park
, which offers fantastic hiking opportunities close to Meredith.
The Rusty Bedspring, Upper Jakes, and Yo Benson Loop are the most frequent hikes in Ahern State Park.
Its trail is moderate in difficulty, takes less than an hour, and is just over two miles long.
The park's breathtaking scenery will be yours to enjoy as you travel.
Address: 43 Great Bay Lane, Laconia, NH 03246, USA
11. Winnipesaukee Scenic Railroad
To all my travelers, especially those who enjoy going on road trips and having to see beautiful landscapes, crossing the rails of the Winnipesaukee Scenic Railroad will leave you breathless.
Winnipesaukee Scenic Railroad is a wonderful scenic path and is situated in Meredith, close to Lake Winnipesaukee. Tickets to access the railroad can be purchased on the walkway at Weirs Beach.
You can choose to embark on a 2-hour ride from Meredith station, which crosses through the lake, or a 1-hour ride from Weirs Beach; all train rides feature point-to-point trips.
In addition, you can purchase a variety of treats and goodies on the train or opt to come along with some good snacks for your trip and munch on them while watching the beautiful scenery outside.
If you're in Meredith and have a group of friends or family members, renting out a private caboose on the Winnipesaukee Scenic Railroad is a fun way to mark the occasion.
A trip along the rails of the Winnipesaukee Scenic Railroad is one of the fun things to do in Meredith, NH. It will allow you to appreciate all the picturesque views of the lake.
Address: 154 Main St, Meredith, NH 03253, United States
12. Interlakes Summer Theater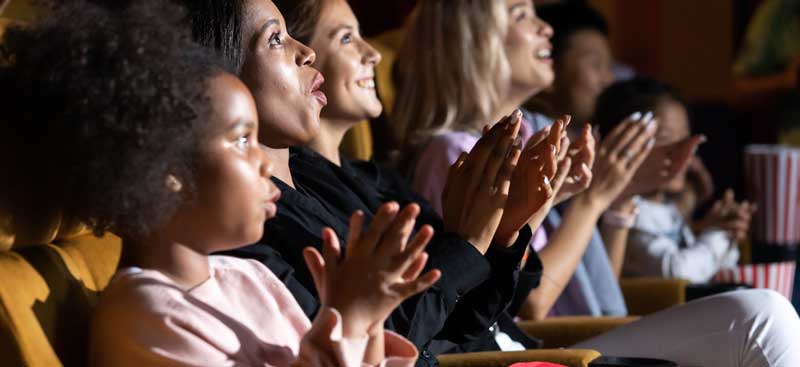 In the heart of the Lakes Region on Lake Winnipesaukee lies Interlakes Summer Theatre, founded in 2008 by Nancy Barry. It is a stunning, recently renovated, and air-conditioned 420-seat theater.
A group of gifted college students who are pursuing careers in the arts is among the 60 professional actors, directors, designers, and technicians who are annually recruited from NYC, Boston, and across the nation to live in residence for the summer.
The seasons include a balance of traditional and contemporary musicals, with something for everyone!
Over 49 alumni have signed contracts for Broadway and national tours over the past 13 years at Interlakes Summer Theatre.
Interlakes Summer Theatre has featured many shows such as Mean Girls, The Radio City Christmas Spectacular, How the Grinch Stole Christmas, Mamma Mia, Anything Goes, Miss Saigon, Dirty Dancy, Jersey Boys, Aladdin, Little Mermaid, Cats, Shrek, Les Miserables, Memphis, Beauty & the Beast, Sister Act, etc
Address: One Laker Ln, Meredith, NH 03253, USA
13. Innisfree Bookshop
One of many top-notch bookstores in the New England region is the Innisfree Bookshop, which is found in the heart of Meredith.
Excellent independent booksellers are hard to find these days, but Innisfree Bookshop is one exception.
Along with the usual selection of books, Legos, and greeting cards, it also has a welcoming, friendly atmosphere.
Additionally, the store hosts art classes, author readings and talks, and Santa visits every year.
The Innisfree Bookshop is accessible every day of the week.
Address: Mill Falls Marketplace, Building 10, 312 Daniel Webster Hwy, Meredith, NH 03253, USA
14. Meredith Historical Society
Visit the Meredith Historical Society to witness the preserved history of the historic town and learn more about Meredith's past. It is one of the top things to do in Meredith, NH.
Visitors and residents of Meredith have been visiting the Meredith Historical Society since 1950 to relive Meredith's past.
For study purposes, thousands of images, artifacts, and old documents are available. The museum also has historical displays and instructional activities designed to inform visitors and increase their awareness of Meredith's local history.
Visit the Meredith Historical Society's website for information on what's happening while you're with them. They also coordinate speakers and events with the neighborhood community center.
Address: 61 Winona Shores Rd, Meredith, NH 03253, USA
15. Twin Barns Brewing Company
If you are interested in just having a relaxing day sipping on some good beers, Twin Barns Brewing Company is one of the best places to visit in Meredith, NH.
Twin Barns Brewing Company, established in 2008, offers handcrafted beers that residents of Meredith love.
The reason behind its unique name is that it is located in two old barns that were initially constructed in the year 1850.
There is a fantastic selection of excellent beers and an open industrial floor plan with indoor and outdoor games.
While at Twin Barns Brewing Company, you can sip on their "signature taps," such as Stouts, Blonde Ales, Porters, and IPAs.
You can also much on some delicious food at Twin Barns Brewing Company while drinking their beers.
The facility features an outdoor beer garden with plenty of spaces where you can opt to sit while glancing at the beautiful outdoor scenery.
Come along with your pals and enjoy all that Twin Barns Brewing Company has to offer, from their perfectly brewed beers to mouth-watering meals and a cool environment.
Address: 194 Daniel Webster Hwy, Meredith, NH 03253, United States
16. Oak Hill Golf Course
Located on Pease Road in Meredith, Oak Hill Golf Course is a stunning 9-hole public course that welcomes golfers of all skill levels.
Golfers who are just starting won't feel intimidated by it, but more seasoned players will find it challenging.
Oak Hill has a lot of character thanks to elements like stonewalls, breathtaking scenery, and its four secret greens.
You can rent carts and clubs at the pro shop, which is fully stocked.
The greens fees are the most affordable in the area. Call in advance to reserve a tee time; they can frequently fit you in without a long wait!
As you relax on the screened porch with a sandwich and a cold beverage in our snack bar and cocktail lounge after your round, take a moment to view the course.
You might be enticed to remain for a while!
Address: 159 Pease Rd. Meredith, NH 03253, USA
17. Moulton Farm
Please take a look at the wonderful selection from Meredith's own Moulton Farm while visiting the town.
It has one of the state's most impressive pumpkin patches and corn mazes.
The Summer Harvest Open House and Meet the Farmers Night are just two of the many events you can attend at this tiny farm.
Even if there aren't any special events scheduled, visit the bakery while you're in Meredith.
Traditional New Hampshire desserts like strawberry rhubarb pie and butter pound cake are available at Moulton Farm and are sure to satisfy any sweet tooth.
Address: 18 Quarry Rd, Meredith, NH 03253, United States
18. Blackcat Island
This charming island with a serene aura can be found 19 minutes from Meredith and draws tourists year after year.
You can access the intriguing Blackcat Island, located in the center of Lake Winnipesaukee, via the bridge connecting it to the mainland of Moultonborough.
When you visit Blackcat Island, you can anticipate breathtaking views of the lake and mountains in the area, a tranquil setting, and a ton of enjoyable recreational activities.
You can choose to set up a tent and spend the night outside, rent a house close to the lake's shores, take a dip in its refreshing waters, or go fishing.
For a relaxing weekend away from the bustle of the city, Blackcat Island is the perfect destination.
Don't forget to spend a day or two on Blackcat Island to enjoy the ideal getaway close to Meredith Township.
Address: 20 Tiger Trail. Meredith, NH 03253, USA
19. Winnipesaukee Playhouse
Winnipesaukee Playhouse
is located in the heart of the Lake Region. It is a place in Meredith where the development and advancement of arts and entertainment are held.
Live performances are also held in Winnipesaukee Playhouse. You can choose to be part of the audience, feature as a cast, or be part of the production crew in the theatre.
Winnipesaukee Playhouse also promises to give you premium enjoyment from watching shows performed by skilled artists in Meredith.
By attending the performances, you are helping Meredith's artistic community, a crucial component in the growth of the town's creative atmosphere.
Therefore, go to Winnipesaukee Playhouse with a date or your friends and family to see some of the best regional plays.
Address: 33 Footlight Cir, Meredith, NH 03253, USA
20. Fine Arts & Crafts Festival
One of the fun things to do in Meredith, NH, is to attend Fine Arts & Crafts Festival. The Lakes Region Fine Arts & Crafts Festival takes place toward the end of August. It is one of the most esteemed festivals in the area.
About 70 skilled artists and craftspeople are selling their goods here.
Take a look at the ceramics, leather goods, jewelry, wooden creations, metal sculptures, dolls, woven and quilted items, baskets, and other toys on display.
Many different mediums are represented here, including watercolors, theorem paintings, oils, pen and ink, and photographs.
You can take in the stunning Meredith scenery and work of regional artisans while taking in live music, delectable food, and beverages.
Address: Main St, Meredith, NH 03253, United States
21. Meredith Sculpture Walk
Meredith Sculpture Walk is one of the intriguing attractions in a buzzing street in Meredith.
A total of thirty-three sculptures have been positioned all around the facility. You can take yourself on a self-tour using a map to easily locate these sculptures.
The arts displayed outdoors in Meredith Sculpture Walk aim to create awareness and pleasure.
At Meredith Sculpture Walk, you can feel and touch long-lasting and distinctive installations from various artists.
You can walk around the facility to see beautiful and unique exhibits made by Meredith's most talented artists.
Address: 327 Daniel Webster Hwy, Meredith, NH 03253, USA
22. Meredith Fine Craft Gallery
The Meredith Fine Craft Gallery is a unique retail location specializing in handcrafted furniture and home decor items. It is located close to the shores of picturesque Lake Winnipesaukee.
The League of New Hampshire Craftsmen runs the gallery, which offers exquisite, handcrafted items of heirloom quality.
More than two hundred and fifty of New Hampshire's most accomplished artists and craftspeople have their works displayed here.
It features a wide range of artistic mediums, such as jewelry, glass, wrought iron, textiles, mixed media, stained glass, ceramics, and garden décor.
There are also talks and workshops devoted to imparting the craft. Find out how a renowned craft organization that has been in operation for almost 80 years has managed to remain successful.
Pick up a gift for your family by stopping at the store on the way home. A visit to this Gallery is one of the top things to do in Meredith, NH, if you are an art buff.
Address: 279 Daniel Webster Hwy, Meredith, NH 03253, USA
23. Funspot Family Fun Center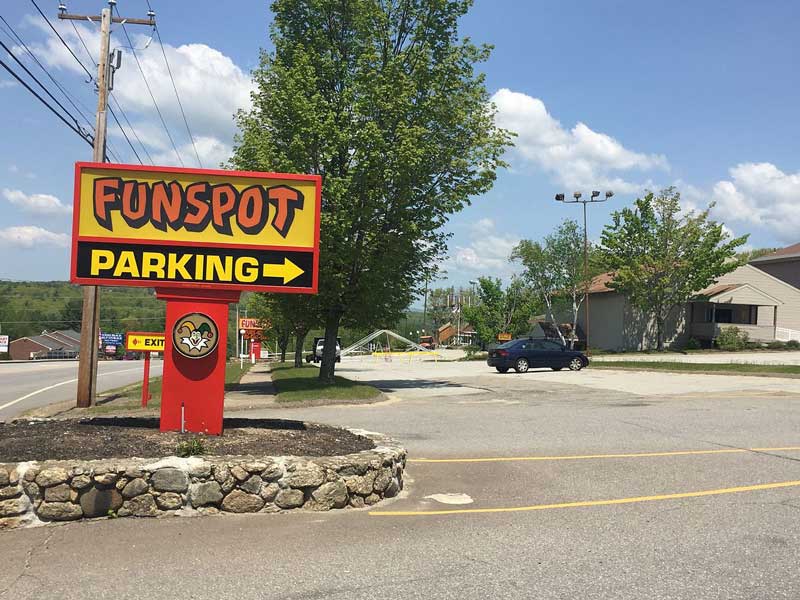 When coming from Meredith, it takes about 7 minutes to drive to the
Funspot Family Fun Center
, an entertainment destination located in Laconia, New Hampshire.
You can play a wide variety of arcade games at Funspot Family Fun Center, as well as some that date from the late 1970s and the middle of the 1990s.
In addition to arcade games, Funspot also provides a variety of entertaining activities like mini-golf, bingo, rides, and bowling.
You can eat at the Braggin' Dragon Restaurant and unwind in the D.A. Long Tavern if you get hungry from all the exciting activities at the Funspot Family Center.
Try out all the games and activities at the Funspot Family Center with your entire family and friends; who knows? This just might become your new favorite spot in town.
Address: 579 Endicott St N, Laconia, NH 03246, USA
24. Lee's Candy Kitchen
Lee's Candy Kitchen is located in the Mill Falls Marketplace. With its extensive selection of unique sweets, fine chocolate, gourmet food, and more, it aims to satiate all of your cravings.
Lee's Candy Kitchen is a place brimming with fine chocolates. The shop has partnered with specialized chocolatiers to provide only the best-handcrafted chocolates.
It also makes you remember your childhood thanks to the nostalgic candies it sells.
You can also purchase savory gourmet food at Lee's Candy Kitchen if you want a break from sweet treats.
Address: 312 Daniel Webster Hwy #11, Meredith, NH 03253, USA
25. EKAL Activity Center
The lakeside resort, located in the classic New England town of Meredith, NH, is a beloved setting where traditions are created and visitors who return annually become like family.
This Center stretches along Lake Winnipesaukee's shores and boasts a picture-perfect landscape of shimmering waters and majestic mountains.
It is a getaway where families come together for cherished vacations, and every season is celebrated and enjoyed with age-old thrills and family-bonding activities.
Our historic resort has four unique inns that are close to one another and provide guests with a seamless connection to Lake Winnipesaukee, the many eateries and shops on Main Street, and acting as a convenient entryway to the Lakes Region and the White Mountains.
Perhaps after experiencing our breathtaking surroundings and laid-back way of life, you'll decide to stay permanently and join our close-knit community, following in the footsteps of other tourists who have fallen in love with it.
Address: Daniel Webster Hwy, Meredith, NH 03253, United States
Planning a New Hampshire road trip? also, check out our list of things to do in Keene, things to do in Concord, things to do in Jackson, and restaurants in Laconia in for a fun trip
Plan Your Trip to Meredith
The charming little community of Meredith in Belknap County continues to draw tourists in thanks to its wealth of attractions.
You won't regret visiting Meredith, whether you're looking for a place to relax or settle down.
What more could you want from a place that offers idyllic beaches, historical sites, and one-of-a-kind businesses?