Would you like to know the best beaches in Falmouth, MA? Falmouth is an amazing coastal city in Cape Cod, Barnstable County, Massachusetts, United States.
The city is adored for its collection of beautiful beaches, which attracts lovers of water-related activities to the town.
After Barnstable, Falmouth is the most populous city in Cape Cod, with a climate that is wet and humid all year round.
Falmouth is a city you should definitely visit, as it offers the best outdoor opportunities, and Falmouth attractions are also worth exploring.
There are several gorgeous beaches to visit in Falmouth, such as Chapoquoit Beach, Jenkins Pond, Megansett Beach, Wood Neck Beach, and more.
Are you planning a fun time in Falmouth? Here are the top beaches in Falmouth, MA.
Best Beaches in Falmouth, MA
1. Old Silver Beach
Old Silver Beach can almost be classified as a desert beach on a bright, warm day, especially in September.
The Beach is more trendy than other beaches in Falmouth, and the reason is pretty clear; you will see it when you visit.
Its water area is large and long, with soft sand, charming, clean water, and mesmerizing views that would blow your mind.
Old Silver Beach features a lovely small inlet running from the Bay to the other end of the road featuring a salt marsh.
The Beach is open for visitors of all ages, featuring clean restrooms, food concessions, showers, and a lifeguard with a picnic area.
Do well to come on time during the summer, as lots get filled up early. A daily fee is required for access
Come with your picnic carpets and baskets filled with enough drinks, food, and snacks for a wonderful picnic.
2. Chapoquoit Beach
Of course, Chapoquoit Beach ought to be on the list of the best beaches in Falmouth without any arguments.
Chapoquoit Beach is described by its waves, beautiful rolling water, and blue sky, and usually with people having fun.
The Beach is somewhat narrow but long, with an extensive view of the Bay offering a more private or isolated feel.
If you ever need a quiet place to spend time alone to reflect or hang out with your family in an open but personal setting, Chapoquoit Beach is the best place.
Chapoquoit Beach features food concessions, lifeguards, and convenient restrooms available to every visitor.
The Beach is not too far from other magnificent attractions in the area, so you can stop by after spending time here.
Address: Chapoquoit Road (off Rt. 28A) in West Falmouth, United States
3. Surf Drive Beach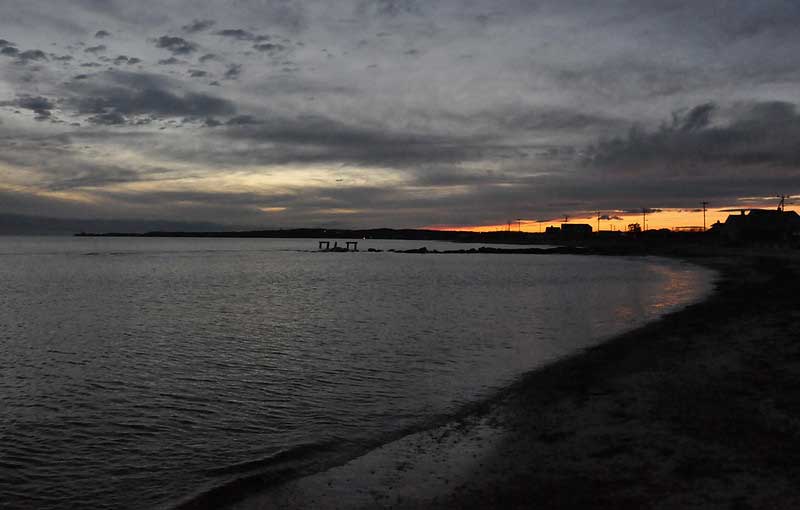 Surf Drive Beach, a long and spacious attraction with calm waves, is a short drive from the heart of Falmouth. At the northern end of the Beach, there is a small inlet that is perfect for small children to run wild and have fun.
Surf Drive Beach offers the best setting for families to hang out and create exciting, unforgettable memories.
The Beach is quite famous but usually less crowded, with enough room for everyone, and it is open free of charge.
You can organize a nice picnic with friends and family where you get to enjoy a variety of delicious meals outdoors.
There is a snack bar where you can try out a glass of freshly squeezed smoothie paired with a grilled chicken sandwich.
Why not visit with your family and friends and explore every single thing the Beach has to offer? What else could you need that you can't get at Surf Drive Beach?
4. Falmouth Heights Beach
One of the gorgeous parks in the area is Falmouth Heights Beach, known for its sparkling blue waters and clear sky.
Falmouth Heights Beach is a fantastic choice for every family, especially those with young adults and teens.
If you're searching for a beach that offers numerous activities for visitors to carry out and have fun, this is the one for you.
The Beach is big enough to contain everyone who wants a feel of its warmth and charming waters with soft sand.
Falmouth Heights Beach features lifeguards, restroom facilities, and a concession stand offering nice meals.
Falmouth Heights Beach should be your top choice if you're planning a romantic date or friend reunion.
5. Menauhant Beach
Menauhant Beach, located in the eastern part of Falmouth, is one of the beaches which is usually less crowded and isolated.
The waters of Menauhant Beach are warmer with long slim sand extension and wave action, which makes it a perfect place to spend time.
You could decide to spend time on the Beach, pick up shells, or spend the day viewing the wildlife.
Menauhant Beach is handicap-accessible. Mob mats and beach wheelchairs are available to assist visitors needing them.
Several beach chairs are available for rental, with lifeguards available during summer. You will also find outdoor washrooms and restrooms with a snack bar where you can purchase various snacks.
6. Wood Neck Beach
Next on your list of the top beaches to visit in Falmouth is Wood Neck Beach. It is perfect for friends and family or even colleagues.
Visitors and natives of Falmouth highly adore wood Neck Beach due to its secure natural environment.
The Beach is known for its colorful green grass, brightly colored rocks, and shells with a nice and warm breeze.
It is heaven for little children at low tides since it is kind of tiny at high tides. They get the opportunity to explore tidal pools, searching for barnacles, minnows, and crabs.
Wood Neck Beach is home to Sippewissett Marsh, shrimp, crabs, and fish. So, come along with your buckets and net.
Residents and tourists come to this Beach during summer to swim, explore the tidal current, and snorkel.
You could also stop by the Beach and try a few swimming stunts, including casting your fishing lines for a good catch.
Address: 33 Woodpeck Rd, Falmouth, MA 02540, United States
7. Stoney Beach
Stoney Beach, a small charming beach, is a public attraction found in Falmouth's Woods Hole in what is almost an isolated location.
Stoney Beach has warm, gentle water. It is an excellent place for visitors of various ages to hang out and cool off.
You need a sticker to make use of the parking lot. A lifeguard is available during summer to offer some safety.
So Stoney Beach was founded by the Marine Biological Laboratory. However, it is managed and operated by Falmouth town. It is an amazing summer spot to take a cool walk or go biking while enjoying the calming views of Buzzards Bay.
Address: 38 Gosnold Rd. Falmouth, MA 02540, United States
8. Grew Pond
Grew Pond is a location for those individuals who love to have fun and engage in various exciting outdoor activities.
It is a freshwater kettle pond carved during the previous ice age pond by removing glaciers, which now houses a variety of fishes.
The Pond consists of hiking trails of four miles, horseshoe pits, and a volleyball court which is available on a first-to-come basis.
You can take a quiet walk, go swimming and horseshoeing, or engage in a friendly volleyball game with your pals.
Grew Pond features fishes like smallmouth bass, yellow perch, and sunfish. Watch out; you could also come across amphibians and reptiles such as snapping, frogs, and box turtles.
You will find diverse tree species, such as white pine, hickory, oak, locust, beech, red spruce, and Norway.
Make your time worthwhile in Falmouth by visiting Grew Pond, and also get to meet and interact with many people.
Address: Goodwill Park, off Gifford Street, Falmouth, United States
9. Jenkins Pond
Another must-add to this list is Jenkins Pond, an incredible place for several outdoor activities, especially with friends.
Jenkins Pond boasts a lovely sandy beach with several picnic tables overlooking it, providing a place for loved ones to hand out.
You and your companions can carry out activities like boating, swimming, and kayaking, including taking a walk.
If you enjoy casting lines and waiting for a great catch, Jenkins Pond is the best place to be, as you get to fish for white perch and smallmouth bass.
The best spot to capture a base is at the northern shore of the Pond, right at the rubble bottom, during spring.
Every outdoor enthusiast would love and appreciate this place due to its captivating appearance and exciting activities.
10. Megansett Beach
Megansett Beach is a spectacular beach. Though small, it offers mesmerizing views even better than other large beaches in Falmouth city.
Close to it is the Megansett Yacht Club featuring concessions and a floating dock with unlimited parking for only residents.
It is an outstanding location for locals and tourists in Falmouth to arrange a picnic with loved ones as long as they come with enough food and snacks.
You and your loved ones can chill by the waterside or explore the water by swimming.
Its shoreline is quite huge and sandy, with numerous shells to find, including shellfish dwelling in the sandy bottom of the harbor.
Megansett Beach is always a beautiful place to visit any time of the year. It is open for recreational shellfishing
11. Coonamessett Pond
Coonamessett Pond expands to one hundred and sixty-four acres. It is the biggest Pond in Falmouth.
The Pond is a natural kettle pond with a 34 feet maximum depth and a 19 feet average depth found with Falmouth's Hatchville section.
The shoreline extends for 2.9 miles and is not fully developed with the cottages, golf courses, and residences.
Coonamessett Pond offers easy access for those who would like to embark on a boating expenditure, along with kayaking.
12. Bristol Beach
Bristol Beach is nestled in Teaticket and Falmouth, so it is still an argument as to which village owns it.
This Beach is an amazing place for families, especially those with children. Professional swimmers would absolutely love to explore the waters.
It is usually less crowded than Falmouth Heights, which is not too far from it, and you're sure to have a wonderful time here.
Bristol Beach allows you to explore marine life, encouraging visitors to come along with their nets.
The Beach features a gorgeous footbridge that crosses a shallow inlet soaring from Little Pond, dividing this beautiful length of sand.
13. Wingaersheek Beach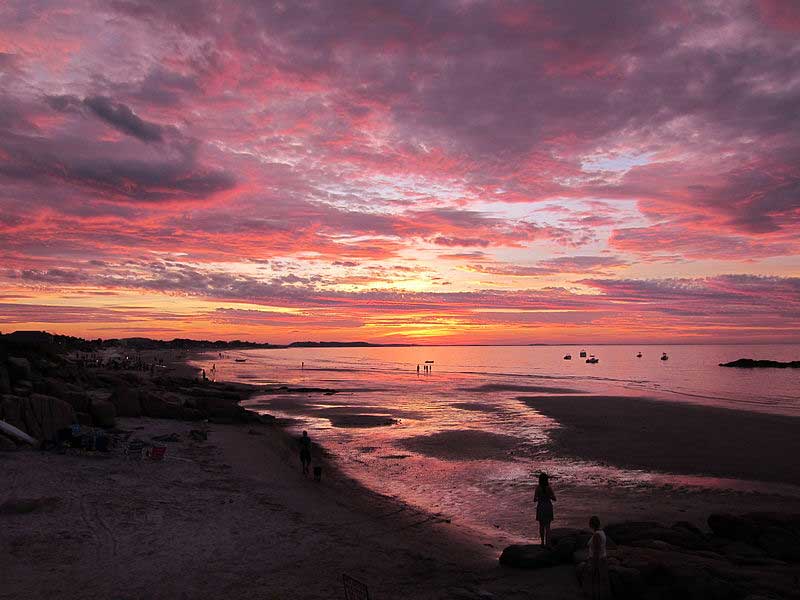 Wingaersheek Beach is a beautiful public beach located in the northeastern end of Mass in Massachusetts.
Visiting the Beach takes you through paths lined with trees and refreshing farms, and when you get to the Beach, you will be amazed.
Wingaersheek Beach, wide by half a mile, features lots of exciting things for everyone to see, making it one of the top beaches in Massachusetts.
Wingaersheek Beach offers you a chance to enjoy the saltwater, sand, and sun and explore the tide pools and their breeze.
You could attempt flying a nice kite with your little ones or watch the kite surfers. Wingaersheek Beach is worth being on this list as much as others are.
Don't forget to go with a camera or any recording device for taking photographs and videos to capture your wonderful moments here.
14. Mayflower Beach
Mayflower Beach is a mid-Cape attraction found on Cape Cod's bay side, which makes the water calmer and warmer than the ocean.
The Beach is large, with boardwalks through which you can take a nice walk and immerse yourself in the environment.
There is a picnic region for families and friends who would love to create good memories together while having fun.
Its abundance of natural amenities makes it stand out from other public beaches in its area. It comprises sandbars, tidal pools, and soft sand.
Quickly pack your bags with your picnic mats, beach hats, and sunshade, and don't forget your picnic baskets for delicious snacks.
15. Coast Guard Beach
Coast Guard Beach is a component of the National Seashore of Cape Cod, featuring strong waves, marshes, and seabirds.
The Beach offers gorgeous dunes and bobbing seats, all within the Atlantic Ocean.
It can be crowded on its shoreline, which is important for a walk with nice spots for those who would like to take a break.
Coast Guard Beach is perfect for boogie-boarding, body surfing, or relaxation. After your time here, you can stop by Coast Guard.
After a stressful week at home or work, come over to Coast Guard Beach for some rejuvenation and a break from all the bustles and hustles in the world.
Massachusetts presents breathtaking attractions and activities. here are guides on places to visit in Hyannis, Amherst and Pittsfield.
Plan Your Trip Falmouth
Falmouth is a charming city. Many people usually see it as a difficult task to find the right words to describe it; you might be able to after your vacation.
Whether you're traveling for your honeymoon, family vacation, friend reunions or get-togethers, tourism, and so on, Falmouth is the right choice for you.
Make sure you visit all the beaches mentioned for a spectacular experience.